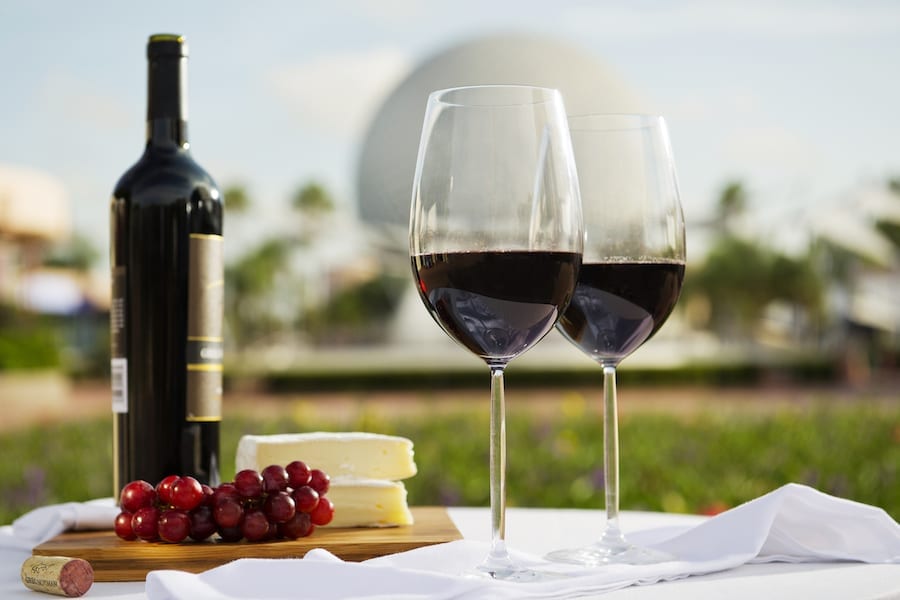 It's almost that time of the year again….The Epcot Food and Wine Festival is back again in 2016. It seems like every year it begins earlier and earlier (totally not complaining here!) and this year the Food and Wine Festival runs from September 14th – November 14th. That's 62 days of food-loving fun!!!
If you haven't been to the Epcot Food and Wine Festival before, basically it's amazing! It's one of the most popular events every year in Walt Disney World (for sure my favorite) and attracts people from all over the world. They setup kiosks around World Showcase in Epcot with samplings of all different kinds of food and alcohol from around the world, each kiosk having unique samplings from it's respective country. Each sampling isn't meant to fill you up, only to give you a taste, this way you can do what I do and snack and drink your way around the lagoon!! Prices are usually from $3-8 per item.
Besides the amazing food there are culinary demonstrations, tasting events and dinners, many hosted by world-famous chefs. If you have been before in the past the basic setup is the same but this year there are some new exciting culinary experiences already confirmed! There will be chances for guests to learn a lot of new skills from professional chefs, bakers, mixologists and more…
Food and Wine Kiosk updates:
This year it's confirmed that there will be over 30 World Showcase kiosks from 6 continents (I guess we'll keep waiting for the Antarctica booth) and confirmed as returning will be Greece, Desserts & Champagne and Farm Fresh. As for new dishes:
Greece will have a new savory vegan dish – Vegan Nachos
there will new new savory menu options at Farm Fresh
at the Desserts & Champagne kiosk there will be Hard Soda Floats like the Hard Root Beer Float you can get at Fife and Drum in the American Adventure pavilion in Epcot.
Hops and Barley will have a new Beef Brisket and Pimento Cheese Sandwich (sounds like one of the best new options to me!)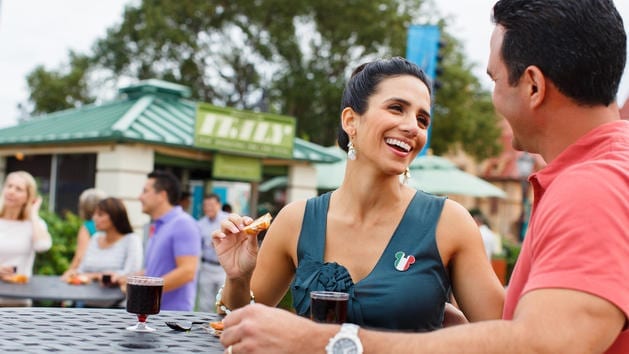 In all likelihood the kiosks will extend into Future World again this year because of the sheer number of them. Stay tuned for more menu updates when I have them!
Eat to the Beat Concerts:
As always one of the best parts of the festival is grabbing your food and going to listen to some great live music (most of which help to transport you back to the 80's and 90's…:) This year's lineup looks even better than years past! There are 186 concerts in total this year at the Food and Wine Festival and here is the lineup:
Wang Chung – September 14-15
Starship – September 16-18
Air Supply – September 19-20
TBD – September 21-23
Fuel – September 24
TBD – September 25-30
David Cook – October 1-2
TBD – October 3-6
Plain White T's – October 7-9
38 Special – October 10-11
Jeffery Osbourne – October 12-13
TBD – October 14-16
Dennis DeYoung and the music of Styx – October 17-19
Christopher Cross – October 20-21
Survivor – October 24-25
TBD – October 22 – November 14
Also confirmed: Delta Rae, Toad the Wet Sprocket, Wilson Phillips, Boyz 2 Men
Rumored: The Pointer Sisters and Maxi Priest
Eat to the Beat Dinner Packages:
Sometimes especially with the more well-known groups, it can be hard to get a good seat for the show. Well since 2014 Disney introduced the Eat to the Beat packages which allow you to book a table at one of the participating restaurants in Epcot either for lunch or dinner and then enjoy a guaranteed seat for the concert.
There were three show times: 5:30, 6:45 and 8:00. If you wanted to see the 5:30 show you booked a lunch reservation, and for the other two a dinner reservation.
The packages included choice of: An appetizer, entree, dessert and non-alcoholic drink or 1 full buffet depending on the restaurant. The prices were from between $37-75 depending on time and restaurant. I would imagine Disney will be offering the same packages again this year and I will keep you informed as soon as I have more info on the prices and restaurants.
Premium Culinary Adventures:

Returning this year are the Rockin' Burger Black Party and Party for the Senses grand tasting events. Chefs come up with all sorts of creative tasty treats and beverages for you to try and there is live entertainment. Last year the Rockin' Burger Block Party was really good!
Also this year there will be Premium Resort Events including a Grand Floridian Brunch with a twist and a cooking school experience. Count me in for a Brunch at the Grand Floridian as it's sure to be amazing!
If you haven't been to any of the grand tasting events that happen at the Food and Wine Festival now is the time to try one. I can't wait to see what kind of exciting treats the chefs work up this year!
Workshops including: "Mix It, Make It, Celebrate It"

One of the really cool things to do every year is attend some of the workshops or seminars that are available from world-class chefs. This year sounds awesome especially the new "Mix It, Make It, Celebrate It Workshop" which will be a hands-on event where participants get a ton of expert advice from the professionals on how to put their culinary skills to work. Things like mixing drinks, spicing dishes baking elegant desserts will all be things you can learn how to do whether you are new or already a quite proficient cook.
Some of the Chefs and other experts you can expect to see at the Food and Wine Festival this year will be: Rock Harper, master sommelier Andrea Robinson, Buddy Valastro (Cake Boss), Norman Van Aken, Cat Cora, Masaharu Morimoto, Jamie Deen and Elizabeth Falkner. They will be available at various events such as Demos, How-To's Premium Events and even book signings.
Also the Back to Basics weekend series will feature tips and tricks from the pros, book and bottle signings and The Chocolate Experience: From Bean to the Bar which will be hosted by Ghirardelli, and I hear there will be samples….mmmmmmm!!
And More
Ratatouille returns – Chef Remy from "Ratatouille" returns for a fun culinary scavenger hunt
Festival Private Label Wines – Always a popular thing is the Food and Wine Festival private label wine which will be available by the bottle or the glass.
The Chase Lounge – this is for Chase debit and credit card members (which includes Disney Visa holders). The lounge which is in the American Adventure pavilion offers complimentary non-alcoholic drinks, charging stations and A/C which you will need especially if you are going in September!
Parties such as Rockin' Burger Block Party and Party for the Senses and also special wine and culinary programs require reservations and a seperate admission. Once the booking dates are announced you will be able to make reservations calling 407-WDW-FEST (939-3378) and also get details at epcotfoodfestival.com
I can't wait for this year's Epcot Food and Wine Festival!! I'm going to be there giving you first-hand reviews of all of the different booths and all the yummy food and drinks, so stay tuned! And stay tuned for more updates beforehand!
Let me know what you think of this year's Food and Wine Festival in the comments section below…
Photo Credit Disney Parks Blog and The Disney Blog.