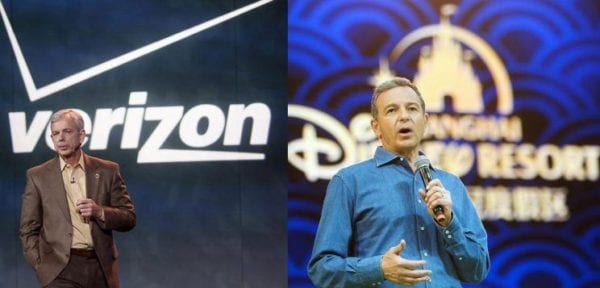 After months of speculating on Apple's interest in Disney, maybe we had the wrong technology giant, there may be the possibility of Verizon buying Disney instead. According to the New York Post Verizon Communications is exploring the option of buying the Walt Disney Company.
The New York Post said: "One rumor making the rounds last week was that Verizon may be eyeing a Disney purchase. While that sounds fantastical, a well-placed banker told On the Money not to count Verizon out."
Verizon might be feeling the heat to keep pace with AT&T who recently bought Time Warner and so the reason for wanting to explore a deal with Disney. Back in April Verizon apparently was open to merger discussions between companies such as: Comcast, CBS or Disney, but a straight purchase? Would it be possible?
It's unknown if Verizon would have the capital to buy Disney considering the roughly $200 Billion it would it. And what's in it for Disney? Their machine is humming along quite nicely now on-their-own, and I'm not sure they would want to risk bringing in outsiders to run the operation. Then there's always the problem of ESPN coming along with a purchase of Disney, which no one really wants to touch at this point.
This isn't the first rumor of a possible purchase of Disney by another company, for months now Wall Street has been speculating that Apple could try to make a move for Disney since it has a huge pile of cash sitting around and it needs to do something with it in order to appease ansy investors. But we haven't heard anything more on that besides speculation for the time being.
Disney hasn't commented on any of these rumors as of yet and so far there's not any confirmation that Disney would even be interested in selling. We'll have to stay tuned to see how things develop….
Your Thoughts:
I want to know what you think about the possibility of Verizon buying Disney. Have you tried any of the new items yet? Which was your favorite? What do you want to try? Let us know in the comments section below!
If you enjoyed this article, as always I appreciate it if you'd share it with others via social media. I work hard at making this website into a useful resource for you and your family to plan your visit to Walt Disney World, and I hope it can help you! Thanks 🙂