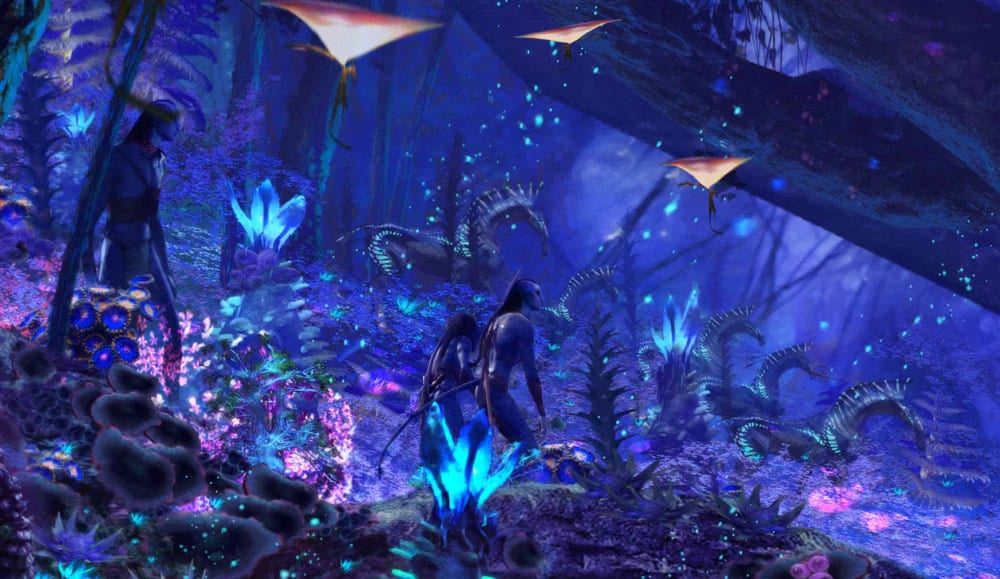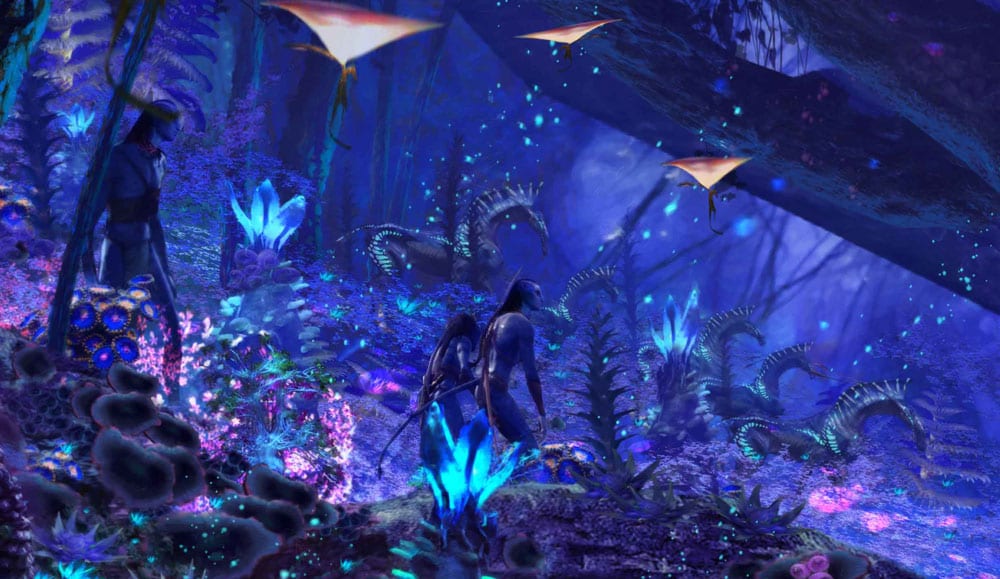 Seeing as I just did a list of the Ten Biggest Disney News Stories of 2016, naturally it got me thinking about the future, and that is 2017. 2016 was an absolutely monster year for Disney with Shanghai Disney opening, huge success after success at the box office, a ton of new attraction openings and the new Disney Springs area making its mark. The more I thought about it though, 2017 has the possibility to be just as big as 2016 because there is even more amazing stuff coming next year.
So again I wanted to make a Top 10 List, this time of the things I'm looking forward to the most in 2017. Just like the 2016 list, because most of my articles are to help park goers, the 2017 list is focused mainly on the parks or things relative to them, with a few exceptions always thrown in.
So here it is, the Top 10 Disney Things I'm Looking Forward to in 2017: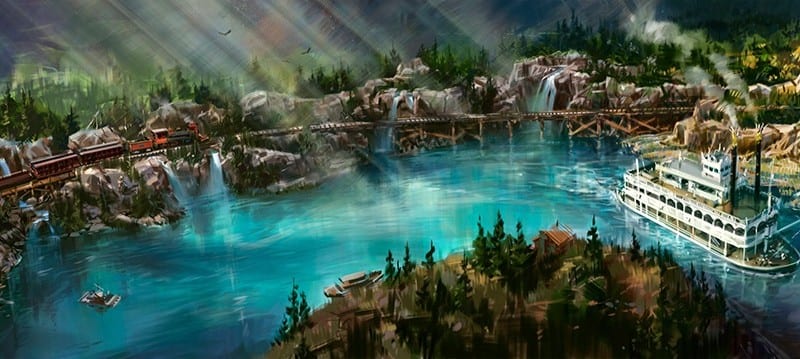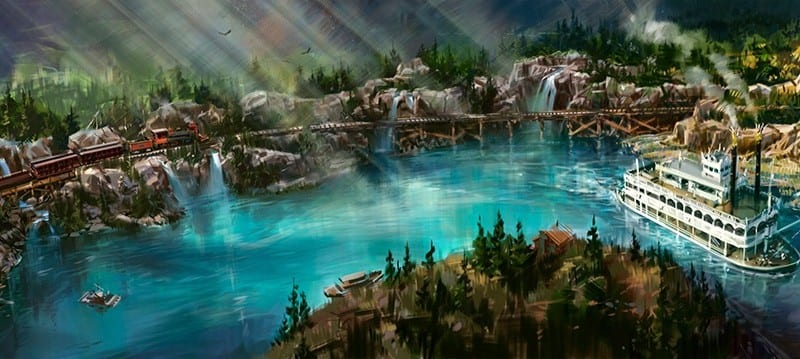 There's been something missing over at Disneyland for a while and finally this summer the 60 year old Disneyland icon is finally coming back. Yes just like Walt loved to do, you'll be able to jump on board the Disneyland Railroad once again. Significant improvements have been made to the railroad and it will now ride along elevated trestles high above the Rivers of America.
Speaking of the Rivers of America, it will be one of the places to be in 2017 in Disneyland because the Fantasmic! show is coming back to the riverbed, as well as iconic attractions such as Mark Twain's River Boat, Pirate's lair on Tow Sawyer's Island and one of my personal favs and something I wish would come back to Disney World: the Davy Crockett Canoes!!
Granted it isn't a huge one, but Typhoon Lagoon has mostly remained untouched since its opening in 1989. Now a brand new Family Raft Ride is coming to the park: Miss Fortune Falls. This ride is going to be a whole 2 minutes, making it the longest ride at both Disney Water Parks. This is a much needed update to the park as it will really benefit from a new E-Ticket attraction. Disney is facing stiff competition from Universal which is opening its new water park this summer, and while one ride can't compete with a whole new water park, at least it's a little shot in the arm. I wonder if sometime down the line we'll see a really huge overhaul in either Typhoon Lagoon or Blizzard Beach. They'll have to do something to keep up.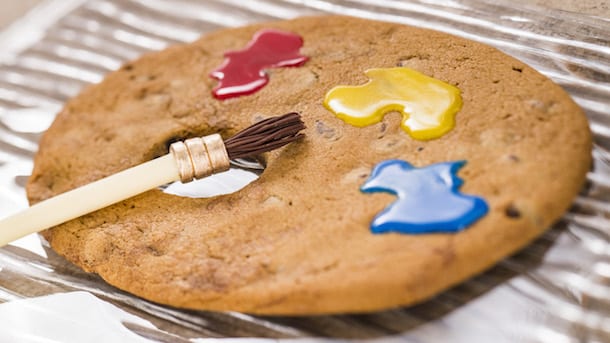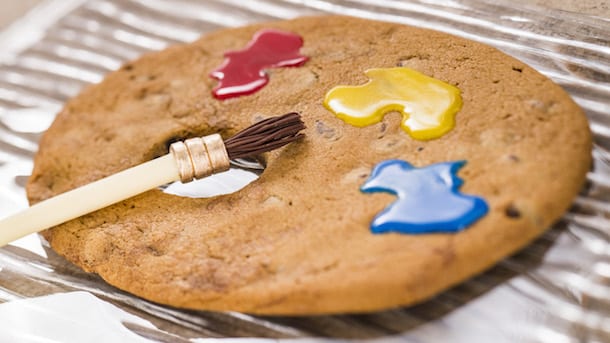 Another Epcot Festival? Yes another one. Epcot basically goes from one festival to another all year long. But when there's great food involved you don't have to convince me twice. This new Festival of the Arts will last 6 weeks from January 13 – February 20 and combine visual, culinary and performing arts, giving people the opportunity to interact with famous Disney artists, works of art, all while being completely immersed in the experience.
All I know is the food looks absolutely amazing! Here's hoping the portion size is big! 2017 will give us an opportunity to see if this new Festival of the Arts can hang with the big boys, aka Food & Wine and Flower & Garden. In my opinion it has tons of potential. You can already make reservations now.
I'm almost over this one, really. First this new nighttime show at the Animal Kingdom was supposed to open last May with all the other new things there, but due to technical difficulties it still is a work in progress. Rivers of Light is a show on the river which will tell a story using cutting edge technologically combining water, lights, fire, and many more special effects unlike anything we've seen. Honestly it does look really good and many people who saw the preview of the show in November had lots of good things to say about it. The only thing it could use is a more climactic ending because it doesn't really feel finished when it is. Other than that this should be an awesome show and another reason to give guest to stay at the Animal Kingdom late into the night. My current guess for the opening is now February but we'll see.
6. Find out who will be Bob Iger's Successor, if there is one:
No, Disney CEO Bob Iger isn't retiring in 2017, right now the 65 year old Iger is aiming at a June 2018 retirement when his contract expires, but many want to know who is going to replace him, and maybe we'll get some news about that in 2017. But is he really going to leave Disney in 2018, or will he change his mind and stay on a few more years? Since he signed on in 2005 he has arguably done more for any leader the company has ever had outside of Walt himself. He's made the huge purchases of Lucasfilm, Pixar and Marvel which will setup Disney with endless content for its films and parks for years to come. He's also opened Shanghai Disneyland and brought tons of upgrades to the other parks. He'll still be under 70 and he's a quite energetic man, so imo working into his early 70's isn't out of the question.
Iger also has no heir apparent to his job as CEO as he has let potential successors leave the company, including Tom Staggs, and Executive Recruiting companies have all said Disney hasn't hired them to look around either. So without any clear successor already at Disney, just what exactly is Iger going to do next? Many big investors have said it wouldn't be surprising or out of the question for Iger's contract to be extended, even though Iger has denied multiple times a desire to stay on pas 2018. We'll see, but this year we should have a bit of a clearer picture.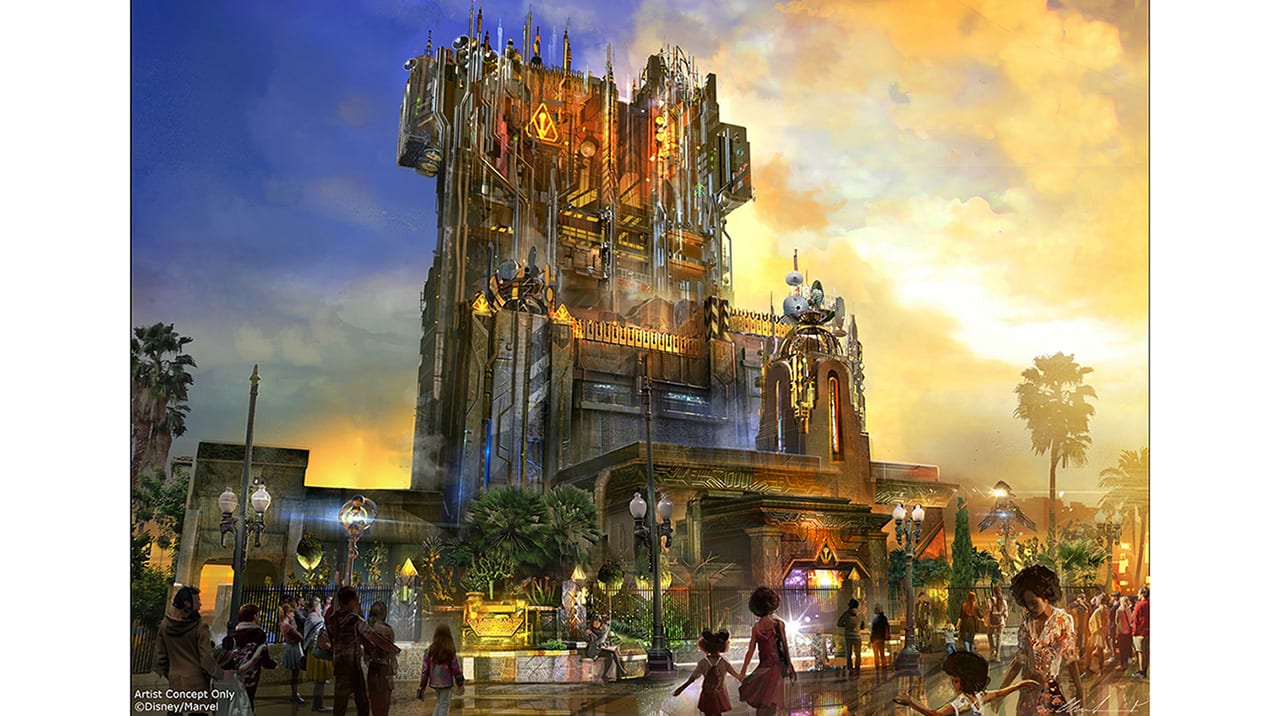 I know many have been up in arms about this one, but honestly I'm pretty excited about it. Don't get it twisted, I love me some Tower of Terror, it's one of my favorite all-time attractions! But having one in every park is a bit redundant and I like Disney's new way of doing things, trying to make every park unique. So as long as Tower of Terror is still in Hollywood Studios there's no need to have another one in Disneyland, so I say bring on GoG.
Guests will be dropped right into the story along with their favorite characters from the comic books and hit films. They are keeping the free-fall structure of the ride, but they will use all new audio and visual effects to create a variety of ride experiences. That's going to create unique ride experiences that change every time you go on it. Guardians is already well under construction and we're looking at a Summer 2017 opening, hopefully even May which is when Guardians of the Galaxy 2 comes out in the theater.
4. Tons more New Disney Springs Openings: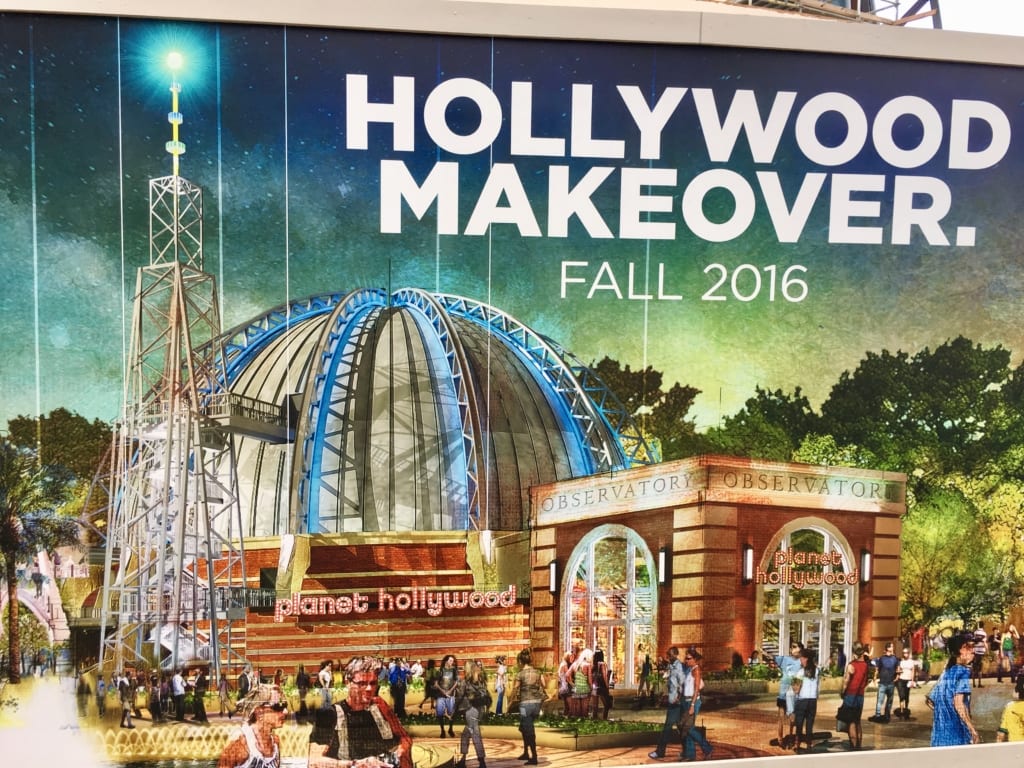 While 2017 shouldn't be quite as big as 2016 was for new opening at Disney Springs, there is still a whole bunch of stuff coming and it looks incredible. Paddlefish is where the old Fulton's Crab House was, on the boat in the lake at Disney Springs, and it's getting a total overhaul: menu and building structure. Planet Hollywood Observatory is getting the same treatment, with new menu items from celebrity chef Guy …. as well as changing the exterior and interior, adding the Stargazers' Lounge which will give guests a look at some celestial bodies while sipping their cocktails.
The Polite Pig, a sister restaurant to an Orlando area favorite which will focus on delicious smoked and grilled pork dishes. Wine Bar George is exactly what it sounds like, a wine bar, but it's going to be cool because you will be able to try and learn about a ton of different wines and food pairings you might not have ever known about. It will be run by master sommelier George Miliotes.
Then there's The Edison which we haven't heard anything about lately, will be a lavish "Industrial Gothic"-style restaurant, bar and nighttime destination that will feature exceptional classic American food, artisan craft cocktails and unparalleled live entertainment. It's designed after its sister restaurant in Los Angeles which is built in a historic power plant.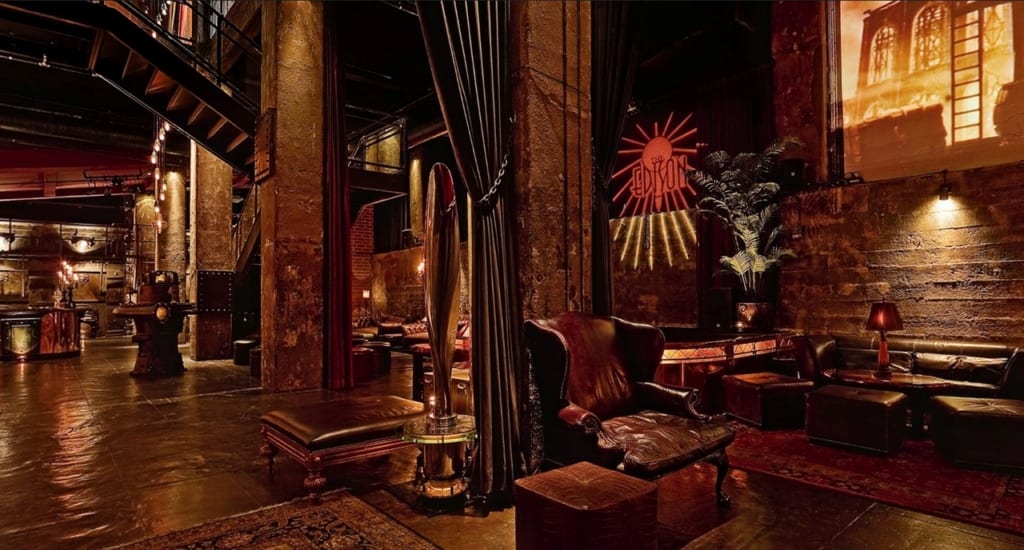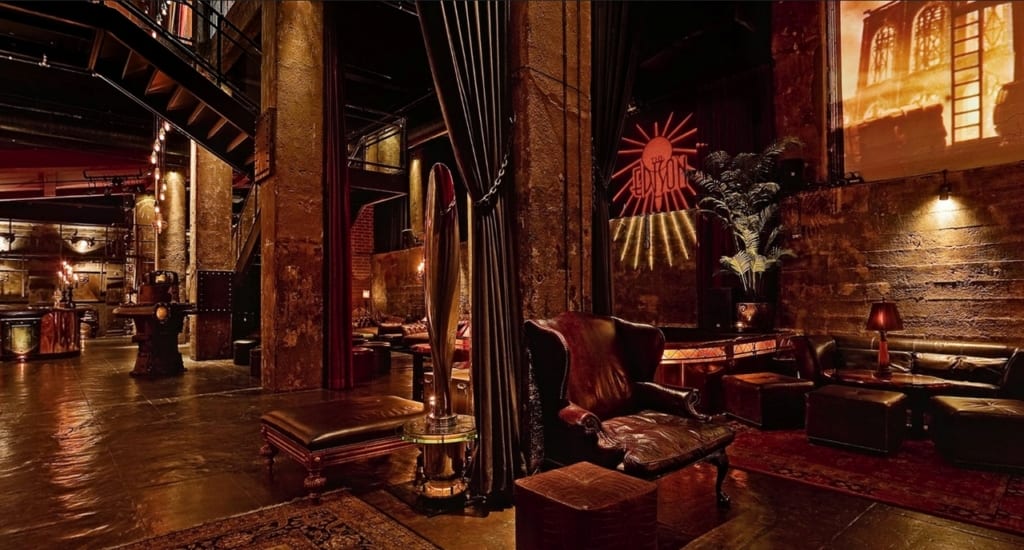 Lastly is the one I'm most looking forward too but the one we have the least info about and that's: Walt's. This has been rumored for some time and would likely be similar to the equally-named restaurant in Disneyland Paris. Any restaurant the celebrates the genius of the man Walt Disney is one I want to try out. I don't know if it will make it in 2017, but I'm sure hoping!
3. Star Wars: Episode VIII, enough said:
I couldn't make a Top 10 Disney Things I'm Looking Forward to in 2017 without including Star Wars! Honestly though, what is there that I can say about Star Wars Episode 8 that's going to get you more pumped up than you already are? I mean after how they left us with so many questions in Episode 7, everyone is dying to find the answers to all the questions: Who is Snoke? Who are Rey's parents? What's Luke been up to on that island all alone? And tons more…
This is probably the biggest franchise in the history of the cinema, and Disney sure knows how to keep us coming back for more. And of course with them tying in Star Wars to the parks, fans of the franchise will have their fix for years and years to come. December 15, 2017 can't get here fast enough!
2. D23 Expo in Anaheim California:
Honestly I thought about making this number 1 as this is the granddaddy event that Disney does, showing the world what it has in store for the next few years in the way of Television, Movies, Parks, Merchandise, everything. I decided though to go with something more tangible and not just pictures and ideas for the future. However that doesn't mean you should be any less enthused about D23 as it's always an amazing and epic time! You can check out the many presentations from Disney execs, videos, demonstrations, booths, etc. Of course the info about what's coming to the parks is what always gets me excited and I can't wait to see what they have planned.
The D23 Expo in 2015 was historic as Disney shed more light on Shanghai Disney and Pandora: The World of Avatar as well as announcing plans for a Star Wars Land and Toy Story Land. I would imagine this year they will be telling us much more about both of those, as well as some of the big changes in store for Epcot including new attractions and maybe even new pavilions in World Showcase.
Who knows, maybe there will be even bigger news coming…a 5th Gate in WDW? New resorts? New Water Park? You'll have to wait till July 14 – 16, 2017 to find out!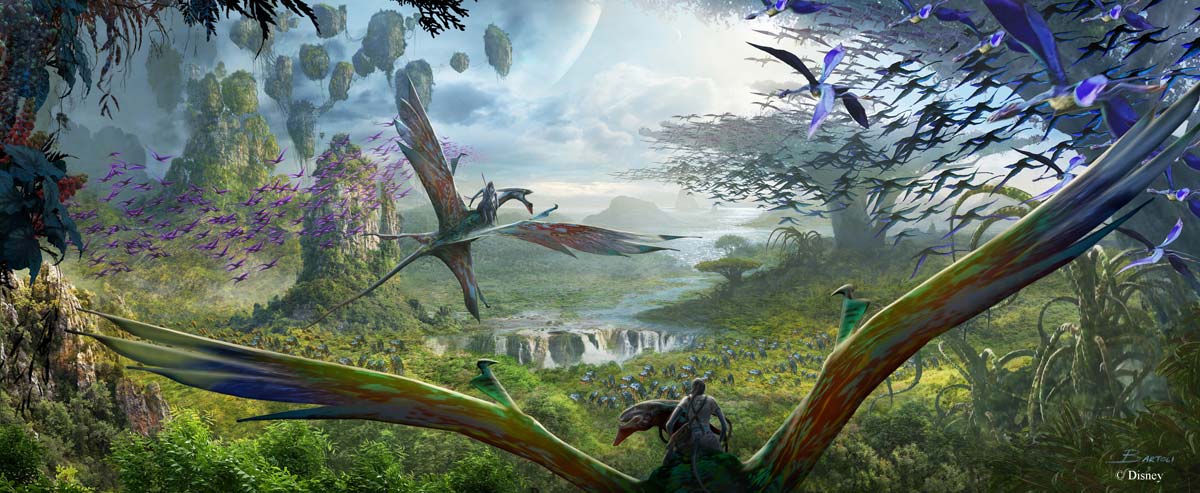 I settled with this because it's going to rule all, I can feel it! I can just imagine walking across that bridge into Pandora for the first time and what it will be like. Honestly Disney and its imagineers have hyped it up so much, but from all the videos and stuff I have seen it looks to deliver on those promises. This is going to be a land which is so immersive, so technologically advanced, it will be unlike anything we have yet witnessed in any theme park. A completely immersive environment, plants that read emotion and interact with you, floating mountains above your head that you can walk under!
Plus there will be 2 new Dining Locations, shops and 2 breathtaking attractions: Flight to Passage, which will take you high above the world of Pandora on the back of a Banshee, as well as the Na'vi River Journey which will be a boat ride similar to Pirates of the Caribbean, but with all new track technology and cutting edge animatronics like you've never seen in your life! Expect an experience like no other when Pandora: The World of Avatar opens in Summer 2017.
So that's it, that's my list of the Top 10 Disney Things I'm looking forward to in 2017, I absolutely can't wait for next year to start already and see how they all play out!
Your Thoughts:
I want to know what you think about my list of the Top 10 Disney Things I'm Looking Forward to in 2017. What are you looking forward to the most in 2017? Do you agree with the order of my list? Did I leave something off the list? Let us know in the comments section below! 🙂
If you enjoyed this article, as always I appreciate it if you'd share it with others via social media. I work hard at making this website into a useful resource for you and your family to plan your visit to Walt Disney World, and I hope it can help you! Thanks 🙂
Photo Credit: Disney