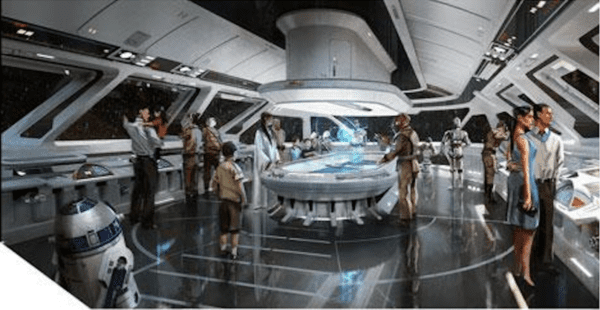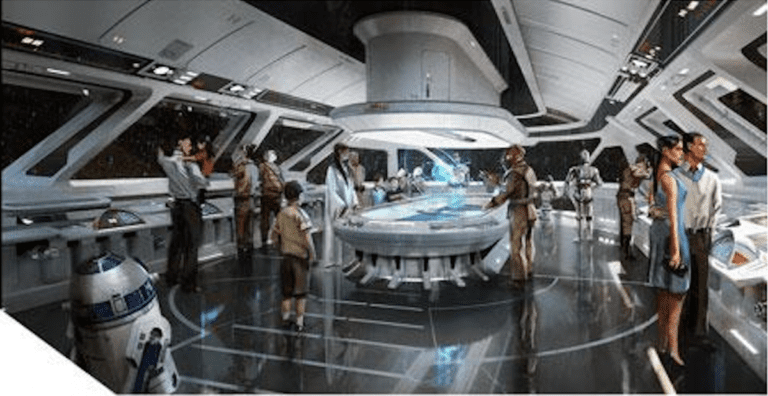 It seems that there very possibly could be a Star Wars Luxury Resort Experience coming to Walt Disney World. Through the site Sawgbucks.com Disney is surveying guests about a possible Star Wars resort experience on a real Star Wars Starship! It would be next to Disney's Hollywood Studios. This sounds like the coolest thing of all time!!
There are concept art and ideas for what the Star Wars resort experience would be like:
A 2 Night Resort Experience set in the Star Wars Universe
Throughout the 2 days a continuous story driven experience becoming completely immersed in the story.
Interactions with Star Wars Characters throughout the ship
Interactive experiences such as Lightsaber Training, Flight Training and Secret Missions (on the ship and on a Star Wars Planet)


Included in the Luxury Starship Resort will be:
All meals included (Breakfast Buffets, Lunches and Signature Dining Dinner)
Dinner Shows
Exclusive Park Admission to Star Wars Land in Hollywood Studios
Other amenities onboard the Starship (Pool, Fitness area, Cantina, and even Droid Butlers)
What's the price for all this Star Wars fun? It looks like about $900-1000 per guest.


My first reaction to this is it sounds like the best thing of all-time! I mean who wouldn't want to stay onboard a Star Wars Starship and have all these experiences? It is a steep price to pay, but with meals and admission included plus all the extras it would be worth it for a once-in-a-lifetime experience for a real Star Wars fan.
Now it doesn't say how big the Starship would be or how many guests it could fit. I would have to think it would have more than one room because a resort like this would be very expensive to build. At the same time it sounds like it's going to be exclusive enough that guests will have privacy also. Maybe 10 rooms?
Disney hasn't mentioned anything yet so for now nothing is in stone, but it looks really promising and is sure to make the dreams of millions of Star Wars Fans come true knowing this could happen. Stay tuned for more info when it comes out.
More more info read our Star Wars: Galaxy's Edge Complete Guide for a detailed look at the rides, dining, planning and touring strategies.
Your Thoughts:
I want to know what you think about the Star Wars Luxury Resort. Do you like the idea? Is it something you would be interested in? What else would you like to see? Let us know in the comments section below!
If you enjoyed this article, as always I appreciate it if you'd share it with others via social media. I work hard at making this website into a useful resource for you and your family to plan your visit to Walt Disney World, and I hope it can help you! Thanks 🙂