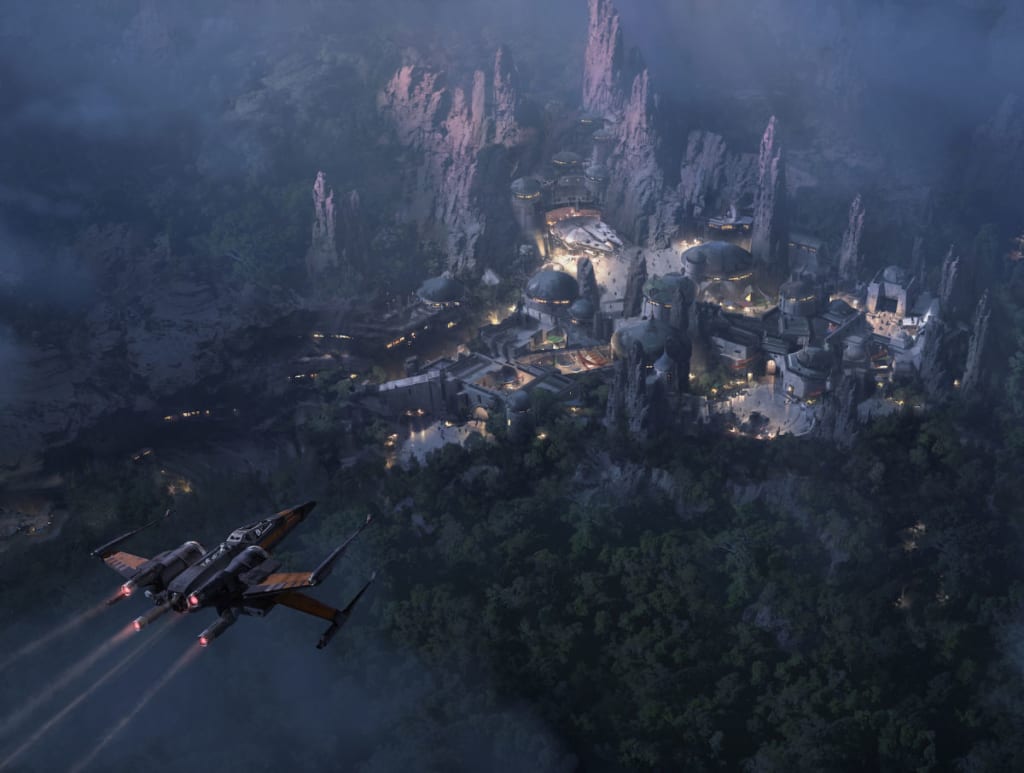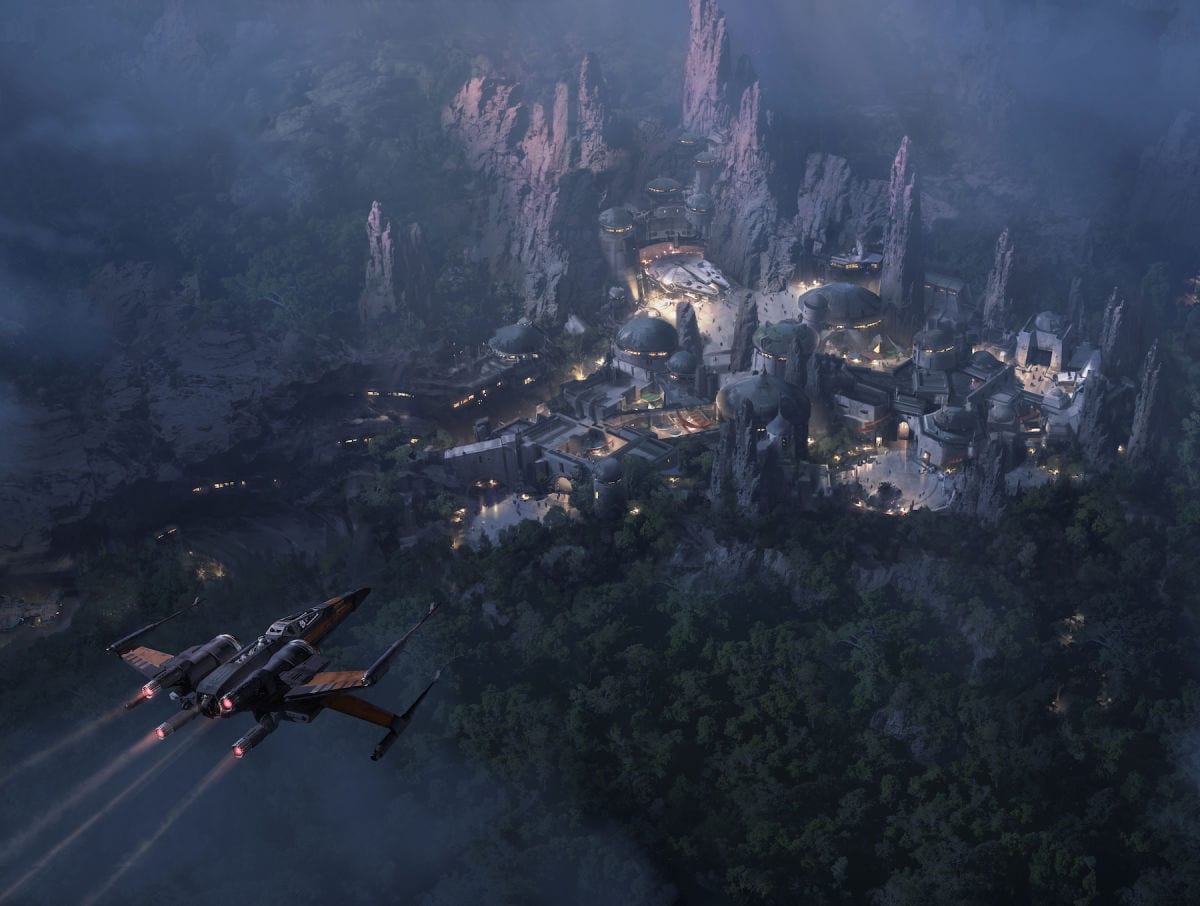 Ever since Disney announced the new Star Wars themed lands coming to both Hollywood Studios in Walt Disney World and Disneyland California, I've been salivating to get any kind of info about what they will be like, just like any genuine Star Wars fanatic would. Yesterday at the D23 Destination D event, Chairman Bob Chapek gave a Star Wars Land update, and revealed to the audience some fascinating new concept art that will drop your jaw!
If it looks familiar to you, that's because it is. It's essentially a nighttime version of the concept art of the land we saw back in the summer. There's a lot of detail to the art and there are a few small differences but it's essentially the same.
One thing you notice right away is the Millennium Falcon over in the corner. That's no doubt where the entrance to one of the two main attractions will be in the land, this one letting you pilot Han Solo's iconic star ship. The other initial attraction (Star Wars: Rise of the Resistance) will have to take place in a realistic battle between the Resistance and the First Order. They both sound amazing. I assume somewhere in the middle there will be the gift shops and restaurants (it's rumored to have 2 dining locations)
Also the mountains stand out to me a lot and I'm wondering how tall they will be. It looks like it will be a bit secluded as a land and really immerse you in the Star Wars feel. This will be a land that we haven't yet seen, so I'm guessing one from the new trilogy.
A Star Wars Land is going into both Hollywood Studios as well as Disneyland California, although right now it isn't known what differences the two locations will have. They both will be 14 acres, but I'm hearing there will be some differences between them. We'll have to wait to hear more when announcements are made.
Right now I'm guessing we're in for a 2019-2020 opening, I would think sometime between the release of Episodes 8 and 9. However perhaps the Disneyland version will open first, as it seems much farther along in the construction process compared to the Hollywood Studios one. I don't think I've ever been so excited for new stuff coming to the Disney parks before, I can't wait to see what else is in store. Stay tuned for more updates.
More more info read our Complete Guide to Star Wars: Galaxy's Edge for a detailed look at the attractions, dining, planning and touring strategies.
If you enjoyed this article, as always I appreciate it if you'd share it with others via social media. I work hard at making this website into a useful resource for you and your family to plan your visit to Walt Disney World, and I hope it can help you! Thanks 🙂
Your Thoughts:
I want to know what you think about the new Star Wars Land Update. Do you like the new concept art and how it's coming along? What type of Star Wars experiences would you like to experience once the land opens up? Let us know in the comments section below! 🙂
Photo Credit: Disney Parks Blog