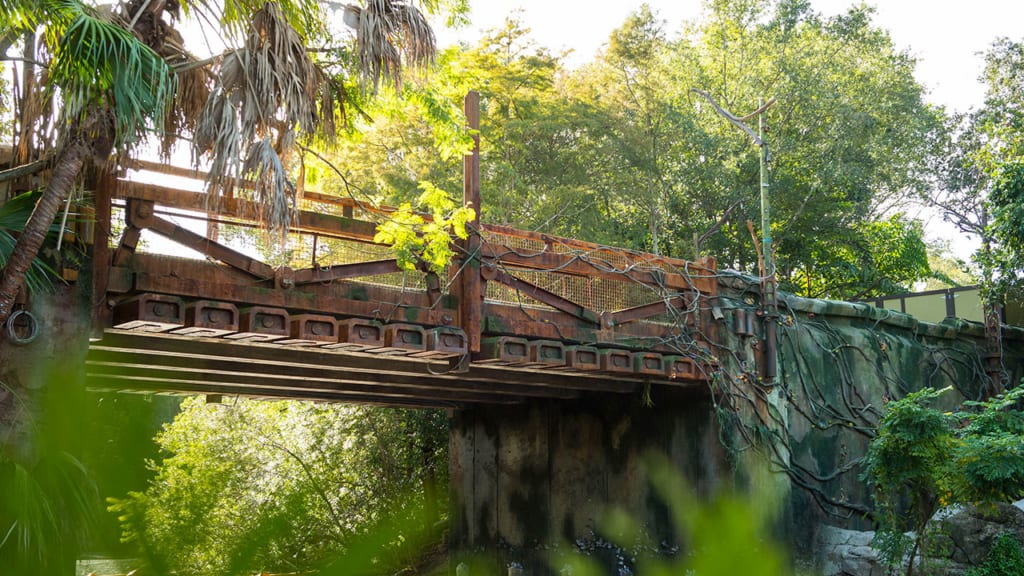 The news keeps getting better and better this weekend. Not only did we get some new details and concept art about the upcoming Star Wars Land, but yesterday at D23's Destination D event, Bob Chapek announced new details for Pandora – The World of Avatar including a target opening date of "Summer 2017". If you've been to the Animal Kingdom lately you have probably seen the "Floating Mountains" from a far (they're easily seen from the bus stops), and most of the external work on them seems done.
In fact a lot of the external construction on Pandora – The World of Avatar is basically done, now the big work is inside the attractions. Bob gave us a look at the recent construction progress, and showed a picture of the entry bridge into the new land (near Tiffins) which connects it to the rest of the park. One of the best things about Disney is that everything has a story, and that's no different even with this bridge:
"According to the storyline developed by Walt Disney Imagineering and Lightstorm Entertainment, this bridge was built during a time when a destructive company called the RDA came to Pandora. Now that they're long gone, nature is breaking down evidence of their presence. This bridge will soon serve as an entry into the base camp of Alpha Centauri Expeditions, the eco-tour group that is preparing Pandora for future explorers and adventure seekers." Since Disney also announced this week that the S.E.A. will have a bigger role in Disney parks in the near future, I'm wondering if this Alpha Centauri Expeditions is somehow connected to them…I sure hope so!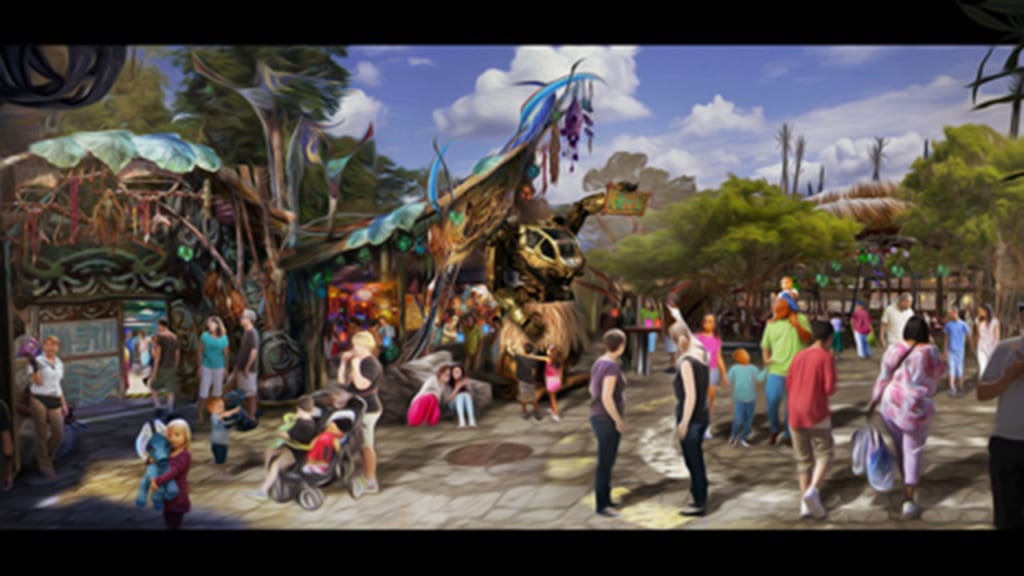 Pandora – The World of Avatar land will transport guests to a visually stunning world complete with floating mountains and bio-luminescent plants. These plants are "living" and have been equipped with a sensing system that allows the plant to interact with guests. Truely next-gen technology at work and will completely change what we think of as a theme park experience.
There will also be two main attractions in Pandora, both of which will truly push adventure to the next level. First, the family friendly Na'vi River Journey will send guests down a sacred river hidden within a bioluminescent rainforest. Their journey will end in an unforgettable encounter with a Na'vi Shaman, a figure who has a deep connection to the life force of Pandora. And second, the Avatar Flight of Passage excursion will offer the jaw-dropping experience of riding on a Banshee over the world of Pandora.
Also there will be two dining locations in Pandora: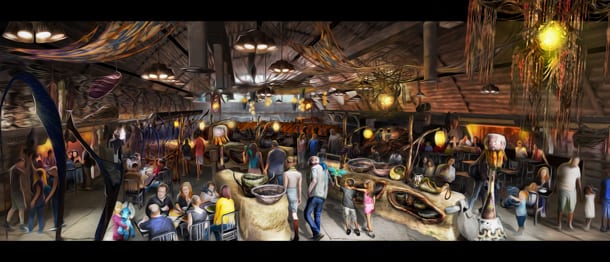 Pictured above is the Pongu Pongu, which will be a special drink location with a design that is as eclectic as its Expat owner. Satu'li Canteen will be the main restaurant in Pandora – The World of Avatar and will feature Na'vi art and cultural items.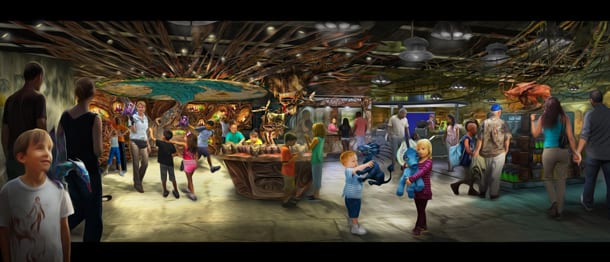 At Windtraders, travelers can find Na'vi cultural items, toys, science kits, and more.
To be noted is the fact that Disney was quite non-committal with the opening date of "Summer 2017", that could mean all the way from Memorial Day at the end of May, till Labor Day in the beginning of September. Of course they are probably erring on the side of caution, especially after the whole "Rivers of Light" fiasco of this year (yes, we're still waiting for it), which ultimately is the smart play imo, there's no need to give a specific date at this point if you can't guarantee it yet. There are too many things that could go wrong between now and summer, so at least this way Disney has some time to work with, without feeling the pressure of a hard date. Honestly it's better this way, becuase if they tell us Memorial Day, tons of people are going to book their vacations to Disney World for that time, expecting to see Pandora – The World of Avatar, and if it's not ready yet there will be hell to pay. Smart Disney, you're learning from your mistakes! 😉
I tend to believe it will be done somewhere around the 4th of July, which will give it exposure for a solid 2 months of summer. If you are trying to plan your vacation for this year and you are dead-set on seeing Pandora, then I wouldn't book before July. To err on the side of caution if you can, I would even wait and book it for September or after, that way you will be sure to get in.
Anyways, Pandora – The World of Avatar looks totally amazing, and I can't wait to see what else they have in store for us in this new land and how these new attractions shape up. I have a feeling it's going to be like something we've never experienced before!
Keep tuned for more updates to Pandora – The World of Avatar in the upcoming weeks!
If you enjoyed this article, as always I appreciate it if you'd share it with others via social media. I work hard at making this website into a useful resource for you and your family to plan your visit to Walt Disney World, and I hope it can help you! Thanks 🙂
Your Thoughts:
I want to know what you think about Pandora – The World of Avatar. What do you think of the new concept art? What are you most looking forward to there? What else would you like to see in the land? Let us know in the comments section below! 🙂
Photo Credit: Disney Parks Blog