While Star Wars Galaxy's Edge has been open for some months now over in Disneyland, we're still waiting for the Hollywood Studios version. Today Disney released the first Star Wars: Galaxy's Edge Digital Map for Walt Disney World online and on the My Disney Experience app.
Here is a first look at the map of Star Wars Land in Disney World: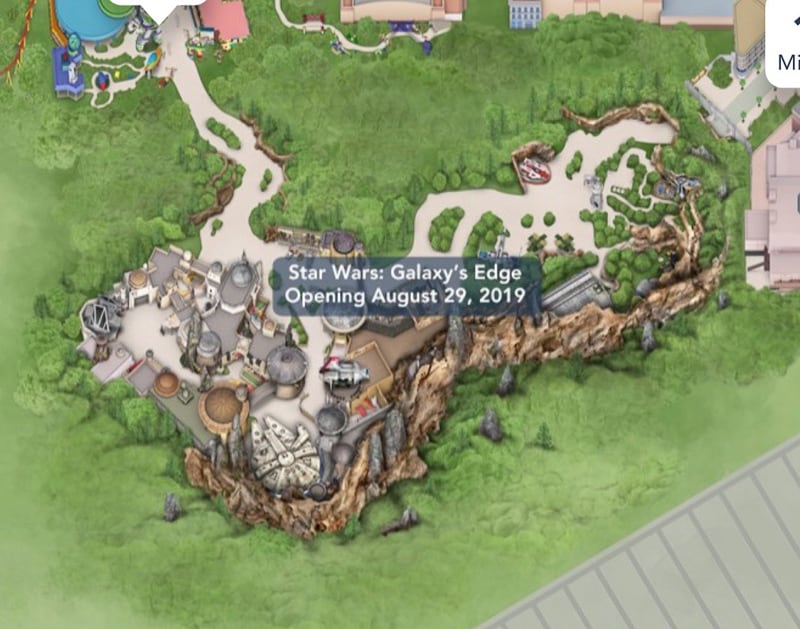 Some differences are that the map is totally inverted from the Disneyland version. The positioning of Galaxy's Edge in Hollywood Studios has it at the bottom of the map with Black Spire Outpost on the left and Rise of the Resistance on the right.
The Disneyland one is the opposite because of geographical positioning. Of course once in the park, the land is still set up the same way with Black Spire Outpost on the right and Rise of the Resistance on the left.
Another difference is there are only two entrances to Galaxy's Edge in Walt Disney World, one on each side of the map, whereas Disneyland has a third right next to the TIE Echelon fighter.
Here we can see the entrance by Black Spire Outpost: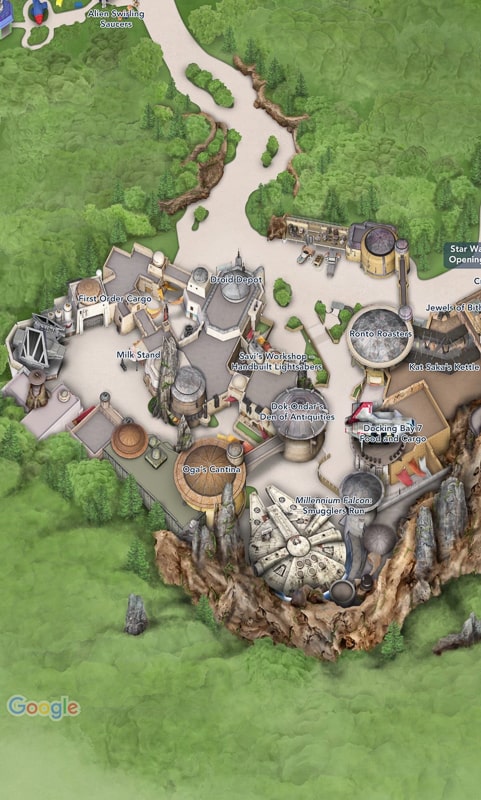 You can see the layout is pretty much the same as in Disneyland but everything is more compact at the top near the entrance. In Disneyland where they have the speeders is a bit further from the entrance. This is due to less space in Disney World on that side.
The rest looks the same.
Here is the side of the map by Rise of the Resistance: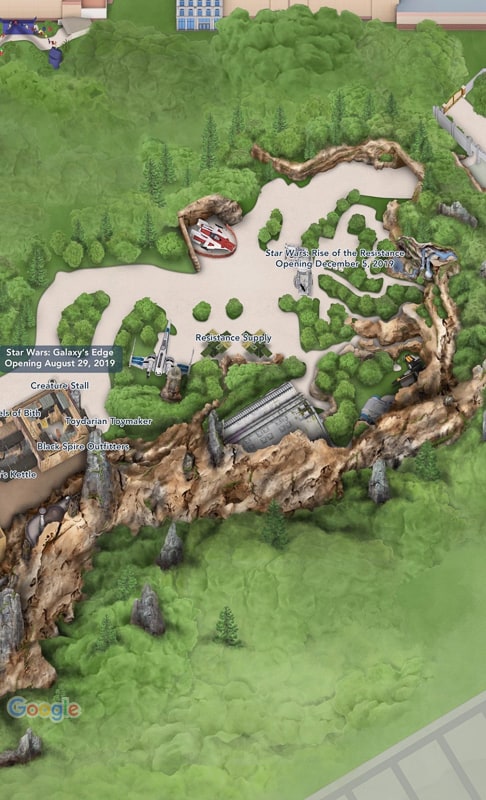 Again one small difference in the side were the A-Wing in located. In Disneyland the A-Wing and X-Wing are right next to each other on the same side. On the Disney World map of Galaxy's Edge we can see the X-Wing has been moved to the other side and down closer to Black Spire Outpost.
Disney also just put the Disney Skyliner system into My Disney Experience so you can check out the positioning of all the stations.
For more info read our Complete Guide to Star Wars Land for a detailed look at the attractions, dining, planning and touring strategies.
Your Thoughts:
I want to know what you think about the Star Wars: Galaxy's Edge map in Disney World…
Do you like the differences?
Which one do you like more?
Let us know in the comments section below!
If you enjoyed this article, as always I appreciate it if you'd share it with others via social media. I work hard at making this website into a useful resource for you and your family to plan your visit to the Disney Parks and I hope it can help you! Thanks 🙂