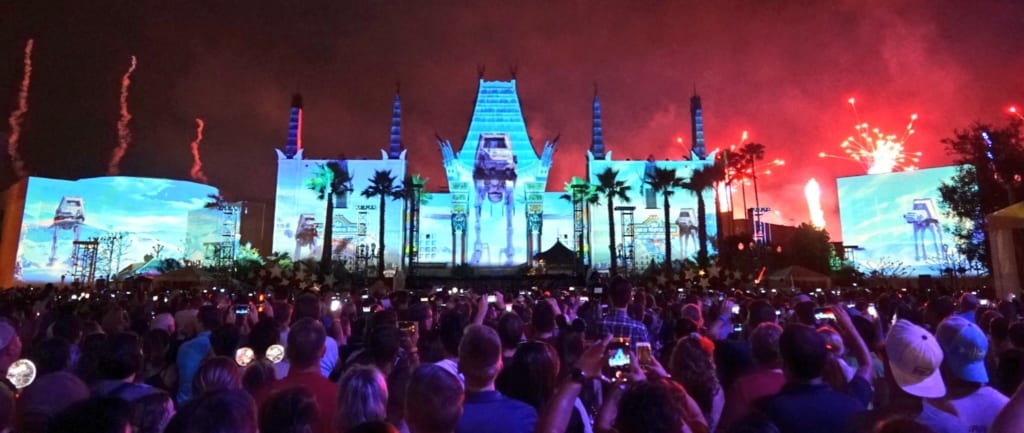 The new Star Wars: A Galactic Spectacular has been awesome so far, with rave reviews from tons of fans. Starting July 10th, the Star Wars: A Galactic Spectacular Dessert party is now moving from its location on Hollywood Blvd, to the Star Wars launch bay. This will give Disney more space for viewers on the prime location in front of the Chinese Theater, because they are really crammed in there right now and all the tables for dessert were taking up too much space.
So now the party will take place inside the Launch Bay, then after the desserts guests will be escorted to an outdoor VIP viewing location 15 minutes before the start of the show. Although I don't know yet where that will be, you can be sure it will be a prime location based on the price you pay for the VIP status.
The price is still $69.00 per adult and $39.00 for children. The tax and tip is already included.
Special Effects added to the Show:
Hollywood Studios wasn't finished apparently with Star Wars: A Galactic Spectacular when it first opened less than 2 weeks ago. It was already an amazing show, but now it's getting even better! Even more special effects have been added, including flame throwers on the top of the Chinese Theater and more lasers too! Make sure to get to Hollywood Studios and see it next time you go, it's even better than the previous show was!
Let me know what you think of Star Wars: A Galactic Spectacular Dessert party moving to the Launch Bay, and tell me what you think of the show in general along with all the new effects in the comments section below. As always I really appreciate it if you help spread the word, so if you liked this post and my site then please share it with others! Thanks! 🙂