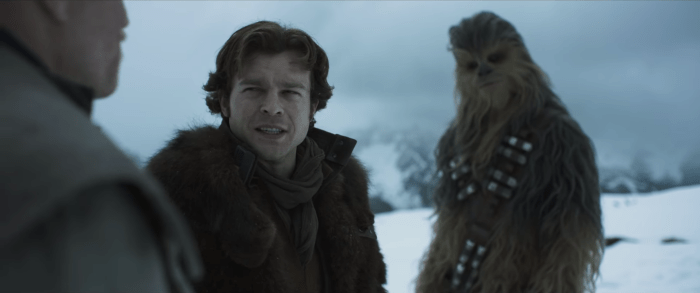 With only a few months to go, everyone's been wondering when we'd finally get a look at Solo: A Star Wars Story. Well during the Super Bowl last night, we got our first look at the Solo: A Star Wars Story teaser trailer with Han Solo, Lando Calrissian, and a new looking Millennium Falcon. Now Lucasfilm has released the full trailer on ABC's Good Morning America this morning, and it reveals much more.
Here it is:
My first impressions are what I was fearing. I don't like Alden Ehrenreich playing Han Solo. I don't know why, but the way his lines come across on the screen just turn me off for some reason. This plus the fact that directors were changed half-way through, growing concerns from inside Disney for how Solo came out, and my disappointment with The Last Jedi doesn't give me a ton of hope for Solo: A Star Wars Story. Hopefully the supporting cast and story are enough to make up for it, I guess we'll have to see.
This wasn't the only big trailer dropped on Super Bowl Sunday however, we also got to see the latest trailer for Avengers: Infinity War and learned a bunch of new things about it!
Solo: A Star Wars Story opens in theaters May 25th, 2018 in USA, and is just one of the many films Disney has in the lineup for 2018.
Your Thoughts:
I want to know what you think about the Solo: A Star Wars Story Trailer. What were your first impressions? Let us know in the comments section below! 🙂
If you enjoyed this article, as always I appreciate it if you'd share it with others via social media. I work hard at making this website into a useful resource for you and your family to plan your visit to Walt Disney World, and I hope it can help you! Thanks 🙂