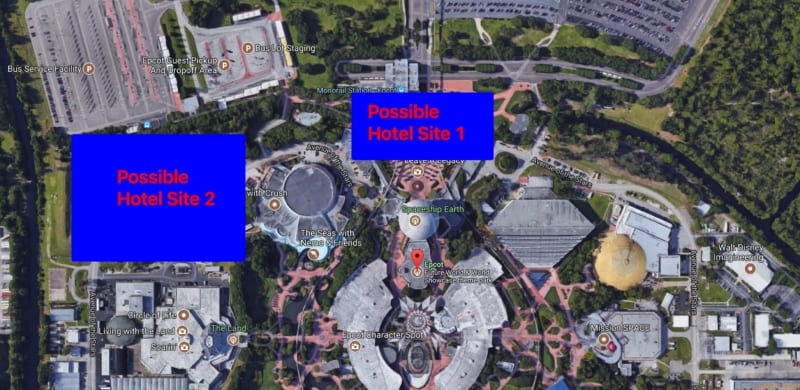 UPDATE 11/29/17: Over a month ago we reported on a story about exploratory geotechnical tests outside Epcot that Disney was doing.  These tests were notable because of the size and close location to Epcot park.  This brought up the question if Disney could be building a new Epcot Resort connected to the park.  Now those rumors are again being brought up, and this time Disney has in fact proposed plans for a hotel attached to Future World, just outside the park.
Reportedly Disney is considering two locations for an Epcot Hotel.  The first location would be right at the entrance to Future World, and the other would be between The Land and The Seas pavilions, still in Future World.  Immediately the question comes up would a hotel block the view of Spaceship Earth if put at the Epcot entrance?  Apparently in the design it would be built in such a way where it wouldn't block the view, but would have a particular structure in the shape of towers which wouldn't block it.  You can also imagine that being so close to the monorail, it would be a great opportunity for another hotel with a monorail running through it.
While Disney hotels in the parks is normal outside WDW, we know that this isn't a new idea with Disney announcing a Star Wars themed hotel coming to Hollywood Studios which should be connected to Galaxy's Edge.  A new hotel in Epcot's Future World to me is a great idea to bring even more guests to a park Disney is putting tons of capital into, and would be a great addition.
I'm interested in what the theming could be if it does get built.  Seeing as it's called Future World, obviously something futuristic makes sense, possibly space-themed.  Also you have to think with a Guardians of the Galaxy Coaster coming to Epcot, could the hotel have some kind of Marvel theming to it like GotG?  Would it better to be theming related to the countries included in World Showcase?  Also think about the views a hotel at the entrance of Epcot would have too!
Again this is just in the early stages so an Epcot Hotel in Future World is far from a guarantee but the possibilities are endless.  It will be interesting to see what comes of it.
What theming would you want to see?
See original story below….
According to WDWMagic.com, Disney is conducting exploratory geotechnical tests outside Epcot that could mean Disney is planning a new Epcot Resort.  This "Exploratory Geotechnical Borings for Epcot NW Pond" is in an area near the recently opened solar power farm, just outside the front gate.
As of the moment there are no known plans for construction there, but this exploratory work gives hint to something big coming.  In fact it means that whatever could be going there would be big enough that it would need drastic modifications to the water management process.  From all accounts the current construction plans for Epcot inside the park, would not need any majors changes to the water management, that's why it points to something bigger.
The first thing that comes to mind obviously is it could be a new Epcot Resort.  Would Epcot build a resort so close to the park?  Some feel that a resort so close to Epcot could ruin the ambiance and the resorts should be kept far away.  I think that if done right it could actually add a lot to the theme of Epcot.  Most likely though whatever resort went in there could be made hidden from the view of the public in Epcot anyways, just like you don't see the Beach Club.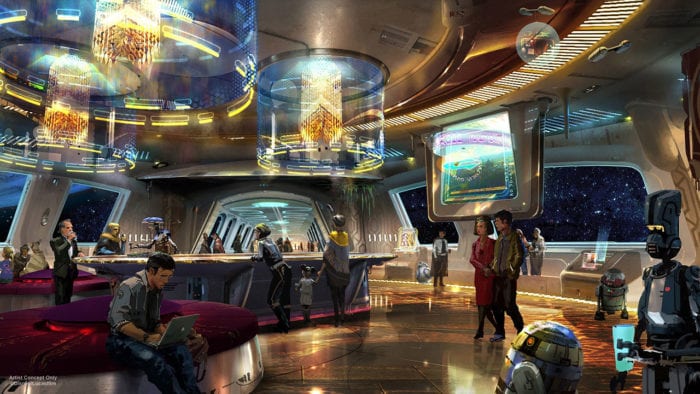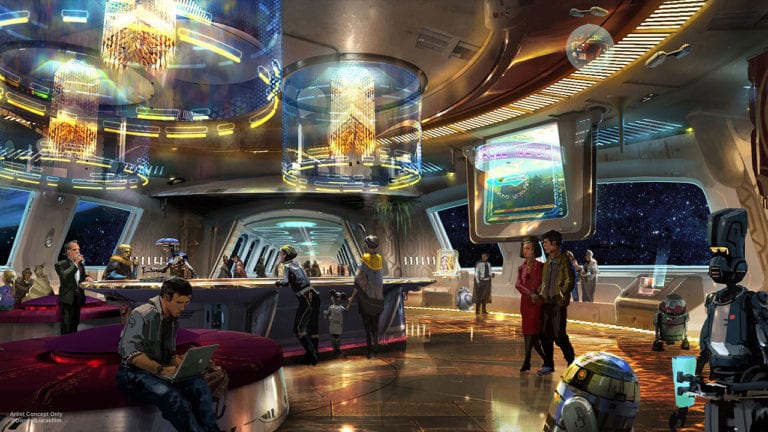 Plus the fact that a Star Wars hotel is being built in such close proximity to Hollywood Studios should be one clue that the current Walt Disney World management wouldn't be against the idea.  What if another full-immersion themed resort like the Star Wars one came to Epcot?  A space-themed one doesn't seem likely since it would too similar to the Star Wars resort, but what about a Marvel-themed resort?  I know that Disney is not allowed to have the Marvel name or characters (GotG as the exception), but what are the restrictions in a hotel?  It would be interesting to find out if using the Marvel characters in that arena could be possible.  If not Marvel though, what about a Seas-theme?  Where instead of looking out of windows that make you feel like your in space, makes you feel like you're under the sea?  Or what about using some other Disney IP to create an interactive resort?
It's an absolutely huge parcel of land, bigger than Future World, and bigger than the area that the Yacht & Beach Club, plus the Swan and Dolphin all take up.  Really one or 2 more resorts could easily fit in that area, and it would have great access off Epcot Resorts Blvd and World Drive.  It'll be interesting to see what comes of these exploratory geotechnical tests and to find out what Disney has up their sleeves..
Your Thoughts:
I want to know what you think about the possibility of Disney building a new Epcot Resort.  Do you like the idea?  What theming would you like to see in a resort there?  Let us know in the comments section below!
If you enjoyed this article, as always I appreciate it if you'd share it with others via social media.  I work hard at making this website into a useful resource for you and your family to plan your visit to Walt Disney World, and I hope it can help you! Thanks 🙂