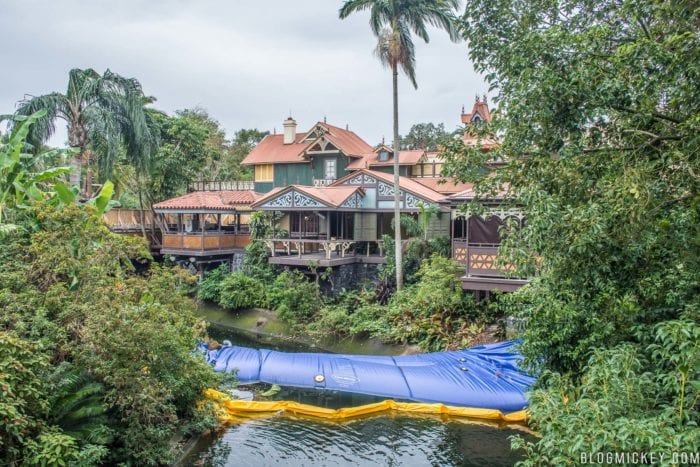 The big news back in the Spring was that the exclusive Disneyland Club 33 was coming to Walt Disney World, not just in the Magic Kingdom, but in 4 locations spread across the theme parks. It's going to function similarly to Club 33 in Disneyland and to get in you will need membership, but members will have access to all 4 Walt Disney World Club 33 locations. Since the news broke though we really haven't heard anything much, just speculation on where the locations will be, but now it seems like Club 33 could be coming to the Adventureland Veranda in Magic Kingdom.
Yesterday Blog Mickey noticed some work being done on the Adventureland Veranda as you can see in the above photo. The facade on the building has been opened up and the river has been dammed below. The Adventureland Veranda has been speculated to be the location of both Club 33 and a Moana Character Meet and Greet, so it's still uncertain at this time which it will become. I'm not sure this would be the best location for it, I would think something a bit more private off the beaten path could be better.
I can't wait to see more info on the various Club 33 locations throughout Walt Disney World, they are going to be uniquely themed to Walt and Lillian's worldly adventures so they should have some really cool artifacts and theming elements to them. The original target opening dates were Fall 2017, but that seems like a dream now seeing as there hasn't been any noted construction on any of the Club 33 locations. Disney also hasn't made known the pricing yet, though it's expected to be super-high, think initial fees at least in the $20,000 – $30,000 range and annual dues around $10,000. That unfortunately means that Club 33 won't be something that your average Disney fan will be able to enjoy, but the ultimate V.I.P. experience reserved for corporate big-wigs and super-rich.
Again until Disney confirms this it's just a rumor but it does look like work is certainly being done on the Adventureland Veranda and we'll find out soon what it is.
Your Thoughts:
I want to know what would you think about Club 33 coming to the Adventureland Veranda. Do you think this is a good spot for it? Where would you put Club 33 in the Magic Kingdom? Let us know in the comments section below!
If you enjoyed this article, as always I appreciate it if you'd share it with others via social media. I work hard at making this website into a useful resource for you and your family to plan your visit to Walt Disney World, and I hope it can help you! Thanks 🙂