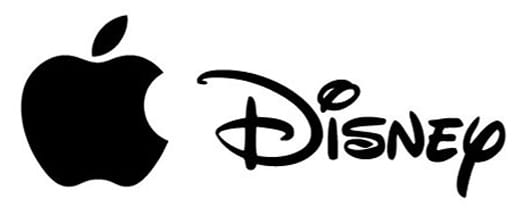 Just a few weeks ago there was some talk on Wall Street about a possible Apple/Disney merger. Now it seems that talk has picked up some steam and it's possible that Apple really might buy the Walt Disney Company. According to Variety Apple just might be able to come up with the $200+ Million it would take to buy Disney, creating the biggest technology-media conglomerate the world has ever seen.
Investors seem to be on-board with the idea and have increased expectations that a deal could happen. The tech giant Apple is searching for content to be able to stream across it's diverse array of platforms, and Disney would provide just that. It instantly would become a huge competitor to Netflix and all other streaming media services.
The price will not be cheap however. Investors would want a 40% share which means that Apple would have to come up with roughly $237 Billion in cash. However, since most of Apple's cash is off-shore, they will need help from Uncle Sam if it's going to become a reality. They would need U.S. regulators to give it a "tax holiday" in order for Apple to be able to pay a lower tax rate to use those funds in an acquisition of Disney.
If they can't come up with all that cash it's also possible Disney would try to spin of ESPN or even the Theme Parks to make an acquisition more feasible.
What all this would mean for the Theme Parks is still uncertain. It would mean a boost in technology used throughout the parks, but the overall way they are developed and run could change for better or worse. I'm not sure I would like this move however. Things are moving in such a positive direction right now in Walt Disney World and in all the properties around the world, I don't want anything potentially rocking the boat.
Again as of now it's all speculation and often these kinds of talks never lead to anything, but it's sure making it interesting for all of us and we'll be intently watching to see what else develops…
Your Thoughts:
I want to know what you think that potentially Apple is Closer to Buying Disney. Would this be a positive move for Disney and it's fans? What kind of affect do you see it having in the parks? Let us know in the comments section below!
If you enjoyed this article, as always I appreciate it if you'd share it with others via social media. I work hard at making this website into a useful resource for you and your family to plan your visit to Walt Disney World, and I hope it can help you! Thanks! 🙂
News Credit: Variety