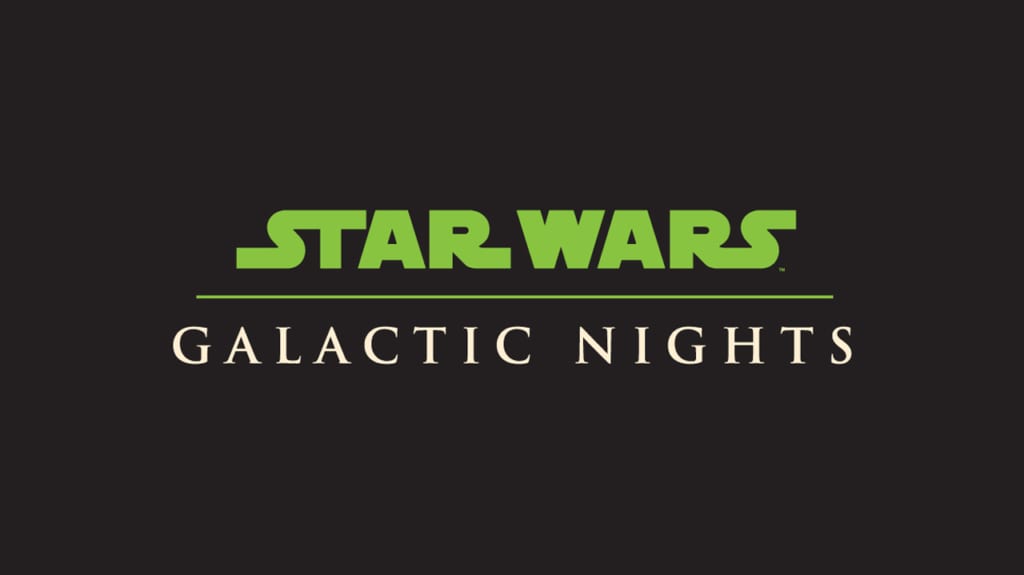 Disney does a bunch of ticketed events every year, but none gets me more pumped than a Star Wars one!! Get ready because tonight is the biggest Disney Star Wars event of the year and we have the Star Wars Galactic Nights Schedule. Below is the complete lineup of programs and events you can expect to encounter while you are there. There are Shows, Meet-and-Greets, Celebrity events even Disney Attractions themed specially for Star Wars. The main events will be located at the Rebel Base in front of the Chinese Theater.
Take a look below so you don't miss any of the action:
Entertainment:
Stars in Cars
Motorcade Route (Stars near Main Entrance)
8:05pm
Grab your spot to view a star-studded motorcade featuring a galaxy of your favorite Star Wars celebrities. The motorcade begins at the front of the Park and travels towards Star Tours–The Adventures Continue
Inside the Sage: Celebrity Chat Show
Epic Stunt Theater
9:00, 10:00, & 11:00pm (Pre-show begins 10 minutes before show time)
Hear from host Vanessa Marshall and Star Wars cast members and go behind the scenes of "Rogue One: A Star Wars Story" to learn what it takes to make remarkable cinematic moments. 30 minutes.
Celebrate the Saga
Rebel Base
9:15 & 11:15pm
Take an interactive journey that chronologically celebrates the milestones of 40 Force-filled years of Star Wars
DJ Dance Party
Rebel Base
7:00 – 7:25pm & 9:45 – 10:25pm
Sway the night away at a galactic dance party.
Star Wars: A Galaxy Far, Far Away (Enhanced for the event)
Rebel Base
7:45, 8:50 & 10:50pm
Experience a live stage show of high energy film clips that juxtapose action-filled character moments on stage, including Chewbacca, Darth Vader, Kylo Ren and many more!
Galactic Nights Epilogue
Rebel Base
11:40pm
Prior to the evening's grand finale, join our event hosts as you marvel at a spotlight of Star Wars Galactic Nights event highlights from you, the fans!
Star Wars: A Galactic Spectacular (Enhanced for the event)
Rebel Base
11:45pm
Watch the fireworks above bring the entire Star Wars saga to life in a spectacular multimedia experience!
Jedi Training: Trials of the Temple (Enhanced for the event)
Near Star Tours- The Adventures Continue
7:45, 8:45, 9:45 & 10:45pm
Witness the future of the Force, as younglings face their fears at the sacred Jedi Temple. 25 minutes. Visit Indiana Jones Adventure Outpost to reserve a spot in the training. Participants ages 4-12 must be present to register. Space is limited.
March of the First Order
Hollywood Boulevard
8:30 & 10:30pm
Captain Phasma leads a unit of First Order Stormtroopers down Hollywood Boulevard to the
Rebel Base, stopping for a demonstration of their power and strength.
Imperial March
Starts near Star Tours and travels to Rebel Base
7:25, 9:25 & 11:25pm
The Sith Lord himself, Darth Vader, leads a battalion of Stormtroopers on a dramatic Imperial March to the Rebel Base.
Characters: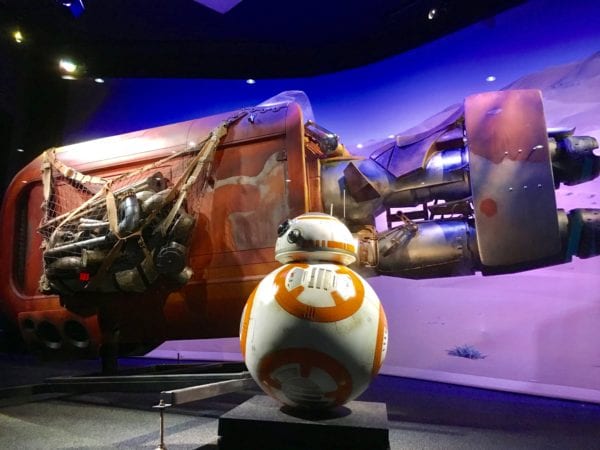 You'll be able to have a meet and greet with the the following Star Wars characters:
Darth Vader
Chewbacca
Kylo Ren
BB-8
Boba Fett
Jawas
Ewoks
Imperial Troopers
AWR Troopers
The following Disney characters will be available in their standard locations:
Mickey & Minnie Mouse
Olaf
Buzz Lightyear & Woody
Moana
Attractions
If your a fan of Rock 'n' Roller Coaster wait till you experience Rock 'n' Roller Coaster: Star Wars Edition! It's a special experience just for the event. Take a journey through hyperspace in this not-to-be-missed Star Wars experience. A version of this experience was run during the special The Force Awakens hard-ticket event which was held in 2015.
Other attractions that will be operating are:
The Great Movie Ride
Star Wars: Path of the Jedi
Star Tours – The Adventures Continue
Muppet-Vision 3D
Toy Story Mania!
Walt Disney: One Man's Dream
Voyage of The Little Mermaid
Star Wars Launch Bay
The Twilight Zone Tower of Terror

Scavanger Hunt
Guests are invited to collect a piece of the saga at photo backdrops featured throughout the Park and attach each piece to your Star Wars Galactic Nights Credential! There will also be Disney PhotoPass Photographers at each location to to get a shot of your favorite moments.
Locations:
Jabba the Hutt's Palace (Near Rock 'n' Roller Coaster)
Han Solo Frozen in Carbonite (Near Rock 'n' Roller Coaster)
Hoth Wampa Cave (Muppets Courtyard)
Trash Compactor (Left of Great Movie Ride)
Emperor's Throne Room (Echo Lake)
Rogue One (Near One Man's Dream)
Speeder Bike (Across from Star Tours)
Food and Beverage:
Skywalker Vineyards wines will be available at the bars located near the Rebel Base. Snack carts located throughout the park will feature specialty cupcakes, lightsaber churros, Chewbacca steins, and TIE Fighter popcorn buckets.

Merchandise:
Special event merchandise will be available at the following locations:
Legends of Hollywood
Mickey's of Hollywood
Keystone Clothiers
Launch Bay Cargo
Tatooine Traders
It looks like it's going to be an unforgettable night for Star Wars fans. Get there early so you don't miss anything! Also stay tuned today for a possible Star Wars: The Last Jedi Trailer which should be making it's way out of Celebration Orlando today.
Your Thoughts:
I want to know what you think about the Star Wars Galactic Nights Schedule of events. What are you most looking forward to doing this evening? Let us know in the comments section below! 🙂
If you enjoyed this article, as always I appreciate it if you'd share it with others via social media. I work hard at making this website into a useful resource for you and your family to plan your visit to Walt Disney World, and I hope it can help you! Thanks 🙂
News Credit: Laughing Place Blog