Patagonia is back for the 2017 Epcot Food and Wine Festival. Here you can find one of my all-time favorite Food and Wine dishes: Grilled Beef Skewer with Chimichurri Sauce and Boniato Purée! The Beef Empanada is back too! Are they as good as last year? Let's see how they stack up in my Patagonia Review: 2017 Epcot Food and Wine Festival….
Patagonia Booth:
You'll find the Patagonia booth almost immediately turning right as you enter World Showcase from Future World, it's the second marketplace on the right: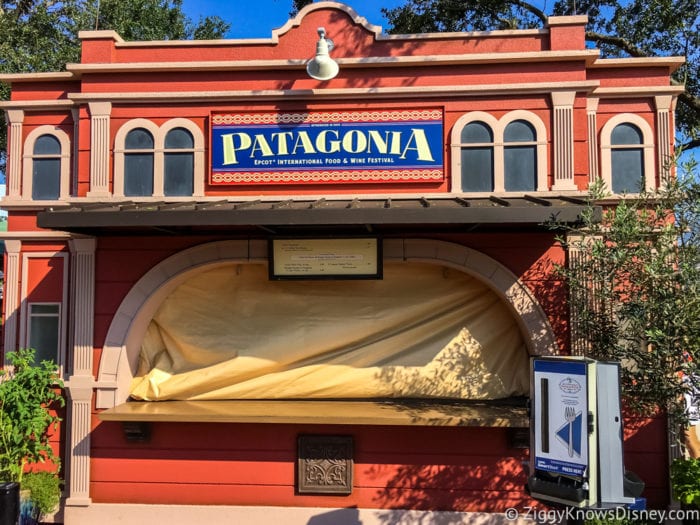 Patagonia Menu:
The Patagonia menu has a slight change from last year, and that is that we lost the Roasted Verlasso Salmon (it went to the Active Eats booth instead). The problem is that there isn't anything that took its place in Patagonia, so we went from three items last year to only 2 this year. Good thing the Grilled Beef Skewer is back or there'd be hell to pay, and it stayed the same price as last year. The Beef Empanada did go up 0.25 cents, which is the norm.
2016 Menu: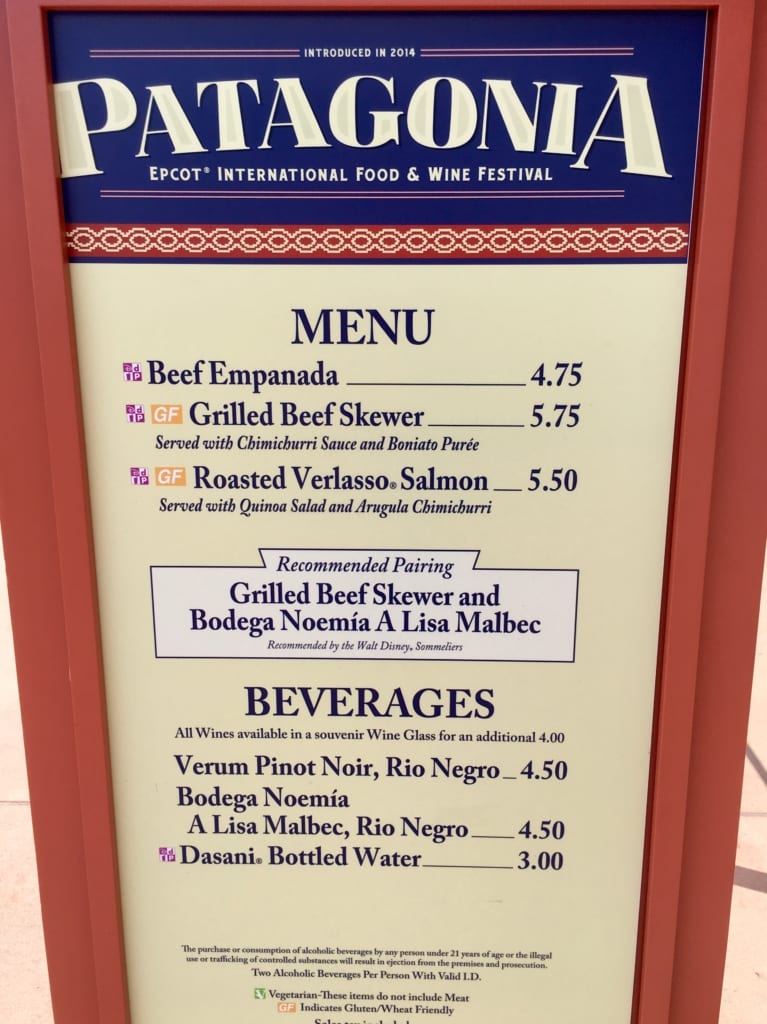 Here is this year's menu 2017:
Food:
Beef Empanada – $5.00, DDP Snack Eligible
Grilled Beef Skewer with Chimichurri Sauce and Boniato Purée

(Gluten-Free)

– $5.75, DDP Snack Eligible

*Ziggy Recommended
Beverages:
Verum Pinot Noir, Rio Negro – $6.00
Bodega Noemía de Patagonia "A Lisa" Malbec, Rio Negro – $6.00
Menu Review:
Before getting into the food, we had to choose a wine to go with it, so we got the Bodega Noemía de Patagonia "A Lisa" Malbec, Rio Negro. This wine can be enjoyed by itself, but it really shines with a good red meat, which is what we have coming up! It's aroma is a mix of flowers and red cherries. It's a very tasty wine which has a full body and hints of dark fruit and an earthy flavor. Very good wine that we would like to try outside the park!
For the food we started with the Beef Empanada! I'm always game for a good empanada, so I couldn't wait to dive in. It was decent, but not my favorite option at the festival. I liked the shell which was fried and had a nice crisp crunch to it. Unfortunately the filling wasn't anything special. The meat inside was more or less tasteless and not overly tender or juicy. Needed more salt too. Gives me the feeling that these are frozen ahead of time and then thawed and cooked on-site. Too bad because if done a little better this could be amazing.
So while the Beef Empanada let us down a bit, the Grilled Beef Skewer with Chimichurri Sauce and Boniato Purée did absolutely no such thing! This was amazing again this year just like it is every year!! Both my wife and my dad had never had this before and it was impossible getting it back from them once they tried it! No really, this is special. The meat is super tender like butter, whose flavor is only heightened by the incredible Chimichurri sauce…(where can I by this by the gallon btw??). Even the potatoes are good, which many at Food and Wine are not (here's looking at you France), and they just soak up all the sauce at the bottom. Plus it's Gluten-free so everyone can enjoy! It's just really a life-changing moment every Food and Wine goer must experience once in his/her life!
Booth Summary and Grade:
Even though the Grilled Beef Skewer is one of my favorite things on planet Earth, I still had to drop Patagonia a couple points this year, if not only for the reason they only have 2 dishes to choose from, one of which is amazing, but the other isn't very good. Losing the Salmon this year hurt as it's a solid dish, and I don't understand not replacing it. It should be unacceptable for a Food and Wine booth to only have 2 dishes…not even a dessert to be found. So while I definitely will tell you to stop there, it's gonna only be for the Grilled Beef Skewer, and the wine. Then you can move on to booths like the nearby Hawaii, which offer you multiple must-try items!
If you have to get just one thing:
Grilled Beef Skewer
Grade:
7
Take a look at all of my 2017 Epcot Food and Wine articles. I have a 2017 Epcot Food and Wine Info Guide with a complete Index of the Food and Wine Menus, The Top NEW Items for 2017, Top Food and Wine Booths and more…I want you to be able to have the best info on the Festival so you have a great time and don't waste your time!
Your Thoughts:
I want to know what you think of my Patagonia Review 2017 Epcot Food and Wine Festival. What do you think of the Grilled Beef Skewer? Where does it rand on your list of 2017 Food and Wine booths? Let us know in the comments section below!
If you enjoyed this article, as always I appreciate it if you'd share it with others via social media. I work hard at making this website into a useful resource for you and your family to plan your visit to Walt Disney World, and I hope it can help you! Thanks 🙂