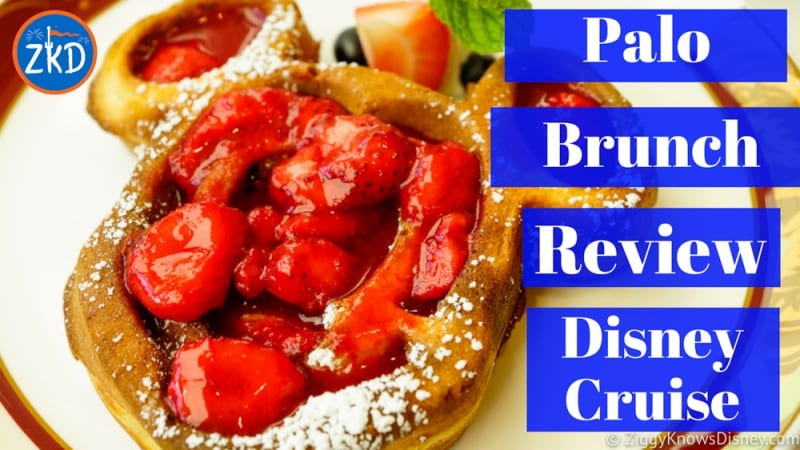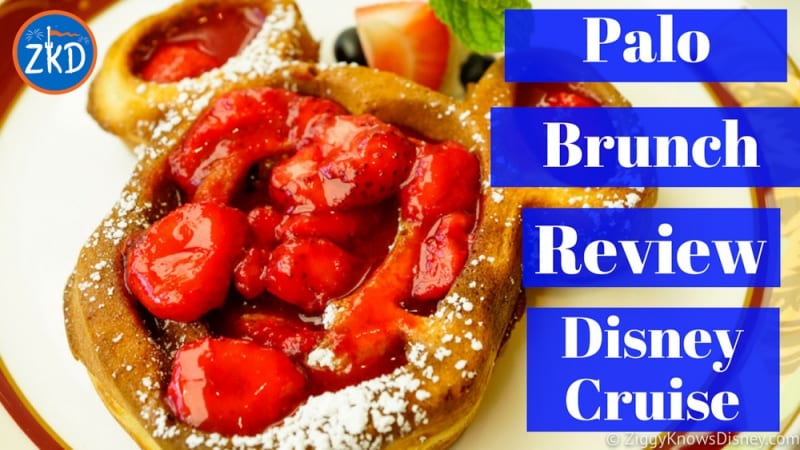 So I'm gonna start off the Palo Brunch Review by just saying one word: GO! No, really, I'm serious. If you just listen to that advice, you'll be all set. But since you happened on this web page to read about Palo, then I'll break it down for you. But you'll see that in the end you drew the same conclusion as me! 😉
We recently were able to go on a 5 Day Bahamas Cruise on the Disney Magic, and like always it didn't disappoint. But pretty much any trip I ever take to any place, the highlight for me was of course, the food! And for me the best Disney restaurant anywhere is Palo.
Luckily you can find Palo on all 4 Disney Cruise Line ships, so no matter which cruise you go on, it'll be there. We had one of the best meals of our lives at Palo for Dinner, but had never done the Brunch. So pull up a chair and get ready as I describe to the best of my ability one of the best dining experiences you'll find: my Palo Brunch Review.
Palo is Signature Dining Restaurant for Adults-Only whether for Brunch or for Dinner, and can be found on all the Disney Cruise Line ships: Disney Fantasy, Disney Dream, Disney Wonder and our ship the Disney Magic. It's a nice rest for grown-ups who want a night away from the kids (both theirs and those of other guests) and want a romantic or peaceful meal to themselves.
The atmosphere is amazing and themed after Venice, Italy so the food is focused on Northern Italian Cuisine. While you can go to Palo for Dinner any night of the cruise, it's only open for Brunch on "At-Sea Days."
TIP: Reservations are a must at Palo for Brunch and Dinner, and I would make them the very first day that reservations are made available for your cruise as it will fill up very fast (especially for Brunch).
Being a Signature restaurant, Palo isn't included in the price of your cruise like the other dining rotation restaurants and comes with an added cost of $40 per person (Brunch or Dinner). Unfortunately for some that means they won't go. In my opinion skipping Palo would be the biggest mistake you could make as both meals were the highlight of my Disney Cruise.
I understand your other meals are paid for, but even though the quality of places like Animator's Palate and Cabanas, the difference between the rotational dining quality and Palo is unmistakable. You won't get another opportunity to eat at a world-class restaurant for only $40. In Walt Disney World terms, it's the cost of 2 Margaritas at Choza de Margarita in Mexico, Epcot, making Palo the steal of the century imo.
Lastly, having lived in Italy for 5 years and having a wife from Italy, I feel qualified to say that this is as authentic of a REAL Italian meal you will find on this side of the Atlantic, and it was very hard to tell the difference between the 2. It's worth the $40, trust me.
Ok enough talk, let's get right into my Palo Brunch Review and I'll show you why you need to go. Knowing that our Palo Dinner lasted well over 3 hours, we knew we were in for the challenge of our lives!
Atmosphere:
Palo is located on the 10th Floor of the Disney Magic and when you arrive you'll be here in the lobby, just outside the restaurant: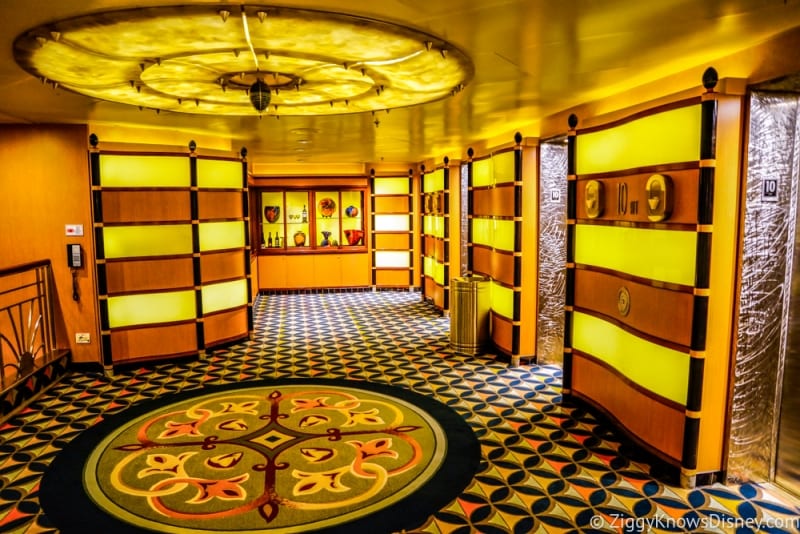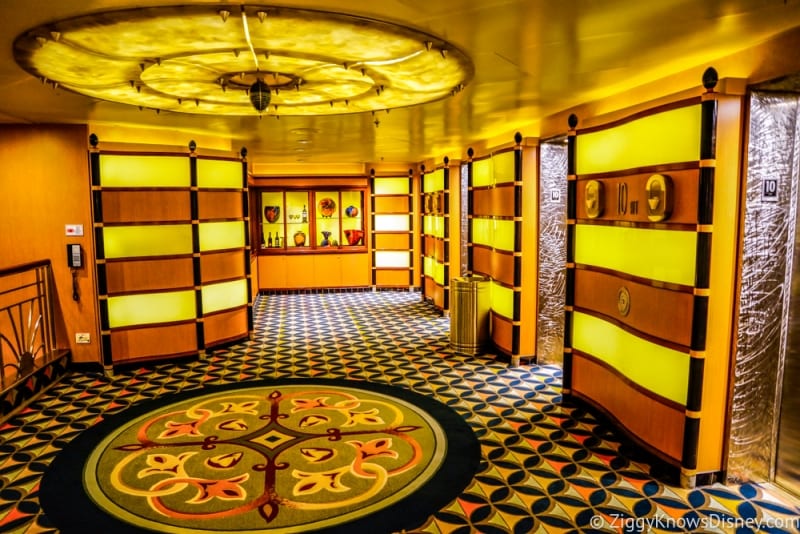 I love the funky display of plates and vases in the hallway: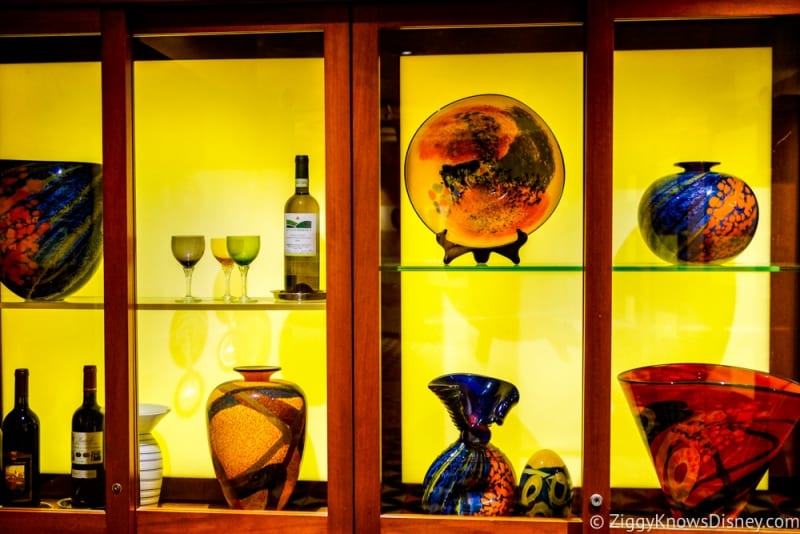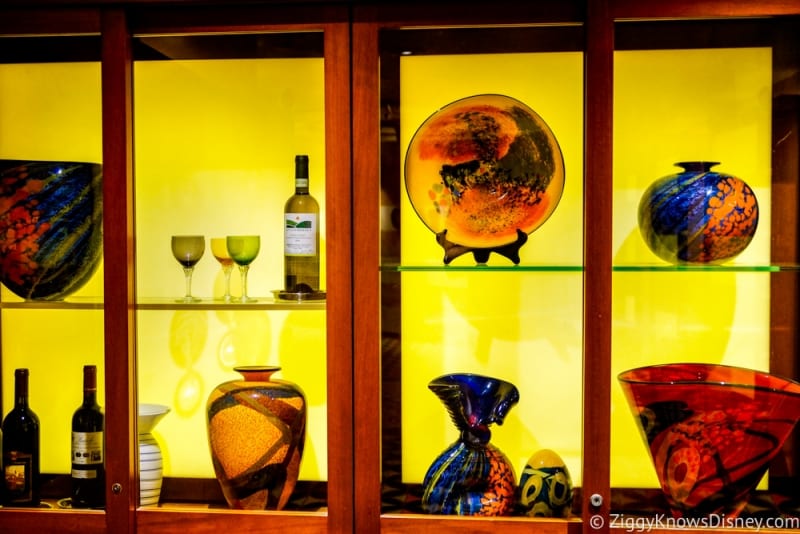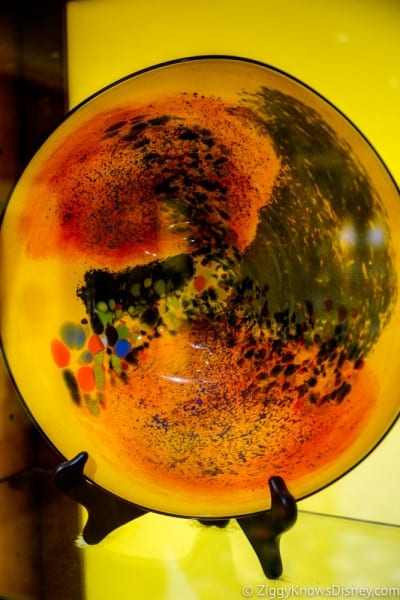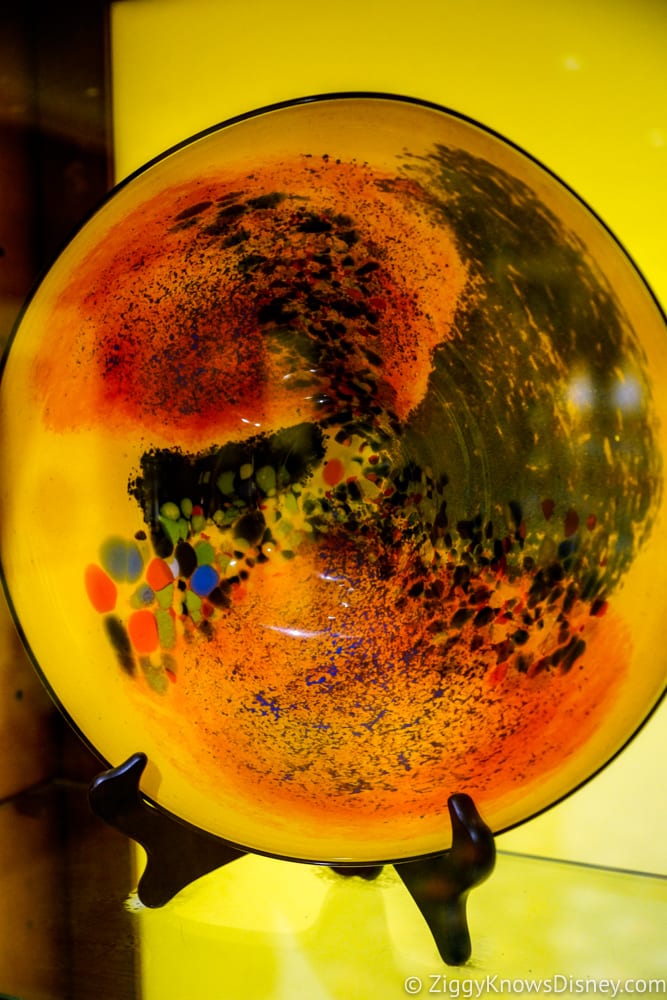 Let's make our way in: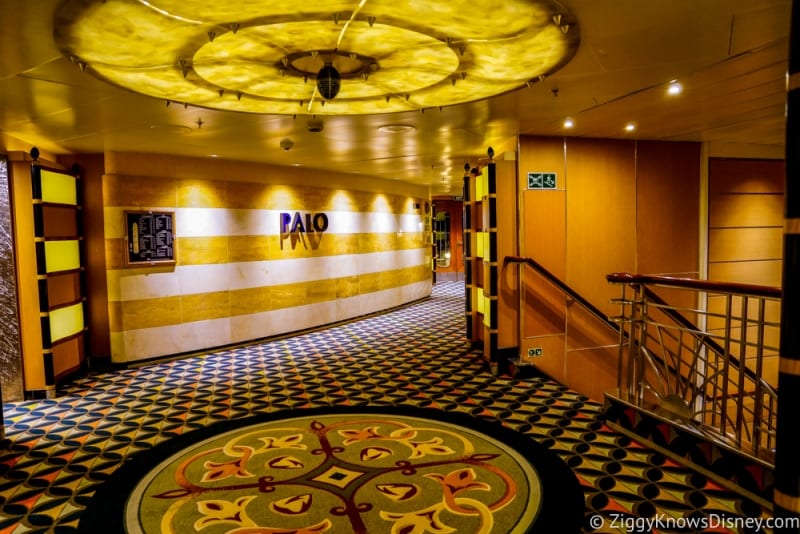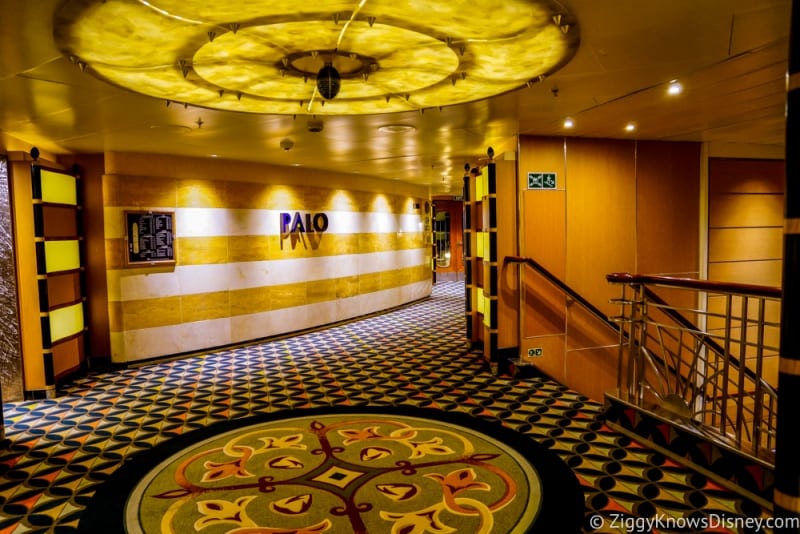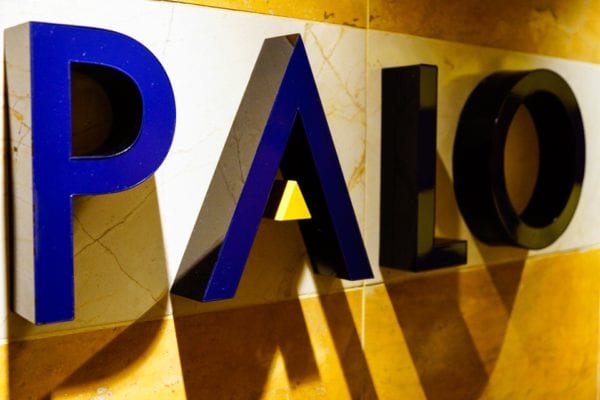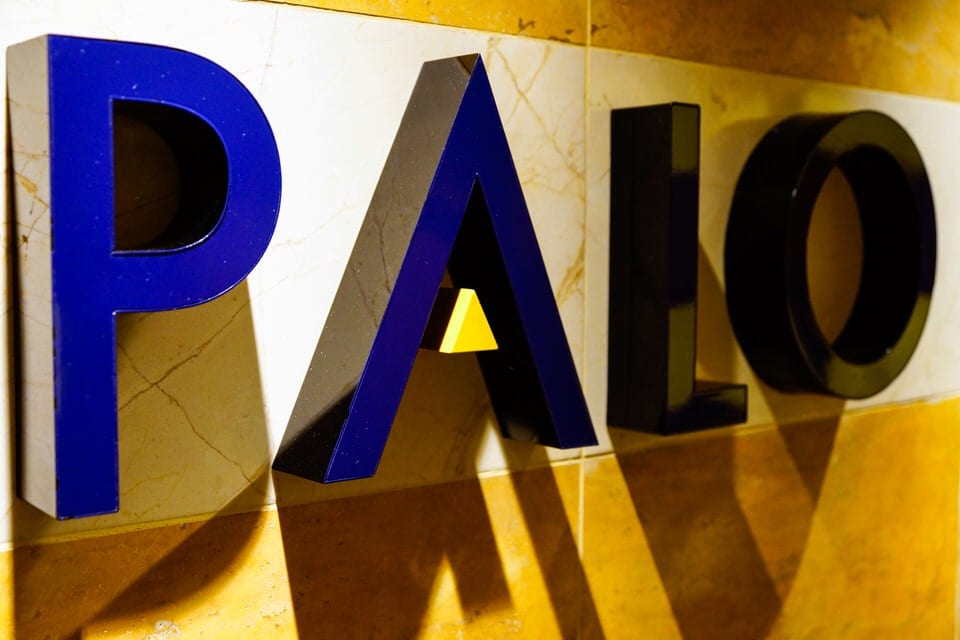 The inspiration behind Palo comes from Venice, where both the Disney Magic and Disney Wonder ships were built. To pay homage to where they came from, and was Disney's way of saying: "Thank You." In Italian the word: "Palo" means "pole", and you catch on that it's referring to the poles on the Venice Gondolas as soon as you step foot in the restaurant: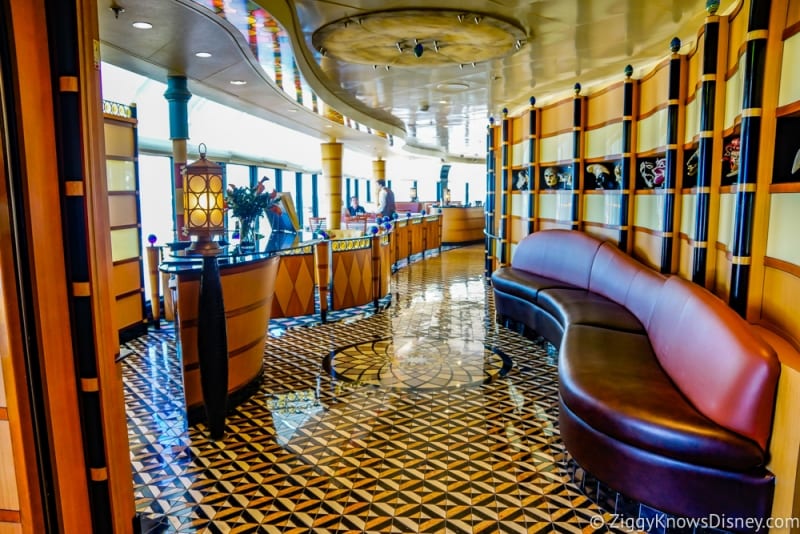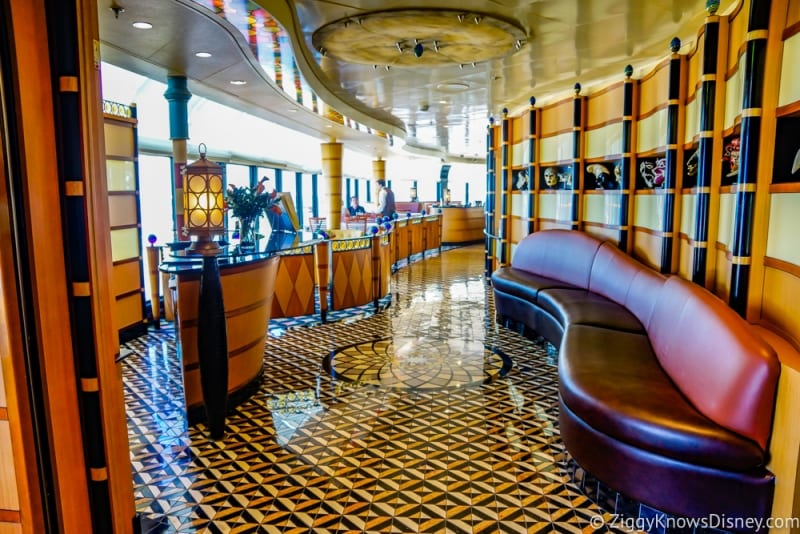 Even though Palo is on all 4 Disney Cruise Line ships, each one is unique, but the Venetian styling stands out immediately. Right in the entrance you get a look at typical Venetian Masks worn by residents during Carnival: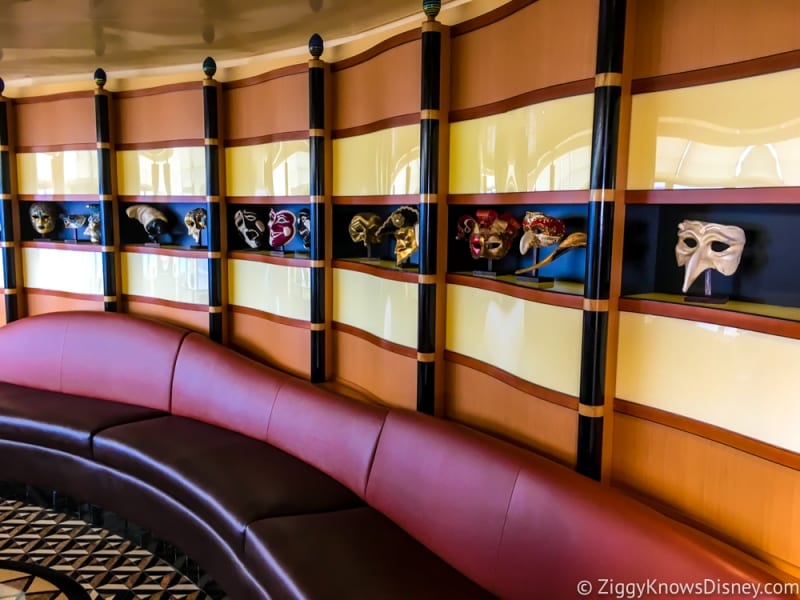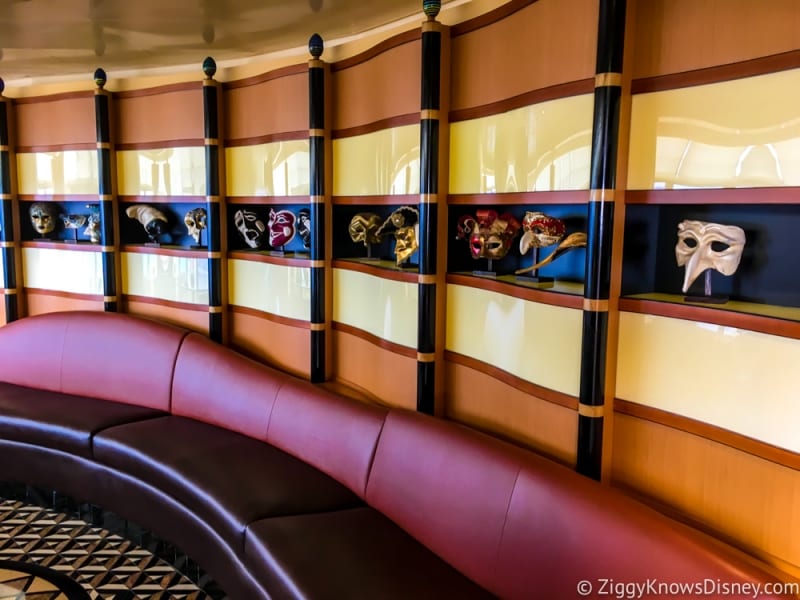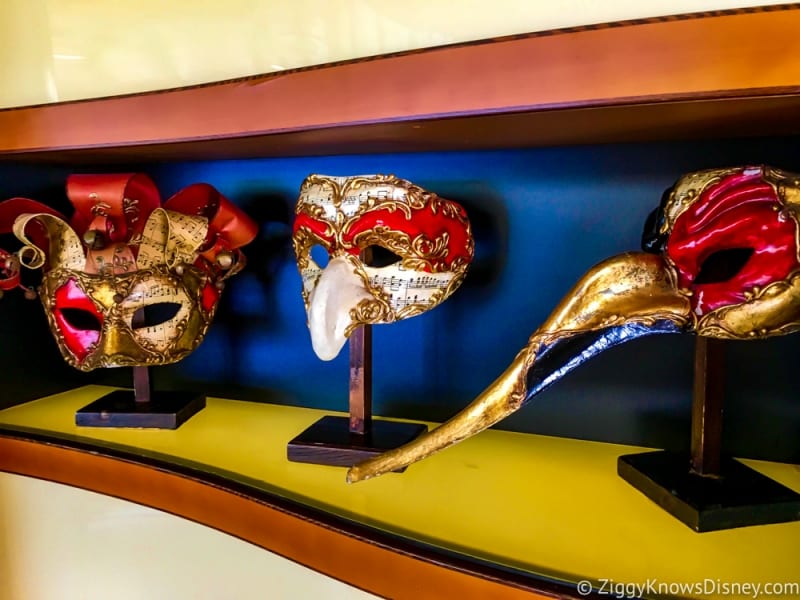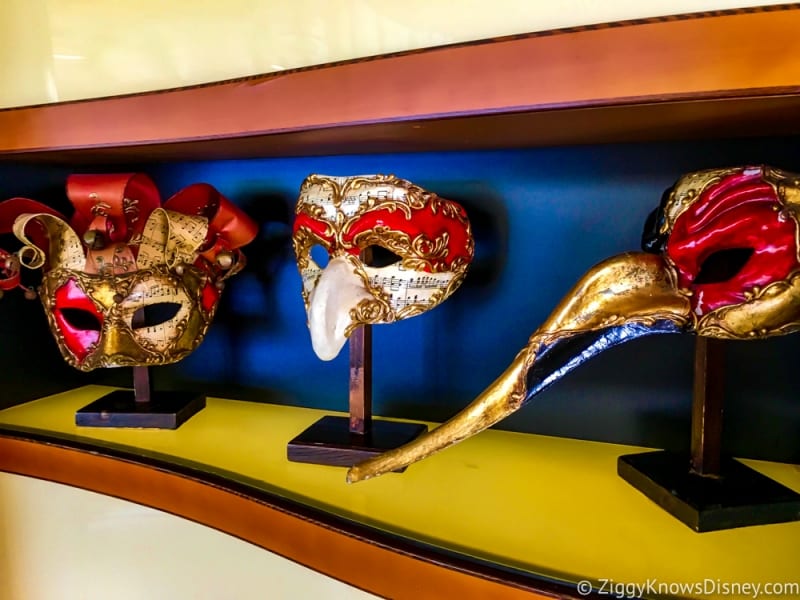 They are really gorgeous: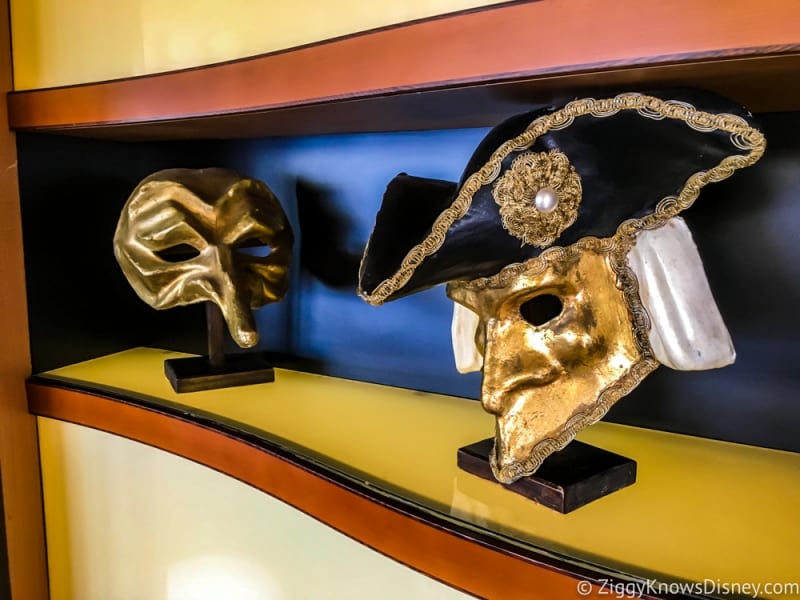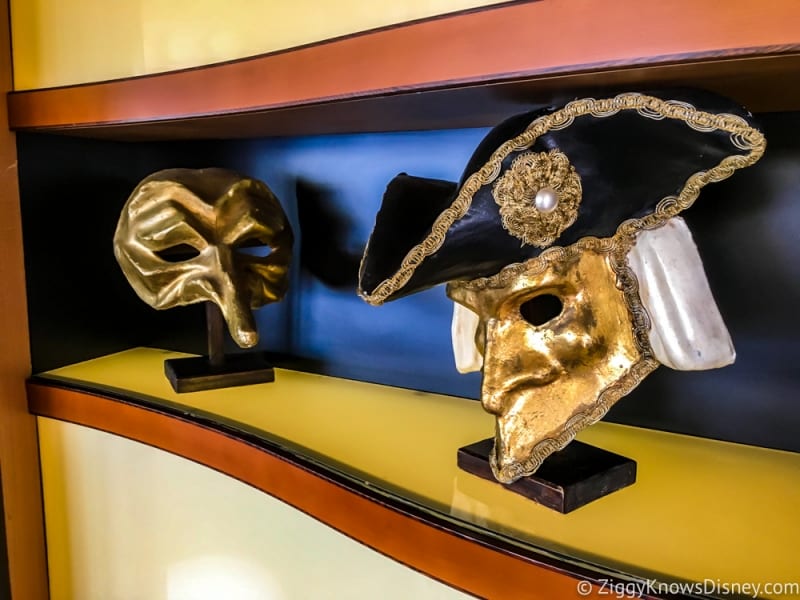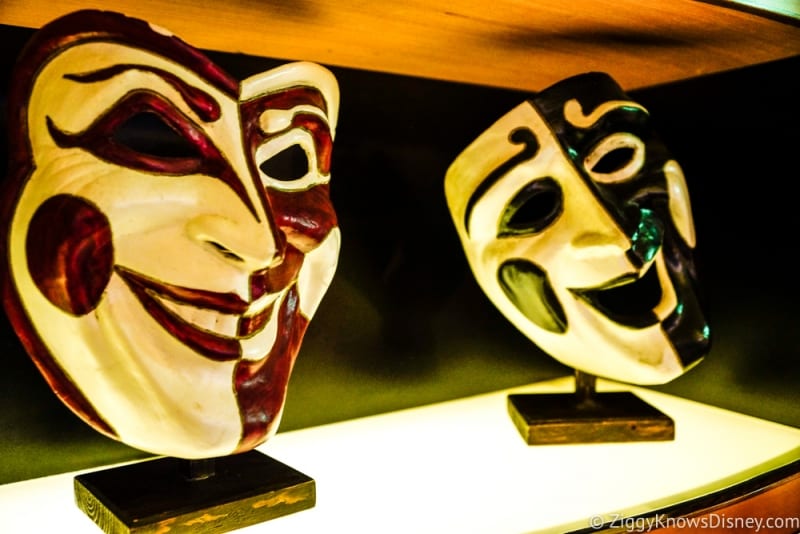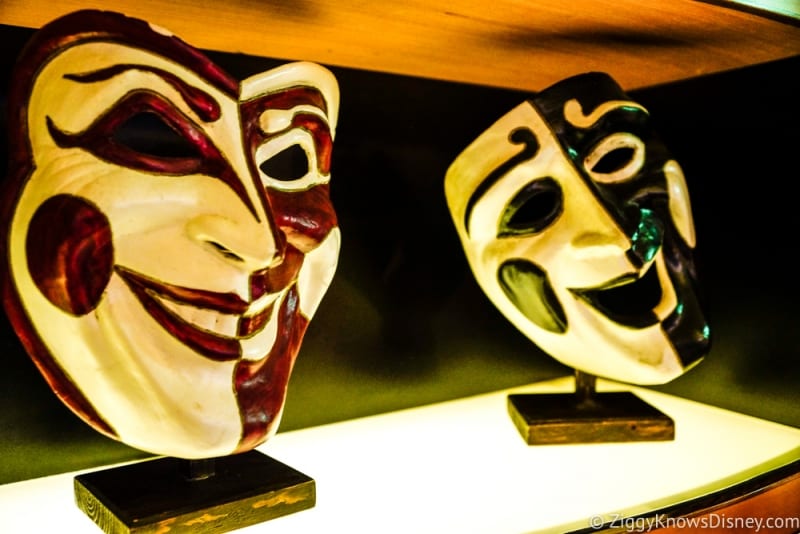 This one is my favorite: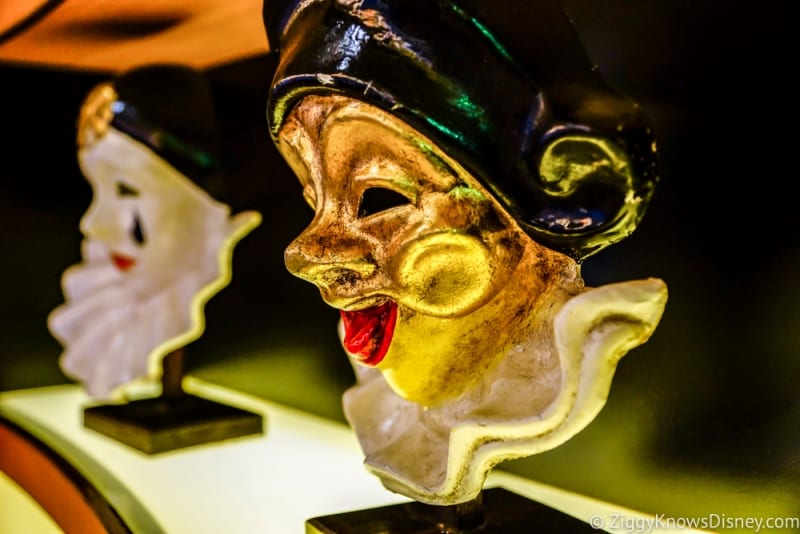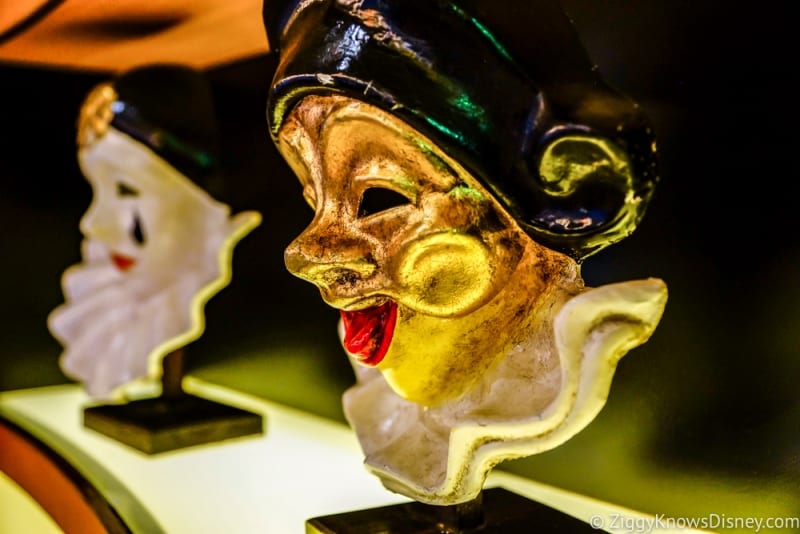 Palo Manager Felice was incredibly helpful during our stay. He helped me make changes to our reservations multiple times and was very accommodating: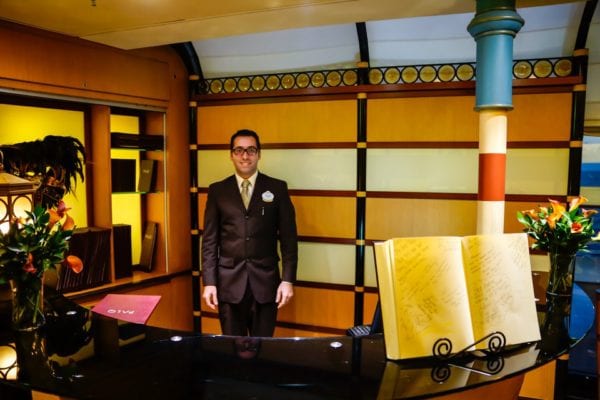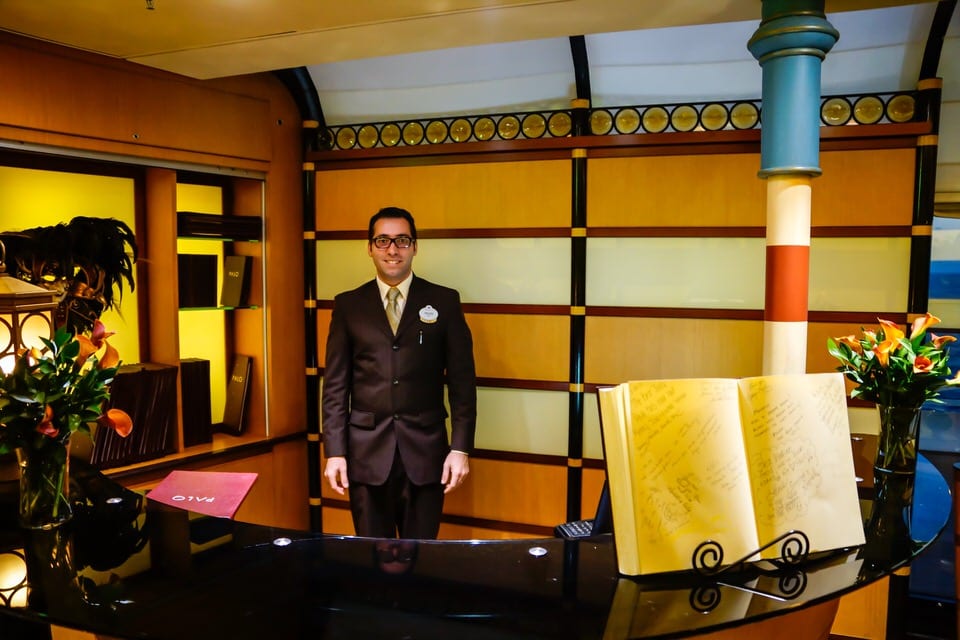 Have a seat and wait till your table is ready: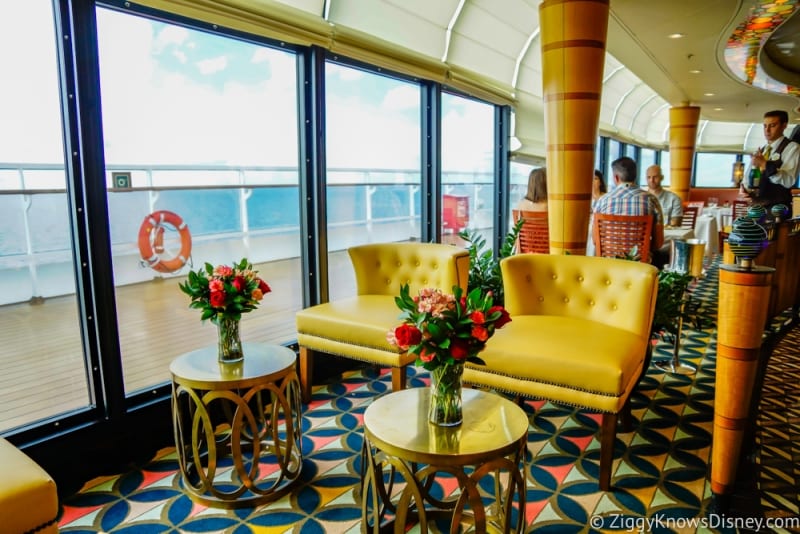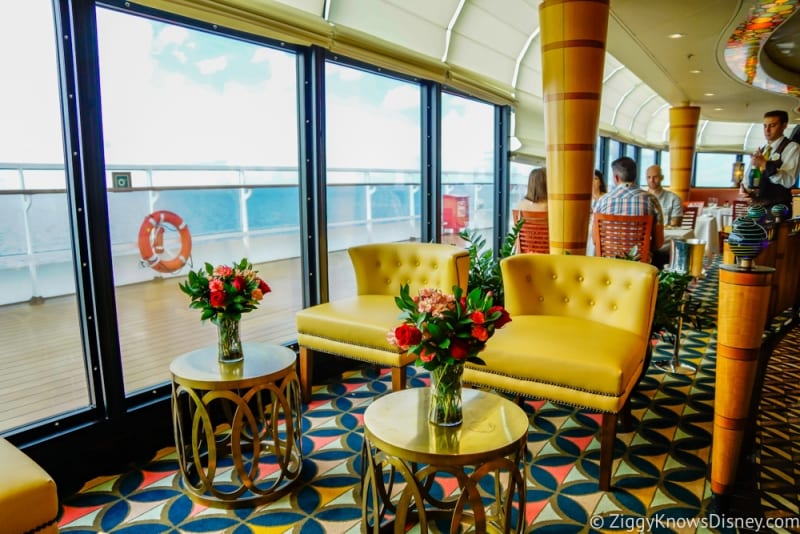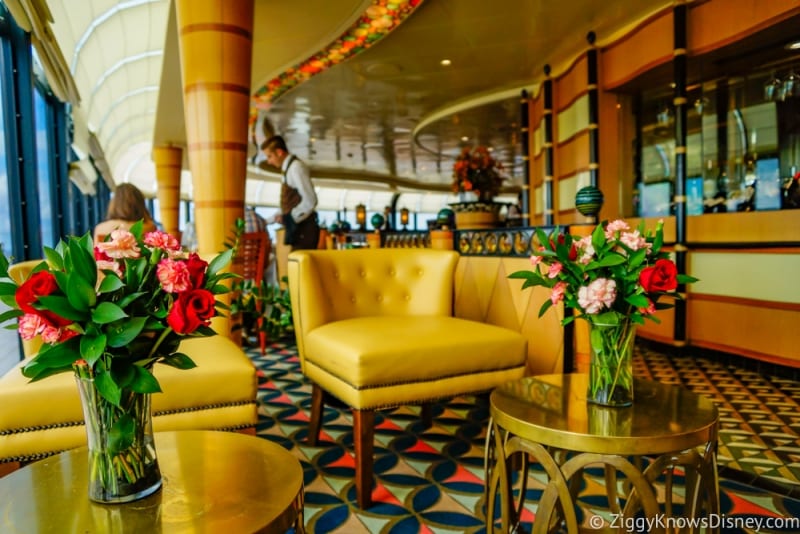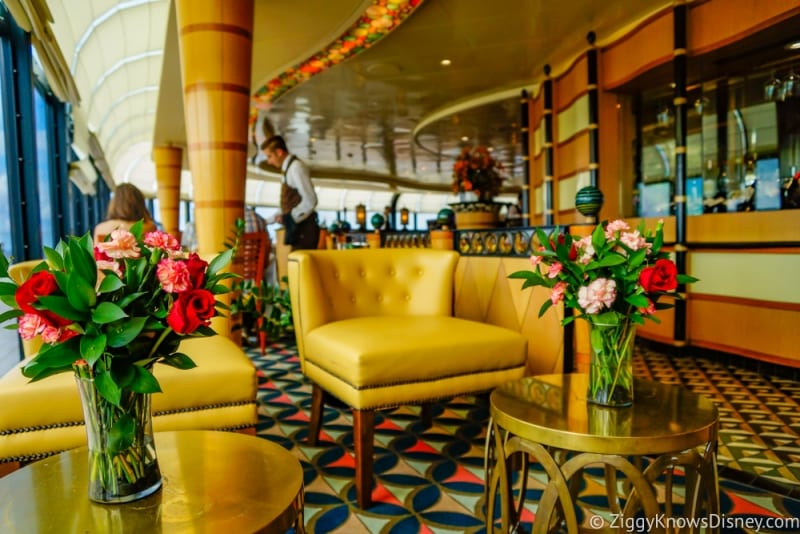 While you are waiting you can also look at some of the bottles of wine on display, most vintage bottles of really expensive labels: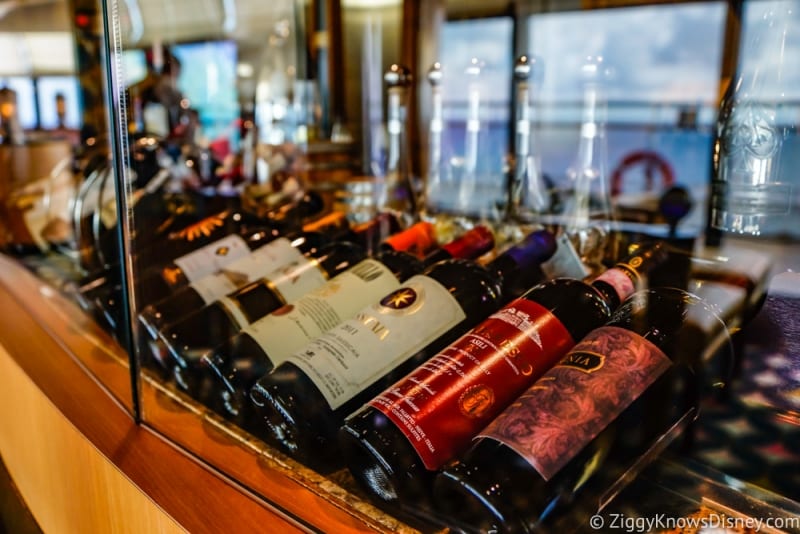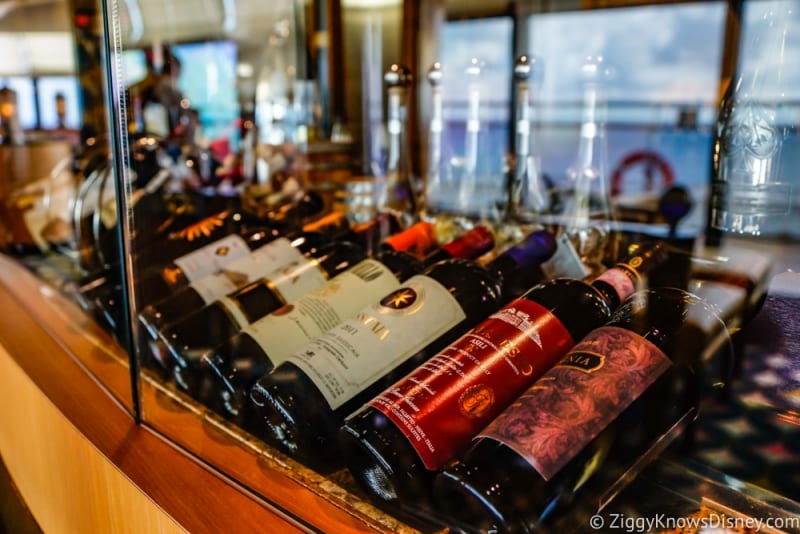 Love the look of the display behind the bar: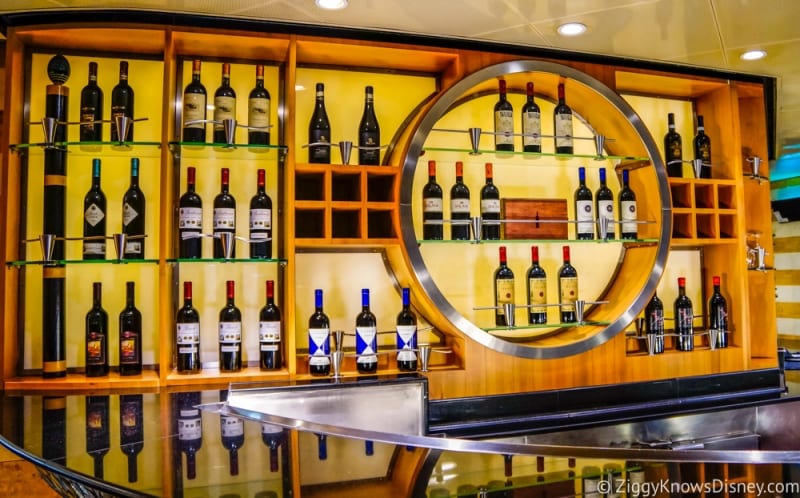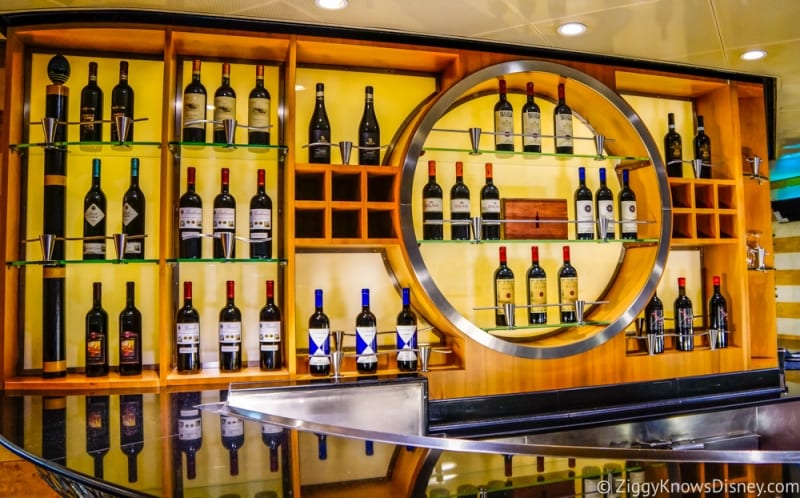 The back room is my favorite room in Palo, and it's used for private events: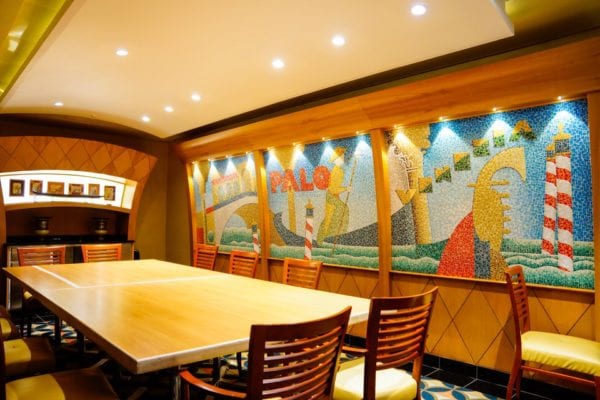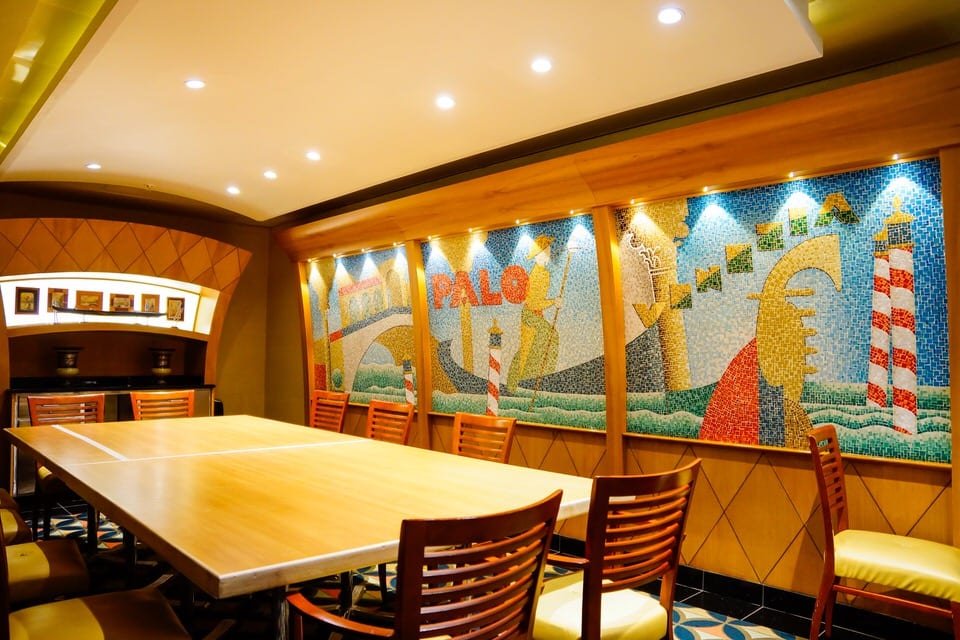 The mosaics bearing the restaurant's name is absolutely stunning: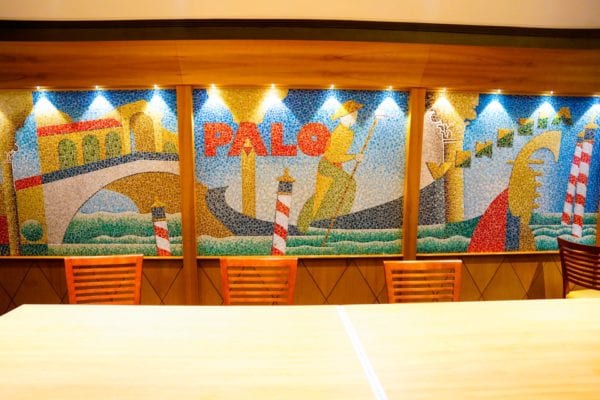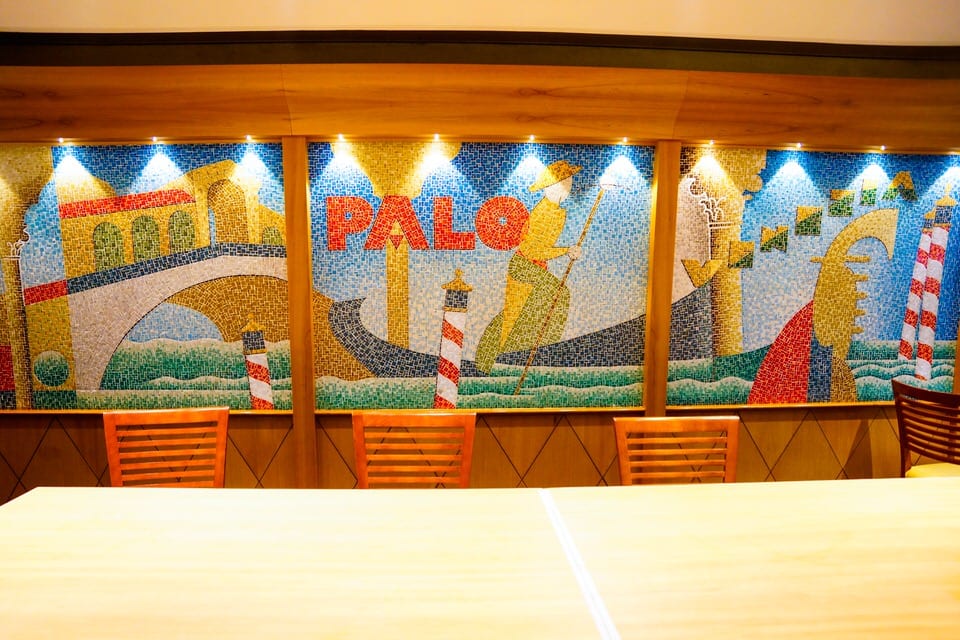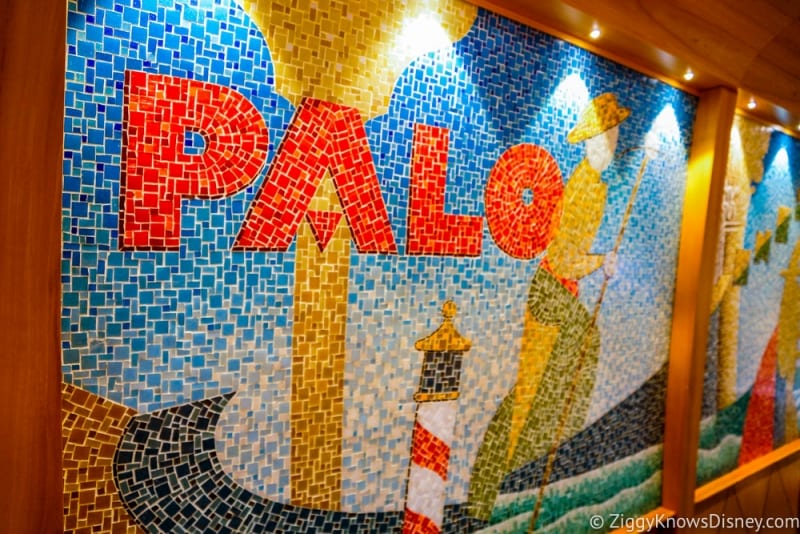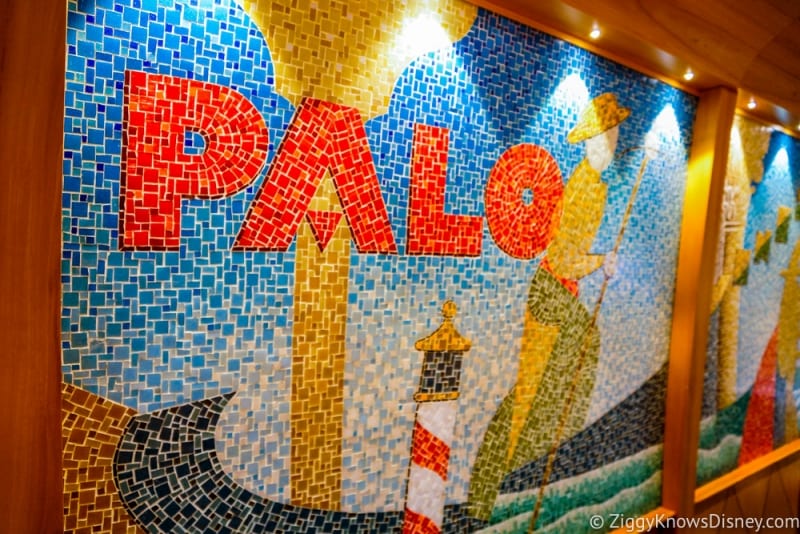 Heading back out to the dining room you can see this would be a perfect table for 2, with a killer view!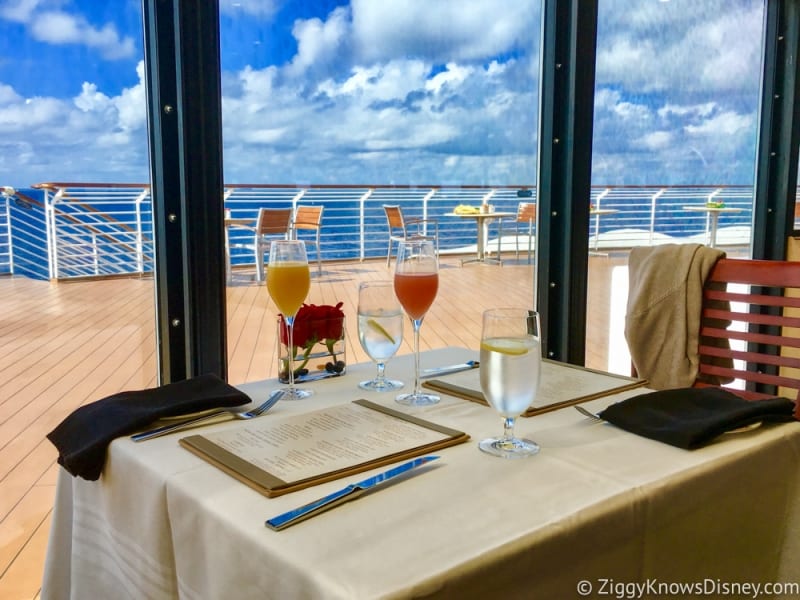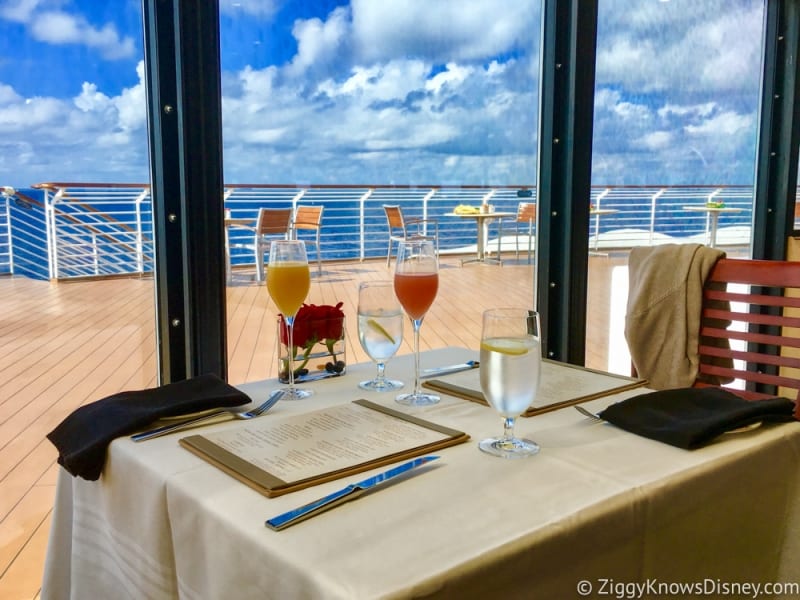 After hearing we were coming Palo had to take a few minutes to prepare enough food for us so we could do a thorough Palo Brunch review, but now they're ready and Sylvester is going to escort us to our table: ;). Just a side point, all the Palo staff was phenomenal both for Dinner and Brunch. I can't remember when we've ever been treated this well in a restaurant before. The manager, Head Chef, and all the waiters were awesome!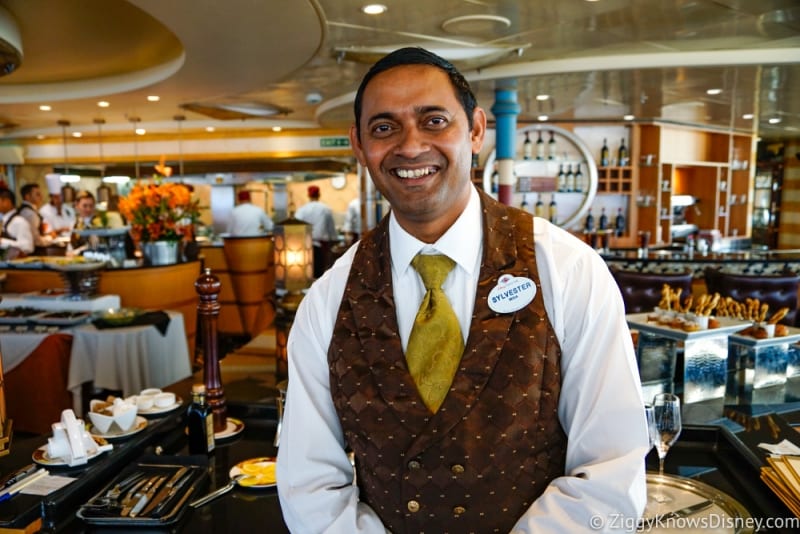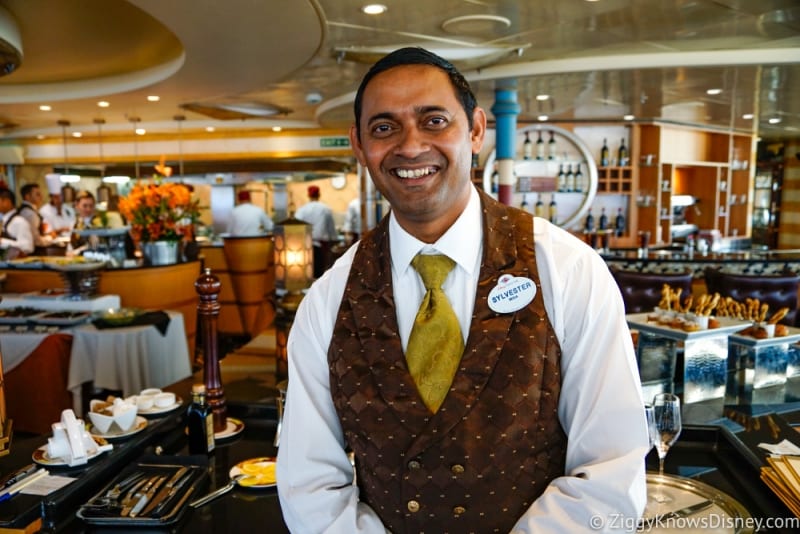 Here we are: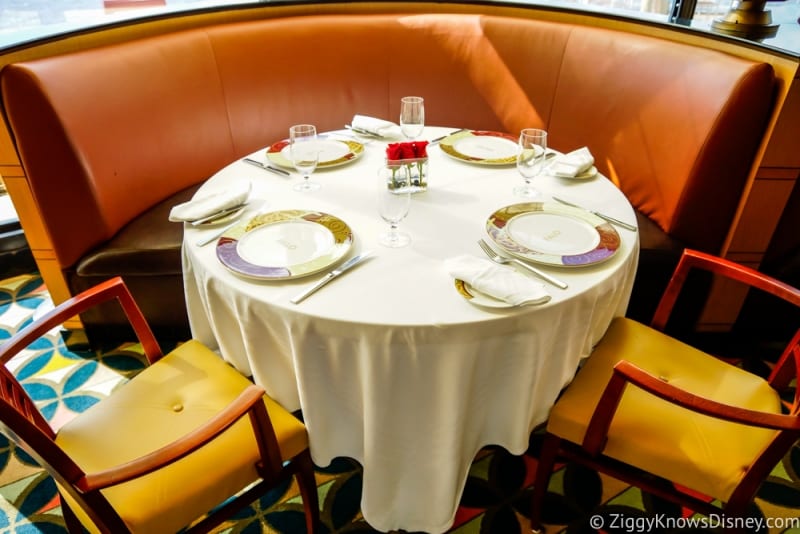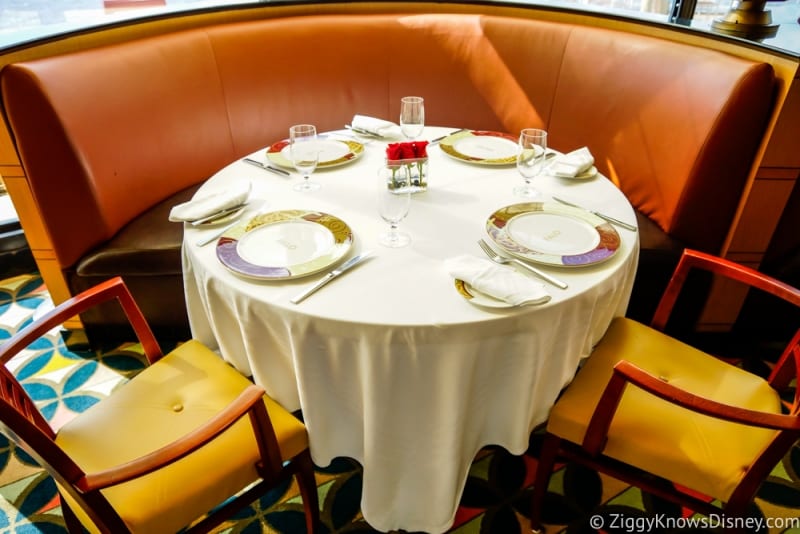 Some beautiful roses adorn the table, setting a nice mood: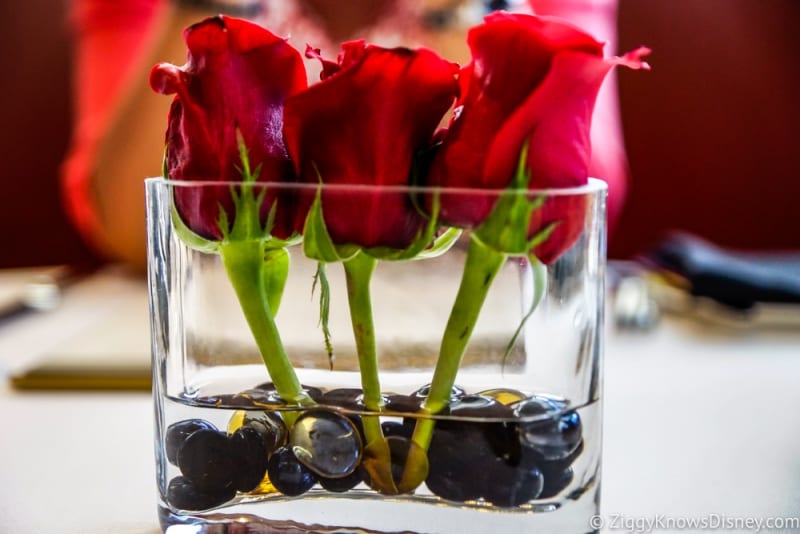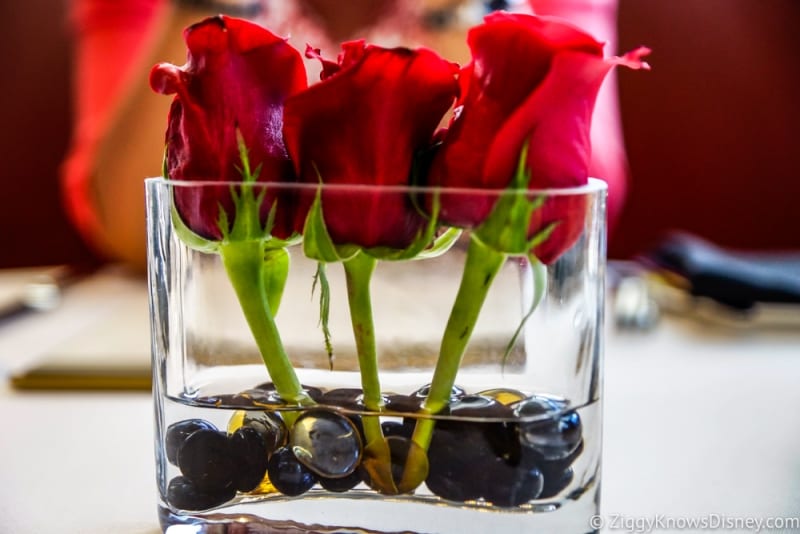 This is the last time you'll see my plate like this, I promise you!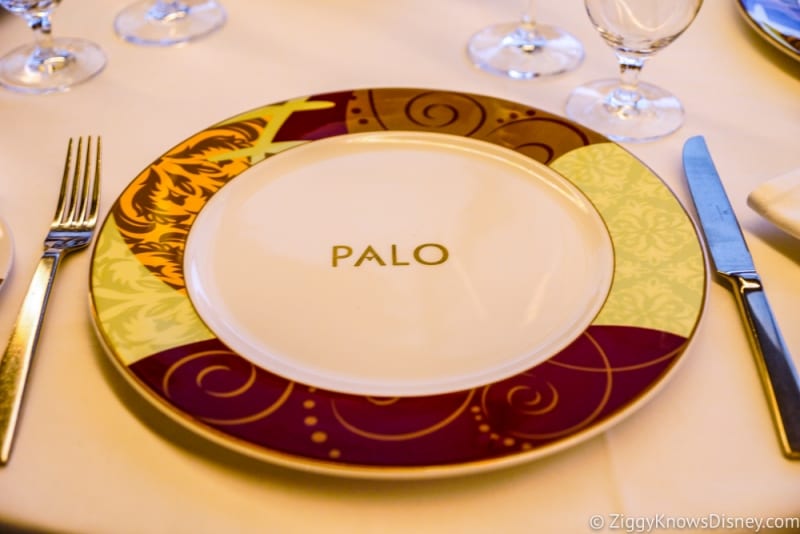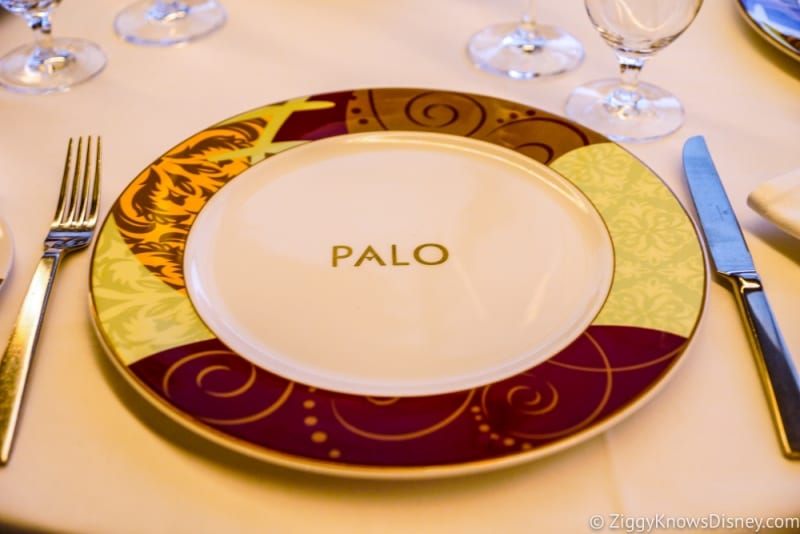 Warning: Do not Continue if you are hungry or on a diet, it could be risky to your health or mental state…
Food:
Before getting down to the food, we had to get a few drinks so we'd be prepared for our food. Ugo, who was probably the best Disney waiter we've ever had, made some suggestions and we ordered up our drinks: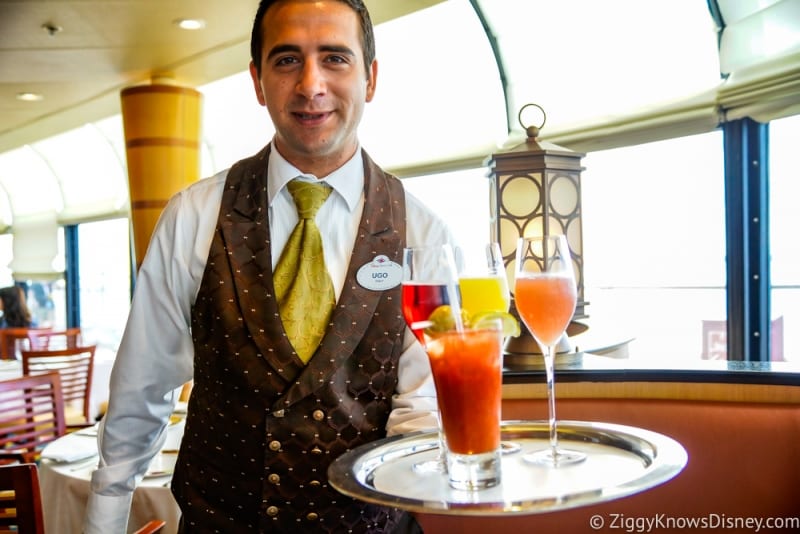 It doesn't matter that it's still morning, we're on a Disney Cruise!!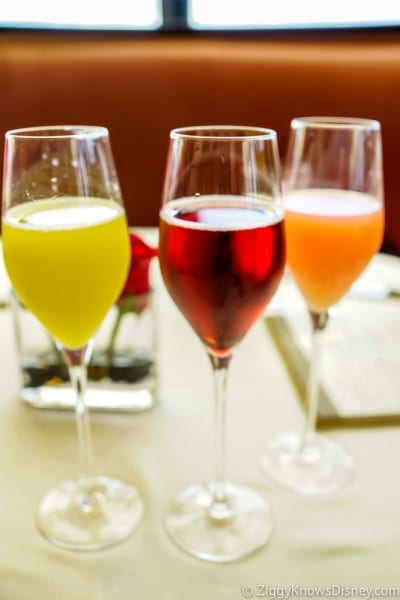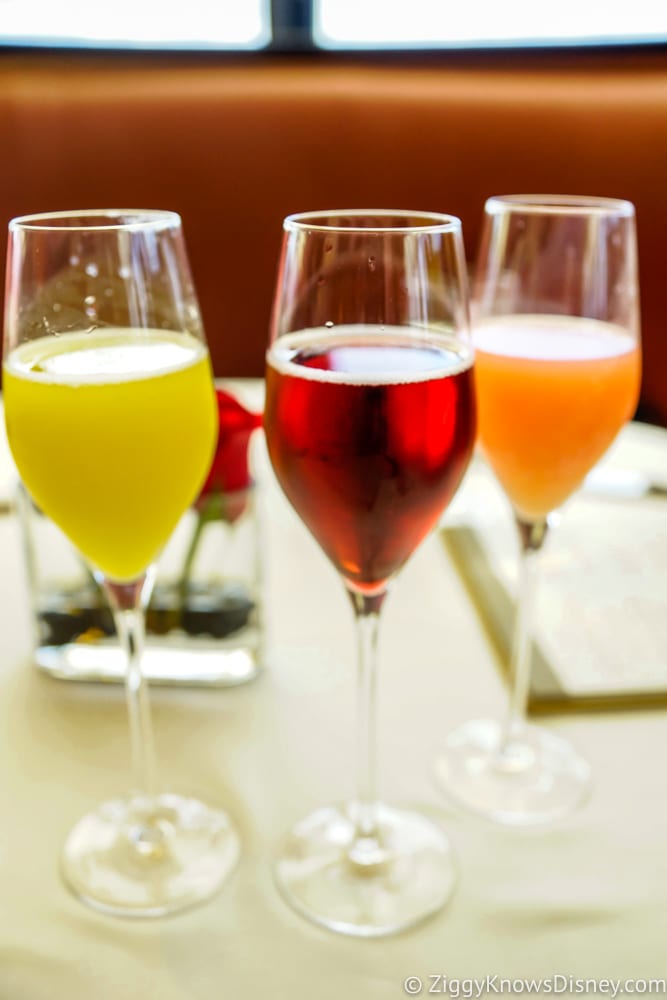 The Mimosa was good, standard but always welcome imo. I thought the Bellini and the Berry Prosecco were the stand-outs though. The Bellini was really nice, and had a wonderful peach flavor which was very light. I would have liked a touch more prosecco in it, but it was really good.
The Berry Prosecco was my personal favorite of the drinks. I'm a sucker for anything berry-flavored and this didn't disappoint! The fruit wasn't overpowering, but you could still taste the berries, and it was very refreshing.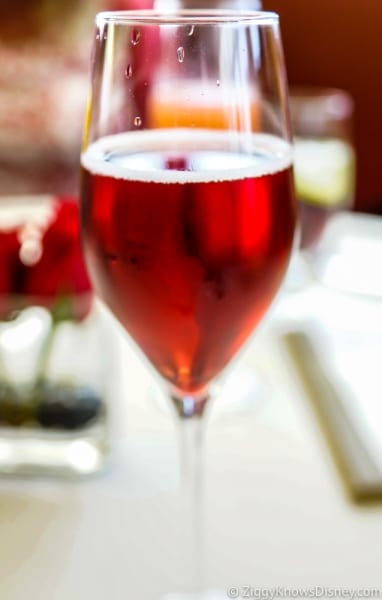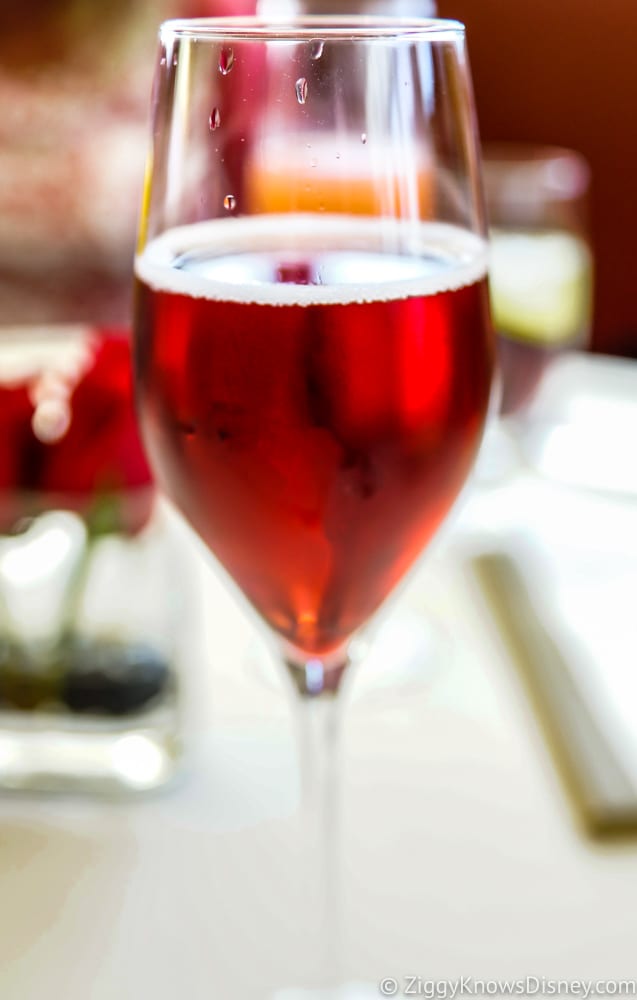 My Dad ordered a Bloody Mary, which I swear he does at every Disney Breakfast/Brunch we go to. I personally can't down one first thing in the morning, but this was a good option for those of you who enjoy them. It wasn't nearly as impressive as the epic one at Cape May Cafe, but it was still good.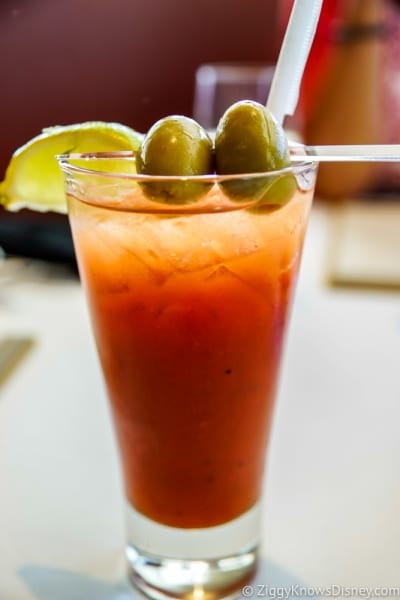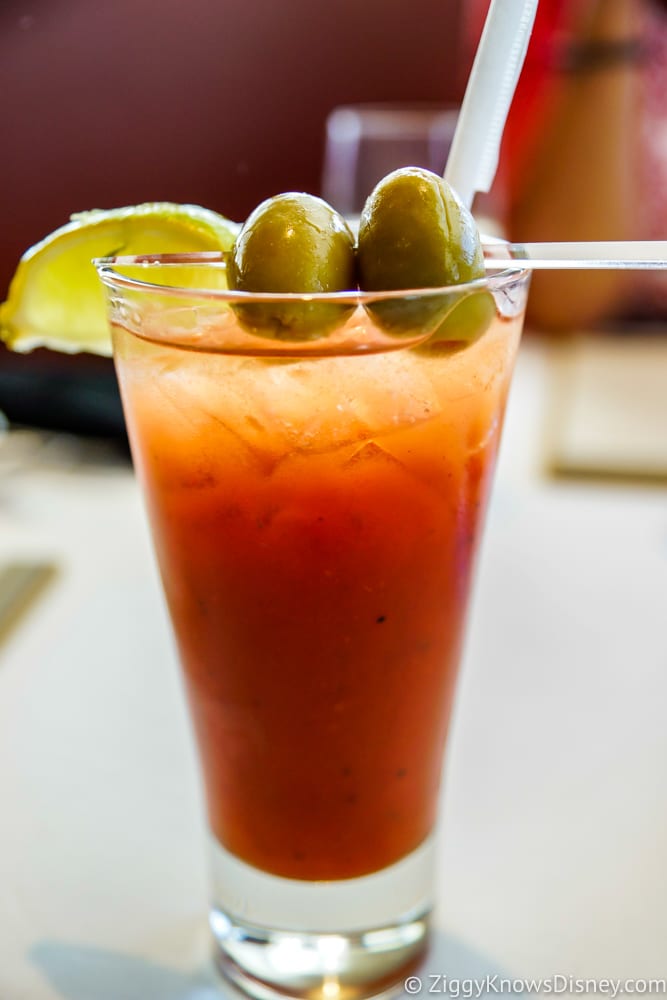 Now that we're hydrated, let's get something to eat!
Breakfast Sweets Buffet:
The buffet at the Palo Brunch is broken up into 3 buffet zones: 1. Breakfast Sweets (Pastries, Croissants, Danish, etc) 2. Main Buffet Tables (Savory items, Meats, Fish, Cheese, Bread, etc) and 3. Dessert Buffet. Not to mention the Made-to-Order Menu where you can have specialty dishes specially made-to-order and brought to your table.
So you can attack the Palo buffet any way you want, but we hit it in the traditional Italian manner. So since the typical Italian breakfast is sweets, we started there first: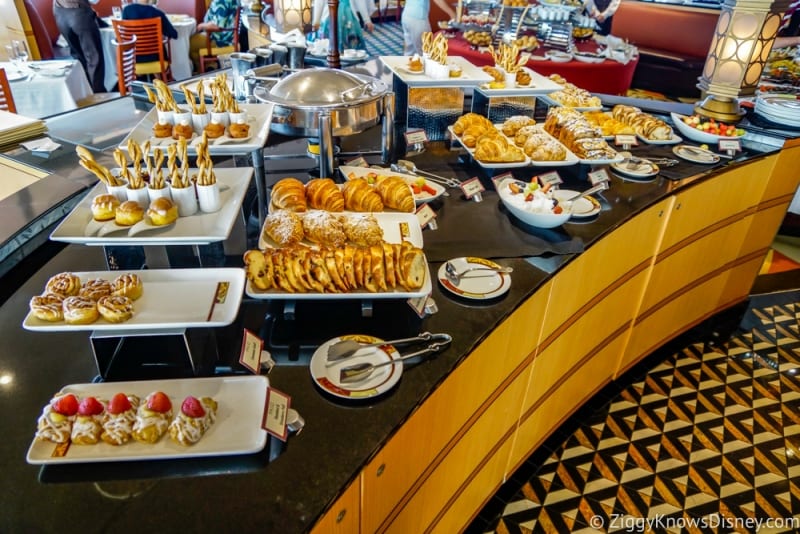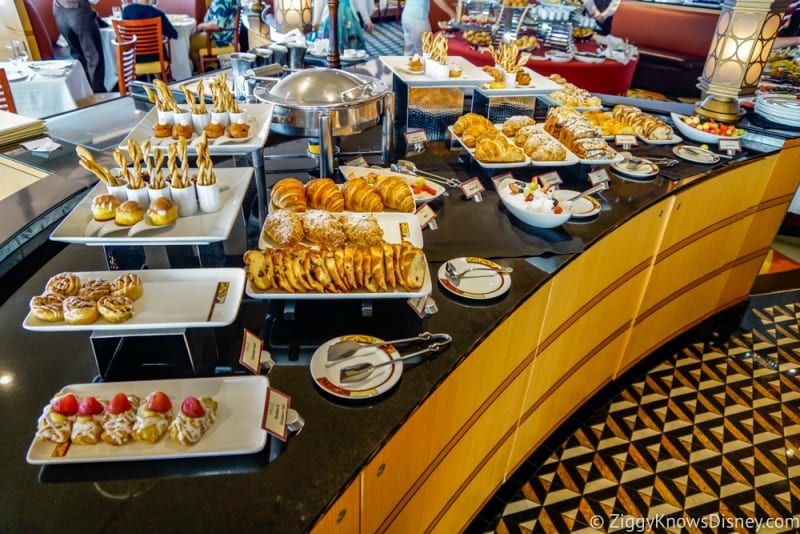 So there was a great variety of traditional Italian breakfast sweets on this buffet. Variety of Croissants (Brioche), Sweet Bread with Raisins, Cinnamon Rolls, Muffins, Cakes, and other Pastries: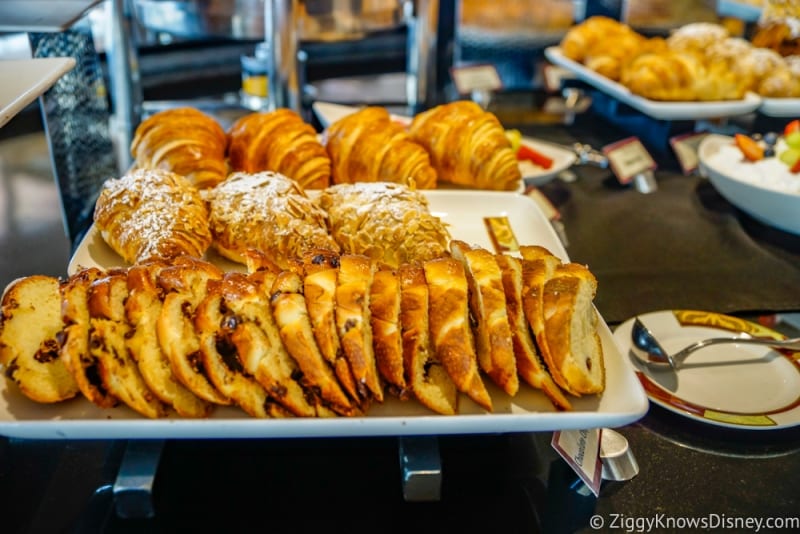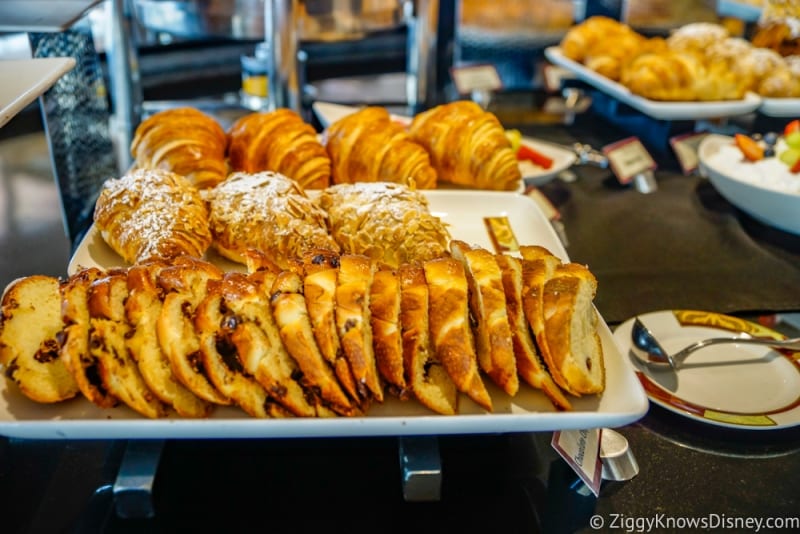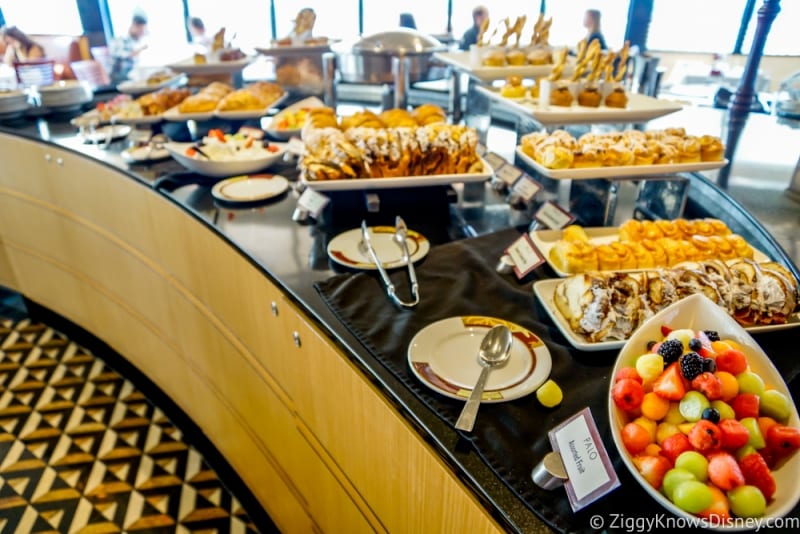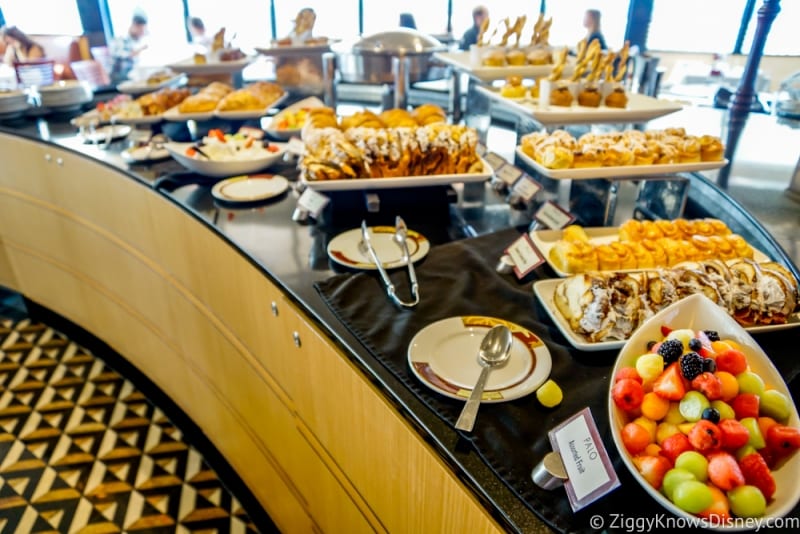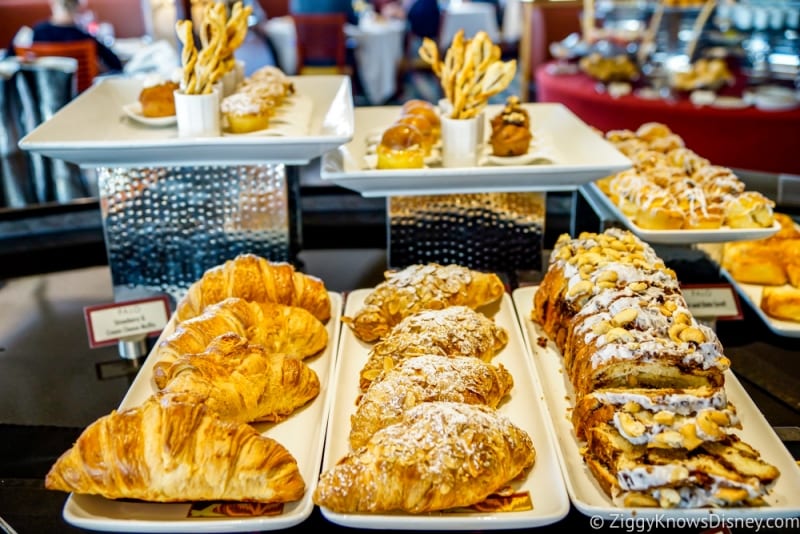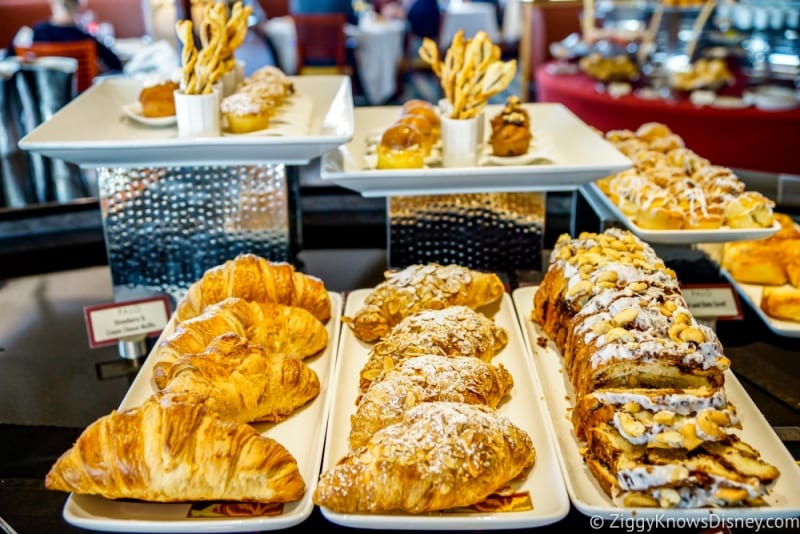 Keeping in mind that this was a marathon and we intended on being here for the good part of 3-4 hours, we had to pace ourselves and be choosy on our first course. That being said, I absolutely LOVE Almond Croissants, so I had to try one of these. And I also grabbed some kind of pastry with strawberries and a cream cheese filling.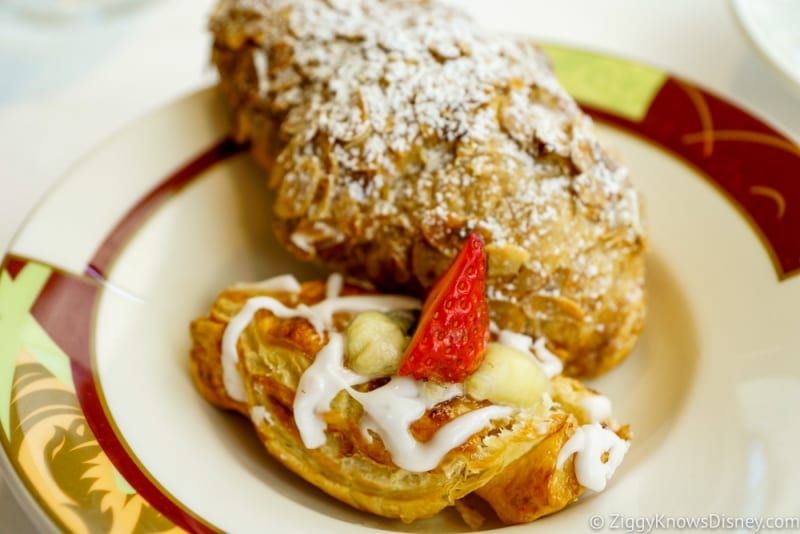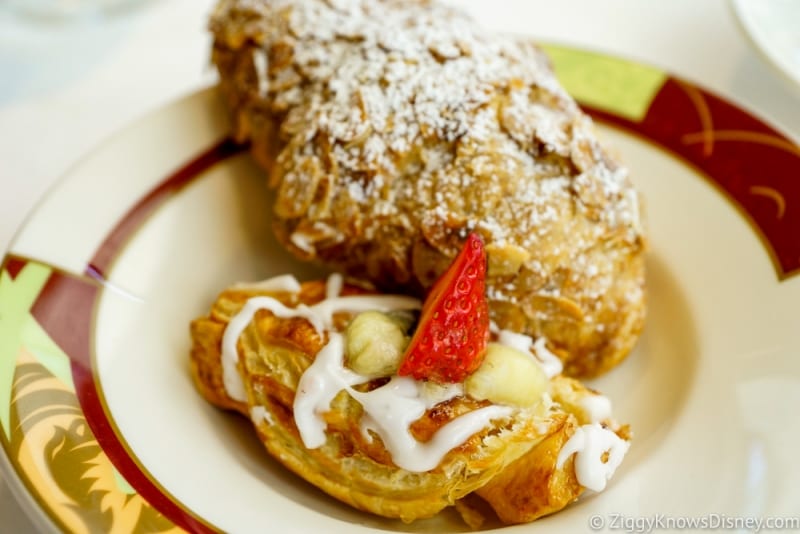 Both were really good. The Almond Croissant I especially liked because it was a bit crunchy outside with a flaky texture, but inside with was very delicate and light. Just look at the inside. It wasn't going to be heavy, exactly what I needed in this situation.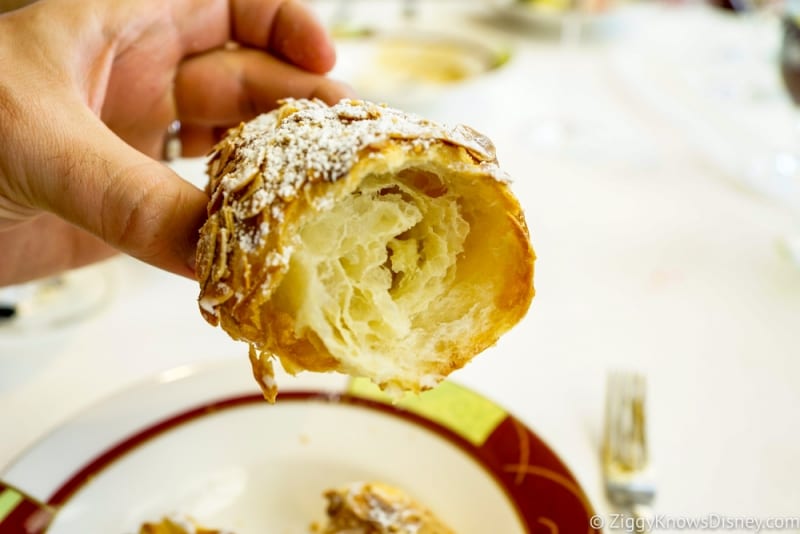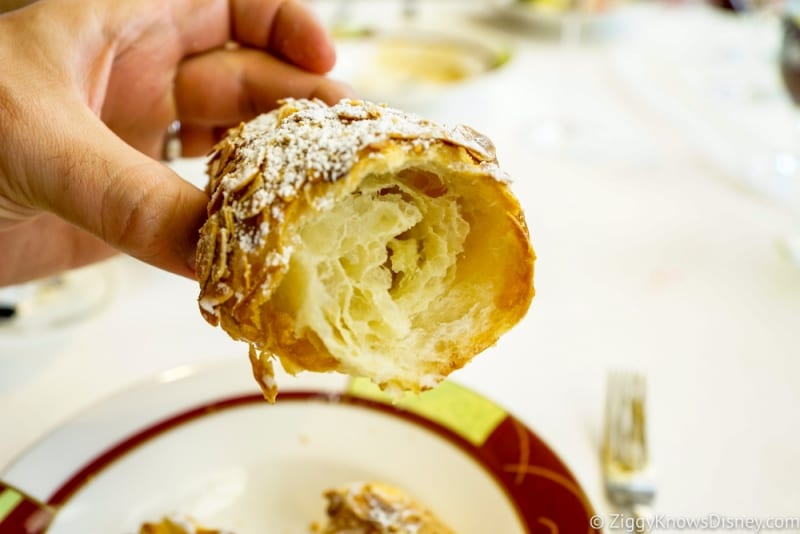 We are big Cinnamon Roll fans, and this one was exceptionally good. Even better than the Croissant. It was very small and we only took one, but one another occasion if we weren't going to be eating so much food, I'd have taken at least 5-6 of these and called it a day. It was super gooey and had all sorts of rich cinnamon-sweetness going on. Absolutely loved it!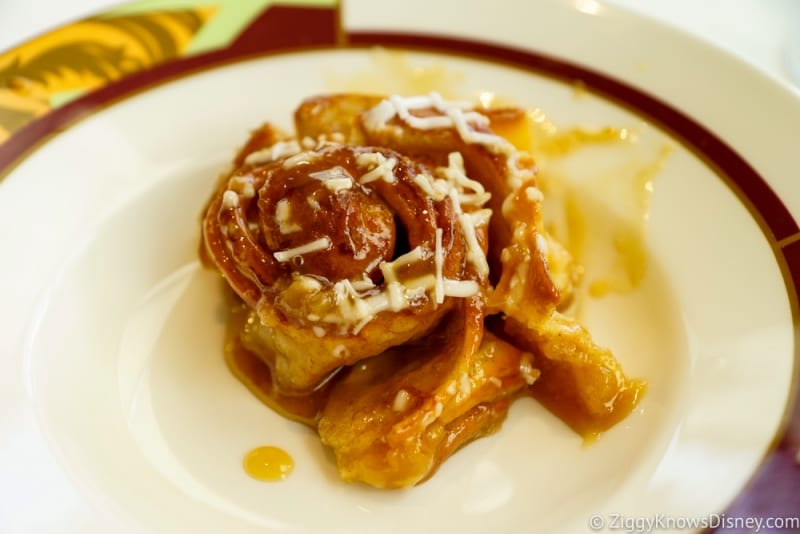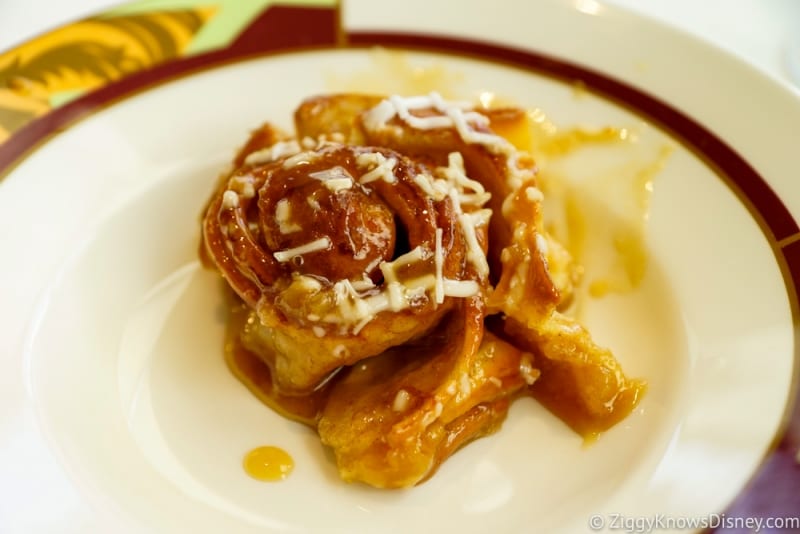 Ok, our first sweets down and our stomachs primed, we head to the Main Buffet:
Brunch Main Buffet:
So on the Main Buffet you're going to find all the savory items like Cured Meats, a million varieties of Fish, all sorts of Vegetables, Cheeses, Breads, etc. This is where we knew we would do the most damage: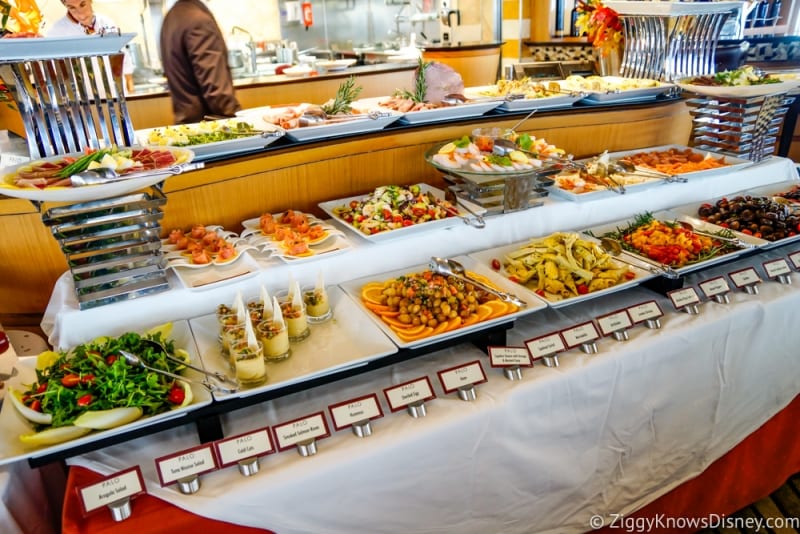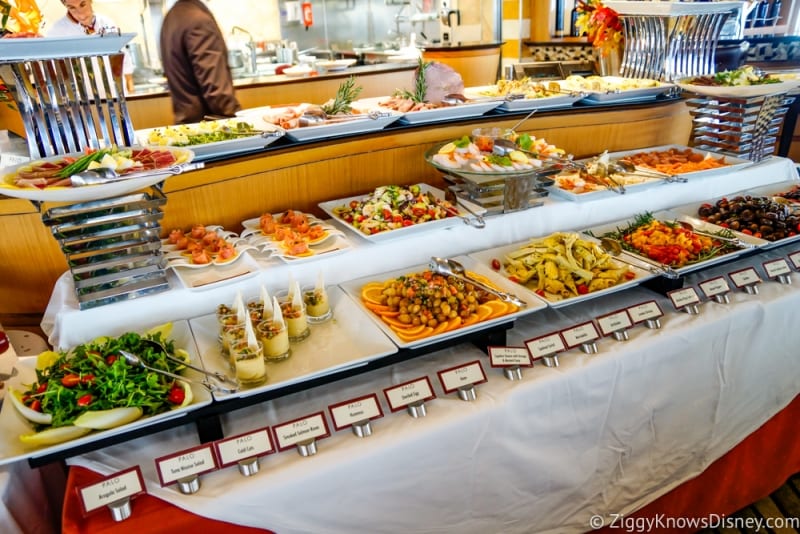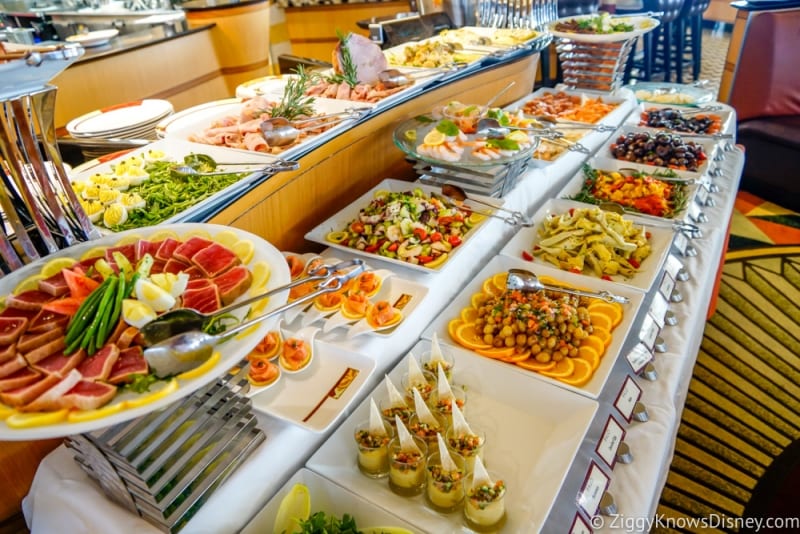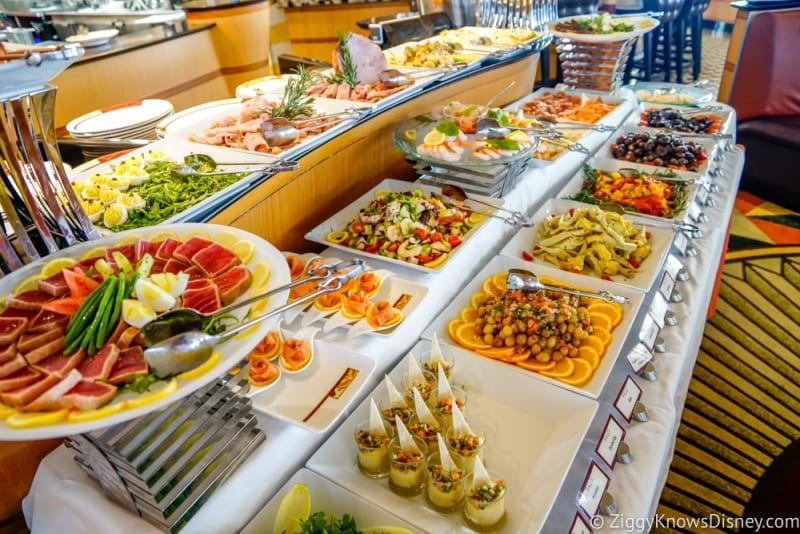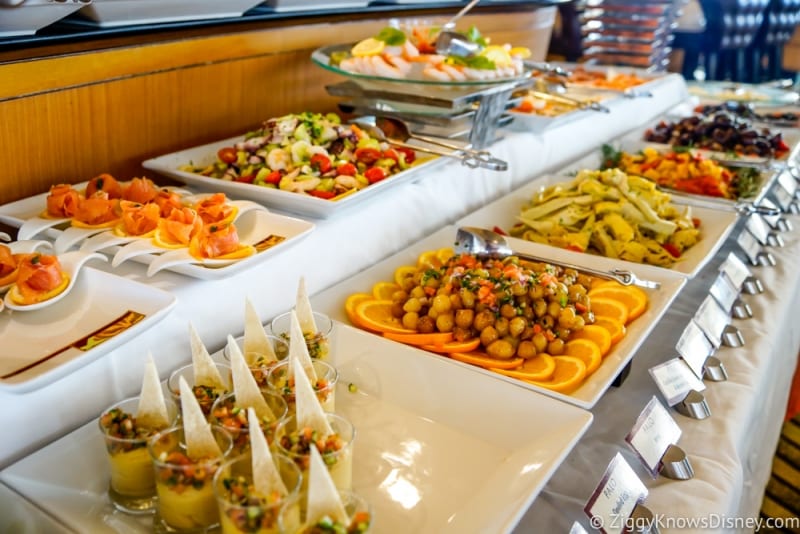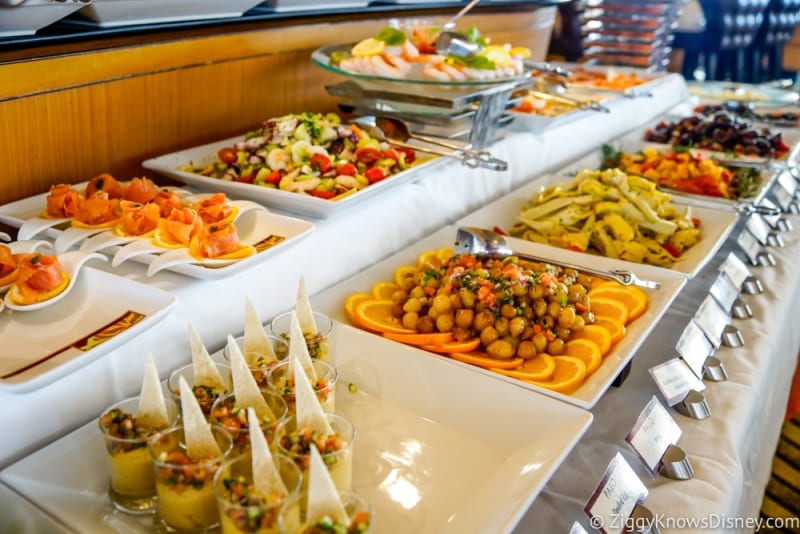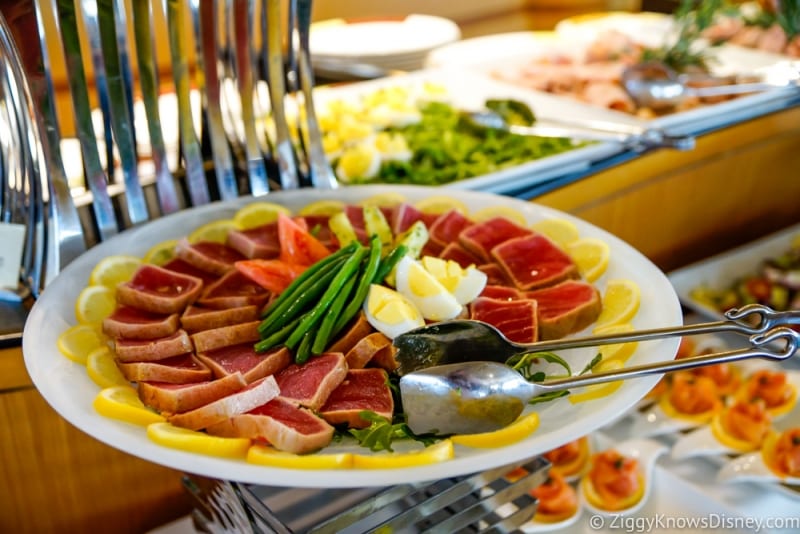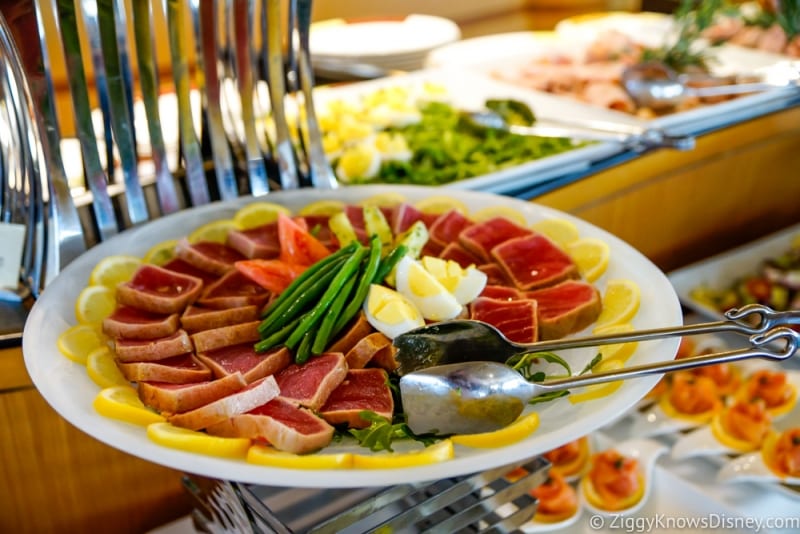 This Prosciutto di San Daniele is one of the most prized types of Prosciutto in Italy and this aged 400 Days, and sliced right off the bone. Sweet and delicate: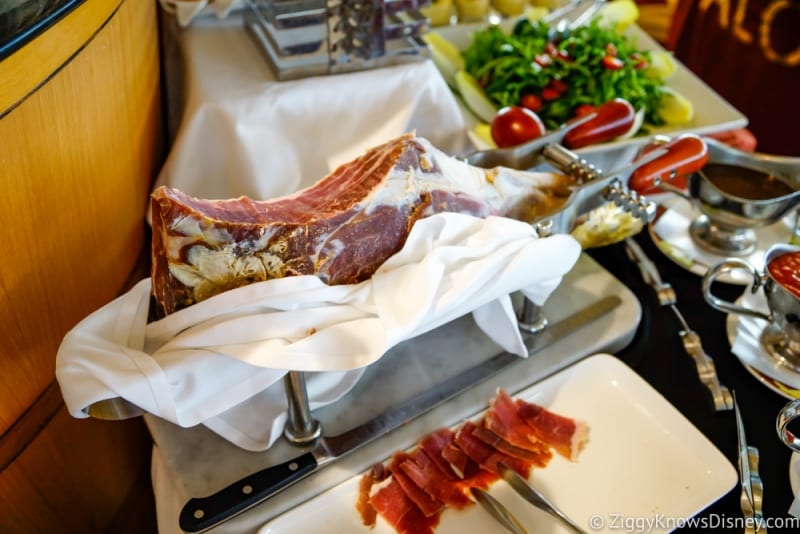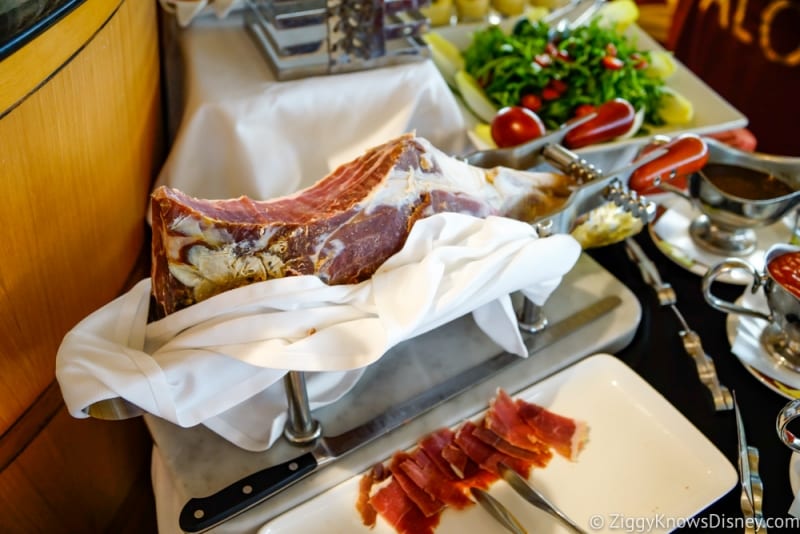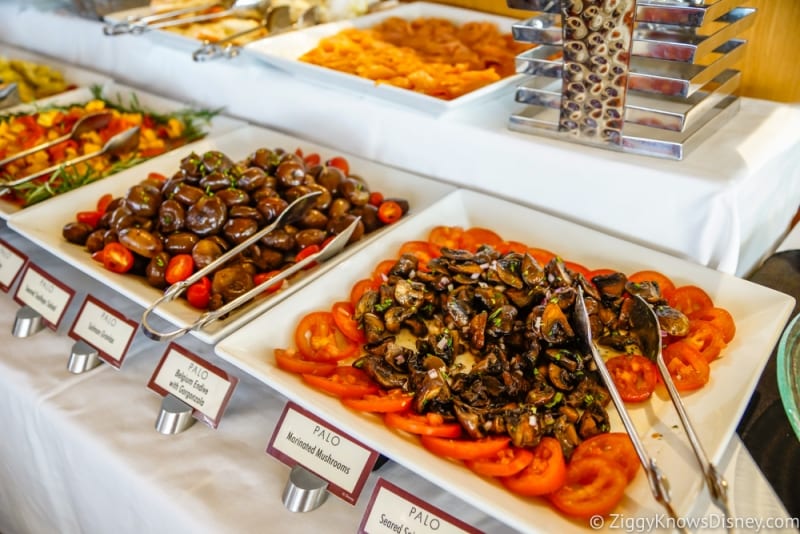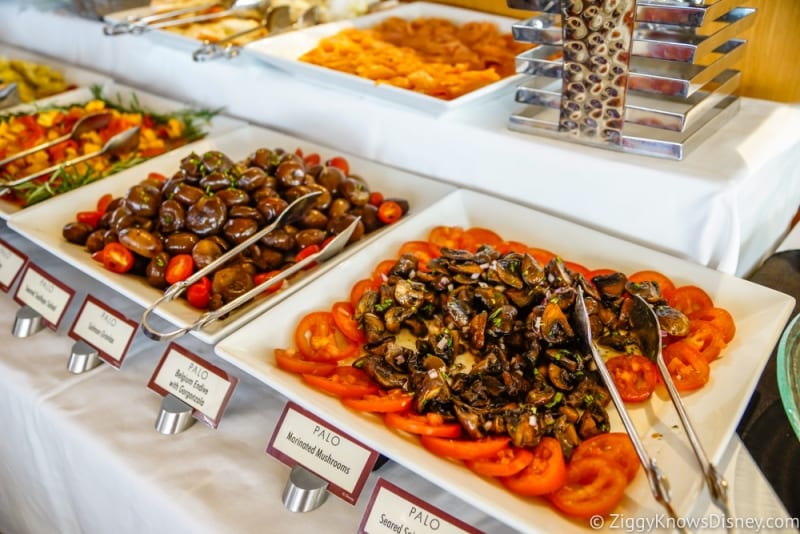 We're in Seafood Heaven with King Crab Legs, already split and opened up for us!!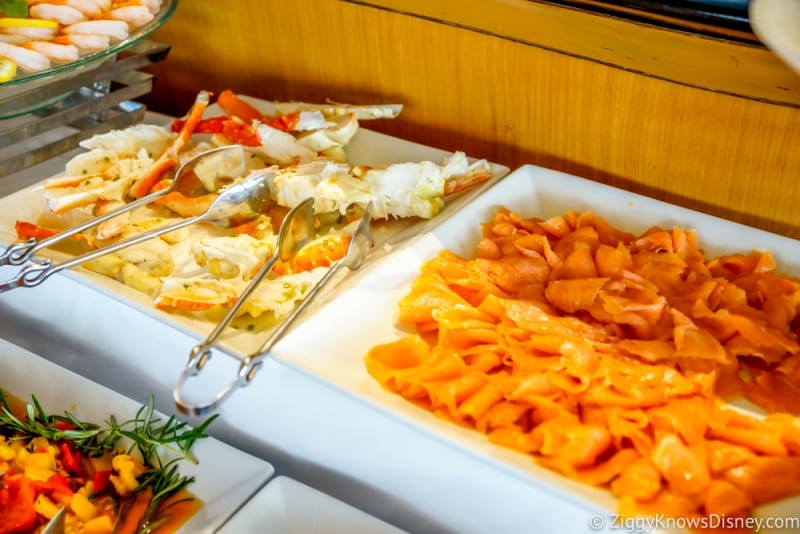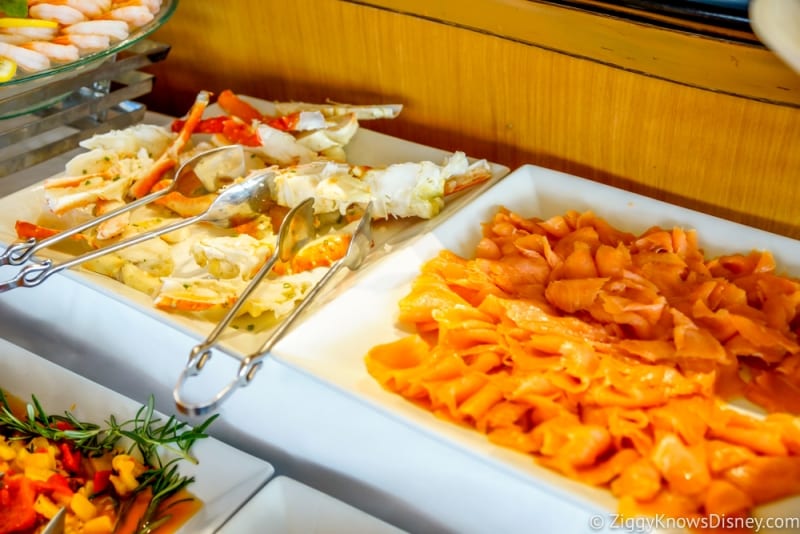 Is that Prosciutto-wrapped Asparagus I see??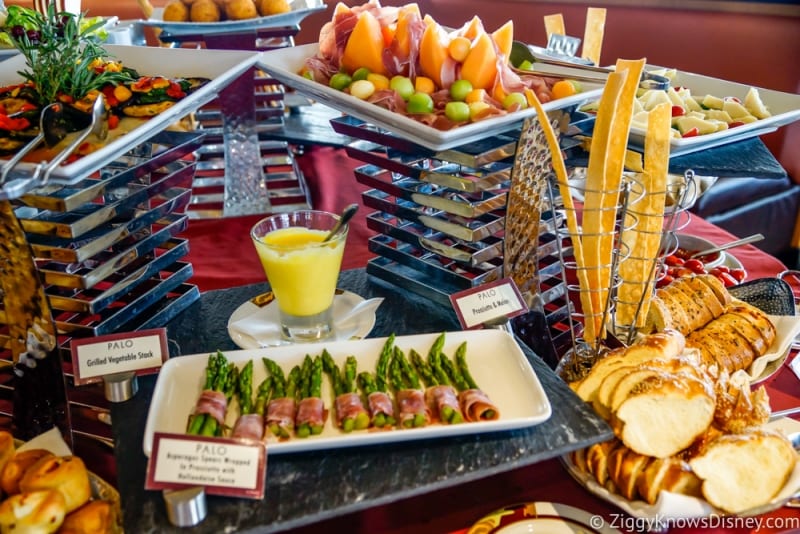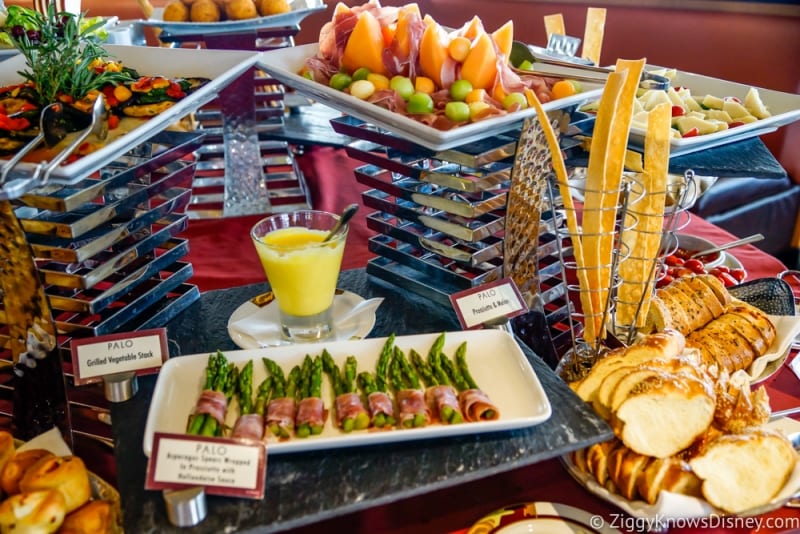 "It's a Trap!!" Must, resist, Bread Sticks…