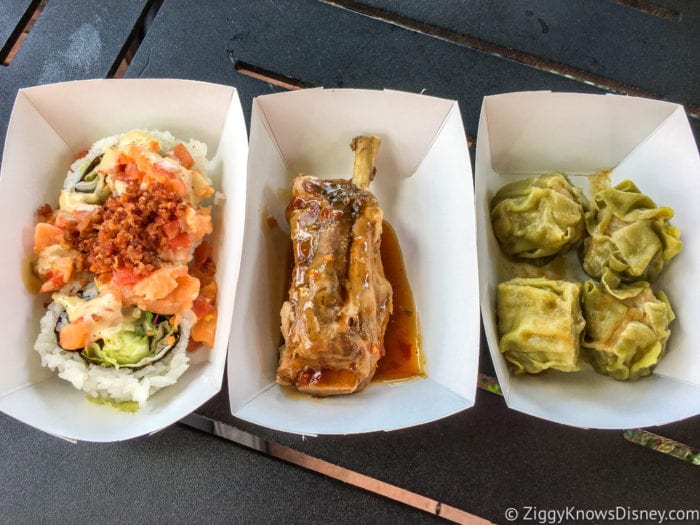 Even though the Japan Pavilion is near the top for me around World Showcase, the Japan booth at Food and Wine has never been really high for me. Throughout the years my experience there has just been: eh. Now with a re-vamped menu this year, maybe that will change! Let's see if this year is better than last in my Japan Review: 2017 Epcot Food and Wine Festival….
Japan Booth:
How can you not love this place?? Breath-taking…
The Japan booth is equally beautiful in its own right:
Japan Menu:
This is a completely different menu than last year, with all three things having been changed. There's Wasabi Shumai Steamed Pork Dumplings, Salmon BLT Sushi Roll and Teriyaki Ginger Pork. At first glance it sounds really good and looks to be an improvement over last year where I didn't really rate anything high. Only thing is the price has gone up significantly like in Italy, and the least expensive thing this year at $6.75, costs as much as the most expensive thing last year:
2016 Menu:
Here is this year's menu 2017:
Food:
Wasabi Shumai Steamed Pork Dumplings – $6.95, DDP Snack Eligible
Salmon BLT Sushi Roll – $7.95, DDP Snack Eligible

*Ziggy Recommended

Teriyaki Ginger Pork – $8.25, DDP Snack Eligible

*Ziggy Recommended
Beverages:
Pom Pineapple Sake Cocktail – $7.50
Kara Tamba Tarekuchi Dry Sake – $8.50
Yukikage "Snow Shadow" Junmai Sake – $8.50
Sapporo Lager -$4.25
Menu Review:
Alright, let's give it a go. First up: Wasabi Shumai Steamed Pork Dumplings. I'm not a big wasabi guy so I wasn't so optimistic going in. They were better than I was expecting though. The pork inside was moist and flavorful, and better than what I initially was thinking considering I don't like wasabi. Wasabi has a very strong taste, but personally I didn't think it was too overpowering, although some in my group did say so. I liked them, but I don't know if I'd run back to get them. Solid.
There's that cross-section for ya..
The next item had me more excited than the first: Teriyaki Ginger Pork. Now this I can get on board with! You know how sometimes you just want a nice hunk of meat? Well this is it! You're looking at a small-medium sized pork shank, with meat that fell right off the bone! It was covered in a ginger/teriyaki sauce that was a little sweet, a little tangy, and just straight-up delicious! It could have been slightly bigger for $8.25, but I'd recommend it in a second!
There is plenty of meat on this thing, just look:
Lastly we tried the Salmon BLT Sushi Roll. Bacon on sushi…let that sink in!! My wife was all-about this thing, and it was hard to get it out of her hands. She loves bacon, and this sushi has tons of it! A real big size, and the salmon was very fresh, didn't taste fishy. Sauce was awesome, and very light, just enough of it too, not drowned in it. We had one complaint there was too much cucumber, but that comes from someone who doesn't like cucumbers, so if that's not your case you'll love it!
Booth Summary and Grade:
Japan overall was a big improvement over last year and there wasn't anything we wouldn't try again. We really liked both the Salmon BLT Sushi Roll and the Teriyaki Ginger Pork, which made our Top NEW Items list this year. Both of those things are must try imo! I'm still waiting for a dessert to be added, but Japan took a step in the right direction this year!
If you have to get just one thing:
Teriyaki Ginger Pork
Grade:
8.5
Take a look at all of my 2017 Epcot Food and Wine articles. I have a 2017 Epcot Food and Wine Info Guide with a complete Index of the Food and Wine Menus, The Top NEW Items for 2017, Top Food and Wine Booths and more…I want you to be able to have the best info on the Festival so you have a great time and don't waste your time!
Your Thoughts:
I want to know what you think of my Japan Review 2017 Epcot Food and Wine Festival. Which was your favorite item? Where does it rand on your list of 2017 Food and Wine booths? Let us know in the comments section below!
If you enjoyed this article, as always I appreciate it if you'd share it with others via social media. I work hard at making this website into a useful resource for you and your family to plan your visit to Walt Disney World, and I hope it can help you! Thanks 🙂