So the Disney snack fanbase is crazy about two classic frozen snacks in Disney's Magic Kingdom, the Dole Whip and its much less praised cousin: the Citrus Swirl. These two are intertwined in history as they swapped houses not too long ago with Aloha Isle moving to the old Sunshine Tree Terrace location and vice versa. The Dole Whip being the more popular of the two needed more space and so Sunshine Tree Terrace was sent to the more traffic-tight area of Adventureland. Guests passing by now have a new reason to stop by, with a twist (pun intended) on the classic Citrus Swirl and that is: the Citrus Swirl Float.
Of course it's much more popular cousin has already had a version like this for years, and so it's about time the Citrus Swirl did too. How does it compare to the classic Citrus Swirl though? We recently went to the Sunshine Tree Terrace to find out the answer to that exact question…let's go!
In order to get to the Sunshine Tree Terrace you of course need to go to Adventureland: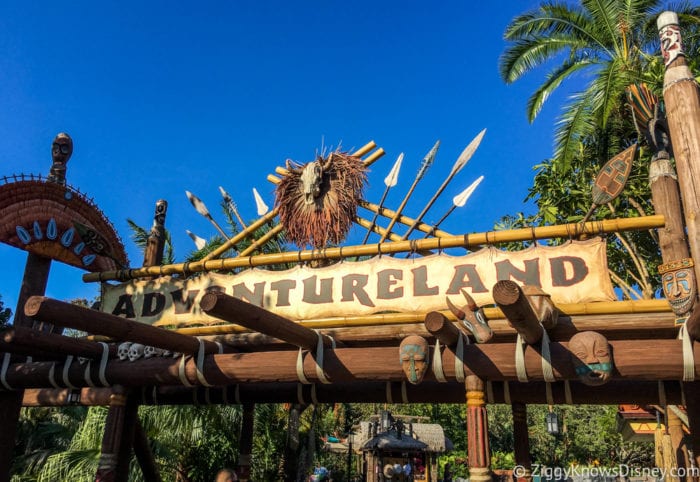 Once you make it through, stick to the right and you'll come across the Sunshine Tree Terrace. There's not usually a huge line, unless it's hot, so basically there always is! Today wasn't bad though…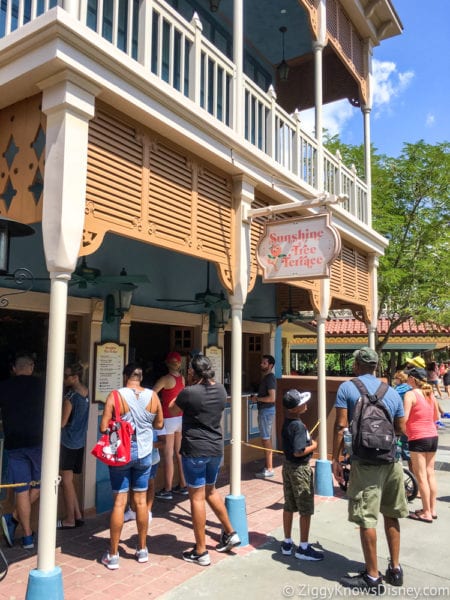 Don't you just love the Orange Bird?: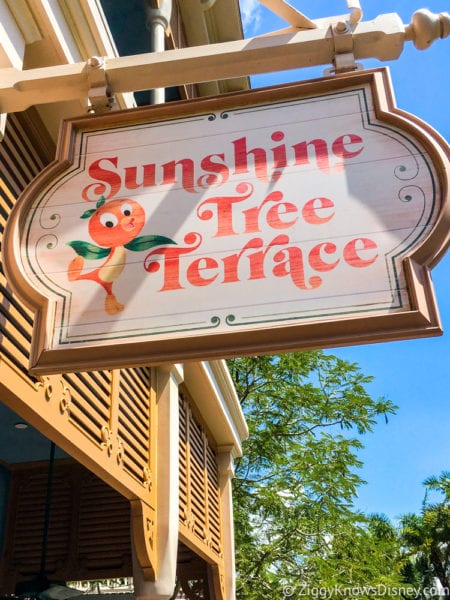 If you don't know the story, The Orange Bird was created in 1970 as a mascot for the Florida Citrus Commission and they likewise sponsored the Tiki Room attraction at Magic Kingdom. Though he disappeared for a while after the 1980's, The Orange Bird has come back and been a staple of Adventureland ever since, and the face of Sunshine Tree Terrace.
When it's your turn, walk on up to the counter and place your order: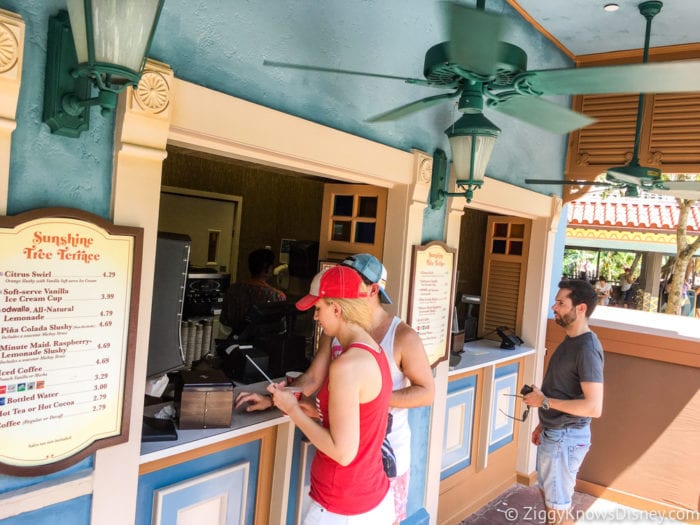 The Minute Maid Raspberry-Lemonade Slushy is also a personal favorite and great on a scorching day in the Magic Kingdom:
You'll notice all the usual snacks, including the classic Citrus Swirl, which is one of my favorite Magic Kingdom snacks of all-time! If you're not familiar with it, it's a cousin to the Dole Whip, however instead of pineapple-flavored soft-serve, it uses a half vanilla, and half orange soft serve. The Orange soft-serve is actually frozen orange juice, so you really taste the quality of the ingredients! In comparison to Dole Whip It's also a bit more bitter and tart, but equally as yummy!! ?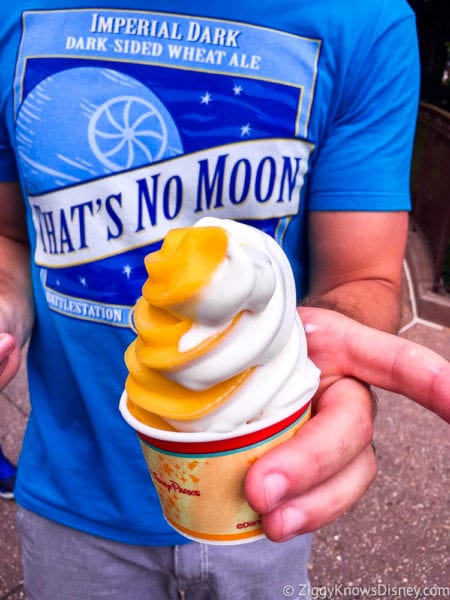 But today we're not here for the classic Citrus Swirl, but we're here for the Citrus Swirl Float: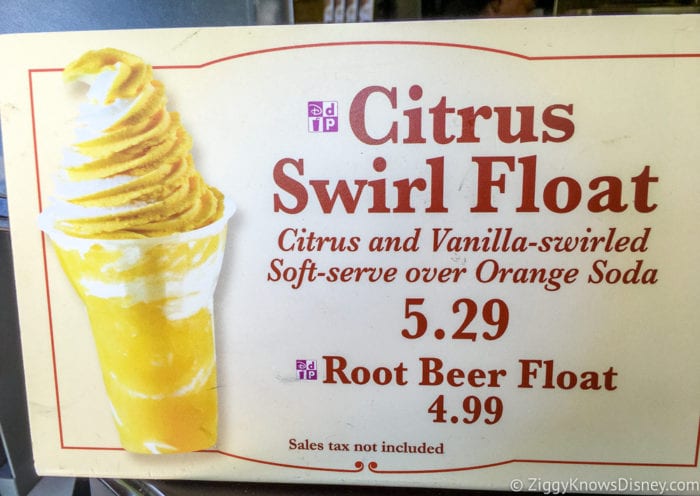 This isn't the first time the float-version has been served in the Magic Kingdom, but it's been away for a while, so I'm super pumped to have it back! The difference from the classic to the float is instead of just being soft serve in a cup, it's that same delicious Vanilla/Orange Soft-Serve but served over Orange Soda too! This is like a dream come true to me because I think I practically lived on orange soda growing up so this is right up my alley!
It comes in a HUGE cup that was more than enough to share, though I struggle to see why you'd want to ;). It's only $1 more than the normal version too, which at this size makes it seem like a steal: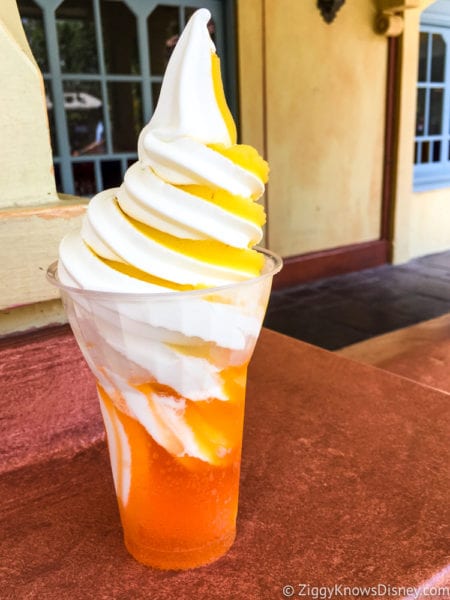 The soft-serve taste was exactly the same tart and sweet combo that we love. I also loved that when the ice cream melted into the soda, it turned into a orange cream soda, which is another childhood favorite! Best of both worlds!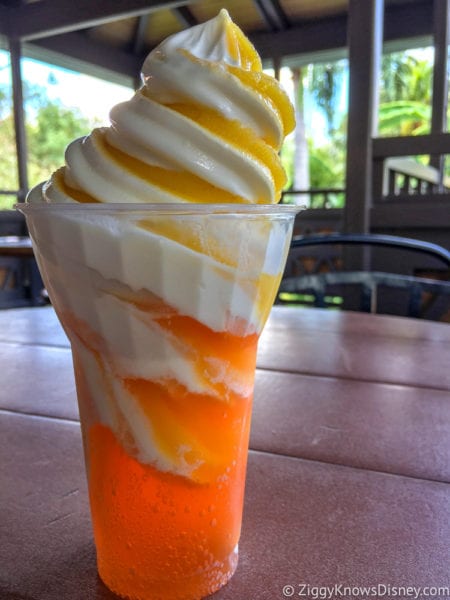 Summary:
Overall I really loved the Citrus Swirl Float as it takes everything you love from the original Citrus Swirl and brings it to a whole other level. Which one is better the Original Citrus Swirl or the Citrus Swirl Float? Just like I feel about the Dole Whip, I think the classic version is just a hair better overall, just because you don't always want a drink, you might just want ice cream. But if you are craving that classic sweet/tart Citrus Swirl flavor and also parched from thirst, this baby will do the trick. A must-try for any fan of the original!
Sunshine Tree Terrace is Open from 10:00 am to about an hour before park closing, Daily.
Click here for the Sunshine Tree Terrace Menu.
I love to write Restaurant Reviews of all the Disney Parks and I hope you found this one to be informative and helpful. If you liked this review then please visit my Disney Dining Reviews Page where I have many other Restaurant Reviews. I'm happy sharing with you what I love doing best…eating! ? I try to bring you the most thorough and unbiased reviews about the food and restaurants at Walt Disney World, Disneyland and Disney Cruise Line, so that as you are planning your vacation, you know the "can't miss" places, and what to skip. Hope you enjoyed this one and will enjoy many others in the future!!
Your Thoughts:
I want to know what you think about Citrus Swirl Float in the Magic Kingdom. Have you tried the Citrus Swirl Float yet? Do you prefer the float or the original? Let us know in the comments section below!
If you enjoyed this article, as always I appreciate it if you'd share it with others via social media. I work hard at making this website into a useful resource for you and your family to plan your visit to the Disney Parks and I hope it can help you! Thanks 🙂