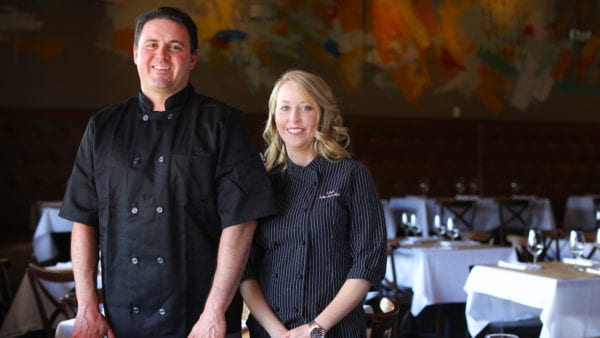 One of my most anticipated Disney Springs openings is now just around the corner as today we got news of The Polite Pig Opening April 10. The Polite Pig is located in the Town Center of Disney Springs and serves up what husband and wife team owners James and Julie Petrakis call: "Modern Barbecue." The couple also owns the The Ravenous Pig and Swine & Sons in Winter Park and Cask & Larder at the Orlando International Airport, and are opening The Polite Pig with James' brother Brian Petrakis.
The menu looks fantastic and the food will be cooked in an Open Kitchen so you can see the action happening right before your eyes. Expect some twists on traditional Barbecue which : the Southern Pig Sandwich; Peel-and-eat Shrimp with bourbon-cocktail sauce, and Crispy Brussels Sprouts with whiskey caramel. You'll also see some Southern Sides like Mac and Cheese (yes please!), Tomato and Watermelon Salad and Smoked Corn with Lime Butter.
Do you have a particular sauce you like? Don't worry, The Polite Pig is offering 7 different sauces such as Layla's Sweet and Fresno Hot Sauce, so you're sure to find something you like!
There's also going to be a great list of Craft Beers and Cocktails and also a selection of over 50 Bourbons.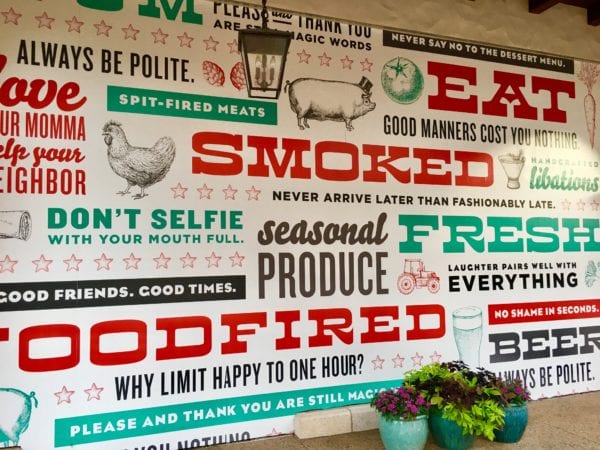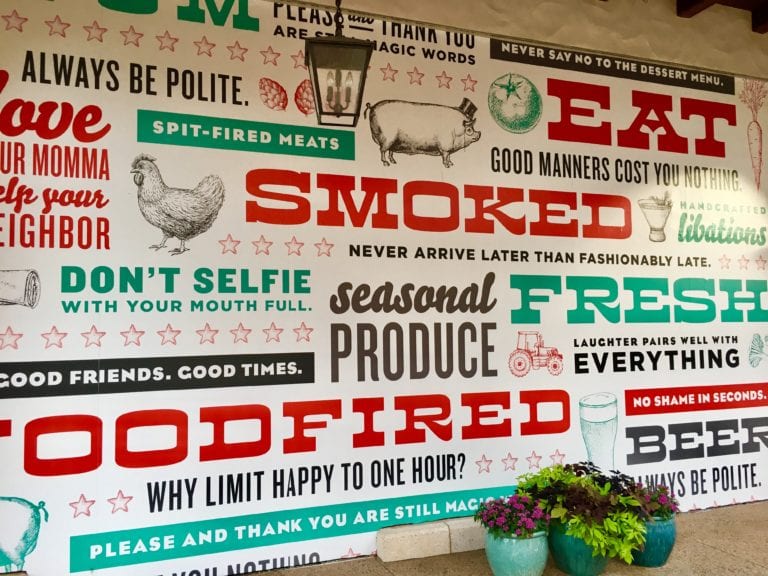 Here's the interview the owners of The Polite Pig did with the Disney Parks Blog:
Why did you decide to open at restaurant at Disney Springs?
Disney approached us with the idea of opening a fast-casual outpost that would represent the atmosphere and quality of our Winter Park location, The Ravenous Pig. We shared their enthusiasm for bringing a true local restaurant to Disney Springs.
Is the menu similar to The Ravenous Pig and Cask & Larder, your other restaurants in Central Florida?
I would say that the menu is similar in its approach to using quality, seasonal ingredients, with our signature touch. We'll have Cask & Larder Brewery beers, cocktails on tap and also an extensive Bourbon Bar. And this restaurant will focus a bit more on wood-smoked and grilled items.
Anything you'll offer at The Polite Pig that will be a signature, or exclusive to that restaurant?
Most of the menu will be exclusive to The Polite Pig: modern barbecue with The Ravenous Pig twist. Like the Southern Pig Sandwich with pulled pork off the smoker, apple slaw, mustard sauce and Duke's mayo; peel-and-eat shrimp with bourbon-cocktail sauce, and crispy Brussels sprouts with whiskey caramel.
Who will be the chef daily in The Polite Pig kitchen?
We have two of our Ravenous Pig/Cask & Larder veterans at the helm, Jared Thate and Allie Weldon, along with Chef James Petrakis' guidance and inspiration.
Tell us about the craft beer program.
We will feature four of our beloved Cask & Larder Brewery brews on tap, as well as a couple other Florida/domestic craft beers.
Anything special about The Polite Pig cocktails?
We will feature five house cocktails on tap, including some of our crowd favorites from The Ravenous Pig, such as the Gin and Tonic and Old-Fashioned.
How many seats and describe the décor.
We'll have 190 seats, and the décor pays homage to the beloved swine of The Polite Pig, as well as antiquity. Whimsical pigs on various adventures can be seen throughout the space, and rustic touches are used for custom featured art pieces. Large faded graphics also adorn the main wall of the space adding to the feel of the long-time family run business.
What's your favorite dish on The Polite Pig menu?
My favorite appetizer is the Hop Salt Pretzel with beer cheese fondue and IPA mustard. Favorite sandwich: the Salmon BLT with bacon jam, marinated tomato, romaine and aioli. I love that with a side of charred broccoli tossed with herb buttermilk dressing and house granola.
What do you think is the secret to good food?
Using quality seasonal ingredients and taking great care of it by enhancing with smoke/cooking, proper seasoning and passion!
Disney World imo can improve a lot on its Barbecue selection and The Polite Pig looks to do just that! It looks awesome to me and I can't wait to try it out! Stay tuned for more info!
Your Thoughts:
I want to know what you think about the The Polite Pig Opening April 10th. Are you looking forward to trying it out? Have you been to any of the other restaurants owned by James and Julie Petrakis? Let us know in the comments section below!
If you enjoyed this article, as always I appreciate it if you'd share it with others via social media. I work hard at making this website into a useful resource for you and your family to plan your visit to Walt Disney World, and I hope it can help you! Thanks 🙂
News Source: Disney Parks Blog