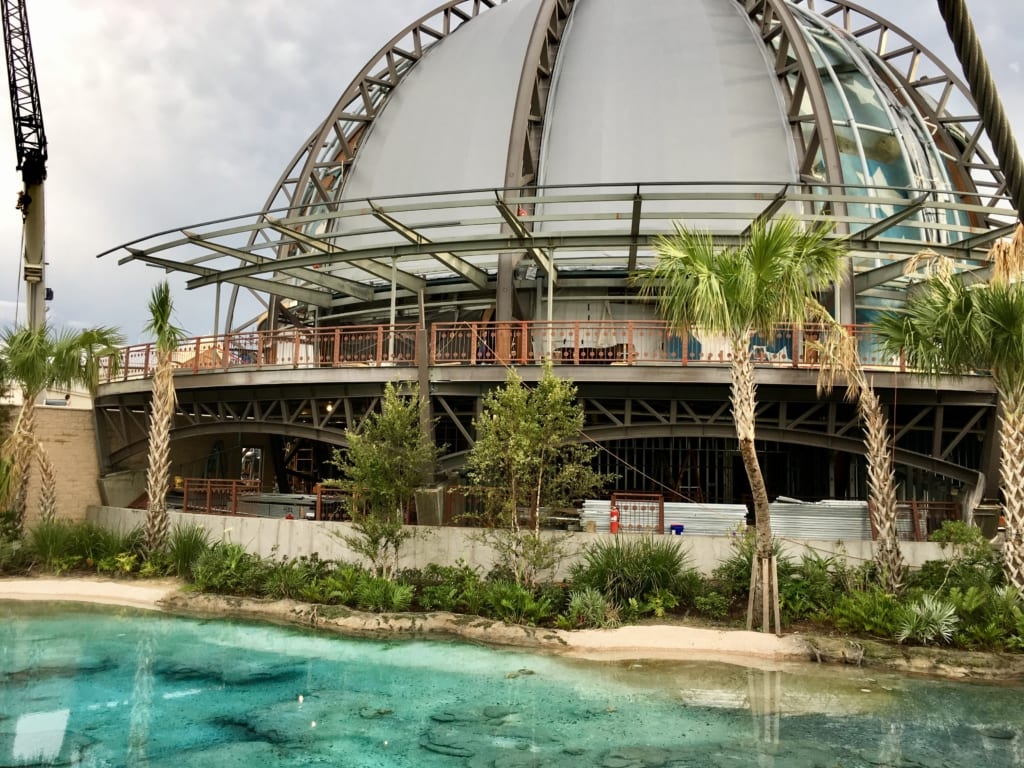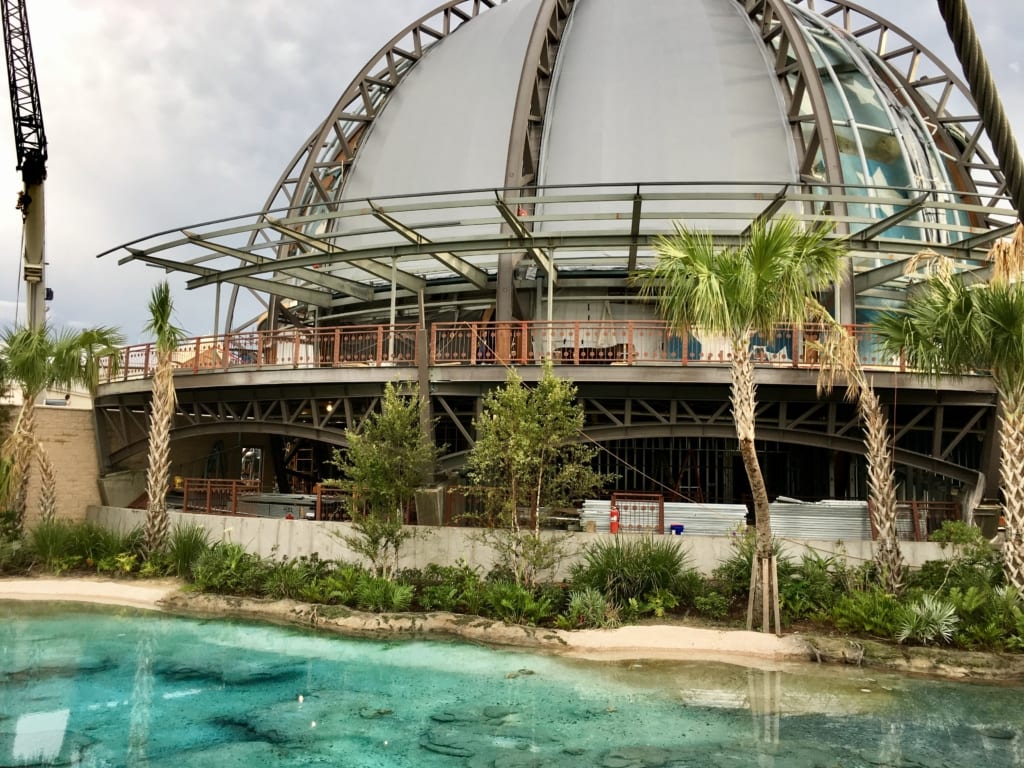 I have great new…after many many months of waiting, Planet Hollywood Observatory reservations will be available beginning December 15th. We don't have an exact opening date as of now, but seeing reservations are Dec 15, I would think it will have its grand opening the week before, so early December maybe. This is awesome because I've been waiting to try out the all newly remodeling Planet Hollywood.
What we know:
This will be totally different than the other versions around the world, in fact this is the only one to have the "Observatory" name attached to it. While there will still be a focus on Stars from the big screen, there will also be a focus on the Stars in outer space, and it will be transformed into a turn-of-the 20th century Observatory.
The four-floor restaurant will also feature an outdoor terrace, the Stargazers Bar, a 4,000-square-foot video wall, live entertainment, plus a new merchandise line.
Look how awesome the front entrance looks too, talk about an upgrade!!
Celebrity Chef Guy Fieri was asked to help design a portion of the new menu, which will have bold flavors and a wide variety of offerings. He's developing a whole new menu which will include some delicious new burgers and sandwiches such as a Prime Time American Kobe-Inspired Burger, a Mac and Cheese Burger, and the Turkey Pic-a-nic Sandwich.
Look at some of this stuff…it's looks ridiculously good, it doesn't help that I'm writing this article before dinner…hahahaha
That Burger has Mac and Cheese on it, are you kidding me!?!?!?!?! I'm in heaven….
Steak looks really nice also, looks like maybe a garlic and butter sauce on it.
This thing looks really awesome too…the "High Roller" Food Wheel. Looks like wings, some kind of tacos, chicken, a cheesy looking dip, and something else on bottom right, maybe a fried seafood or something.
Also on the menu will be some Crazy-A Milkshakes called: "Supernova Milkshakes." As you can see from the photo, they are completely filled and overflowing with all sorts of different candy and toppings. I see chocolate covered pretzels, kit kats, M&M's, sprinkles, wafers, peanut butter cups, a brownie, even a lollipop and a piece of cake!!!
These new extreme milkshakes seem to be all the rage right now, and the new Paddlefish restaurant in Disney Springs looks like it has something similar. I can't wait to try them!!!
The entire menu has yet to be released, but they do have a group events page with a menu there.
The restaurant will feature Stargazer Lounge where there will be signature craft cocktails with names that reflect the planets and space travel. One example is the "The Observatory" which is a sweet sip with with Stoli vodka, tangy Limoncino Bottega, Monin Peach Tea and an infusion of bubbles from Maschio Prosecco. The other cocktail we have is the effervescent "Sputnik" which combines prosecco, sparkling water, fresh lime juice and fragrant mint leaves.
The Stargazers Lounge is so beautiful looking from the pictures. If it comes out half that nice in real-life I think it's going to be one of the most "in" places in Disney Springs, and all of Disney World for that matter.
Guests can also expect famous movie memorabilia, video screens, cutting edge music and a store featuring themed merchandise as well.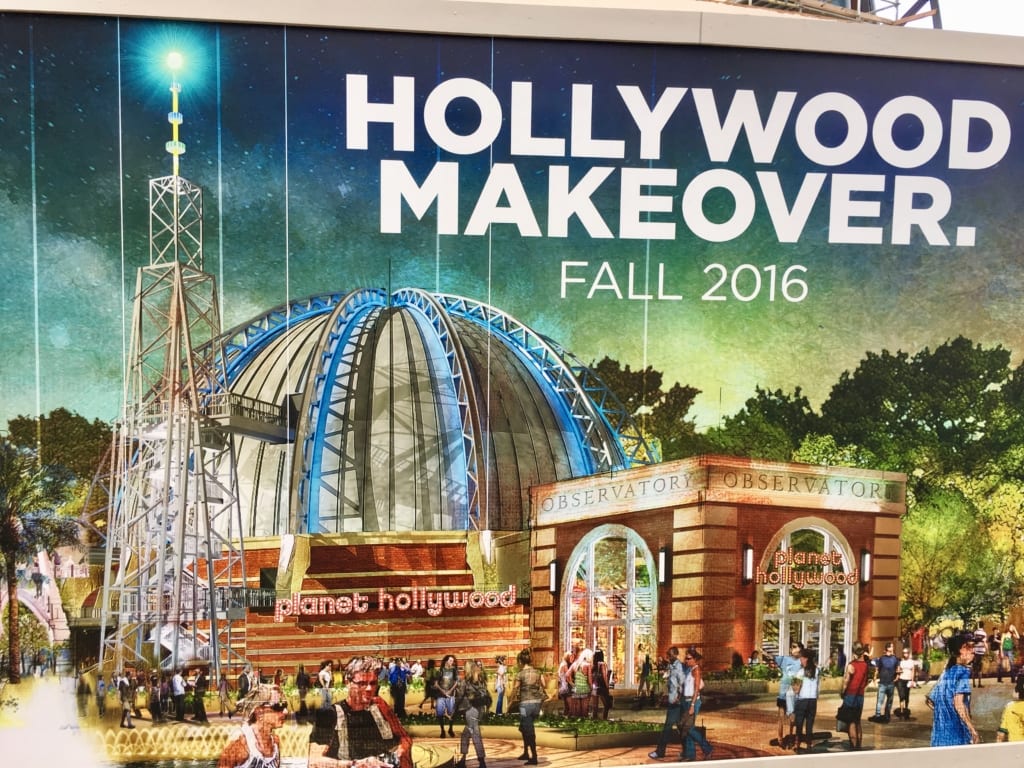 Keep tuned for an exact opening date and further menu information. I can't wait to go there and try it out for myself!!
If you enjoyed this article, as always I appreciate it if you'd share it with others via social media. I work hard at making this website into a useful resource for you and your family to plan your visit to Walt Disney World, and I hope it can help you! Thanks 🙂
Your Thoughts:
I want to know what you think about the new Planet Hollywood Observatory? What do you think of the design and menu? Let us know in the comments section below! 🙂
Photo Credit: Planet Hollywood's Facebook Page