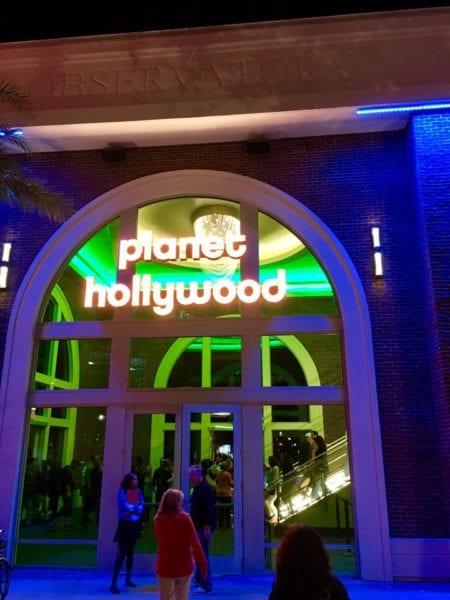 UPDATE 2/26/18: Following up on the original story, it now really looks like a Planet Hollywood Observatory Quick Service is coming to Disney Springs because permits have been filed for a "Interior alteration for a new restaurant within an existing restaurant." That pretty much confirms the rumors from the original story. Now word yet on when a Planet Hollywood quick service location will open up, but we'll keep you posted.
Original Story 3/19/17: One of the first things my wife asked me before our visit to Planet Hollywood was if there were going to be celebrities there? Of course I told her no, but she told me that she had heard Planet Hollywood was famous for the presence of A-List celebrities since it was originally backed by people like Arnold Shwarzenegger, Bruce Willis and Sylvester Stallone. I told her that while that might have been the case for a bit in the 90's, that it wouldn't happen again. Not so fast…
According to the Orlando Sentinel, Planet Hollywood Founder Robert Earl is trying to bring back some of that Star appeal and he's trying to make celebrity sightings a regular occurrence in Disney Springs. Earl goes on to point out how they recently had Britney Spears and Reese Witherspoon in to visit and he would to include even more stars.
This would be beneficial to Planet Hollywood Observatory as they recently spent $25 Million on a total remodel of the restaurant and have been busier in the last couple of months than they have been in years. That being said on our visit we weren't blown away by the overhaul. Despite the over-the-top mega burgers, sandwiches and milkshakes that seemed like they would be amazing, we left Planet Hollywood being severely underwhelmed (stay tuned for my upcoming review of out visit to Planet Hollywood).
Also mentioned was the fact that they will be opening a Planet Hollywood Quick Service location outside in Disney Springs, and they already have the permission from Disney for the expansion. I don't have any menu updates for that but I would assume it will just be select menu items from the normal menu. I'm not sure this will solve my problems with Planet Hollywood, but in either case they are trying to strike while the iron is hot for sure.
I'll let you know as soon as I have anything else.
Your Thoughts:
I want to know what you think about Planet Hollywood Observatory Celebrities and a Quick Service location coming. Have you had a chance to eat at Planet Hollywood Observatory? What was your experience there? Let us know in the comments section below!
If you enjoyed this article, as always I appreciate it if you'd share it with others via social media. I work hard at making this website into a useful resource for you and your family to plan your visit to Walt Disney World, and I hope it can help you! Thanks 🙂