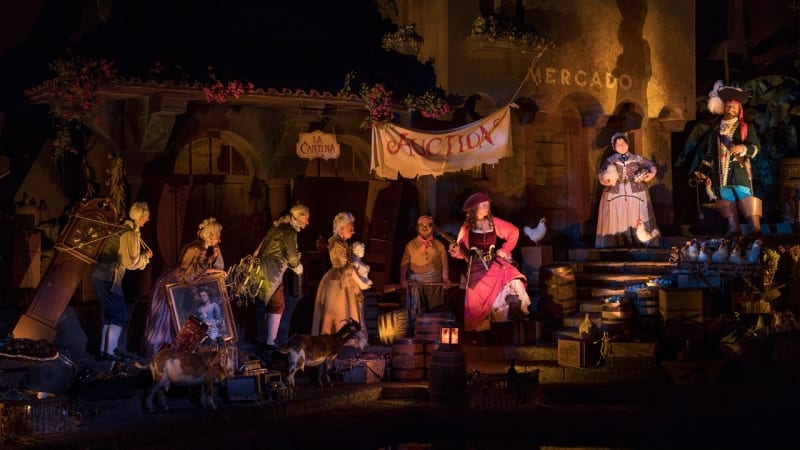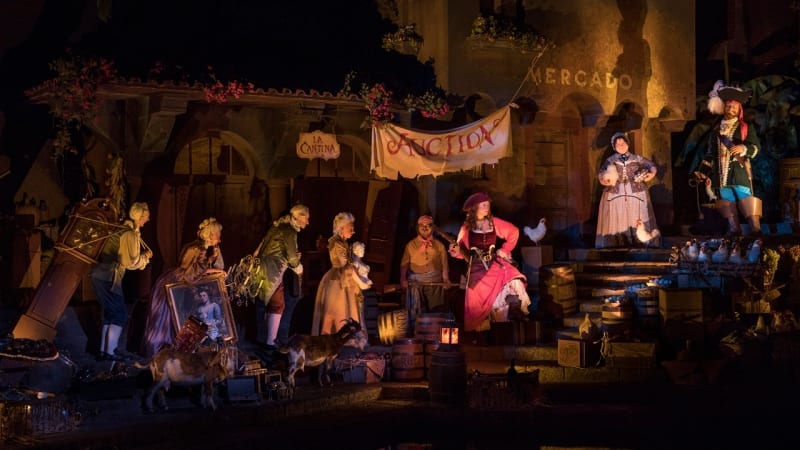 Pirates of the Caribbean closed down last month for a refurbishment which would be getting rid of the famous 'Redhead Auction Scene' for….a New 'Redhead Auction Scene?' That's correct but the new version of the scene will have a totally different tone to it than the previous. Pirates of the Caribbean reopened today, March 19, 2018 and guests will be able to get a first look at the refurbished attraction.
In this version of the Redhead Auction Scene, the woman is no longer being sold into slavery, but is a pirate named Redd and is part of the group of pillaging pirates. They are selling the stolen goods in an auction run by the Pirate Auctioneer.
This isn't the first time Disney has changed or introduced new characters into the Pirates attraction. Just in the last few years it introduced Johnny Depp's Captain Jack Sparrow character into the attraction after the massive success of the Pirates of the Caribbean film franchise.
The above photo gives you a good idea how the new scene will be. I personally wasn't in favor of the change. I understand why Disney made the move, but in an attraction about Pirates I didn't think it was out of place before as it depicted how a real-life situation could have been when pirates were pillaging villages. That's just me though. Now after seeing the new scene, I don't hate it, but I don't really like the idea of the same redheaded woman from the old scene now becoming a pirate. I mean they could have put here in a different scene or done it a different way.
And the fact that the New Redheaded Woman seems to be the Jane animatronic recycled from the Tarzan scene in The Great Movie Ride is also funny:
It is what it is I guess…
The Pirates of the Caribbean attraction in Disneyland Paris has already undergone the refurbishment, and starting April 23 Pirates of the Caribbean in Disneyland, Anaheim will be getting the same scene change.
Check out the Full List of Disney World Refurbishments and Ride Closures to see what else is being worked on.
Your Thoughts:
I want to know what you think about the Pirates of the Caribbean New Auction Scene now that you've seen the photo.
Do you like the change now?
Is your opinion different than when the announcement was made months ago?
What do you think about re-using the Jane Animatronic?
Let us know in the comments section below!
If you enjoyed this article, as always I appreciate it if you'd share it with others via social media. I work hard at making this website into a useful resource for you and your family to plan your visit to Walt Disney World, and I hope it can help you! Thanks 🙂
News Source: Disney Parks Blog