This is a Guardians of the Galaxy Coaster Construction Update for March 2018. The land on the plot of land that the new Guardians of the Galaxy Coaster will sit on has been cleared out, and work is starting to be visible on the construction of the attraction show building. In fact @Bioreconstruct got some nice aerial shots above Epcot and we can see how the construction progress is going here.
Here's the current state of the Guardians of the Galaxy Rollercoaster in Epcot: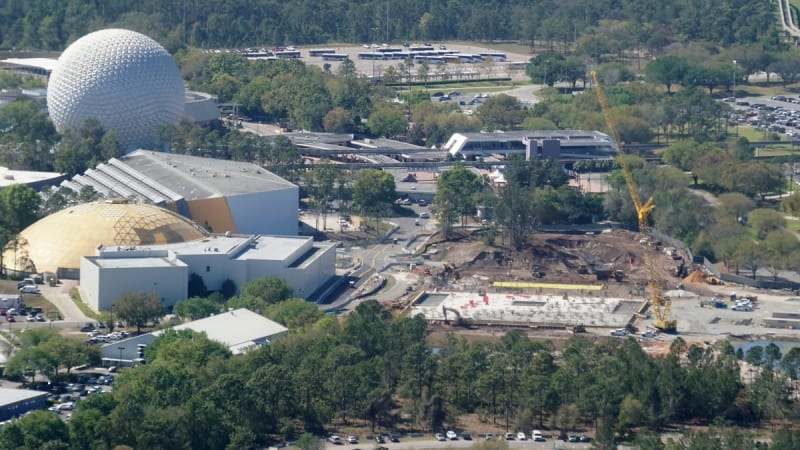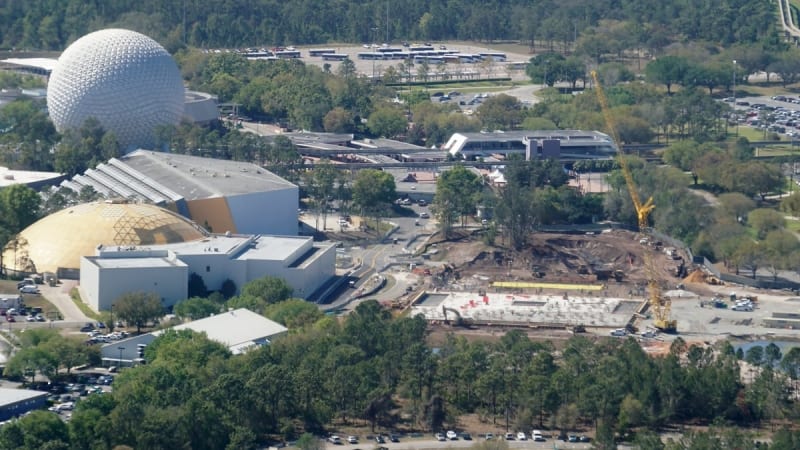 You can see a tall yellow crane on the right side of the image doing the heavy lifting for the building. Below it you can see the foundation being put in for the attraction show building where the rollercoaster itself will be. The attraction queue of course will start out in the old Universe of Energy building on the left, between the Wonders of Life Pavilion (the yellow dome) and Spaceship Earth.
The yellow arrow gives you another indication of the foundation for the rollercoaster building: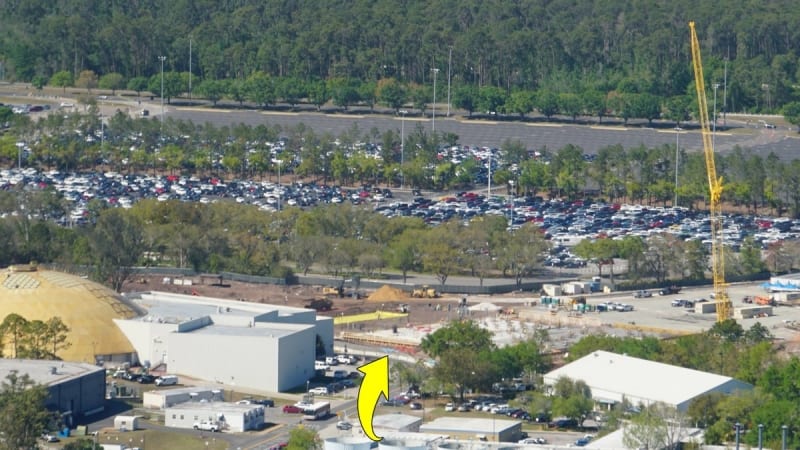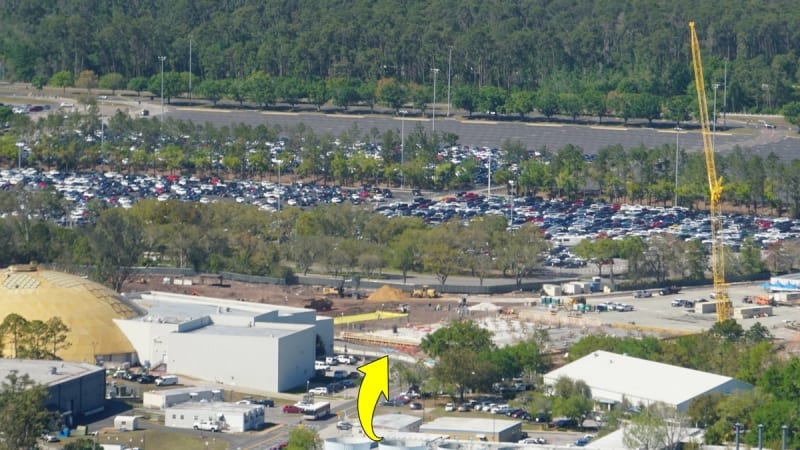 This building is going to extend far back toward the parking lot as it's going to be absolutely huge. In fact Guardians of the Galaxy will be one of the longest indoor rollercoasters in the world when completed. But it shouldn't be too intense as there aren't going to be any inversions.
Most likely the rollercoaster trains will be keep here when finished.
Here's a shot of the Guardians of the Galaxy Coaster construction site from outside Epcot: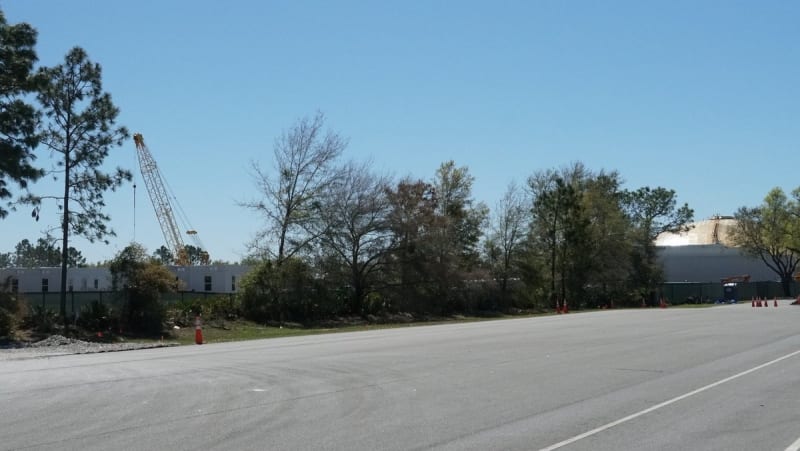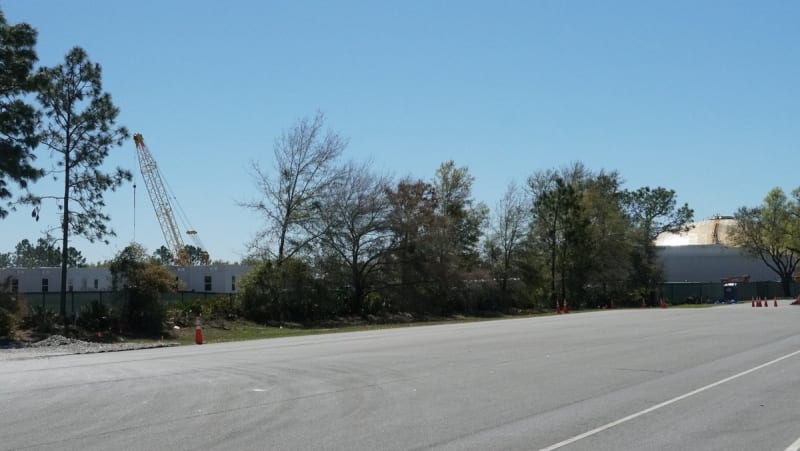 Lastly you can see the old Universe of Energy building surrounded by construction walls inside Epcot at night: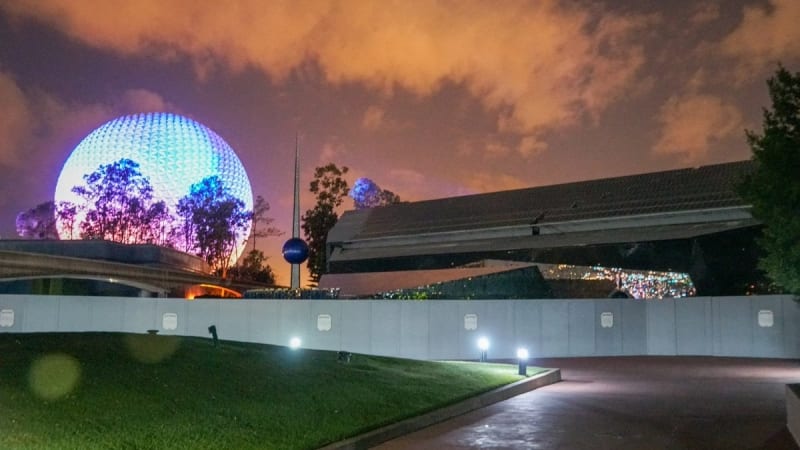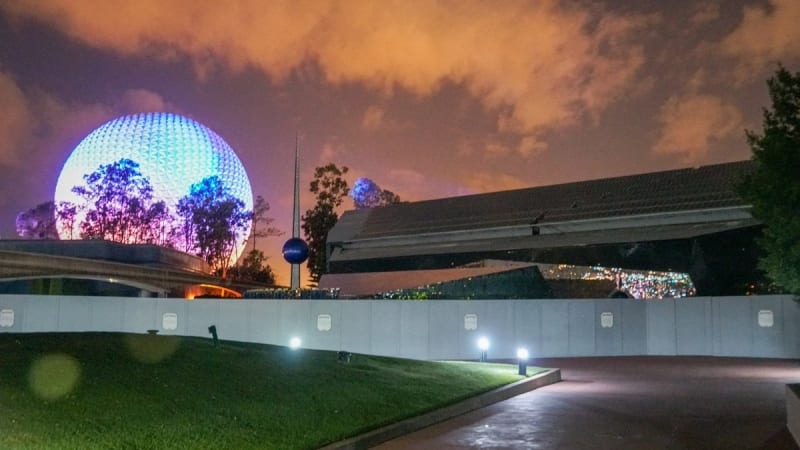 This of course is just the beginning of the project, so it'll be fun to keep you updated as the progress continues here at Future World in Epcot. Expect Guardians of the Galaxy Coaster to open in 2021 in time for the 50th Anniversary of Walt Disney World.
Don't forget to check out my latest Disney World Construction Updates including: Disney Skyliner/Gondola, Ratatouille and France Expansion, Toy Story Land Construction Update and Star Wars Galaxy's Edge Construction Update too!
Your Thoughts:
I want to know what you think about this Guardians of the Galaxy Coaster Construction Update March 2018. Are you excited for the attraction to come to Epcot? Let us know in the comments section below!
If you enjoyed this article, as always I appreciate it if you'd share it with others via social media. I work hard at making this website into a useful resource for you and your family to plan your visit to Walt Disney World, and I hope it can help you! Thanks 🙂
Photo Credit: @Bioreconstruct