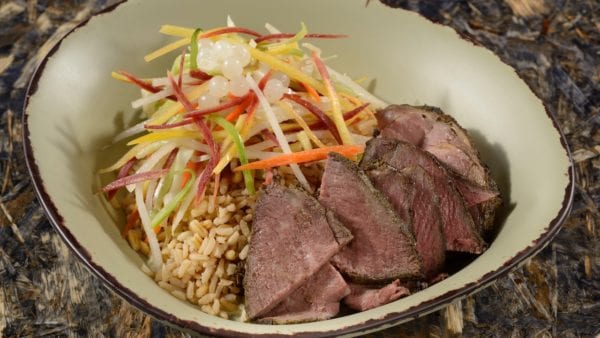 News keeps coming out at a rapid pace about the Animal Kingdom's latest addition, and today we got some Pandora: The World of Avatar Dining Info that gives us a little better idea what we'll be sinking our teeth into while visiting the alien moon. This is on the heels of the Height Requirements and FastPass+ Info for the Pandora attractions.
There will be two restaurants: Satu'li Canteen, which will be a quick-service restaurant, and Pongu Pongu which is being touted as a Drink Station. Here is some more info on them:
Satu'li Canteen:
This is your main dining option on Pandora. So one thing it makes mention of is that Satu'li Canteen will be a "Fast Casual" menu. That means you can probably expect something like Be Our Guest or D-Luxe Burger where you order your food and then it's brought to you. If it's anything like them I'll take it.
As far as the menu goes, we don't have anything official yet but it does mention "healthy dishes, and familiar flavors from another world—wholesome grains, fresh vegetables and hearty proteins." So stuff like you see in the picture above with steak and grains will be available. I don't know what this dessert is but I want to try it: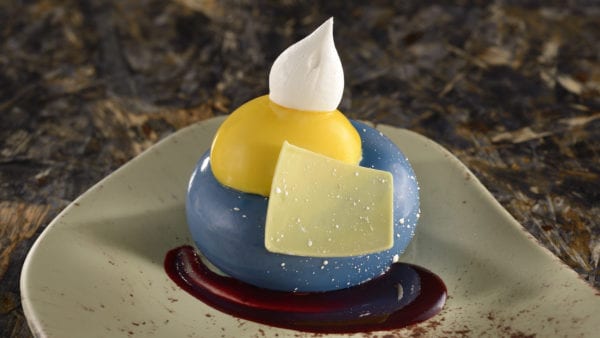 It's also mentions vegetarian options as well. Also it says the Dining Plan isn't accepted, but that's normal for new restaurants before they open. Look for that to be adjusted by opening day.
The location sounds interesting as it's run by Alpha Centauri Expeditions (ACE) and located inside an old RDA Mess Hall. It sounds like a really cool place and I hope it doesn't disappoint.
The official description is as follows:
"A Menu Inspired by Pandora's Bounty
Discover healthful dishes and familiar flavors from another world—wholesome grains, fresh vegetables and hearty proteins.
Between your aerial adventures on Avatar Flight of Passage and family-friendly voyages aboard Na'vi River Journey, tuck inside the Quonset-hut structure called Satu'li Canteen—long ago an RDA mess hall, now a peaceful dining facility adorned with Na'vi art and cultural items.
Owned and operated by Alpha Centauri Expeditions (ACE), Satu'li Canteen supplies travelers all the comforts of home—courtesy of a unique, fast-casual menu that's been crafted from Pandora's natural abundance.
Featuring international-inspired cuisine, vegetarian options and specialty libations, it's the perfect place to refuel as you venture through the Valley of Mo'ara."
Pongu Pongu:
This is a Drink Station whose name means: Party Party. Sounds like my kinda place! They should have some interesting cocktails, local beer to Pandora and also some desserts. No menu yet for here either.
The official description is here:
"Quench your thirst the Pandoran way at an otherworldly pit-stop offering Na'vi-inspired refreshment.
Are your expeditions at Avatar Flight of Passage and Na'vi River Journey leaving you parched? Hike to the corner of Windtraders where you'll find Pongu Pongu—when you spot a friendly expat serving out-of-this-world drinks, you've come to the right place.
Meaning "Party Party" in the language of the Na'vi, Pongu Pongu welcomes weary travelers to try our bioluminescent frozen cocktail, indigenous beers—or even a sweet snack you won't find elsewhere!"
Both Satu'li Canteen and Pongu Pongu have opening dates set for the opening of Pandora: The World of Avatar which is May 27th, 2107. As more info comes out I'll let you know, but at least this is a little taste of what's to come!
Your Thoughts:
I want to know what you think about the Pandora: The World of Avatar dining info. Which place are you looking forward to trying first? What are some choices you would like to see on the menu? Let us know in the comments section below!
If you enjoyed this article, as always I appreciate it if you'd share it with others via social media. I work hard at making this website into a useful resource for you and your family to plan your visit to Walt Disney World, and I hope it can help you! Thanks 🙂
Photo Credit: Disney