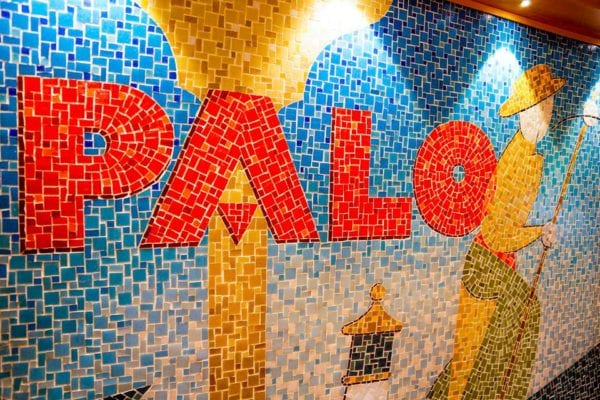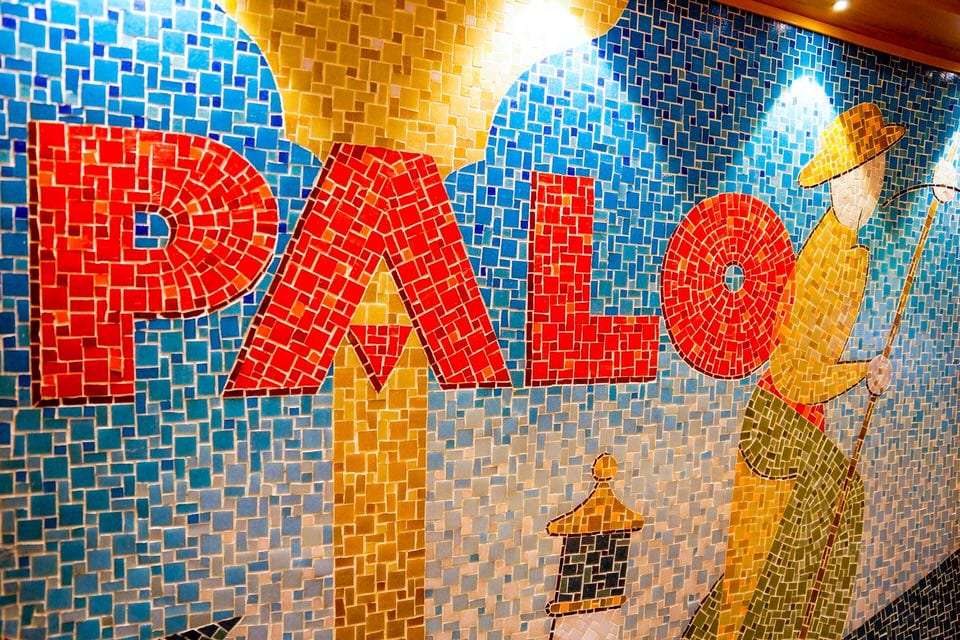 I recently went on a 5 Day Bahamas Cruise on the Disney Magic that was truly a one-of-a-kind experience. And to me the absolute highlight of the trip (big reveal coming) was the food, in particular I enjoyed what up to this point has been the best Disney Dining Experience I've ever had, and maybe the best I've ever had anywhere period. You are in for a treat today, so sit back and enjoy this Palo Dinner Review. FYI, don't do it on an empty stomach…you've been warned! 😉
Palo is an Adults-Only Signature Dining Restaurant, and can be found on all of the 4 Disney Cruise Line ships: Disney Fantasy, Disney Dream, Disney Wonder and our ship the Disney Magic. In fact it's the only Adults-only dining available on-board the Disney Magic.
It has amazing ambiance, themed after the Italian city of Venice, and naturally serves delicious Northern Italian Cuisine. It also has the Best View on-board the Disney Magic, offering 270-degree views of the sea. Palo is open for both Dinner and Brunch (Only on Sea-days), and while both are absolutely amazing experiences (don't worry I have a Palo Brunch Review in the works), for this review we are showing the Palo Dinner.
TIP: If you are undecided between Brunch or Dinner, I say do both! But if you can only choose one then my choice would be for Dinner but only by the slightest of margins, it's like choosing between your children, you can't do it!
Being a Signature restaurant, Palo isn't included in the price of your cruise like your regular dining rotation and comes with an added cost of $40 per person. Don't let that deter you, because it will be the best $40 you've ever spent in your entire life! Just knowing that it costs less than a mediocre burger and drink at Planet Hollywood is really laughable.
TIP: Reservations are a must, and I would make them the very first day that reservations are made available for your cruise as it tends to fill up very fast (especially for Brunch).
Ok, let's get right into it and I'll show you why this is my favorite Disney Dining experience of all-time…
Atmosphere:
Palo is located on the 10th Floor of the Disney Magic and you can get there either by elevator or by the stairs, which I recommend to try and burn all the extra calories you can before this meal!
I love the ambiance of Palo, it's elegant and yet modern at the same time. The huge circular lamps overhead which are made to look like marble are a signature of the Palo Design, as well as the illuminated wall panels.
I love how even though there are Palo restaurants on all 4 Disney Cruise Ships, each one is styled a bit different from the others. Of all the ones I've seen, this one is my favorite!
When you step into Palo you feel like you've been transported into another world. The story behind Palo is an interesting one. The Disney Magic Ship was constructed in Italy, half in the Marghera shipyard and half in Ancona. Disney chose to give the Palo restaurants a Venetian theme as its way of saying thank you to Italy. In fact the word "Palo" in Italian means: pole, which refers to the Gondola Poles present throughout the restaurant…get it now? 😉
Notice the gondola pole behind the reception desk?
Everything is designed so elegantly
Ask you enter on the right you'll notice a col collection of Venetian masks that are used to celebrate Carnivale in Venice:
This one was particularly interesting to me:
These guys are pretty funny too:
Let's continue to make our way through the restaurant…
Past the masks on the right you'll find a beautiful display case filled with rare and expensive wines.
Palo has an amazing collection that is sure to satisfy the biggest wine connoisseur..
These three particularly caught my eye..
After the wine case you'll come into an open area where the restaurant starts making a curve. That's because it's starting to wrap around the back of the boat.
Notice the lanterns, another tribute to Venice..
Here's the bar:
Definitely modern influences. Really diggin the futuristic looking wine rack behind it!
Further down still you'll find the Open-style kitchen. A fantastic opportunity to watch the masters working at their craft:
The Chef Salvatore was super nice, and come to find out he lived some time in Bergamo, Italy, where my wife is from!
The details of this place are really what I love. These colorful ceiling lights remind me of the stained-glass that the island Murano off the coast of Venice is so famous for:
Here's some funky artwork on display in the Palo Lobby…
This was my favorite plate on display…
Also this was a cool touch, a map of the World of Disney built into one of the lamps. Notice Disneyland, Disney World, and some of the Cruise Ships making their rounds.
Here's a close up of it:
TIP: Palo offers unprecedented 270-degree views of the surrounding sea, but try to get there around sunset for the best views. That means take a look at the sunset time before making your reservation for the best experience. If you come after it gets dark it will still be an awesome meal but it's totally black outside and you won't be be rewarded with something like this shot which I took on the deck right outside Palo:
This looks like a perfect table for 2 for you and your significant other…
Or maybe you like this one better:
Or a booth perhaps?
The Main Dining Room is actually quite big, even though it doesn't seem like it at first:
And it wraps around to the other side:
We had a huge party of 16 people and they were so kind to specially arrange all our tables for us, like this special table in the center of Palo:
If you have a private party and are looking for some privacy, then the back room is for you:
I was absolutely floored when I saw the mosaic mural of Venice on the wall!
It's so bright and colorful and represents the spirit of Venice well:
I'm amazed at how detailed it is!