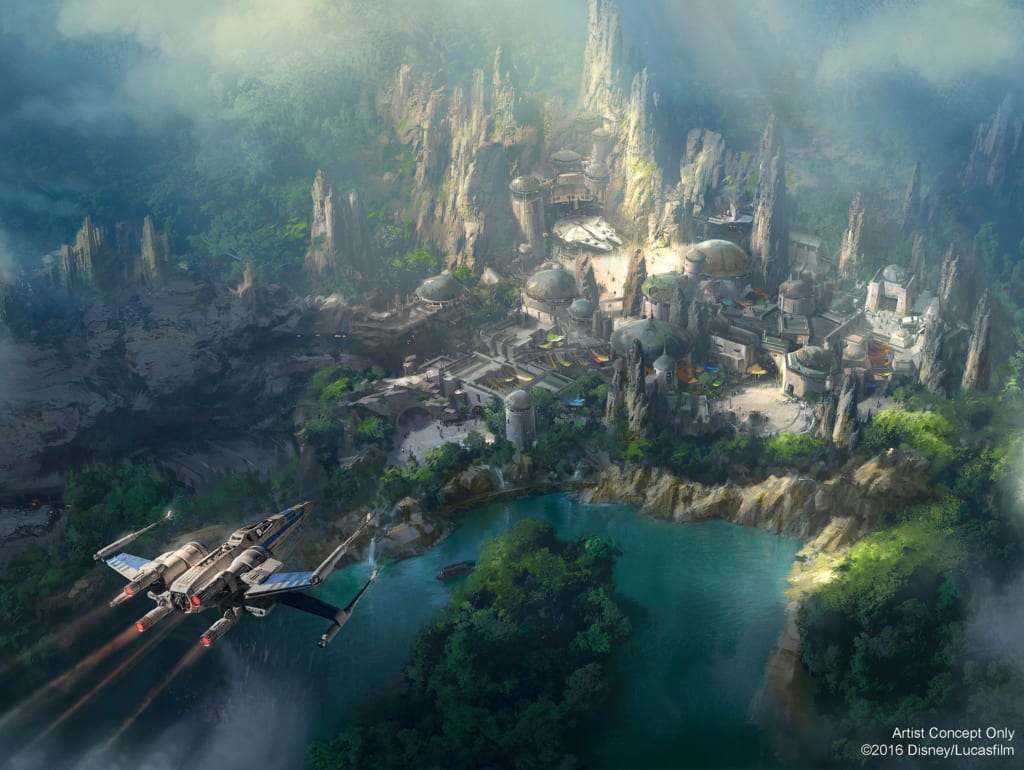 We've been keeping an eye on the progress for Star Wars Galaxy's Edge in both Disneyland and Hollywood Studios. Now today we got a sneak peak at new Star Wars land concept art for Disneyland. If it looks even half as good as what you see in the concept art then we are in for a real treat!
Construction crews have been working hard prepping the land for months, and it's making some nice progress. Just to give you some idea of the scope of this project, this 14 acre will be the largest single themed expansion ever at Disneyland and will be the largest "Land" there as well.
A description of the new land says: "Nestled between towering spires of rock, this thriving port contains a seemingly familiar architecture of markets, landing zones and buildings. Click here for a larger version of the image above. Look closely and you may find hints of some of the thrilling experiences that are coming – like the Millennium Falcon peeking out of one of the cargo bays, marking the location where guests will get the opportunity to pilot the fastest hunk of junk in the galaxy."
That's right, you can see the Millennium Falcon in the distance over by the docking bay, and surrounded by a forest, rock spires and futuristic buildings and landing pads. Also to the right of the art is what appears to be a First Order transport shuttle.
The land will have two attractions, one which will let guests fly the Millennium Falcon in a secret mission, the famous starship which made the Kessel run in under 12 parsecs. Can you imagine jumping behind the wheel and outrunning First Order fighters and blasting into hyperdrive? I'm sure it will use some kind of VR flying system. The second attraction will allow you to take part in an intense battle as a resistance member against the First Order. The Star Wars attractions won't try to depict any scenes already in the movies, but will be totally new and unique experiences. Who knows what kind of crazy new technology Disney will cook up for these attractions!
Construction of the new land, part of a bigger $1-billion upgrade effort at the resort, began in April but Disney still hasn't given an expected opening date yet, although from early reports one source said they had never seen Disney work this fast before! Maybe Disney can break the mold of being notoriously slow when working on new construction projects.
If you enjoyed this article, as always I appreciate it if you'd share it with others via social media. I work hard at making this website into a useful resource for you and your family to plan your visit to Walt Disney World, and I hope it can help you! Thanks 🙂
Your Thoughts:
I want to know what you think of the new Star Wars Concept Art and Star Wars land in general. What are you looking forward to the most? Let us know in the comments section below! 🙂