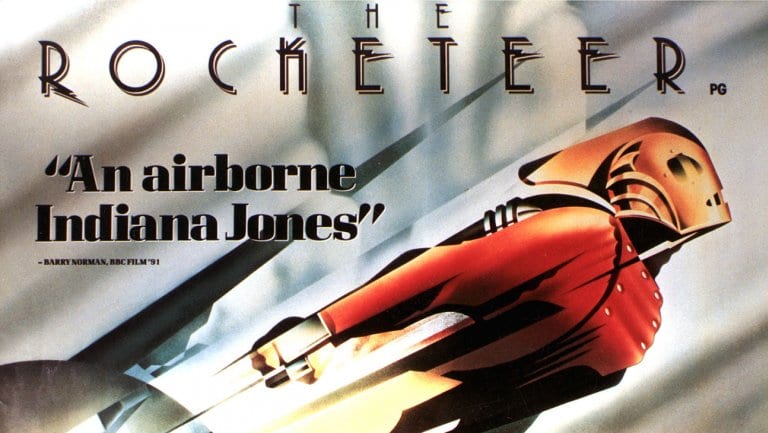 If you are a fan of the 1991 movie The Rocketeer, then I have good news for you, there is a new Rocketeer movie coming!! According to The Hollywood Reporter Disney is working on a sequel-reboot which will be lead by a black female character. Max Winkler and Matt Spicer are writing the script, and Blake Griffin of the L.A. Clippers and Ryan Kalil of the Carolina Panthers are among the film's producers.
The new film is set 6 years after the original Rocketeer, and the new female lead takes over the role of The Rocketeer to stop the evil villains. Here's what the article says:
"When Disney hosted a 20th anniversary screening of the movie at Hollywood's El Capitan Theatre in 2011, fans — many in Rocketeer costumes — lined up for blocks.
It was around that time that the studio began mulling a reboot of the movie, but sources said it sought a way to differentiate it from another rocket-propelled flying hero: Iron Man.
The new take keeps the story in a period setting and offers a fresh view on the characters. Set six years after the original Rocketeer and after Secord has vanished while fighting the Nazis, an unlikely new hero emerges: a young African-American female pilot, who takes up the mantle of Rocketeer in an attempt to stop an ambitious and corrupt rocket scientist from stealing jet-pack technology in what could prove to be a turning point in the Cold War.
Tendo Nagenda and Chaz Salembier are overseeing the project for Disney.
Winkler, the son of Happy Days actor Henry Winkler, wrote and directed the 2010 indie comedy Ceremony starring Michael Angarano and Uma Thurman. He also has helmed episodes of Brooklyn Nine-Nine and New Girl.
No release date has been set yet for the new Rocketeer, but I'll keep you posted as soon as I hear something.
If you enjoyed this article, as always I appreciate it if you'd share it with others via social media. I work hard at making this website into a useful resource for you and your family to plan your visit to Walt Disney World, and I hope it can help you! Thanks 🙂
Your Thoughts:
I want to know what you think of a new Rocketeer movie coming out. Do you think it's a good idea? Did you like the original? Let us know in the comments section below! 🙂
Photo Credit: The Hollywood Reporter