We've all been waiting for some more footage from Cars 3 ever since we got a sneak peak at some concept art a few months ago. Now there is a new Cars 3 trailer as well as this new poster that was just released: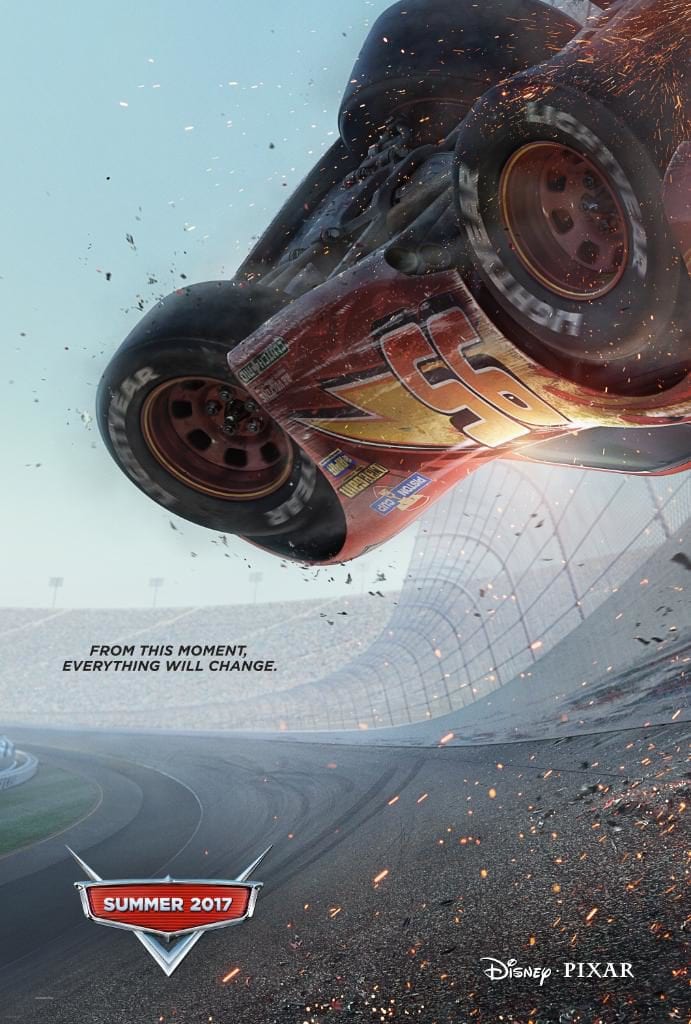 The action is more action-packed and fast-paced than ever! But fans of the previous 2 Cars movies might be a bit disturbed from the scenes in the new trailer. It looks like Lightning McQueen is having some serious problems on the racetrack, and it doesn't finish good. Take a look at the trailer here:
The whole style of animation seems totally different. This Cars film looks much more realistic than the past films. It looks darker and much more intense, in fact many people have been commenting on this and seem even angry that a "kids movie" would have this theme to it. I think they are exaggerating a bit, and even though we see the beloved McQueen really messed up in the trailer, I'm sure he will get back on his wheels soon enough! We already know that this film will be about McQueen adapting to the fast-changing world of racing, and to overcome the competition of newer, faster, high-tech cars.
Cars 3 hits theaters June 16, 2017! Stay tuned for more updates to Cars 3.
If you enjoyed this article, as always I appreciate it if you'd share it with others via social media. I work hard at making this website into a useful resource for you and your family to plan your visit to Walt Disney World, and I hope it can help you! Thanks 🙂
Your Thoughts:
I want to know what you think about the New Cars 3 Poster Released. What do you think of the feel of the film? Do you think it's too dark for Pixar? Let us know in the comments section below! 🙂
Photo Credit: Disney