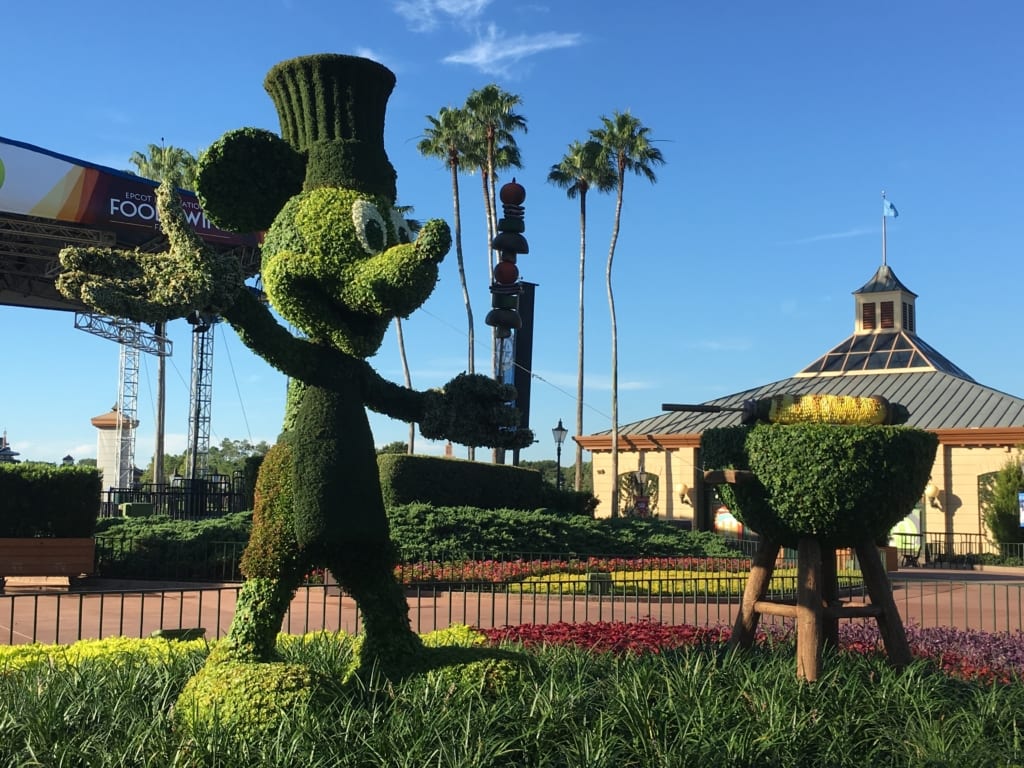 Fall is my favorite time of the year, the crisp autumn air, the leaves change to a million shades of orange, yellow and red, football is back to consume my entire weekends, and for the 21st year Epcot's Food and Wine Festival is here!! I love walking around all the pavilions, smelling the great food and tasting my way around the world.
I got to spend some time recently (and I mean tons of time really) at the 2016 Epcot Food and Wine Festival. As I do every year, I went to every single booth in search of the best eats and drinks available. Some of them are Food and Wine staples and some are new-comers, but these are the things you absolutely have to try when you visit.
Pork Tenderloin with Cannellini Bean Ragoût and Zinfandel Reduction – Wine and Dine Studio $5.00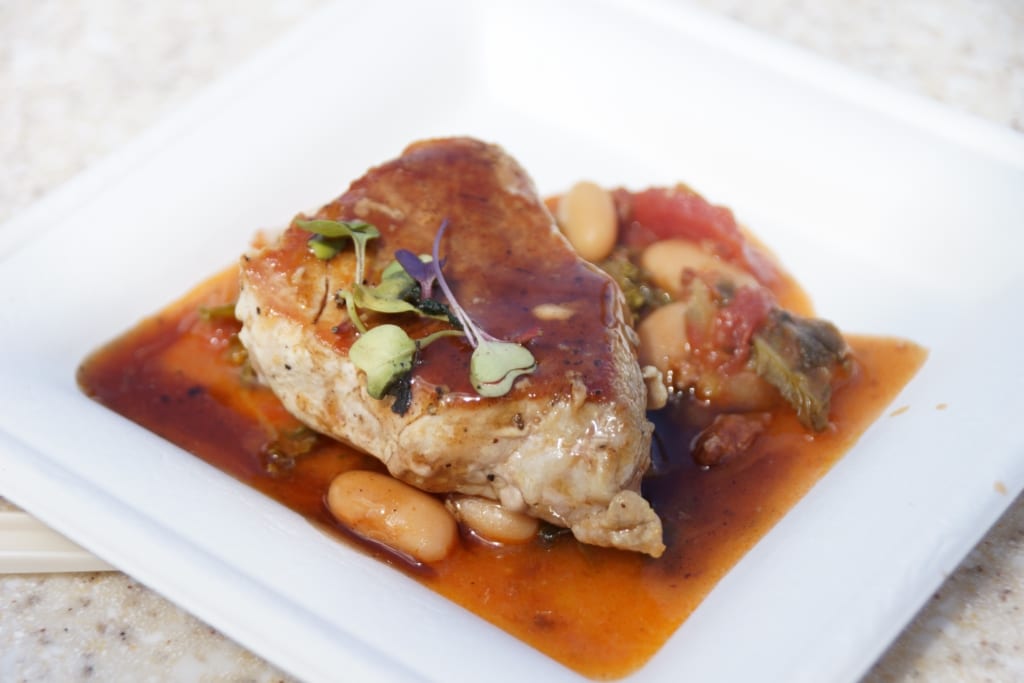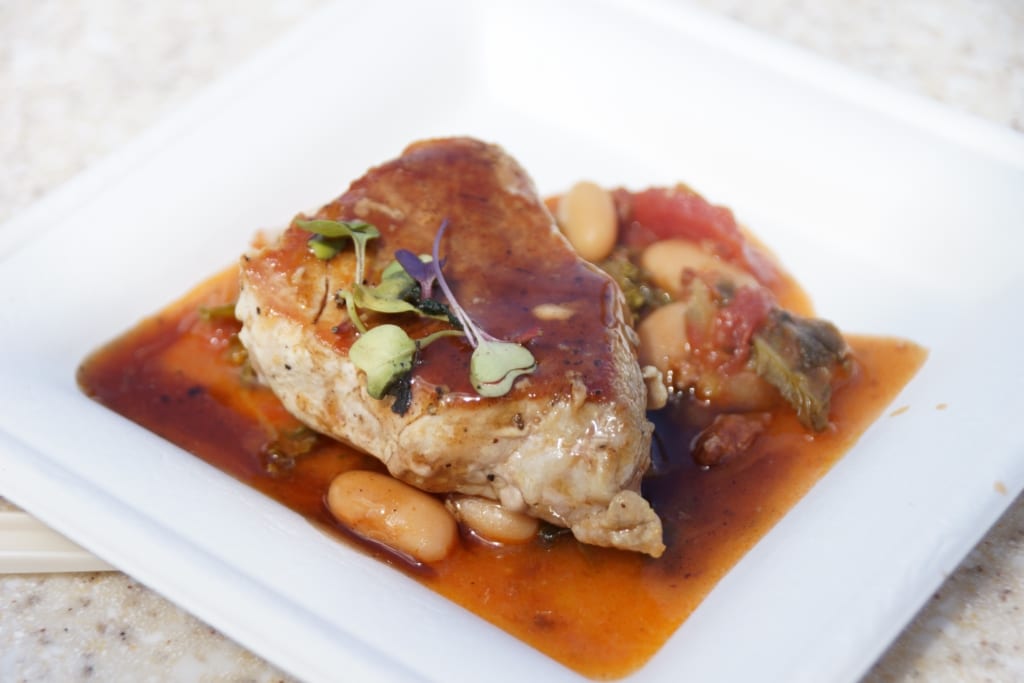 The new Wine and Dine Studio booth had a lot of good stuff to offer and we'll start with this. I really wasn't expecting it to be anything much, I was expecting a dried-out hard piece of pork and instead I was presently surprised. The pork was very tender and flavorful. Secondly it was a very generous portion size which made it a good value at $5.00. The zinfandel reduction sauce was a great compliment to the pork, smooth and flavorful and the beans added some nice texture. Would get again for sure!
Beijing Roasted Duck in Steamed Bun with Hoisin Sauce – China $6.50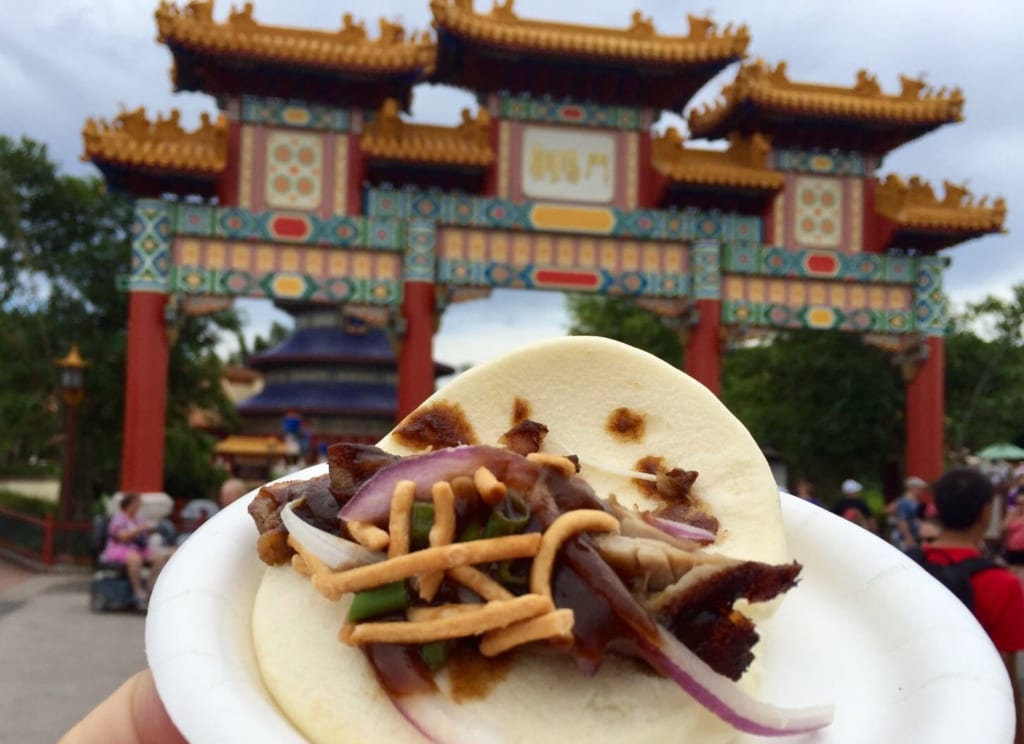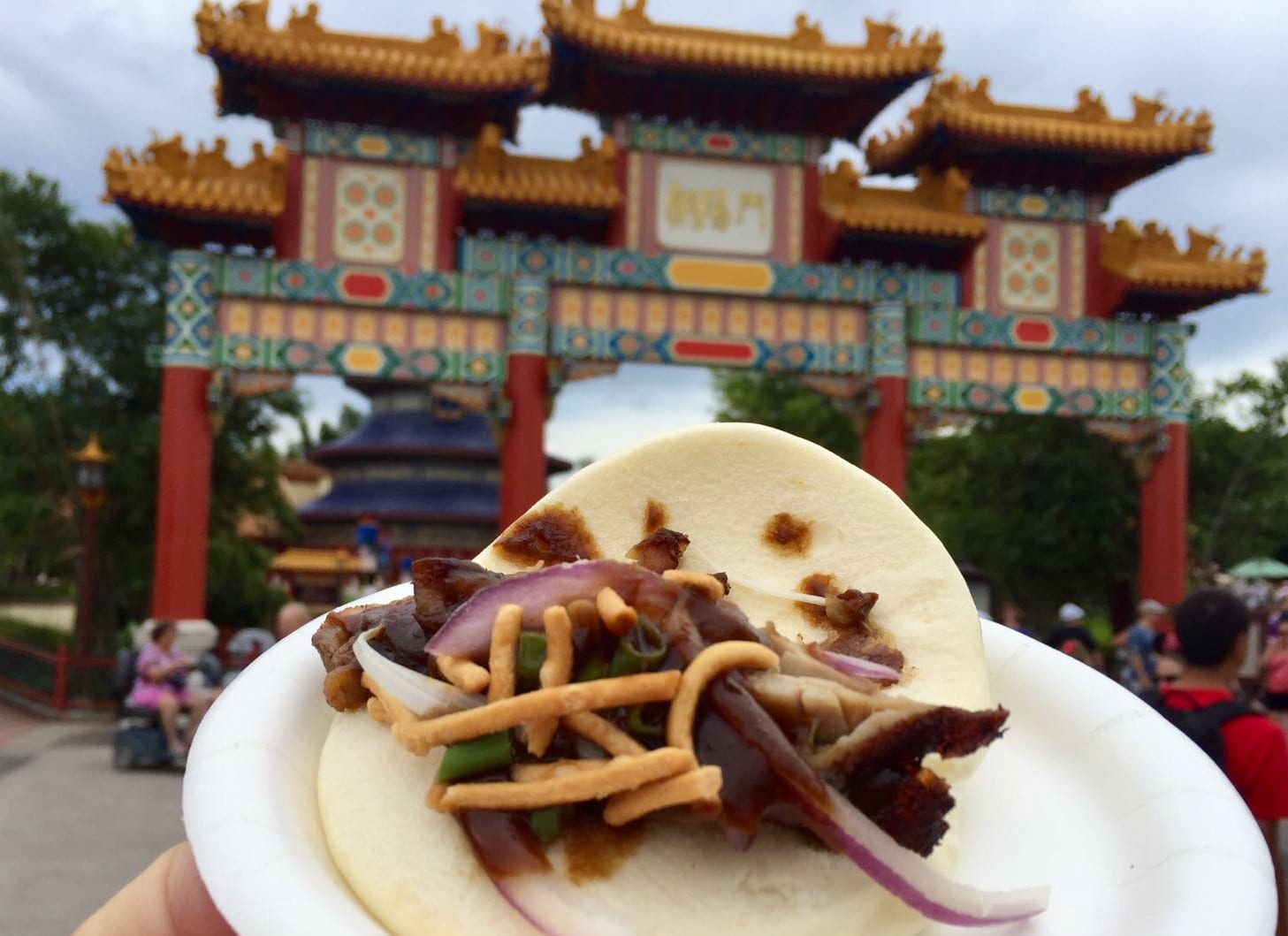 China in my opinion was the hands down winner this year for all around best booth. The Black Pepper shrimp, Chicken Pot Stickers and Sichuan Spicy Chicken(more on that later) are all winners, and the duck is the leader of the pack here. This dish never disappoints. The duck is a nice solid piece, very fresh and moist. Loved the steamed bun, the texture is so airy and fluffy it just wraps around the duck. The hoisin sauce isn't overpowering, and they add some little crunchies in there too. For someone who has never tried duck, this is a perfect way to start imo. This is one of the best dishes available this year, if not The Best…. thank goodness it keeps coming back every year!
Crispy Pork Belly with Black Beans and Tomato – Brazil $5.50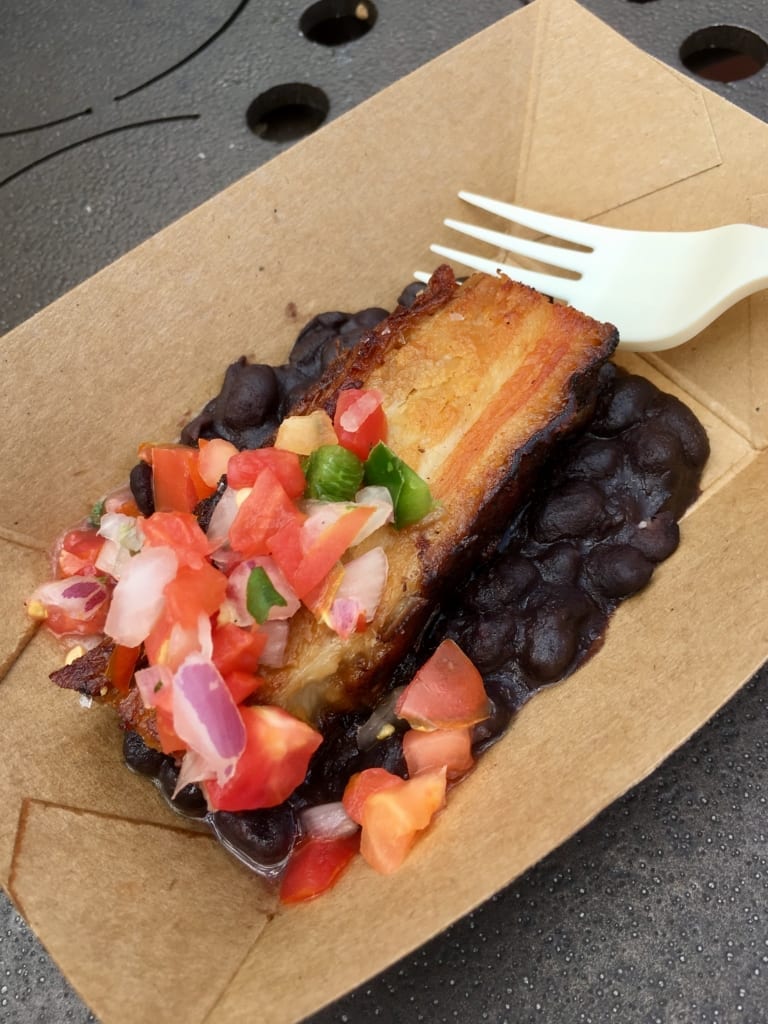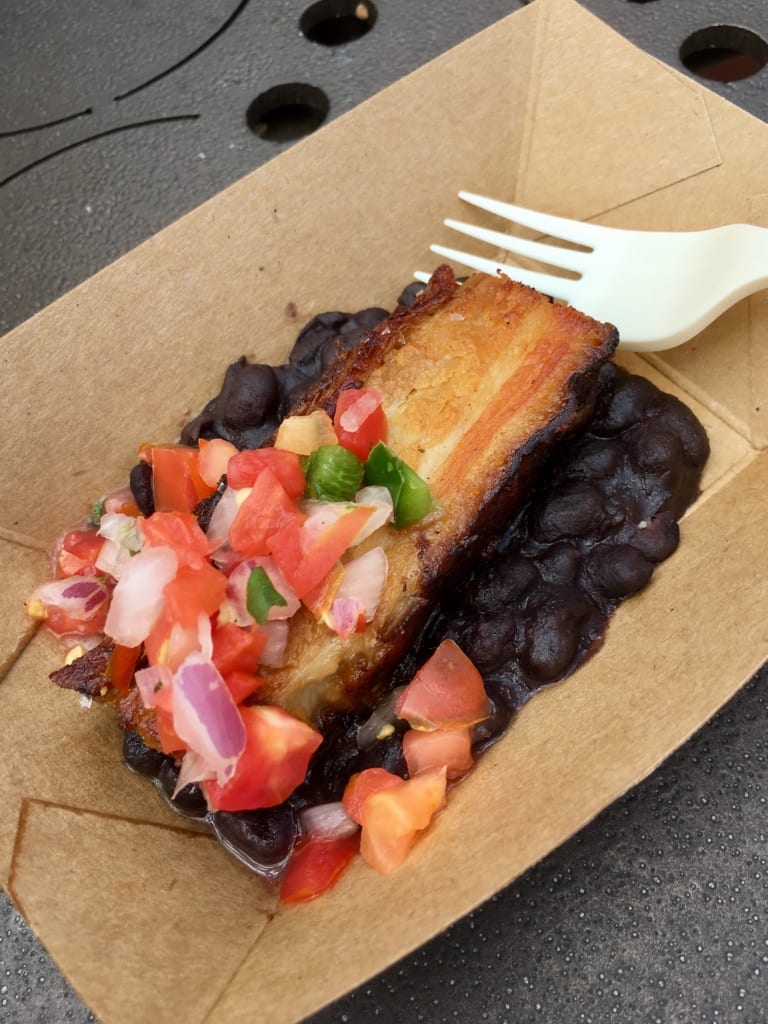 Anyone who is a Food and Wine Festival veteran knows to head straight for Brazil when you arrive. This year they have the Layered Meat pie which is nice, the always delicious Brazilian Cheese Bread, but what keeps me coming back year after year is the scrumptious Crispy Pork Belly. You don't have to know much more about it than: Pork Belly! You get a nice size piece of belly, and they make it nice and crispy on the outside but still moist and juicy on the inside! The black beans add a nice texture and the tomatoes give the dish some color, but it's all about the pork with this one. Get there early and go back before you leave!
La Passion Martini Slush – France $10.75

One of the few alcoholic drinks on the list, not because they aren't good, but usually they don't give you a good bang for your buck at Food and Wine imo. This one though is an exception because it was THAT good! The La Passion Martini Slush was so refreshing and delicious. I didn't taste the cranberry all that much, which is fine because I prefer the passion fruit anyways, but whatever the mixture was it blended perfectly. They also use the good stuff…Grey Goose Le Citron which is wonderful. The day I had it the temperature was about 90 degrees and the sun was blazing down, so this is a great drink that will keep you cool and refreshed as you work your way around the world. It looks beautiful too! 🙂
Loaded Mac 'n' Cheese with Nueske's Pepper Bacon, Cheddar Cheese, Peppers and Green Onions – Farm Fresh $4.50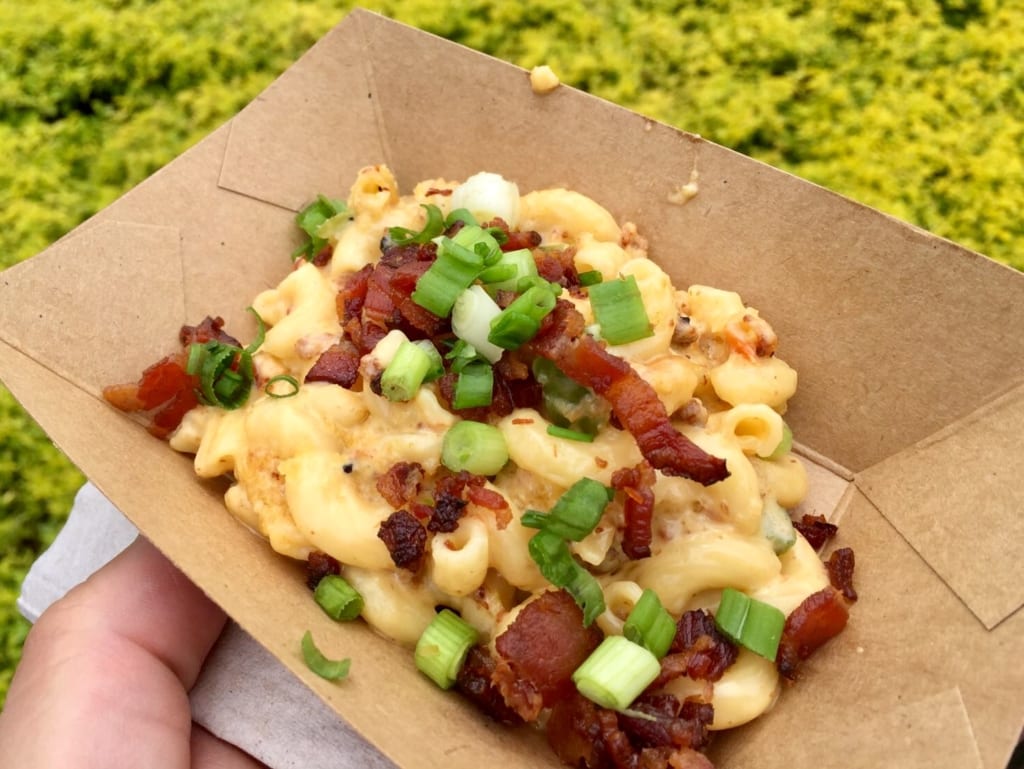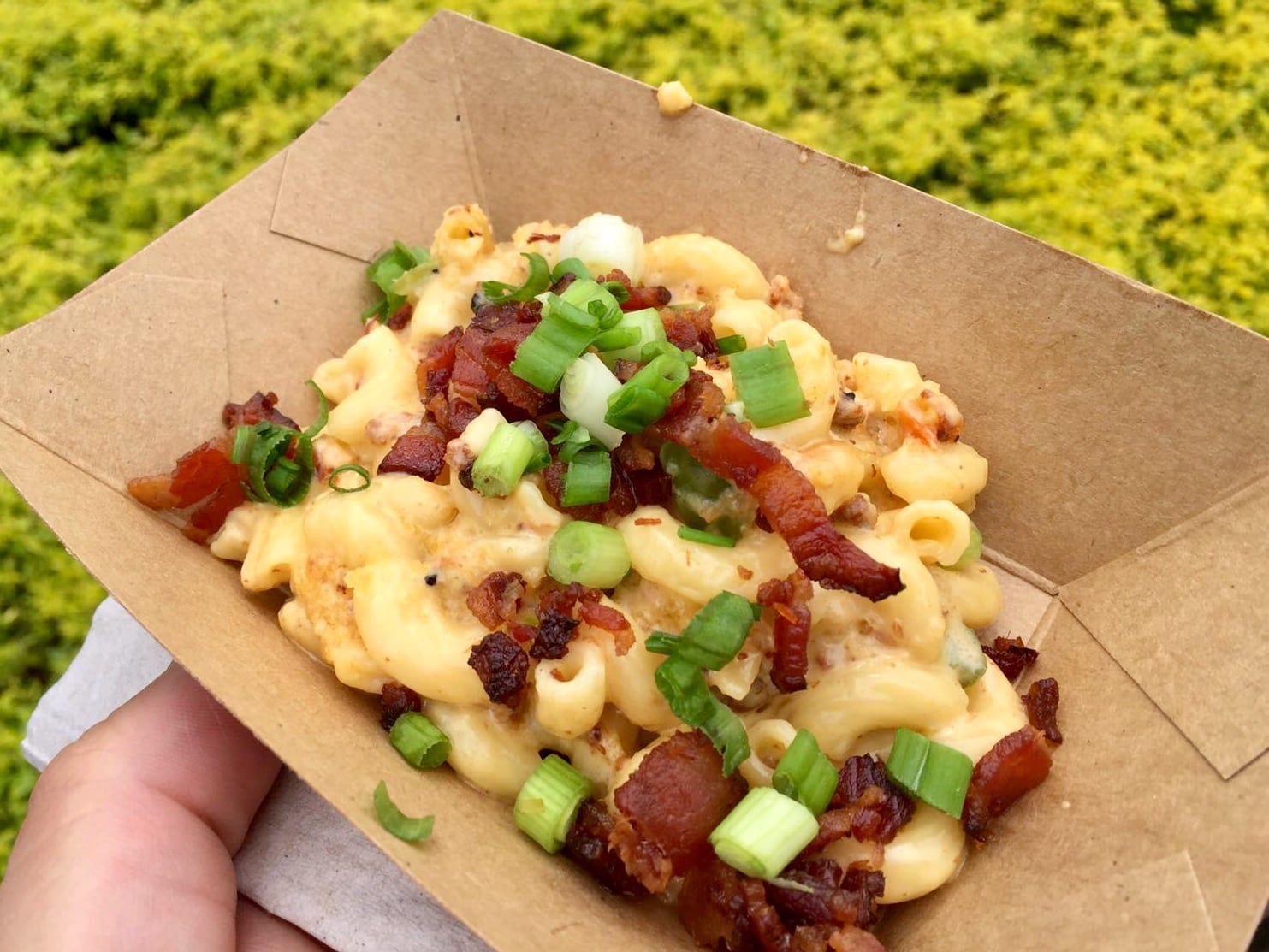 One thing you don't ever have to convince me to try is Mac and Cheese. I mean really, I'm a sucker for it. Then when you throw bacon on top you better get out of my way because I want that sucker bad!! So when I saw the offering from the Farm Fresh I knew that was going to be one of my first stops. It didn't disappoint!
The macaroni itself was a generous portion. the cheddar cheese sauce was very creamy and fresh tasting, and they sprinkled a few bread crumbs on there too which I LOVE on my Mac and Cheeses! The bacon is well, bacon and it had a good spice to it and they were nice size pieces crumbled on top, they weren't skimpy as you can see in the photo. The peppers and green onions I could have done without, not that they were bad, they were very fresh(you can see them growing in Living with the Land) but I think I'm just a more traditional Mac and Cheese kinda guy and I want to taste that cheese and bacon. But give it a taste for yourself and let me know.
Canadian Cheddar Cheese Soup with Pretzel Roll – Canada $4.75
Another Food and Wine staple year in and year out, this one can't be missed. To tell you how much I love this soup, I had just gone to Le Cellier for dinner only a few days earlier where I had an entire bowl of the Cheddar Cheese Soup, and yet I still couldn't resist it's call to me while passing by. My wife just tried this soup for the first time and she said it's probably the best thing she's ever tasted and she's born and raised in Italy so she knows good food. No seriously it's amazing!
Yes they give you a small portion compared to the Le Cellier version, and you might be boiling from the heat index being 105, but the minute you put that creamy, cheesy goodness in your mouth everything will be alright. Plus this year they added a pretzel roll finally so you can dip that baby and soak up every last drop!
Piggy Wings: Fried Pork Wings with Korean BBQ Sauce and Sesame Seeds – Craft Beers $4.25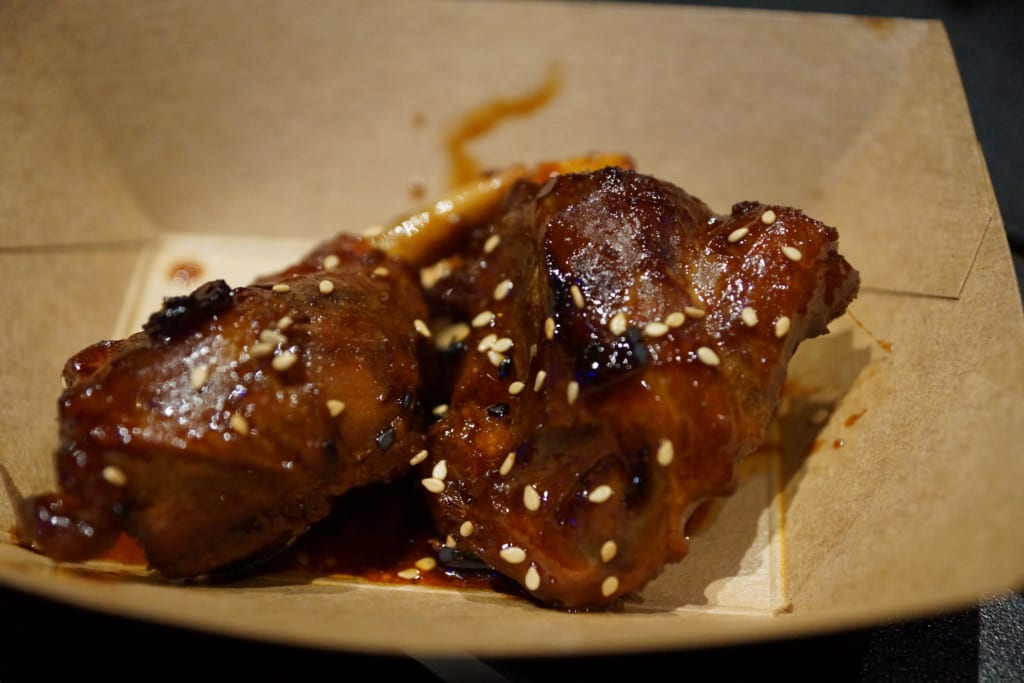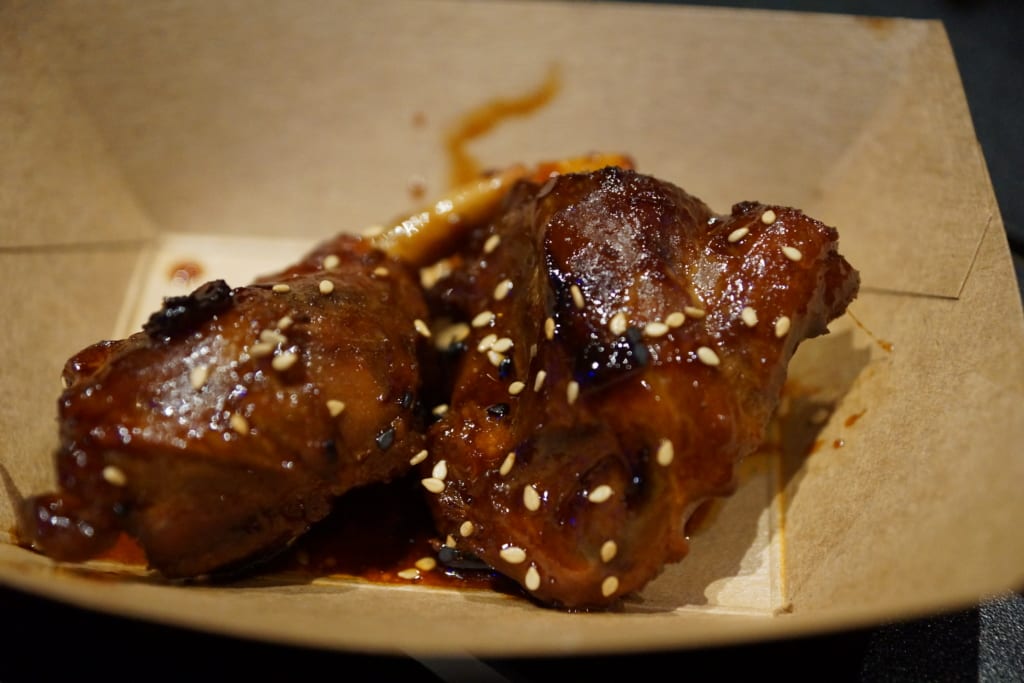 It's just dawning on me now that almost all of my choices have pork in them…but what can I say, it's amazing! hahaha. This is a new selection that you can find in the Craft Beers pavilion over in the old Odyssey restaurant in between Future World and World Showcase. You have to look for it because i went right by at first without knowing there was a Food and Wine booth there.
They aren't really wings, they are more like little pork shanks. The pork was real tender, basically fell off the bone, and the Korean BBQ sauce was like some kind of soy sauce but a little thicker, with sesame seeds. Similar to the Ohana Chicken wings. Great flavor! You get two of them, I could have easily gone for like 20!
Cannoli al Cioccolato – Italy $4.25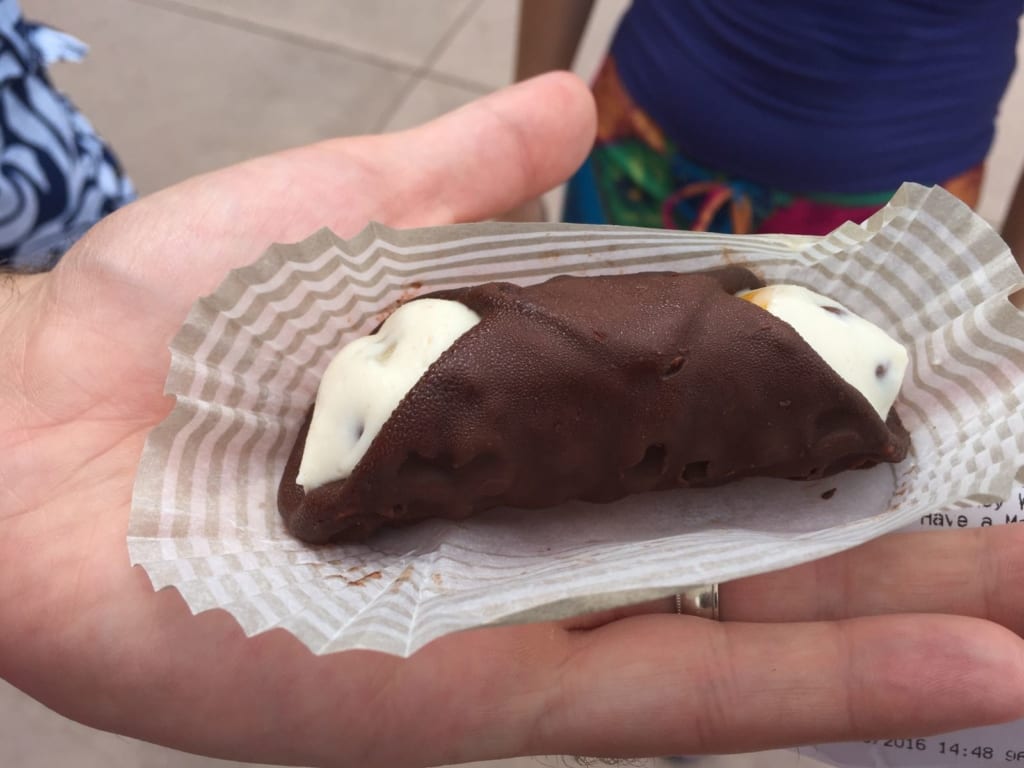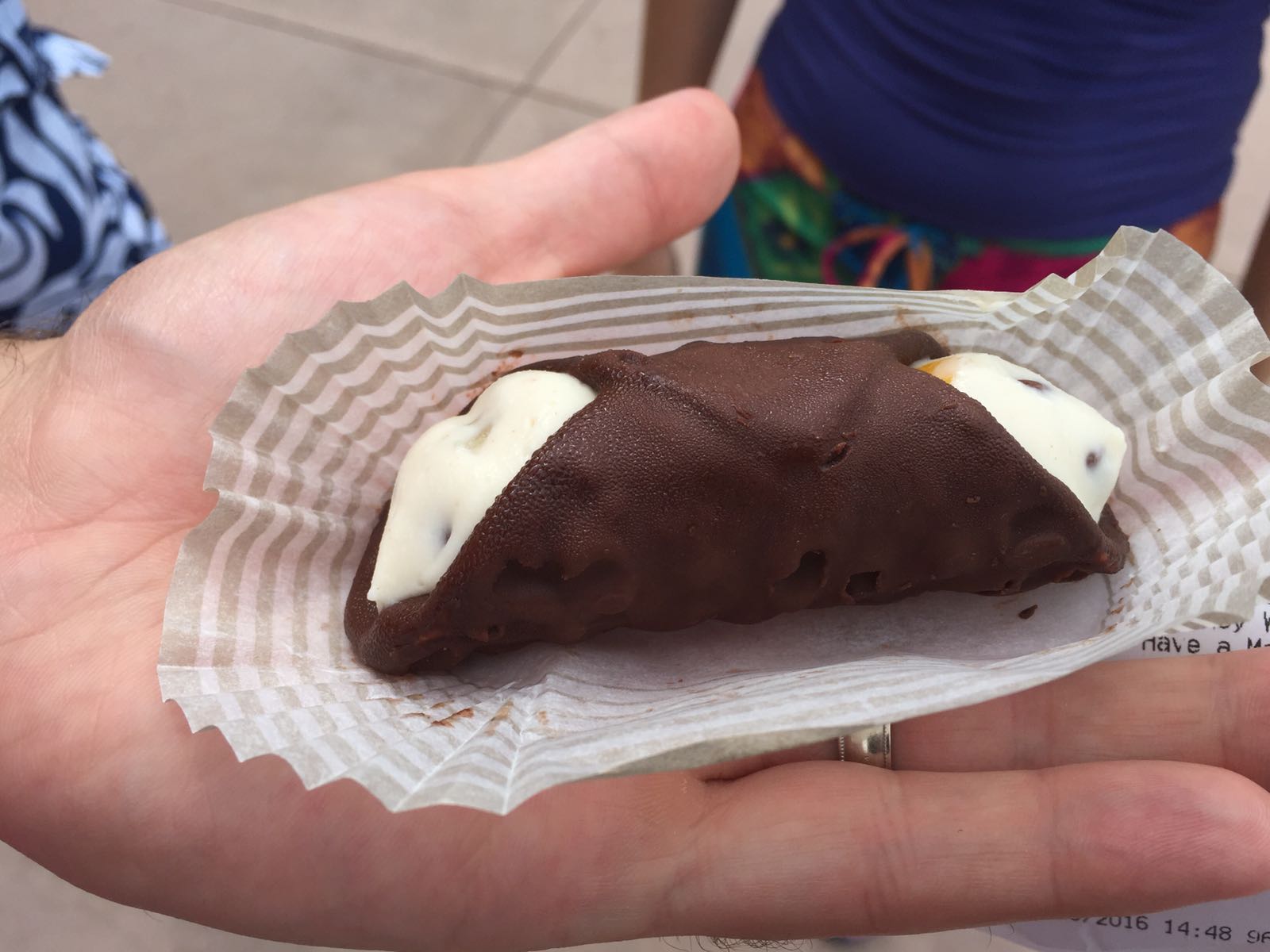 Here's the first dessert on the list and it's jam-packed with flavor! The shell itself was crunchy, not soggy or stale like you find sometimes, and besides that it was covered in chocolate! Sometimes you just get the ends dipped, but this was totally covered! The ricotta filling was fresh and sweet, very creamy, not gritty, and the candied fruit added a nice touch. The only negative is that it's small, but man does it pack a punch! Imo, it's the best Cannoli on Disney property and not to miss!
Grilled Beef Skewer with Chimichurri Sauce and Boniato Purée -Patagonia $5.75

The Patagonia booth I feel always flies a bit under the radar, they always have solid to great offerings and this one is the gem. A Food and Wine staple, I've been dreaming of this thing since last year! Just look at that picture and tell me your mouth doesn't water. The skewer is a decent portion of meat, which is nice and tender, but that Chimichurri sauce is the stuff of legends, I love the flavor it packs in there. And then when you combine it with the mashed potatoes which are super creamy and smooth, not lumpy and what appears to be a massive puddle of melted butter…well your cardiologist won't be happy with you after, but your stomach will. I love dipping the beef in the puree and getting all those flavors mixed together…man I'm super hungry right now…
Seared Scallop, Truffled Celery Root Purée, Brussels Sprouts and Wild Mushrooms featuring Melissa's Produce – $5.50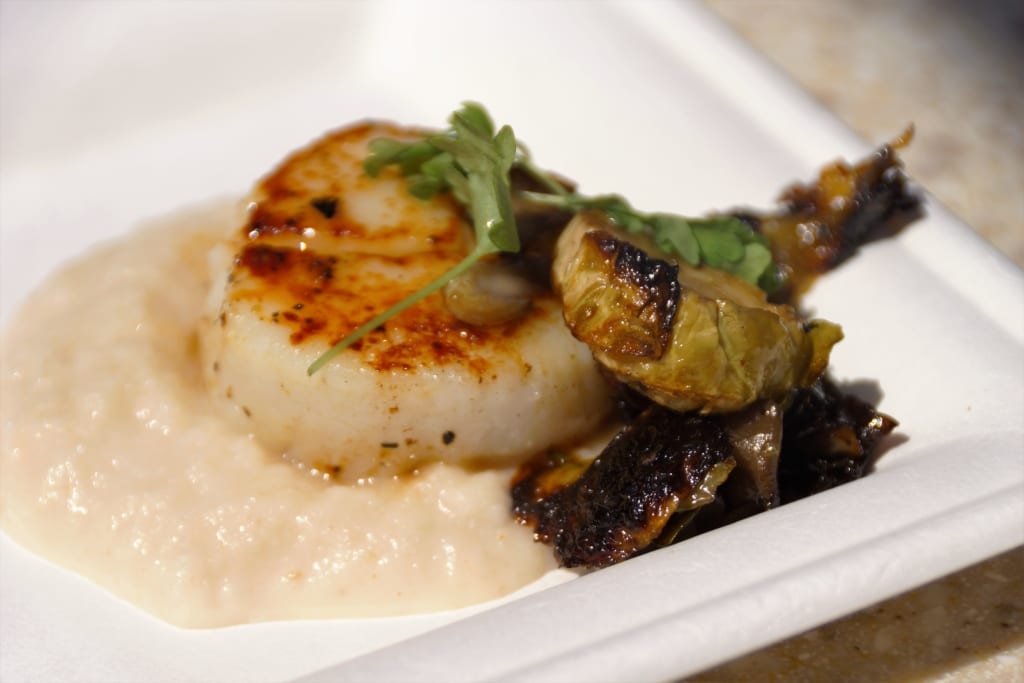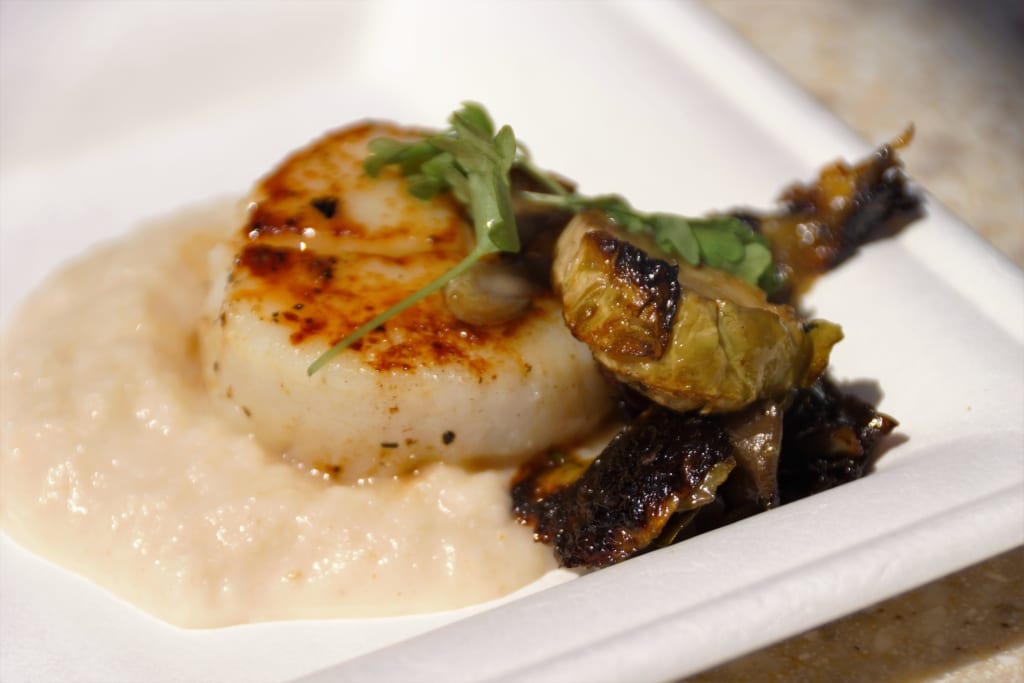 I always go for the scallop at Food and Wine, I really wish the version from Scotland 2 years ago on a bead of creamed spinach and bacon would come back…but this version is really good too! I think for the price it's a good deal because if you get scallops at any Disney restaurant they are like $40, and you probably get about 5. So in comparison it's a good deal here. The scallop itself was cooked perfectly, seared outside, but still really juicy and light on the inside. Now I was a little curious about the Truffled Celery Root Puree, how that would taste, and I have to say it worked really well with the scallop, and I loved the mushrooms. If this version came back I'd be really happy, just not as much as I would for the Scotland version. 🙂
Frozen Daiquiri Ice Pop: Strawberry Puree with French Caribbean Rhum Clement – France $8.50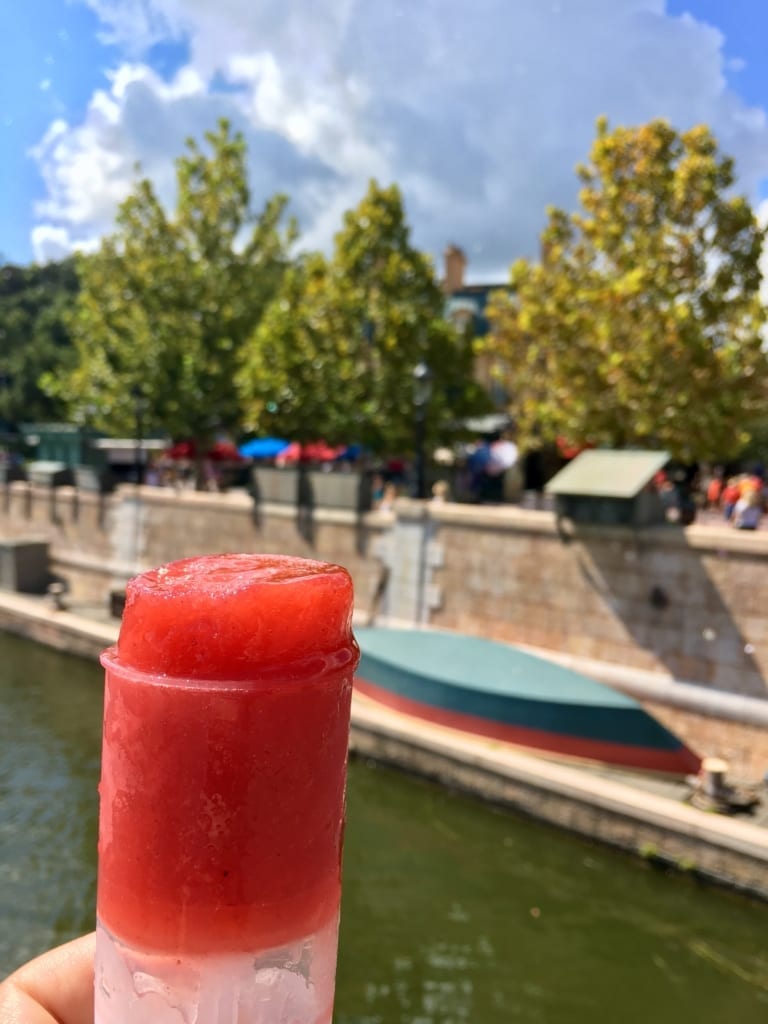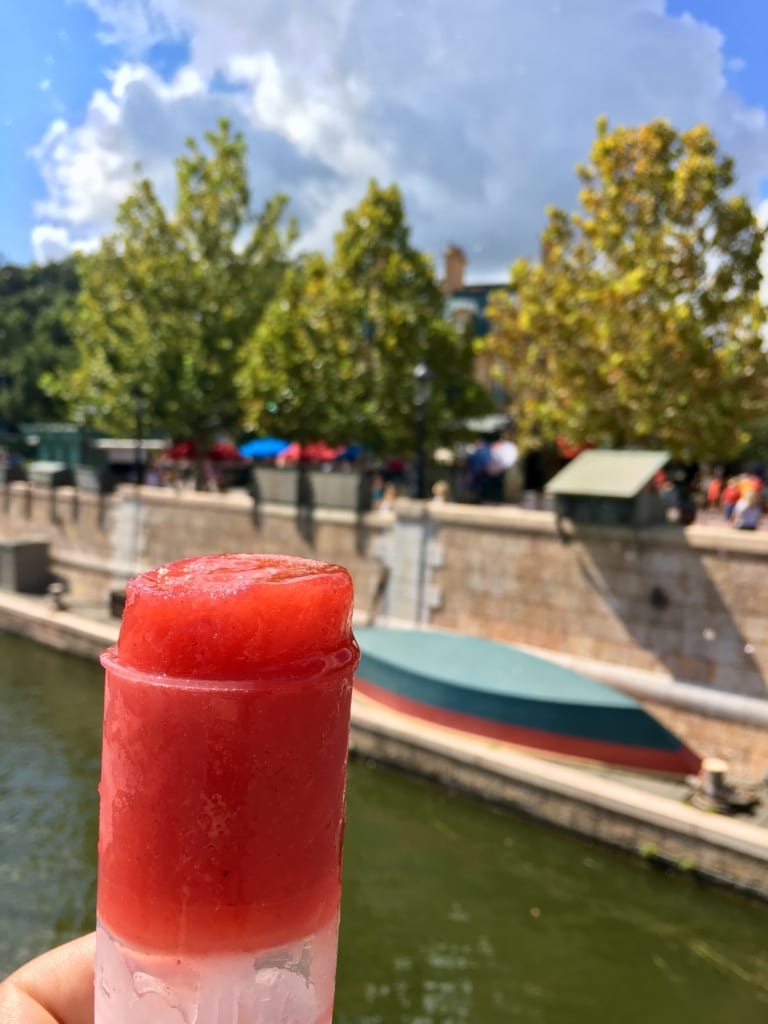 In years past France was my favorite booth, but for the food. Now this year ironically the two standout options in my opinion were both alcoholic…hahaha
I really loved this pop. It reminded me of the push-pops I used to eat when I was a kid, expect the whole rum part of course! It was really good, you could taste the flavor of the strawberry in the puree and it seemed like it was done fresh. Also it was super refreshing from the Florida heat. One thing you won't miss is that it definitely has a kick of rum to it, if you have it too fast, you might be feeling real good by the time you get to Morocco! The only downside is that it melts quite fast which means it leaks down the bottom, I hope they fix that to make it leak proof for next year. I would suggest holding it with a napkin, but certainly don't miss it!!
Schinkennudeln: Pasta Gratin with Ham and Cheese – Germany $3.75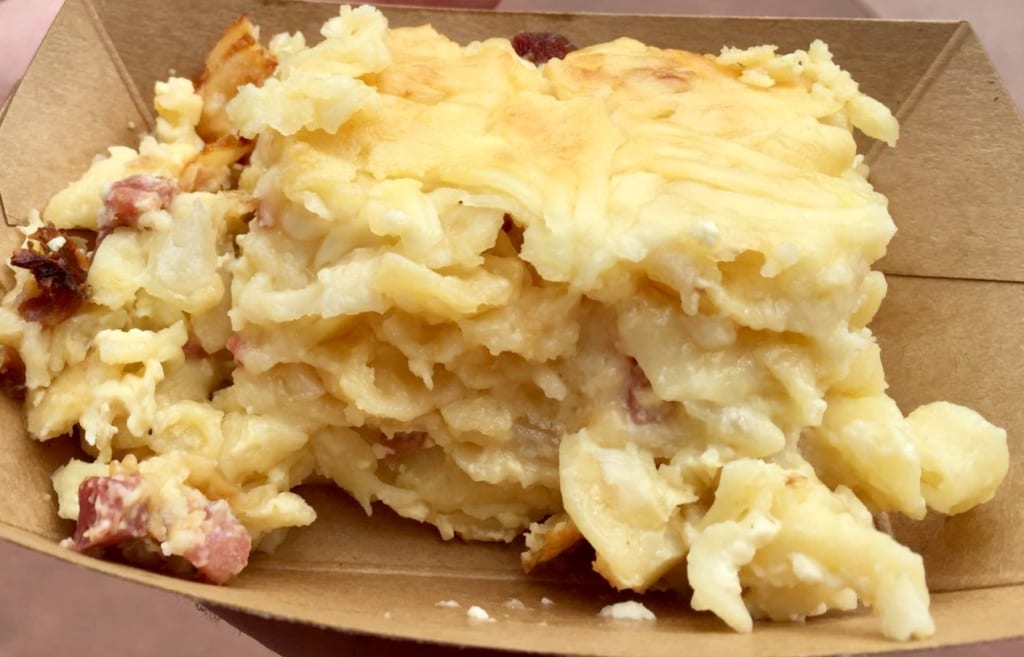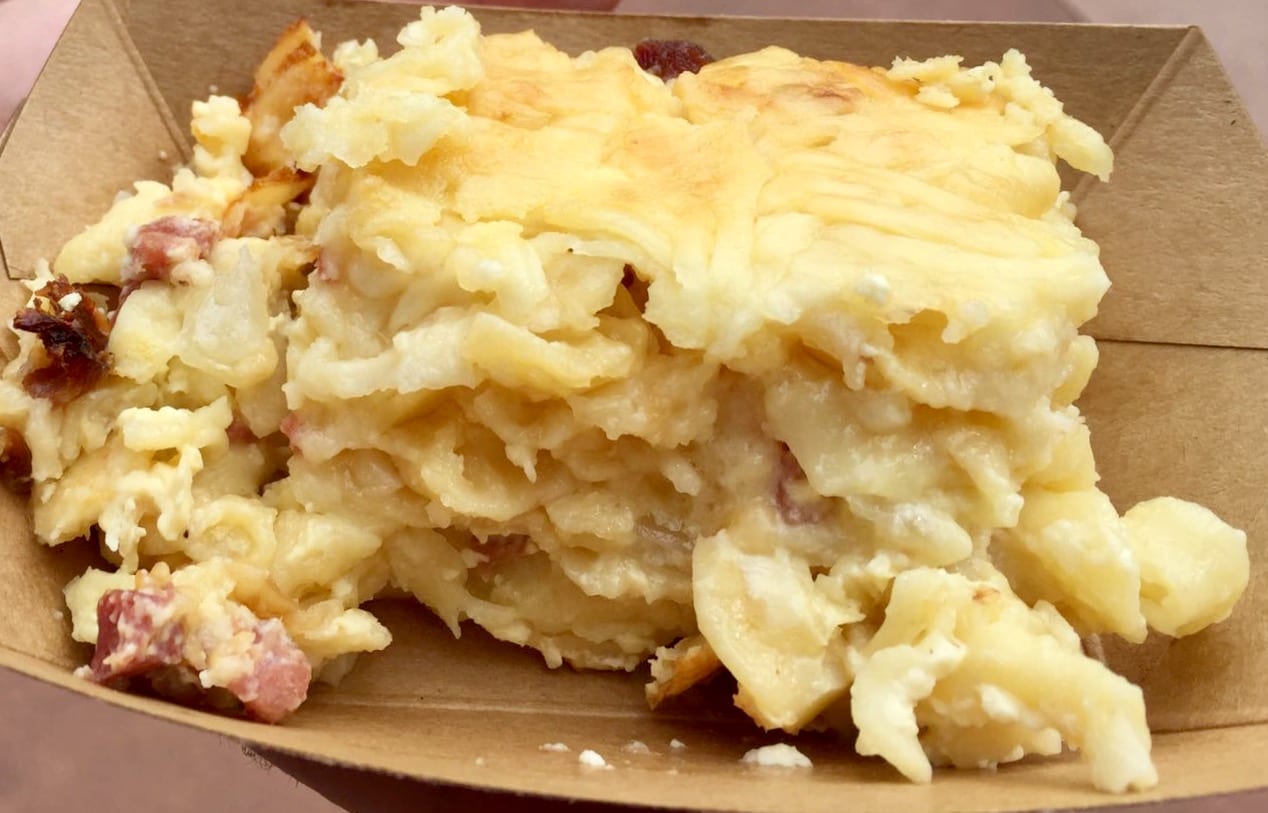 Schinkennudeln is just a fancy, super long German word for Mac and Cheese, which makes another appearance on my Must Eat list for this year. Yes I already included one before with the Loaded Mac 'n' Cheese from Farm Fresh, but this is a completely different animal. It's a must eat #1 for the price/quantity ratio, I think it's the best bargain for your buck in the entire Food and Wine Festival this year. The portion is really huge!
The cheese is really outstanding as well, but it's totally different than your standard cheddar mac and cheese, it's definitely a european cheese, something you don't get around here often. Also is full of chunks of ham (how many options with pork does this make? 😉 Overall one of the best offerings this year, and if you are only going to eat one Mac and Cheese, eat this one even over the Farm Fresh one (don't know why you'd settle with just one though..)
Hard Soda Floats with Vanilla Soft-Serve (Sprecher Hard Cherry Cola Float) – Desserts and Champagne $6.00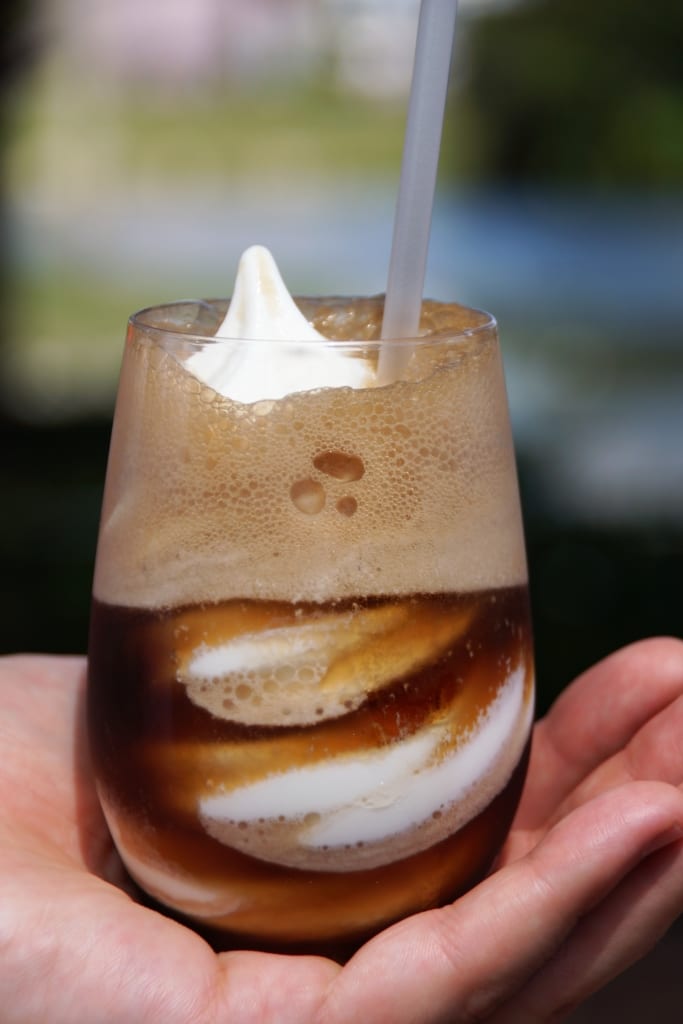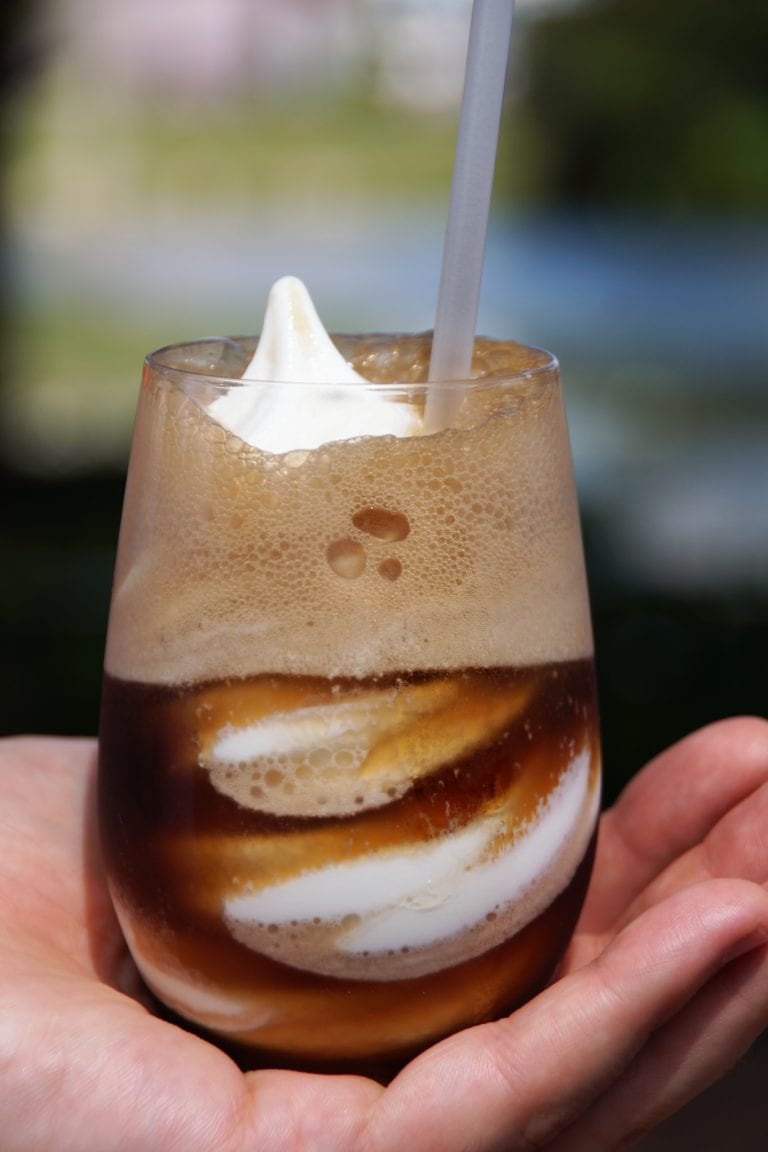 I was a little disappointed overall with the Desserts and Wine offerings this year as there wasn't much in the way of desserts (the usual dessert trio was conspicuously missing this year), but the one that I really did love was their selection of Hard Soda Ice Cream Floats. They have Root Beer ones, Hard Orange Cream Soda Float which was outstanding, but my personal favorite was the Spercher Hard Cherry Cola one. I'm a much bigger Cherry Cola guy than normal cola and Sprecher didn't let me down, they make great stuff.
The price was good too at $6.00, which is much less than a lot of alcoholic offerings I tasted, most of which give you a little shot glass serving and cost the same as this. This was a nice size. Also again, super refreshing in the Florida heat. I haven't tried the Root Beer one yet, but it's on my list.
Sichuan Spicy Chicken – China $5.75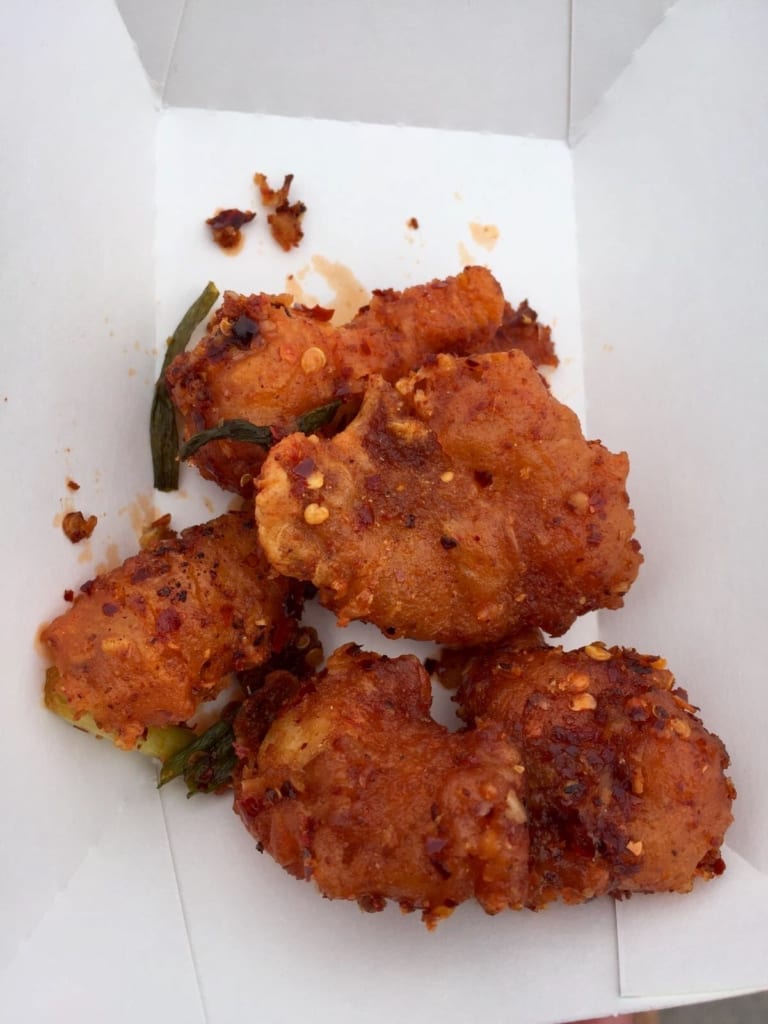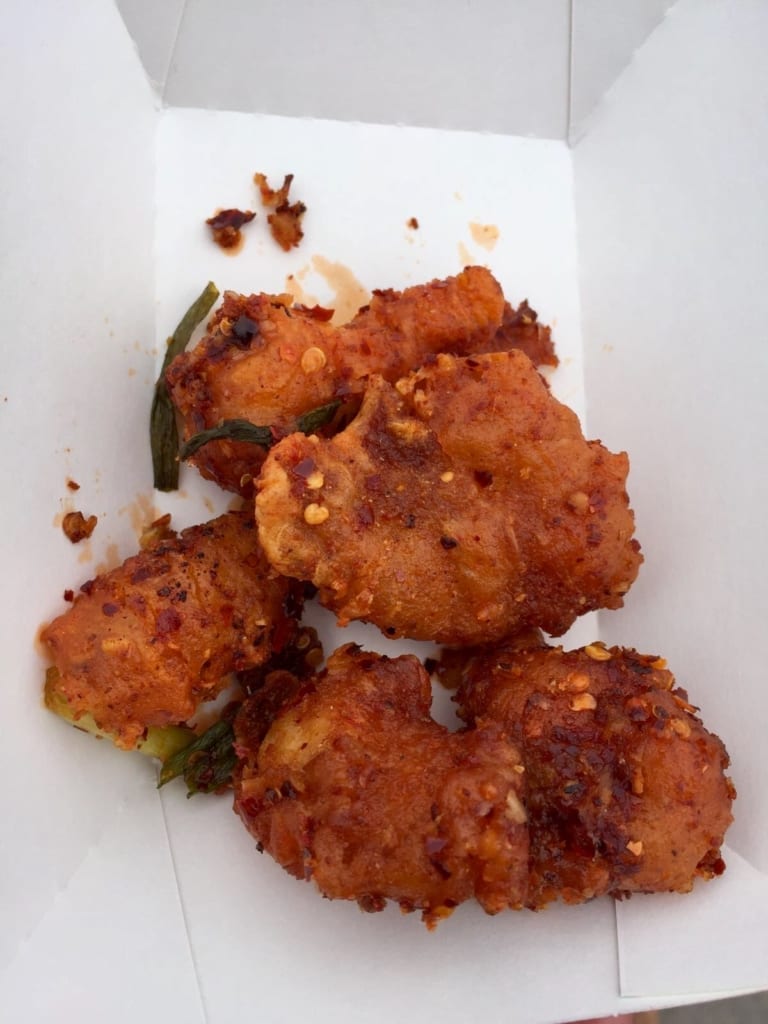 I told you before we were coming back to China because like I said, China is the hands-down winner in my book this year. Yes it may not be quite as exotic and adventurous as some of the booths, but it has 4 food offerings, each of which is an A in my book. The Sichuan Spicy Chicken was incredible. Of course I have to warn you they are as the name implies, so if you don't spicy stuff these aren't for you. They weren't over the top or anything, but they do pack a punch. I think Ken started nervously sweating just looking at them.
By the time I took this photo I had already eaten one because I was starving, so i think they gave me 5 nice sized chunks of chicken in there, but I absolutely loved the batter they were cooked in. Nice and crunchy, full of flavor, and pieces of spice and seasoning crusted all over each bite. They were served fresh, nice and hot and you could tell they hadn't been sitting around. Phenomenal! I have to get back and have some more!
Peanut Butter and White Chocolate Mousse with a Caramel Drizzle – Collective Chew $3.25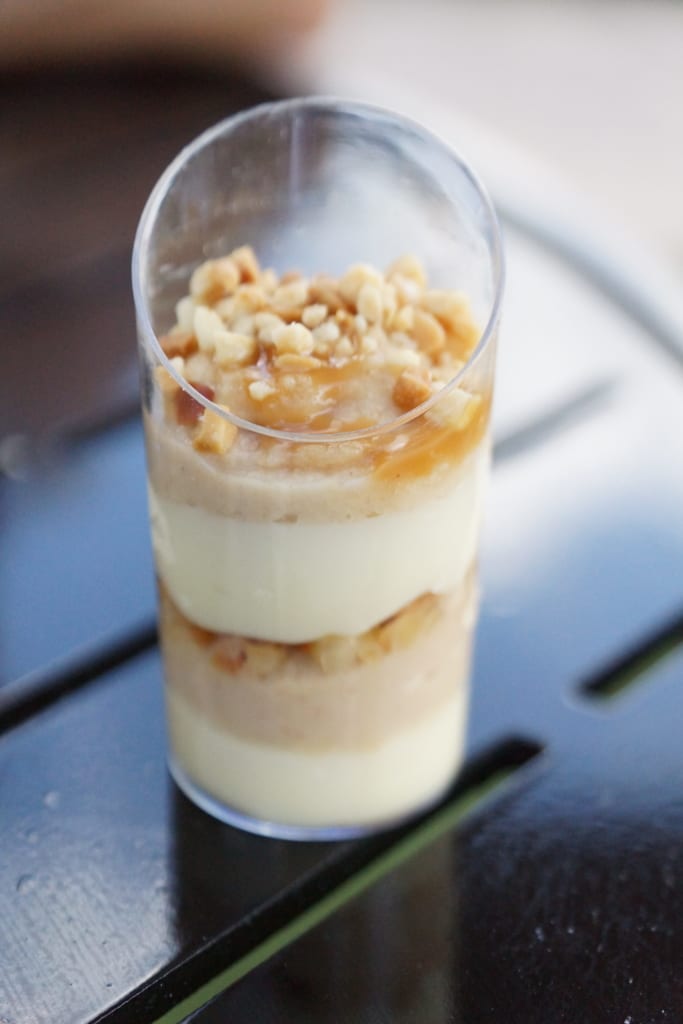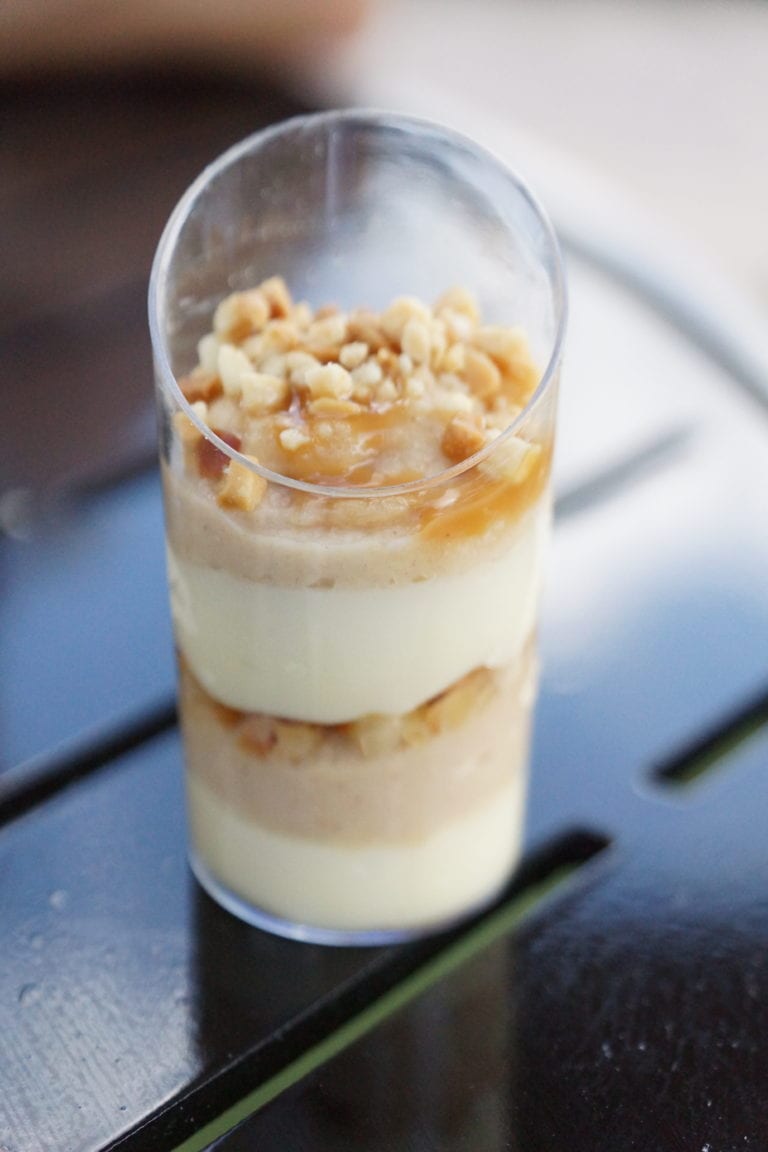 Lastly was the best offering from the quite strong Collective Chew booth, the Peanut Butter and White Chocolate Mousse with Caramel drizzle. I loved this as well, maybe my favorite dessert of the festival. Rich creamy peanut butter mousse layered with white chocolate mousse. Then on top there were sugared peanuts encrusted all around the swirled caramel. Layered like this twice. It was amazing!! Like heaven in a mini jar! 🙂 A great combo of salty-sweet action that played of each other exceptionally well. It's not very big and i was very skeptical at first, but it's so rich that I think it's the perfect size for the taste. So smooth…
I had a blast going around trying everything this year, it was so much fun. I had so many amazing things it was hard to narrow the list down to just 15. But those are my choices for the Must Eat Things to try at the 2016 Epcot Food and Wine Festival. Go with a friend and share, on second thought that's a bad move, go alone and have at it. I'll write up another few articles about some of the rest of the offerings I enjoyed and also the over-rated things to avoid, so stay tuned!
If you enjoyed this article, as always I appreciate it if you'd share it with others via social media. I work hard at making this website into a useful resource for you and your family to plan your visit to Walt Disney World, and I hope it can help you! Thanks 🙂
Your Thoughts:
I want to know what you think my list of the must-try things at the 2016 Epcot Food and Wine Festival. What are your favorites? What keeps you coming back again and again? What would you like to see next year? Let us know in the comments section below! 🙂