Farm Fresh Review – 2016 Epcot Food and Wine Festival
The Farm fresh booth has been such a hit lately that this year it's back again in 2016. I can't wait to try all the good offerings, especially the Loaded Mac 'n' Cheese with, wait for it…Pepper Bacon, Cheddar Cheese, Peppers and Green Onions!! Mmmmm, I never can say no to a Mac and Cheese and this one is no exception.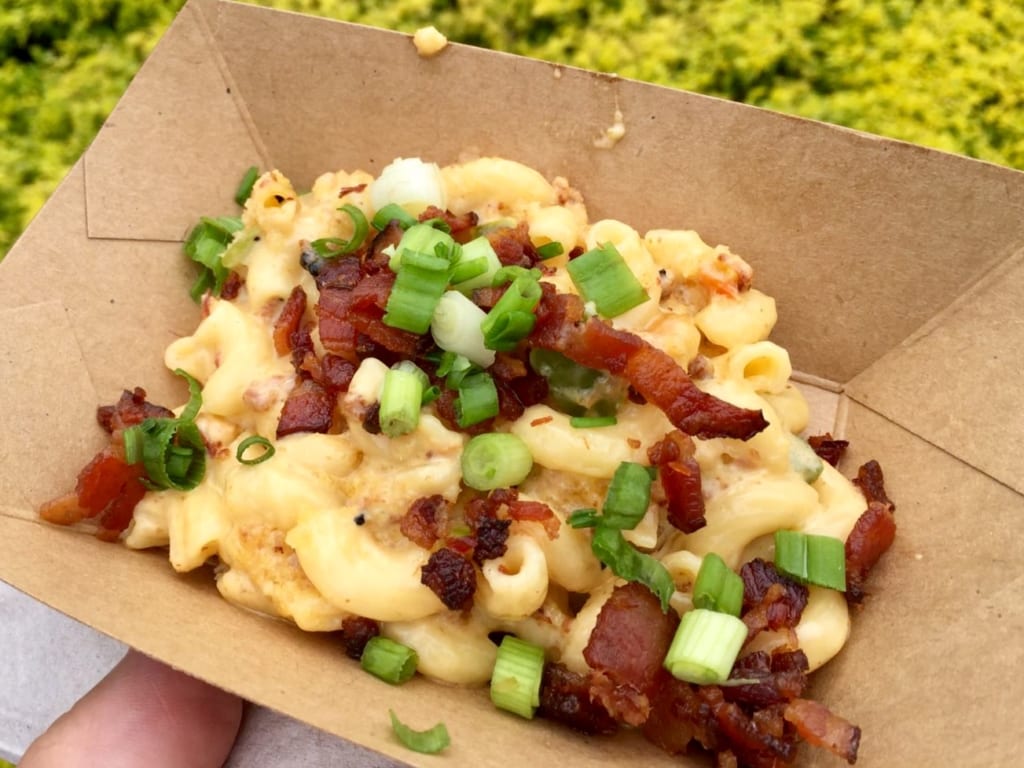 Booth: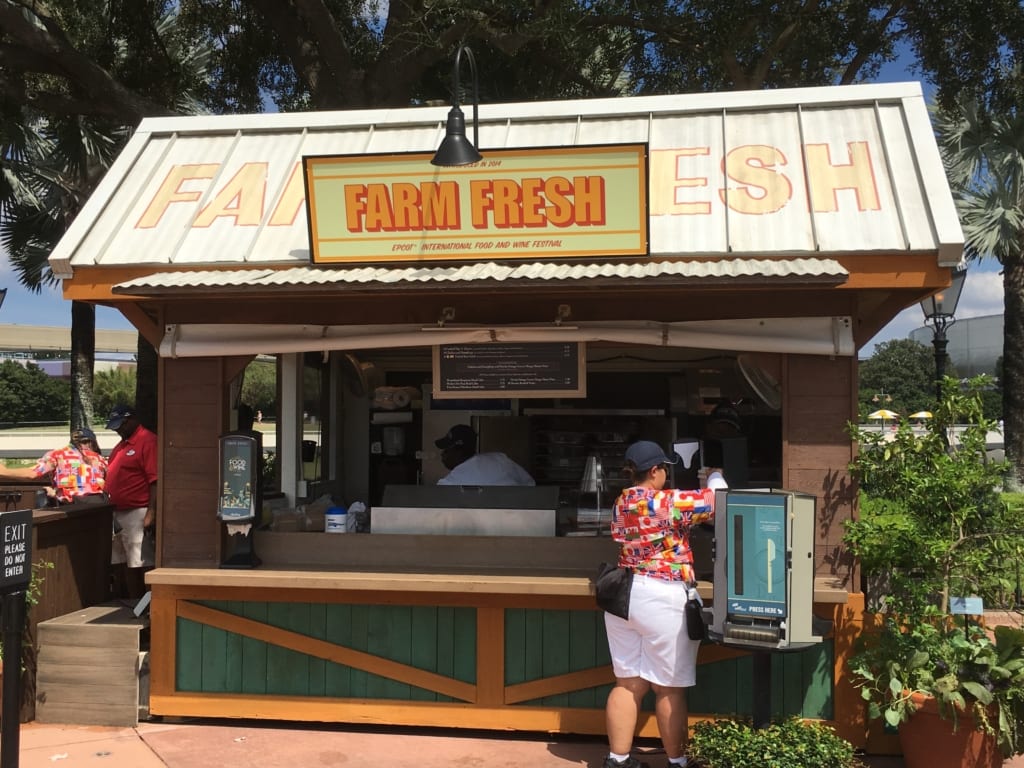 I actually really like the styling of the Farm Fresh kiosk. I love the colors, the way the wood in designed and the metal roof is great!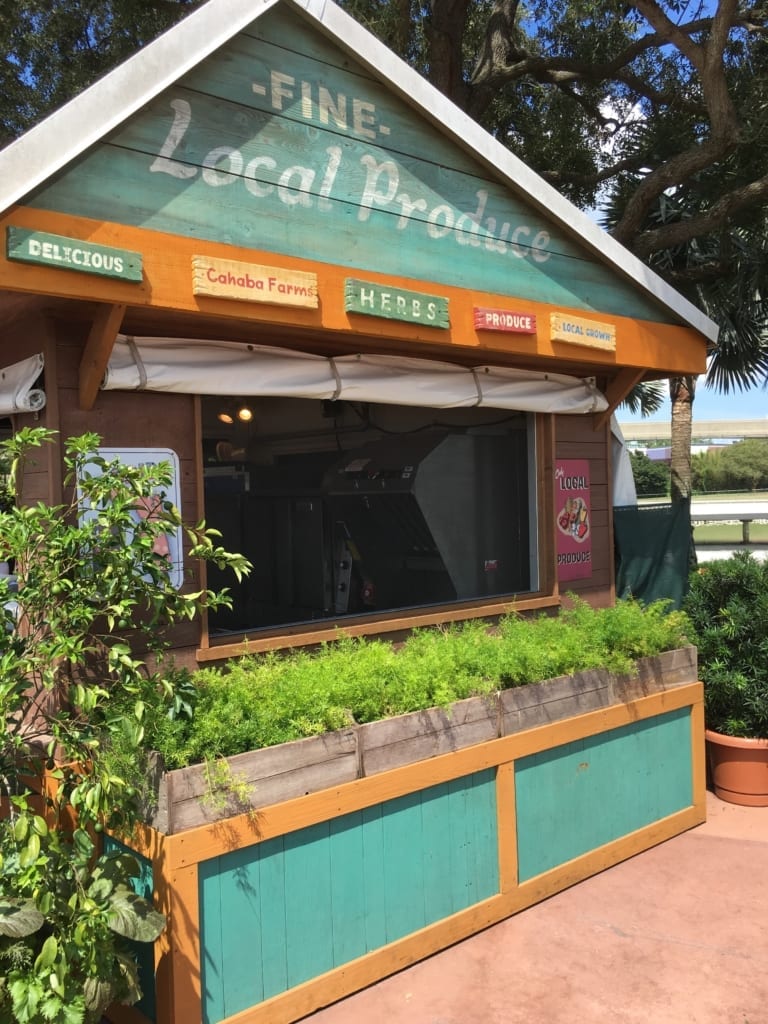 Menu:
Food:
Chicken and Dumplings: Stewed Chicken with Mushrooms and Spinach – $4.75, DDP Snack Eligible
Pickled Beet Salad with Herbed Goat Cheese, Minus 8 Vinaigrette and Toasted Walnuts – $3.75, Gluten-Free, Vegetarian, DDP Snack Eligible
Loaded Mac 'n' Cheese with Nueske's® Pepper Bacon, Cheddar Cheese, Peppers and Green Onions – $4.50, DDP Snack Eligible

*Ziggy Recommended



Beverages:
Woodchuck Raspberry Hard Cider – $3.75
Wyder's Dry Pear Hard Cider – $3.75
Two Henrys Elderberry Hard Cider – $4.00
Florida Orange Groves Mango Mama Wine – $5.50
Menu review:
I feel like this is a very solid menu. The Loaded Mac 'n' Cheese with Pepper Bacon, Cheddar Cheese, Peppers and Green Onions is Fantastic. I highly recommend it! It's a good size portion, creamy cheese and lots of nice chunks of bacon in there, really great. It is however my second favorite Mac and Cheese at Food and Wine this year, my number one is over in Germany. Overall a great dish though and would eat it over and over again!
The Chicken Dumplings were solid offering, nothing special. Portion size was ok, and so was the flavor with the cream and mushrooms. I don't dislike it, but it wasn't special like the Mac and Cheese. The Beet salad, well is Beet salad. If you like that kind of thing that's great, you are probably a much healthier person than me, but next year I'm hoping for something a little more inventive.
For the drinks the Cidar is a nice refreshing option, especially on a hot Florida day, and is also a nice size at $3.75 or $4.00.
Booth Summary and Grade:
The Farm Fresh is always a good location with some great options. The Mac and Cheese is great, the chicken pretty solid and you can skip the beets. Cidars good option as well. Great vibe though from the kiosk, love the atmosphere!
If you have to get just one thing: Loaded Mac 'n' Cheese
Grade:
8
Take a look at all of my 2016 Epcot Food and Wine articles. I have the Top 15 Things You Must Try this year at Food and Wine, and also a complete Index of the Food and Wine Menus and other Helpful Info. I want you to be able to have the best info on the Festival so you don't waste your time and you have the best time possible!
If you enjoyed this article, as always I appreciate it if you'd share it with others via social media. I work hard at making this website into a useful resource for you and your family to plan your visit to Walt Disney World, and I hope it can help you! Thanks 🙂
Your Thoughts:
I want to know what you think my review of Farm Fresh at the 2016 Epcot Food and Wine Festival. What are your favorites? What keeps you coming back again and again? What would you like to see next year? Let us know in the comments section below! 🙂