Africa Review – 2016 Epcot Food and Wine Festival
Africa I feel is always kind of an overlooked booth, I mean it's tucked all the way in the corner far from either entrance to World Showcase and it gets a little neglected. That being said it always has some great offerings, this year follows that trend. Take a look with me at two great and uniquely African dishes you will love!
Booth: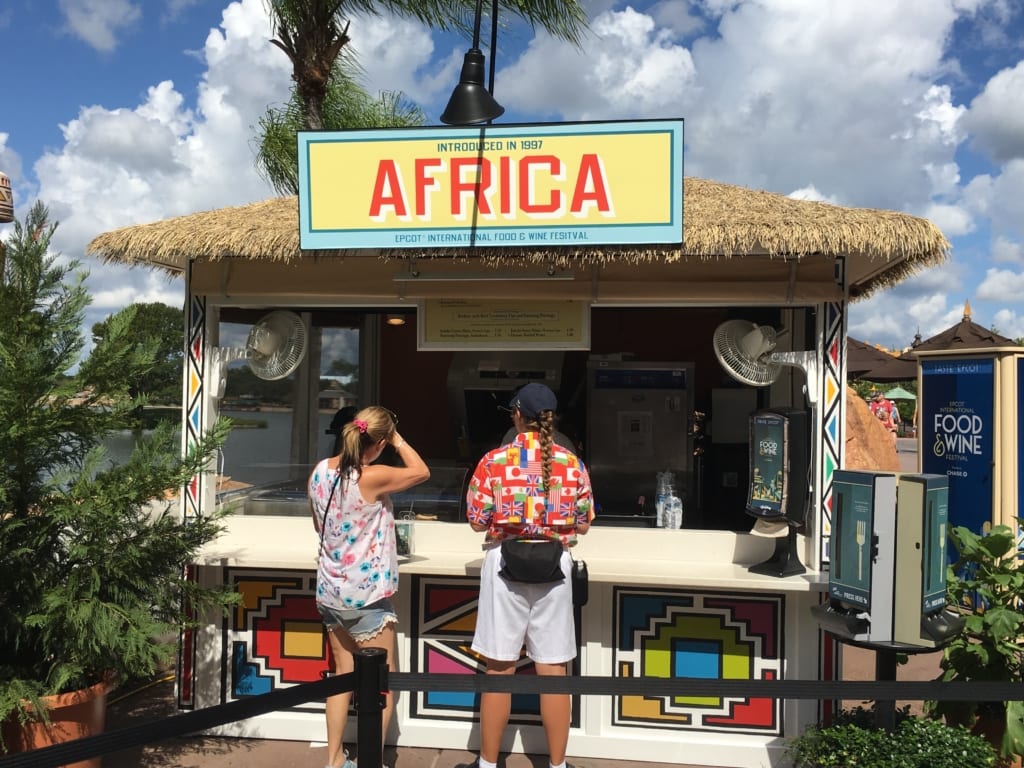 The design of the booth to me is nice. I like the straw roof, i think that gives it a nice added touch!
Menu:

Food:
Buttered Chicken with Micro Cilantro and Naan Bread – $5.00, DDP Snack Eligible

*Ziggy Recommended



Berbere-style Beef Tenderloin Tips with Onions, Jalapeños, Tomato and Pap – $5.00, Gluten-Free, DDP Snack Eligible
Beverages:
Simonsig Pinotage – $5.50
Indaba Chenin Blanc – $5.50
Jam Jar Sweet Shiraz – $4.50
Menu review:
The food options in Africa are good. I love the Buttered Chicken! If you've ever been to Sanaa and had it there, this version is very similar, just a smaller portion. Lots of that good buttery sauce. I love the Naan Bread they give you, again like Sanaa. So amazing. Would say an average size portion and decent value. It's on my recommended list for sure!
The Berbere Beef Tenderloin Tips are nice but not amazing. Not necessarily spicy, but spiced i'd say. Unique Indian/African flavors. The meat could have been a little more tender for me. Very good but not quite great. Again with this dish they give you a decent size portion. Feel like there should be more food options though…
The drink choice isn't anything special in my opinion, and quite small with only 3 options. If I have to recommend one, I'll go with the Shiraz. But if you want my true opinion, go next door to the Refreshment Cool post and grab yourself a Mango Starr instead, it'll knock your socks off! 🙂
Booth Summary and Grade:
The African booth this year is good, with the Buttered Chicken being a stand-out option for me and something you should for sure try if you haven't already, you'll be in love! The Beef Tenderloin Tips are good but not great. And the drink list is small and nothing special this year. I feel like the menu should be bigger and especially have some more food offerings, at least a third and a dessert too, therefore I have to rank it a little lower than in year's past. Hopefully next year they have this resolved.
If you have to get just one thing:

Buttered Chicken



Grade: 6.5

Take a look at all of my 2016 Epcot Food and Wine articles. I have the Top 15 Things You Must Try this year at Food and Wine, and also a complete Index of the Food and Wine Menus and other Helpful Info. I want you to be able to have the best info on the Festival so you don't waste your time and you have the best time possible!
If you enjoyed this article, as always I appreciate it if you'd share it with others via social media. I work hard at making this website into a useful resource for you and your family to plan your visit to Walt Disney World, and I hope it can help you! Thanks 🙂
Your Thoughts:
I want to know what you think my review of Africa at the 2016 Epcot Food and Wine Festival. What are your favorites? What keeps you coming back again and again? What would you like to see next year? Let us know in the comments section below! 🙂