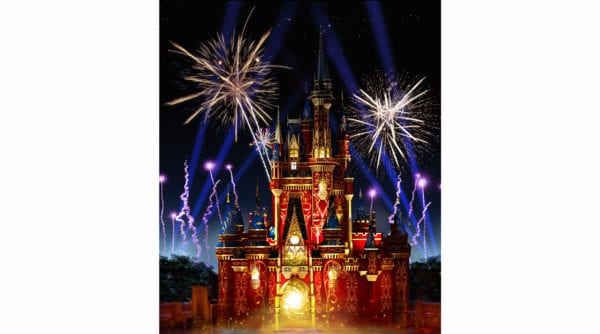 I know this story has been out there for couple of weeks now but I was away and didn't have the time to write down my thoughts yet on Happily Ever After replacing Wishes, but it's such a big story it deserved an article. The new 18-minute nighttime spectacular Happily Ever After will be debuting on May 12, 2017. I believe it has the potential to be the best nighttime spectacular that Walt Disney World has ever seen, here's why:
First of all you need no introduction to the nighttime spectacular Wishes. It's been going for 15 years strong in the Magic Kingdom and is one of the most beloved shows in the history of Walt Disney World. The theming, the music and the castle all make it such an unforgettable experience that you can't help but fall in love with it. That being said, it needs an update. I hate to break it to you but it is showing it's age. Some Disney shows like the ones in Paris and Shanghai are much more technologically advanced than Wishes and we the guests of Walt Disney World also deserve a first class nighttime spectacular in our home park. Try to put aside nostalgia for one minute. Yes Wishes is still fantastic, I still get caught up in the song and feel all warm and fuzzy, but we deserve more, and thankfully Disney recognizes that and is working to make your Magic Kingdom experience even more magical.
Now the first good news is that the castle isn't going anywhere for Happily Ever After, we will still have the best back drop to any Disney show. Secondly the technology going into this is really going to blow you away. It's going to have more lights, lasers and projectors than any other Disney show before it. The pyrotechnics and fireworks are state of the art and much better than the current Wishes ones. The things they are going to do is really really cool. They are able to make Cinderella Castle change in such a way with the projectors, it's really incredible.
Another big thing is Drones. Now we still don't have confirmation of drone use in Happily Ever After, but it's a very strong possibility either now or at some point in the near future. Disney a while back was approved by the Federal Aviation Authority to use drone technology in its airspace and we speculated a bit to what that could mean for the future of nighttime spectaculars in Disney parks. In fact we've already seen it be put to use in the nighttime spectacular at Disney Springs, and even more famously it's what created that awesome effect for Lady Gaga during her Super Bowl 51 Half-time performance. It's really awesome stuff, and knowing Disney could do the same thing is awesome for guests.
The show won't just be about technology though. In fact one of the best parts about Disney nighttime spectaculars is the emotion, how they make you feel. They touch us, move us and make us come back time and time again even when we've all seen the same show (like Wishes) 100 times. That's what Disney does. Happily Ever After will inspire guests to seek out and find their own "Happily Ever After" by showcasing some of the greatest adventures Disney characters have taken to achieve their dreams.
It's going to take guests on an inspiring journey filled with heart, humor and emotion. The show will incorporate scenes from Disney Classics like Aladdin and The Little Mermaid, to more recent blockbusters like Zootopia and Moana. We're going to see Cinderella Castle transform before our eyes into a castle made completely from toys, (representing Toy Story), see Quasimodo swing from the bell tower like in Hunchback of Notre Dame and Maleficent from Sleeping Beauty engulf the castle in flames.
By looking at the time and energy going into Happily Ever After, it's not a huge leap of faith to think that Disney might actually be giving us a BETTER product than the one we already have. After seeing Rivers of Light and what they are able to do with that even without fireworks, it gives me great optimism. Disney KNOWS how much people love Wishes and wouldn't bring this too us if they didn't have a really good replacement, an even better one imo.
Here's a video with the different teams that are working tirelessly on Happily Ever After explaining the new show:
My only little concern is the storytelling, which might be a bit hard to pull of considering Disney is incorporating characters from about 25 different films into the show. 25 in 18 minutes might be pushing it just a little. I mean I have do doubt that the technology aspect will completely blow us away, I just hope the story delivers and is told in a way that is fluid and really reaches the heart. Every time I see Wishes, I get that song stuck in my head for days and days, and that's because it's so catchy and powerful. I hope Happily Ever After does the same thing to me.
Now besides Wishes the next one up for a re-boot is Illuminations in Epcot, THAT will be a tough one for me because that imo is the best nighttime spectacular in Walt Disney World, the music is so moving. It's been rumored that will be changing eventually too, so let's prepare ourselves now by getting used to change. After all Walt always preached how change is a good thing, and if done correctly he is right. In the end I believe Happily Ever After is going to blow us away and be the best nighttime show that Disney World has ever had, and I can't wait to see it!
If you want to get one last Wishes show in before the big change, then get down to the Magic Kingdom by May 11th, that's the last performance and it should be a big one!
Your Thoughts:
I want to know what you think about the Happily Ever After Replacing Wishes. What are your thoughts on Happily Ever After? Do you think it has the potential to be even better? Are you sad to see Wishes go or do you think it's time for a change? Let us know in the comments section below!
If you enjoyed this article, as always I appreciate it if you'd share it with others via social media. I work hard at making this website into a useful resource for you and your family to plan your visit to Walt Disney World, and I hope it can help you! Thanks 🙂