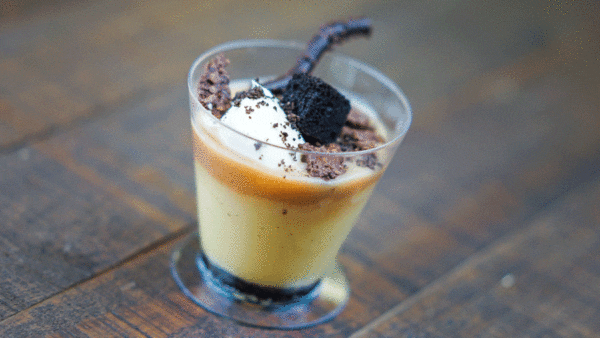 It's always one of the most anticipated events of the year, and Disney has announced the California Adventure Food and Wine Festival 2017 Menus. You don't have to twist my arm to get me to go somewhere where Food and Wine are the main two draws! This year's Festival is from March 10th – April 16th.
One of the nice things about the California Adventure Food and Wine Festival is that there's a lot of fresh food and drink, lots of which is taken from or inspired by Californian Cuisine. This year's menu looks absolutely great, even better than last imo. Take a look at some of the yummy treats awaiting you at this year's booths:
Garlic Kissed
Grilled beef tenderloin slider with chimichurri sauce
Black garlic soy-braised pork belly bao with pickled vegetables
Garlic-rosemary and avocado oil ice cream pop
Uncork California
White wine flight
Red wine flight
Mimosa flight
California Craft Brews
Southern California flight
Northern California flight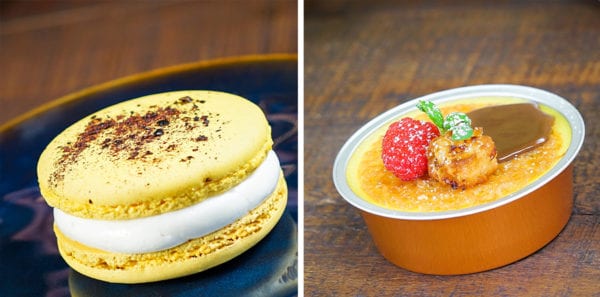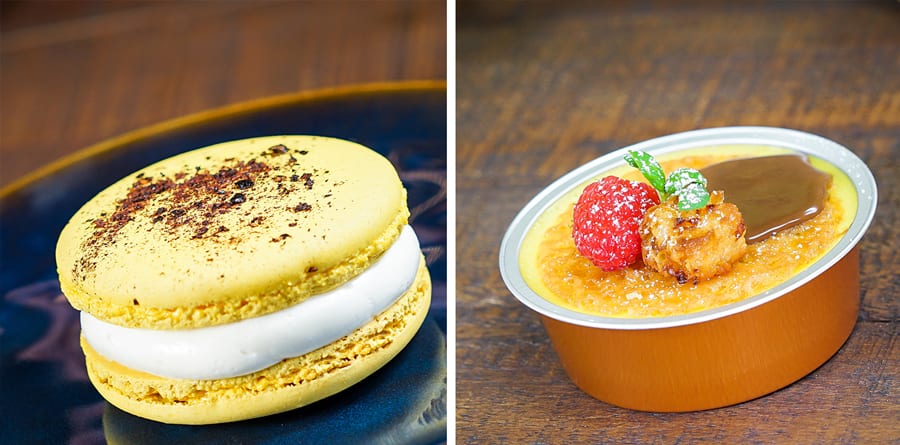 Olive Us
Chilled Cioppino soup with shrimp, crab claw and grilled olive bread
Warm olive focaccia with olive oil and sea salt
Vanilla bean crème fraîche panna cotta with Amarena cherry jus and EVOO madeleine
Bacon Twist
Baby iceberg and heirloom tomato wedge with peppered bacon and blue cheese dressing
Smoked bacon mac and cheese with barbecue-seasoned crispy onions
Maple-bacon Whoopie Pie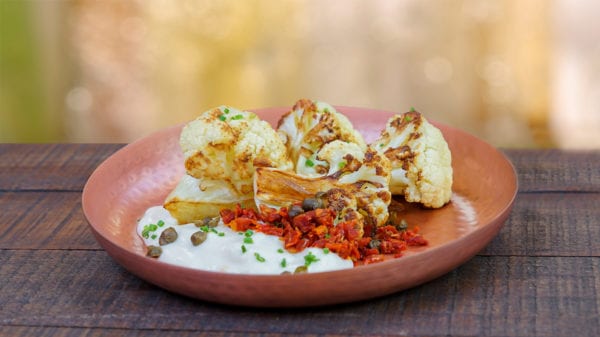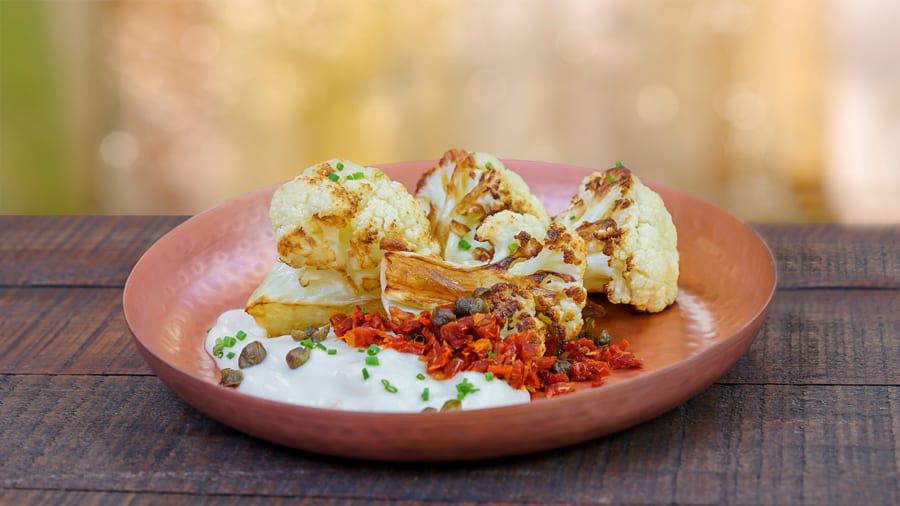 Lemon Grove
Roasted cauliflower and Meyer lemon-infused Dannon Oikos® Greek nonfat yogurt cauliflower puree with sundried tomatoes and fried capers
Duck confit on potato smash with Meyer lemon preserves
Meyer lemon macaron with blueberry marmalade, Meyer lemon cream and blueberry dust
Cherry lemonade with cherry pearls
I Heart Artichokes
Artichoke carbonara with garlic aioli and smoked bacon
Grilled and chilled artichoke hearts with Romesco sauce
Creamy artichoke and dark chocolate cake pop
Orange iced tea with orange pearls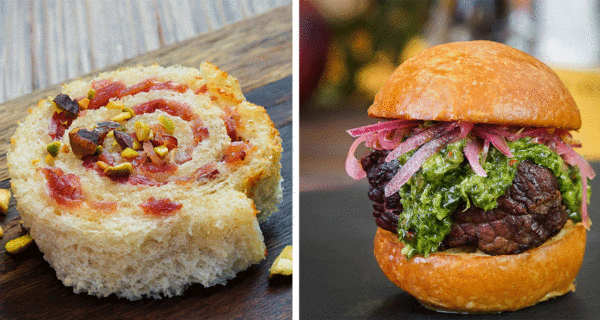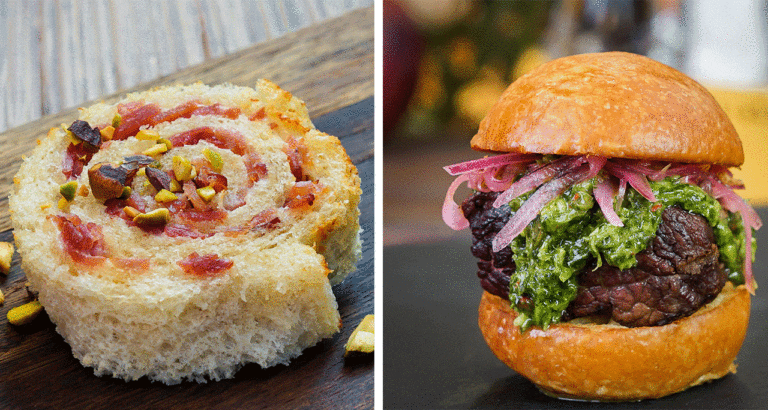 Nuts About Cheese
Brie toast with fig and mint and roasted California almond crumble
Baked ham and Swiss cheese croque monsieur roll with smoked pistachios
Chèvre fromage blanc tartine infused with rosemary and honey, topped with toasted hazelnuts
Almond milk tea with pudding
Seafood…Sustained
Verlasso® sustainable salmon tataki with avocado-wasabi puree and Furikake dust
Cage-free cream cheese deviled eggs with farm-raised smoked trout and chives
Passion fruit posset and coconut chia with mango compote and jelly
Mango agua fresca
The Onion Lair
French onion mac and cheese topped with parmesan crumble and chives
Braised Wagyu beef on creamy polenta with haricot vert and red onion salad and roasted Cipollini onion
Chocolate-hazelnut and raspberry Feuillete tart
Strawberry pineapple float with vanilla ice cream and strawberry pearls
Off the Cob
Sweet corn nuggets with beef chili, spring onions and sour cream
Jackfruit carnitas banh mi nachos with cilantro crèma and "pickled" de gallo
Roasted sweet corn custard tart with honey tuille and smoked chili-infused chocolate sauce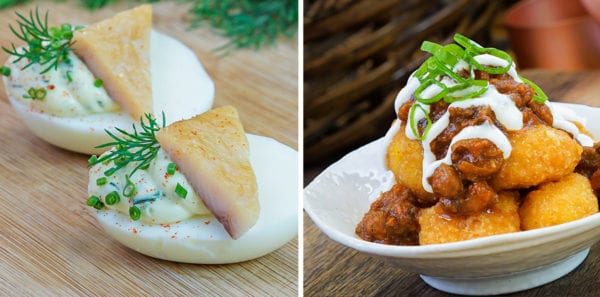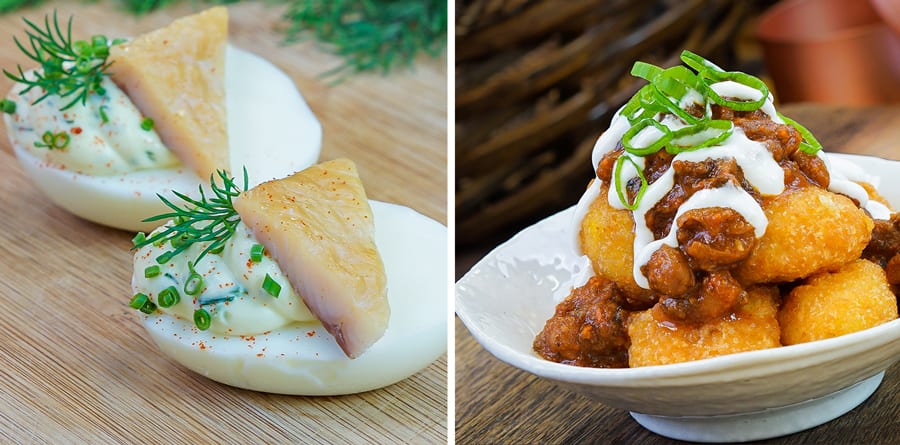 Sweet & Sourdough
Bay shrimp Louie salad served in a mini Boudin sourdough boule
White cheddar lager soup topped with bacon, served in a mini Boudin sourdough boule
Milk chocolate sourdough bread pudding with vanilla bean sauce
LAStyle
Chicken Teriyaki slider with spicy Dole® pineapple jam
Korean barbecue beef short rib tacos with Kimchi slaw
Fresh strawberry compote, lemon verbena and vanilla bean shortcake parfait
Dole® Pineapple-strawberry Float with vanilla ice cream and strawberry pearls
Paradise Garden Grill Beer Garden
Beer-battered cod served with steak fries, sweet slaw and spiced remoulade
Potato and cheese pierogis with vegetarian sausage served with grilled Anaheim chilies, caramelized onions and sour cream
Beer-braised pork tacos served with pickled apple slaw, black beans and queso
Sausage platter trio served with braised red cabbage and warm potato salad
Large soft pretzel served with beer-mustard dipping sauce
Salted caramel budino with vanilla bean Chantilly cream
Bienenstich cake with honey-glazed almonds, filled with vanilla bean custard
Really I can't pick just one that stands out to me of all the booths because for the most part they all appeal to me. I think the Bacon Twist, Lemon Grove, I Heart Artichokes and The Onion Lair probably are my favs at first glance. Looking at that French Onion Mac and Cheese, Artichoke Carbonara and the Lemon Macaron makes me happy! 🙂 But I also really want to try that Dole Whip Float with Strawberry….mmmmmm, Can't go wrong with Dole Whip. What about you?
The festival will again be in the Hollywood Backlot area, featuring wine flights at Wineology, beer and beer floats at The Brewhouse and wine at the Festival Merchandise & Bottle Shop at Stage 17.
Your Thoughts:
I want to know what you think about the California Adventure Food and Wine Festival 2017 Menu. I want to know what you are most looking forward to trying? Let us know in the comments section below!
If you enjoyed this article, as always I appreciate it if you'd share it with others via social media. I work hard at making this website into a useful resource for you and your family to plan your visit to Walt Disney World, and I hope it can help you! Thanks 🙂