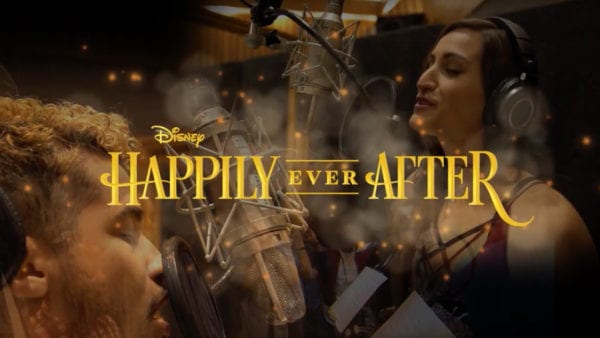 For the last month or so Disney has been giving us sneak previews to its new nighttime Fireworks Show at the Magic Kingdom "Happily Ever After" and so far everything is shaping up nicely. Disney released a new Happily Ever After Music preview showing different parts of the song, including the powerful finale. I got goosebumps seeing it!
In the video country music artist Angie Keilhauer and singer Jordan Fisher happily talk about how being a part of Happily Ever After has really been a dream come true for them and a huge point in their careers.
Watch the video here:
There was a lot of backlash among the Disney community getting rid of Wishes after a run of 15 years, and I was even a bit skeptical myself at first, especially with the music to Wishes being so pwerful. I have to say though that I was really impressed by the Happily Ever After theme song, even only hearing bits and pieces of it. I love the part with the gospel choir at the end, it gave me goosebumps, it's that good!
It's quite inspirational, telling others to reach out and pursue their dreams in life. "It's so big and it's so beautiful, and I think the sentiment behind it makes it even more special," Jordan said. "Then add the fireworks and the amazing animation – I think that's a moment people are going to remember and that's really exciting."
You'll be able to see "Happily Ever After for yourself in the Magic Kingdom starting May 12th.
Your Thoughts:
I want to know what you think so far about the Happily Ever After Music. Do you like the singers? What about the finale? Let us know in the comments section below!
If you enjoyed this article, as always I appreciate it if you'd share it with others via social media. I work hard at making this website into a useful resource for you and your family to plan your visit to Walt Disney World, and I hope it can help you! Thanks 🙂