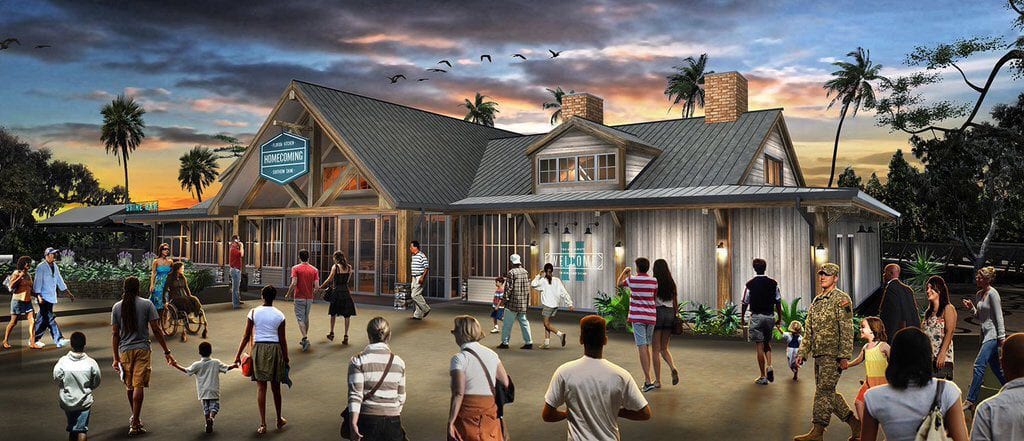 From the moment I heard about Chef Art Smith's new creation Homecoming Florida Kitchen and Shine Bar in Disney Springs, I've been looking forward to trying it out for myself. That time is almost here because it's almost completed. Now at least we have the Full Menu for Homecoming Florida Kitchen and I'm very impressed with what I see. Then again I have a real problem saying "no" to amazing Mac and Cheese and Fried Chicken….mmmmm. Wait, I'm getting ahead of myself 🙂
It's a restaurant that focuses on fresh, locally farm grown food and a taste of Classic Florida cooking. Check out the menu below: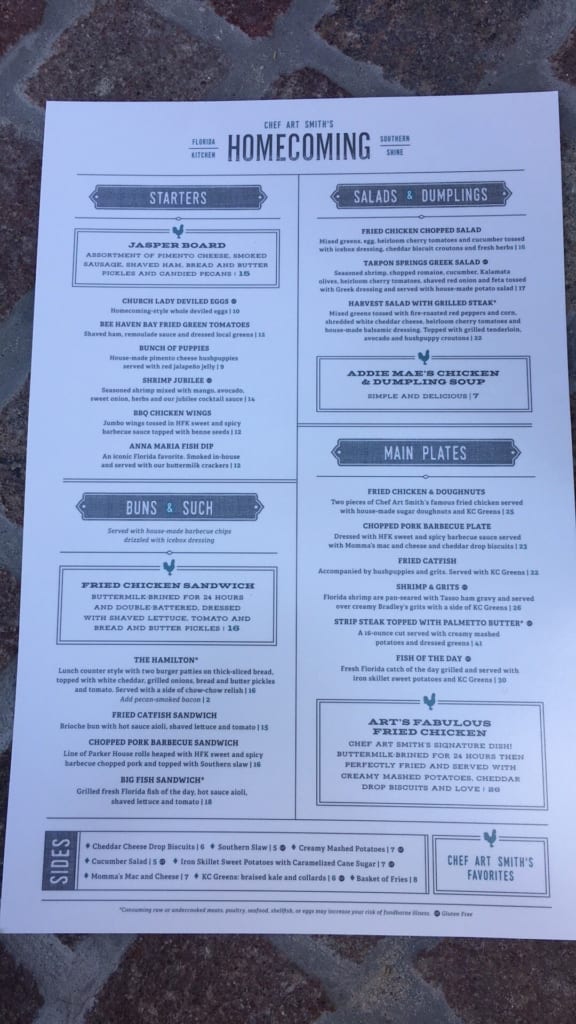 There are so many things that stand out to me, and they seem to have a good selection of things that appeal to a wide variety of pallets. I also appreciate how the Gluten Free items are clearly marked with an symbol, so if you or your family has a gluten allergy you won't have a problem.
Let's take a look at some options:
Under the starters, The Jasper Board looks good with Pimento cheese, smoked sausage, shaved ham, bread and butter pickles and candied pecans.
Also under starters there's the cleverly named: Church Lady Deviled Eggs which is Homecoming styled whole deviled eggs. I can't really tell what's dressing them on top, but it looks like some shavings of zucchini, other veggies and possibly ham. It's definetly something you don't see a lot around property and is something new and exciting.
I also want to try the southern classic Bee Haven Bay Fried Green Tomatoes, which has shaved ham, remoulade sauce and dressed local greens.
They also have some good looking sandwiches, Catfish, Barbecue Pork and a Fried Chicken Sandwich which has been buttermilk brined for 24 hours!
Entrees include some fish options, shrimp and grits, strip steak but as if you couldn't tell by my first paragraph, I'm going right in for Art's Fabulous Fried Chicken which like the sandwich has been brined in buttermilk for 24 hours then fried to perfection and paired with creamy mashed potatoes, cheddar drop biscuits and love!! Either that or the Fried Chicken and Doughnuts. Wait what, there's another fried chicken plate? Yes, I'm not sure if there's a real difference in the chicken, but this one comes served with doughnuts and kc greens. I guess I'm gonna have to sacrifice and go back for both!! 😉
Some great sides are being served up as well, those cheddar drop biscuits, iron skillet sweet potatoes with caramelized can sugar, and of course: Momma's Mac and Cheese!! Look at all this cheesy creamy goodness below:
I could jump right into that bowl!!
Dessert looks great too with a special twist on the southern classic Mockingbird Cake.
If your mouth isn't watering like mine already then either you have a problem or I do, not quite sure about that one yet 😉
Again there isn't a specific date yet for opening but within the next month or so I would think it should be ready. Stay tuned for more info and put this one down on your list for your next visit.
Let me know what you think of the Homecoming Florida Kitchen Menu in the comments section below. As always I really appreciate it if you help spread the word, so if you liked this post and my site then please share it with others! Thanks! 🙂