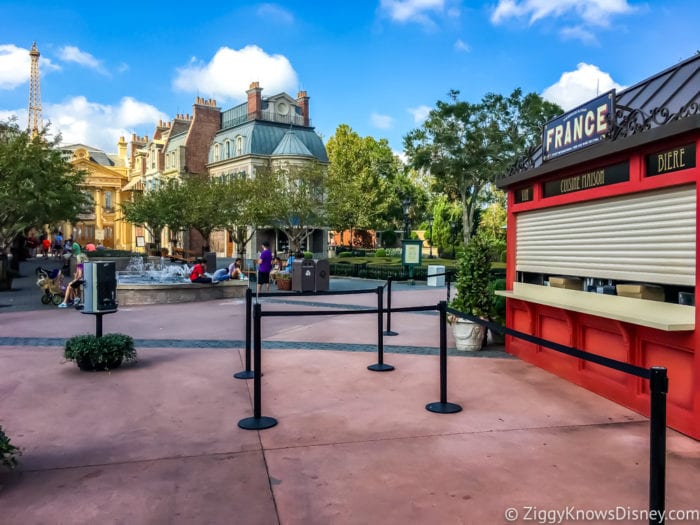 France is my favorite country in Epcot's World Showcase and it's always one of my top choices at the Epcot Food and Wine Festival, so I just can't wait to see what they have this year. Expect some of the favorites like: Boeuf Bourguignon, Croissant aux Escargots, Crème Brûlée, La Passion Martini Slush and the Warm Goat Cheese Pudding which is new. No sense talking, let's dive into my France Review: 2017 Epcot Food and Wine Festival….
France Booth:
Stepping into the France pavilion is like stepping into a dream…
Even on a cloudy day it's gorgeous:
France Menu:
We always love France so deciding what to get is a nightmare:
Not too much difference from 2016 to 2017 in the prices, in fact they've stayed exactly the same from last year surprisingly. Also the Onion Soup has been changed out for the Warm Goat Cheese Pudding: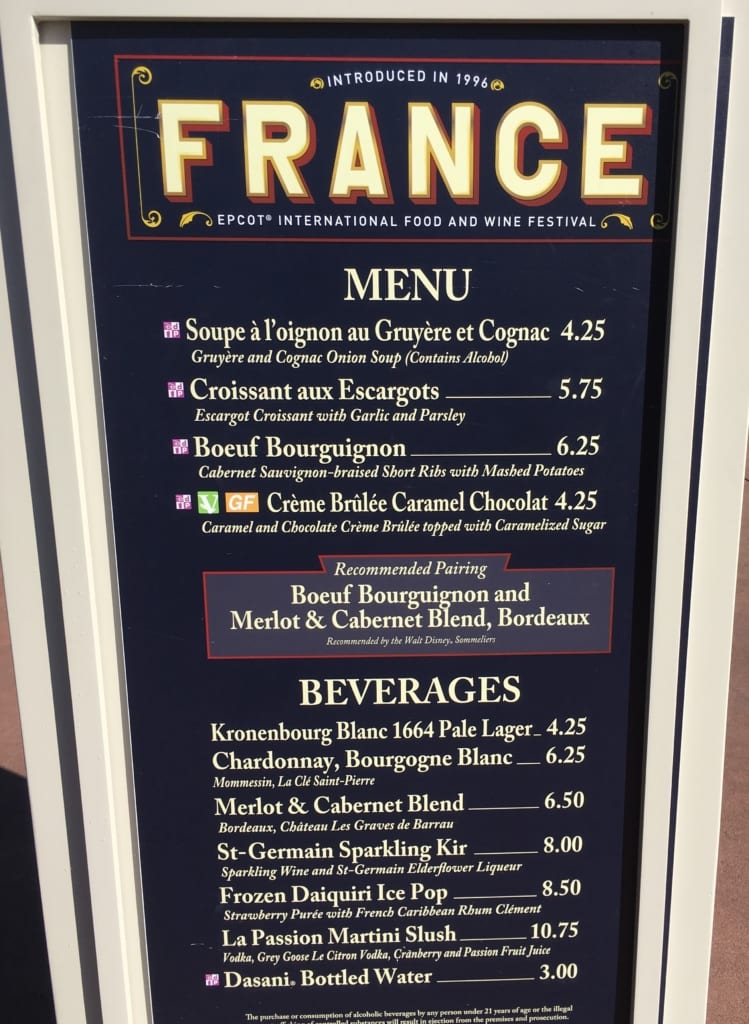 Food:
Boeuf Bourguignon, Purée de Pommes de Terre: Cabernet Sauvignon Braised Beef with Mashed Potatoes – $6.25, DDP Snack Credit
Croissant aux Escargots: Escargot Croissant with Garlic and Parsley – $5.75

*Ziggy Recommended

Moelleux au Fromage de Chèvre et Épinards: Warm Goat Cheese Pudding with Spinach

(Gluten-Free)

– $4.25

Crème Brûlée à la Confiture de Framboises: Crème Brûlée with Housemade Rasberry Jam

(Gluten-Free)

– $4.25

Beverages:
La Passion Martini Slush: Vodka, Grey Goose Le Citron, Cranberry and Passion Fruit Juice – $10.75 *Ziggy Recommended
Chardonnay, Bouchard Ainé & Fils – $4.75
Château les Graves de Barrau: Merlot and Cabernet Blend, Bordeaux – $6.50
St-Germain Sparkling Kir: Sparkling Wine and St-Germain Elderflower liqueur – $8.50
Kronenbourg Blanc 1664 Pale Lager – $4.25
Menu Review:
Ok, let's get this review off to a good start, and there's no better way than with one of my favorite drinks at the whole Epcot Food and Wine Festival: La Passion Martini Slush w/Vodka, Grey Goose Le Citron, Cranberry and Passion Fruit Juice. It isn't cheap by any means at $10.75, but this thing is yummmmmmmy!! First of all it's cold which is great in the Florida sun, next it has such a strong fruit flavor, especially the passion fruit which is incredibly refreshing! But it's not weak by any means and there's definitely a lot of alcohol in there, so beware! Get it and thank me later! 😉
So the new item this year for France is the Warm Goat Cheese Pudding. I'm a big cheese lover, I'll put it in or on just about anything, so this one had me excited. My wife really liked it, more so than me. The egg was creamy and rich, and it for sure had a strong tangy taste so often associated with goat cheese. I wasn't crazy about it. To me it was more like a dip than anything else, but there wasn't anything to dip into it. If you're a big goat cheese fan then go for it, otherwise skip.
First thing we noticed with the Boeuf Bourguignon is how HUGE the portion size was, good value for your money. In fact look at the size difference between this year and last. This is 2016:
This is 2017:
Unfortunately the taste was better last year though. Again there was tons of beef, very big chunks, and it was very tender and there was no need for a knife to cut it with, fell right apart. Very similar to pot roast. The potatoes just weren't good at all though, lumpy and not smooth, and very bland tasting, even with the Cabernet Sauvignon sauce on top. Nothing like the potatoes in Patagonia for example which are delicious! If you are looking for something substantial this will do, again the beef is good, but overall just a bit disappointing.
One favorite in France is the Escargot Croissant with Garlic and Parsley. I'm not a huge escargot fan by any means, I've tried them multiple times and I just can't get into them, too chewy and rubbery for me and they just freak me out a bit. Don't know why, it's totally natural to eat snails…?. Anyways if you are an escargot eater then I think you'll really like it because the actual brioche it's served in is delicious!
You know we wouldn't leave France without dessert, and we tried the Crème Brûlée with Housemade Rasberry Jam. I'm not personally a huge creme brûlée fan to begin with, but this was pretty decent. It's good because it has a very light consistency and the glaze is perfectly done on top, nothing we love more than crystalized sugar! The raspberry is very subtle at the bottom of the dish, I actually was hoping for a little more raspberry flavor, but if you are more of a traditionalist, you won't find it overbearing. Nice option.
Booth Summary and Grade:
France was a little down this year imo. I liked that there was no price hike, but the Boeuf Bourguignon and Warm Goat Cheese Pudding were both a bit disappointing to me. I'm not an Escargot fan, which is the best food item here, and the Creme Brûlée is just a middle of the pack dessert at Food and Wine this year. The La Passion Martini Slush is an incredible drink though that can't be missed, so even if you don't stop for food this year, grab one of these on your way around the world!
If you have to get just one thing:

La Passion Martini Slush



Grade:

8



Take a look at all of my 2017 Epcot Food and Wine articles. I have a 2017 Epcot Food and Wine Info Guide with a complete Index of the Food and Wine Menus, The Top NEW Items for 2017, Top Food and Wine Booths and more…I want you to be able to have the best info on the Festival so you have a great time and don't waste your time!
Your Thoughts:
I want to know what you think of my France Review 2017 Epcot Food and Wine Festival. Which was your favorite item? Where does it rand on your list of 2017 Food and Wine booths? Let us know in the comments section below!
If you enjoyed this article, as always I appreciate it if you'd share it with others via social media. I work hard at making this website into a useful resource for you and your family to plan your visit to Walt Disney World, and I hope it can help you! Thanks 🙂