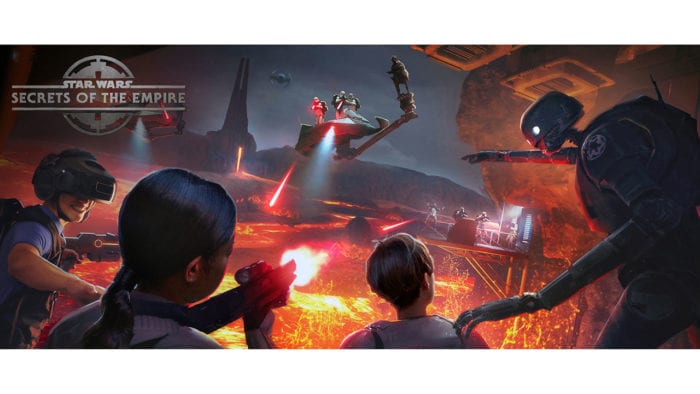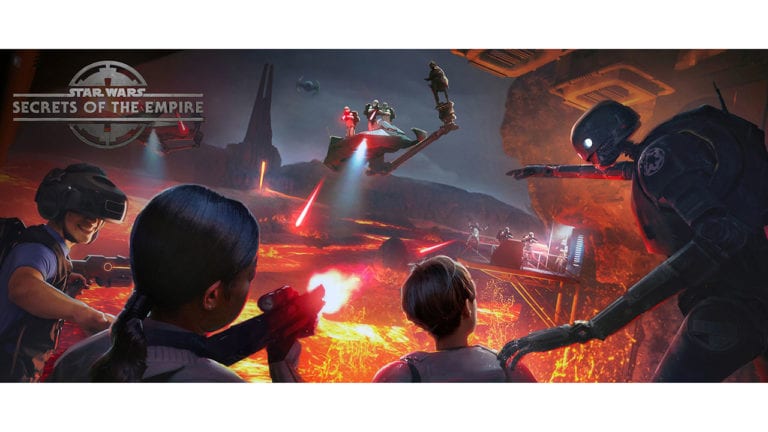 We were genuinely excited back in August when we found out about the new Star Wars Secrets of the Empire coming to Disney Springs, and today it got even better with a first look at Star Wars Secrets of the Empire Hyper-Reality Experience.
Star Wars Secrets of the Empire is created by ILMxLAB and The VOID, and will take fans into the Star Wars Universe, and will allow you to take part in the multi-sensory story. From the first look video we can see that you have to go undercover as stormtroopers and capture Imperial intelligence, much like in last year's box office hit, Rogue One. In fact you see a droid that looks a lot like K-2SO from the movie, which tells us this happens probably between episodes 3 and 4.
You can see a bit of what to expect from Secrets of the Empire in this video preview:
I'll take as much Star Wars goodness as Disney can throw my way until the opening of Galaxy's Edge in 2019, and I think Secrets of the Empire looks pretty promising. The whole experience lasts 30 minutes, and runs from 9am to 11:45pm daily, and tickets cost $29.95. That is possibly on the high side for 30 minutes, but if it's really immersive and fun it will be well worth it imo.
My question is how much replay ability will it have? If done right it could be huge! Will the missions be different every time or the same? If they are smart they'll make it so they are always different, that way people will have a reason to come back again and again, and that imo is what will decide how much of a long-term success Secrets of the Empire is. I'm not sure how the whole system works, but it would be ideal if in the future stories could be changed which would allow a completely different experience, even changing between eras. This one looks like around Rouge One timeframe, it would be cool to be able to do missions from the original trilogy, or even the new trilogy too. It could be huge and ease the pain a little from losing DisneyQuest.
Tickets are on sale now so go to www.thevoid.com for more information on how to book it. Star Wars Secrets of the Empire opens in Walt Disney World on December 16th, 2017 and in Downtown Disney in Disneyland on January 5th, 2018.
Your Thoughts:
I want to know what you think about the first look at Star Wars Secrets of the Empire. Do you think it looks immersive enough? What does it need to do to have long-term success? Let us know in the comments section below!
If you enjoyed this article, as always I appreciate it if you'd share it with others via social media. I work hard at making this website into a useful resource for you and your family to plan your visit to Walt Disney World, and I hope it can help you! Thanks 🙂
News Source: Disney Parks Blog