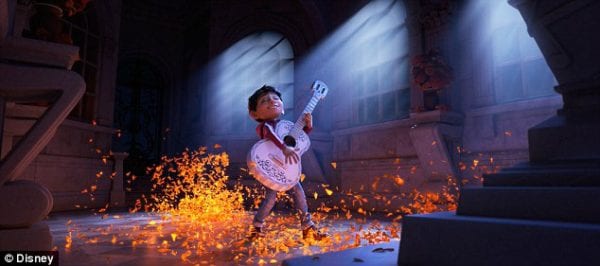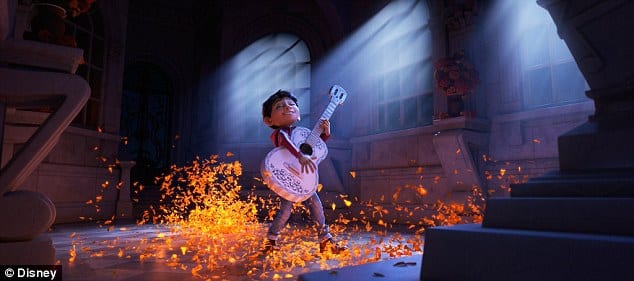 Disney and Pixar's next big film is entitled: Coco and is expected to come out sometime at the end of next year. The story is about Miguel, a young 12-old Mexican boy with humble beginnings, who belongs to a family that has banned music ever since the death of his great-great grandfather. This doesn't stop Miguel as you can imagine as he has an intense passion for Music. This leads him to his idol, the late singer Ernesto de la Cruz. While there Miguel "borrows" his idol's guitar from the tomb, but since it happens to be Dia de Muertos (day of the dead), he is sent to the land of the dead where he meets his ancestors who banned the music.
The stunning shot above captures the pivotal moment in the film where he "borrows" the guitar.
Director Lee Unkrich (Toy Story 3) says the film isn't "a break-out-into-song musical," but rather, one "set against the backdrop of musical performance." Coco had interesting beginnings as well he says: "At the end of Toy Story 3, we had this moment where Jessie turns on the boom-box and the Gipsy Kings do a Spanish language version of 'You've Got a Friend in Me.' Which, it turned out, ended up being a real precursor to this movie."
The goal of the creators was to tell a story about such a culturally rich event such as Dia de Muertos as authentically as possible. They couldn't tell the story just based on one family, but an entire culture. "The day John Lasseter gave the thumbs up for this movie, I immediately felt this huge weight drop onto my shoulders because I knew that we were doing something different than we had ever made at the studio and that for the first time, we were going to have this enormous responsibility to do right by this culture and not lapse into stereotype or cliché," Unkrich told EW.
Unkrich was able to get an all-Latino cast (including Gael Garcia Bernal as a skeleton named Hector who helps Miguel on his journey in the Land of the Dead) and searched for authenticity with crew members, filmmakers, musical talent and various consultants from artists from Mexico.
This is shaping up to be another smash hit for Disney and Pixar and will be interesting to follow its progress. Its cast includes: Gael Garcia Bernal (Hector), Benjamin Bratt (Ernesto de la Cruz), Renee Victor (Abuelita) and Anthony Gonzalez (Miguel). Coco arrives in theaters November 22, 2017.
Your Thoughts:
I want to know what you think about the First Look at Coco. How does the film look to you? Will you be going to see it when it comes out? Let us know in the comments section below! 🙂
If you enjoyed this article, as always I appreciate it if you'd share it with others via social media. I work hard at making this website into a useful resource for you and your family to plan your visit to Walt Disney World, and I hope it can help you! Thanks 🙂
Photo Credit: Entertainment Weekly