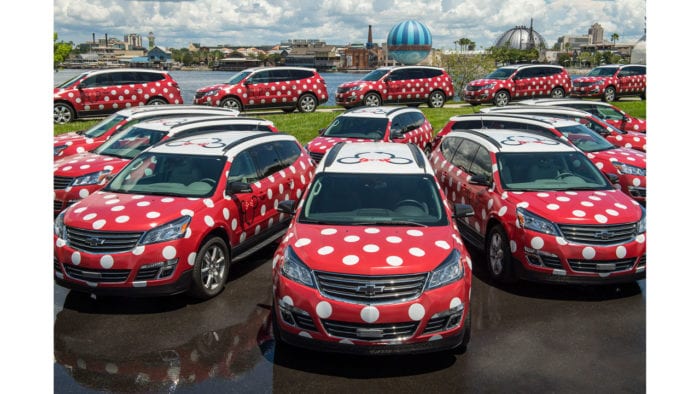 Like we found out last week at the D23 Expo, Disney is launching its response to ride-sharing companies like Uber and Lyft with a Minnie Mouse car transportation service aptly called: Minnie Vans. Since then more info has come out. Disney's Minnie Van Service starts officially later this month on July 26th for guests staying at Disney's Boardwalk Resort and Disney's Yacht and Beach Club Resort.
Just like other ride-sharing services, the Minnie Vans will allow guests to book their own private Disney vehicle from their smartphone. The vehicles as you can see are themed to Minnie Mouse and will take guests anywhere in Walt Disney World for a flat fee of $20. Just book your ride, and a Disney Cast Member will pick you up and drive you anywhere on property. No waits like there are for buses!
The overall response to the vehicles has been positive, with only a view complaining about the $20 being a bit high. It's true that if you are going a short distance it might be a little much, but there are also some great perks to Disney's Minnie Van Service that companies like Uber don't have.
Closer Drop-offs: If you are staying at the bigger resorts with building that are far from the Main Lobby like Pop Century, Art of Animation etc, the Minnie Vans will bring you directly to your building where as Uber has to drop you off at the Main Lobby. Also if you are going to the Magic Kingdom, the service will drop you off at the main entrance where Uber has to leave you at the TTC.
Better Service: Disney Cast Members are known for their friendliness and good customer service, so in the Minnie Vans you can expect top notch service with cast members who also can offer help and suggestions about your stay at Walt Disney World. God luck with Uber.
Car Seats: The Minnie Vans come with 2 car seats already, and cast members who are trained to drive with small children in the car. If you get a car seat with an Uber expect to pay an additional $10 fee.
I was a bit skeptical about the whole Minnie Van service at first as I really didn't see the point with guests being able to use Uber. They might not be for everyone, but now knowing some more of these details I can see why some guests will see value in them and they could actually be a better option for you.
Check out our Disney Minnie Van Review to find out all the positives and negatives about the service and to see if it's right for you!
Your Thoughts:
I want to know what you think about Disney's Minnie Van Service. Do you think they are a good transportation option at Walt Disney World? What features would you like to see included? Let us know in the comments section below!
If you enjoyed this article, as always I appreciate it if you'd share it with others via social media. I work hard at making this website into a useful resource for you and your family to plan your visit to Walt Disney World, and I hope it can help you! Thanks 🙂