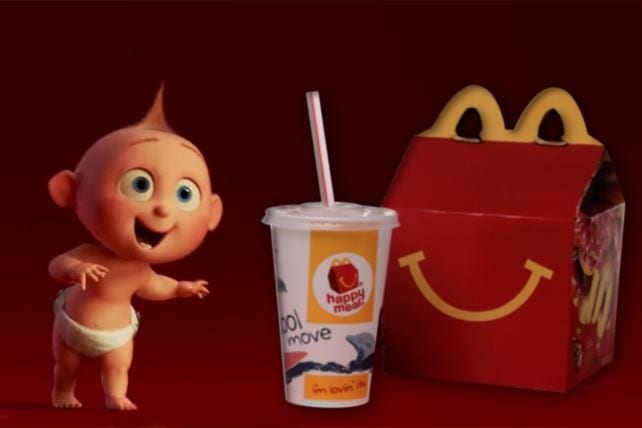 An old partnership is being renewed between the world's largest fast food chain and the world's largest entertainment company. The Walt Disney Company and McDonald's are teaming up starting in June, which will see Disney toys coming to McDonald's Happy Meals.
"McDonald's and Disney are two beloved family favorites and together with this alliance, we will create memorable moments for families," said Morgan Flatley, McDonald's USA Chief Marketing Officer. "As we continue to build a better McDonald's, this relationship combines ingenuity in food and entertainment to encourage more balanced meal selections in our Happy Meals and inspire families in fun and innovative ways."
This new promotion in the Happy Meals will include start with toys from Incredibles 2, seeing as it comes out in June as well. That means you can also expect to see toys from other Pixar, Star Wars, Marvel and Walt Disney Studios films in McDonald's thereafter. In fact toys from Ralph Breaks the Internet: Wreck-It Ralph 2 will be coming in November too.
"McDonald's commitment to balanced Happy Meals allows our two companies to collaborate on new ways to bring the magic of Disney to McDonald's consumers," said Tiffany Rende, Senior Vice President, Corporate Alliances, The Walt Disney Company.
McDonald's and Disney have a history of working together, as they both partnered up for 10 years from 1996 to 2006, and it seems like a perfect collaboration from these to consumer giants. Though not known for its nutritional prowess, McDonald's also plans to follow Disney's standards of dietary standards, and says the Happy Meals will be in-line with them by the time Disney toys start appearing in them in June 2018. Just a couple weeks ago McDonald's announced that by the year 2022 all Happy Meals would have no more than 600 calories each, with a reduction in fat, sugar and sodium.
As part of the deal, McDonald's also plans to meet Disney's nutrition guidelines, promising Happy Meals will meet the Disney standards by June 2018. The Disney criteria favors fruits, vegetables and whole grains, among others, while limiting calorie, salt and sugars.
McDonald's announced Feb. 15 it would make changes to ensure all Happy Meals by 2022 would have at most 600 calories with 10% of those calories coming from saturated fat and 10% from added sugar. Sodium also would be reduced.
Your Thoughts:
I want to know what you think about Disney Toys Coming to McDonald's Happy Meals? Do you like the partnership? What kind of toys do you want to see in the Happy Meals? Let us know in the comments section below!
If you enjoyed this article, as always I appreciate it if you'd share it with others via social media. I work hard at making this website into a useful resource for you and your family to plan your visit to Walt Disney World, and I hope it can help you! Thanks 🙂
News Source: USA Today