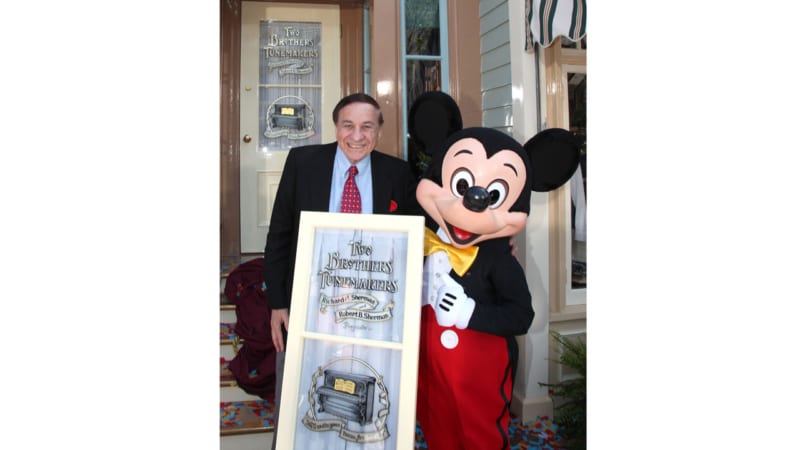 In some very deserving news, Composer and Disney Legend Richard M. Sherman has been inducted into the International Association of Amusement Parks and Attractions (IAAPA) Hall of Fame. This couldn't have come to a more deserving man, as Richard M. Sherman has had one of the biggest influences on Disney music as anyone.
Richard, along with his brother Robert B. Sherman, began writing music on a challenge from their father, and ended up writing some of the most famous Disney music both for attractions and films, leaving an endless treasure trove of music that Disney fans know by heart. They are responsible for so many of the songs that get stuck in our head when visiting the Disney parks, love them or hate them! The Sherman Brothers are credited in such works as: Mary Poppins, Winnie the Pooh, "It's a Small World," "The Tiki Tiki Tiki Tiki Room," "There's a Great Big Beautiful Tomorrow," "Just One Spark," and much more!
Richard M. Sherman is in great company, joining joins fellow Disney-affiliated honorees Walt Disney, Roy O. Disney, plus fellow Disney Legends Marty Sklar, Jack Lindquist, Dick Nunis, Wally Boag and Betty Taylor on a very exclusive list. The Sherman Brothers were inducted as Disney legends in 1990, and have a window on Main Street USA in Disneyland too. While not quite as big as the 2017 class of Disney Legends, that 1990 class was unreal with The Sherman Brothers, Roger Broggie, John Hench, and Richard Irvine just some of the names on that list.
"Richard M. Sherman's contributions to the industry span more than 50 years, and he has written and composed countless beloved songs for Disney theme parks, resorts, and attractions around the world. His work represents the industry's most iconic and memorable achievements, combining the physical ride experience with music that elevates the impact and emotional connection of an attraction — for children and adults alike. Along with his brother Robert, he wrote the timeless lyrics for "It's a Small World," celebrating global peace and our shared humanity. In addition, he wrote other classic songs such as "The Tiki Tiki Tiki Room," "A Spoonful of Sugar," and "The Winnie the Pooh Song," to name a few. Throughout his career, Sherman has served as an influential mentor to many designers and creators at schools, universities, and workshops. His legendary work and talent for telling stories through lyrics and melodies has connected the globe, inspiring millions through the gift of music."
It's so nice to see such an amazing man like Richard M. Sherman get recognized for such an incredible career. The Sherman Brothers' gifts to us thankfully will live on long in the Disney Parks for generations to come!
Your Thoughts:
I want to know what you think about Richard M. Sherman being Inducted into the IAAPA Hall of Fame Do you think he was worthy of induction? Who is your favorite Disney legend? Let us know in the comments section below!
If you enjoyed this article, as always I appreciate it if you'd share it with others via social media. I work hard at making this website into a useful resource for you and your family to plan your visit to Walt Disney World, and I hope it can help you! Thanks 🙂
News Source: Disney Parks Blog