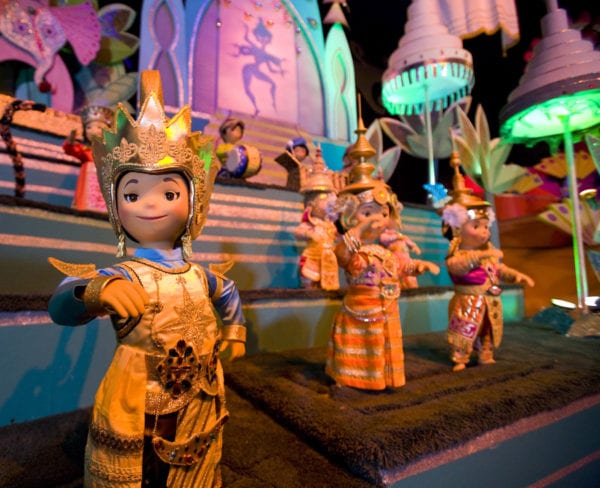 According to the Orlando Sentinel, Disney has filed for a new patent which will make the audio-animatronics on our favorite attractions more realistic, improving the guest experience on the attractions. This Disney Animatronics Patent will let the animatronics be able to sense which seat guests are in, how many there are, which will allow them to interact more directly with guests. One method of this is that they will be better synced up with the music, meaning their mouths and other actions will flow more naturally and realistically.
WDWInfo.com has most likely found the name of this patent, which is called: "System for controlling robotic characters to enhance photographic results." Disney of course introduced the world to their audio-animatronics (AA) system, and it's a trademark of many of their park attractions throughout the world. Even though they are the leader in this technology, that doesn't mean there isn't room for improvement. Many of the older AA's could really use some sprucing up, in order to really draw guests into a more interactive experience.
The Audio-Animatronics at Disney are one of the reasons that makes it such a special place, but imagine not only the AA's have their mouths synced better to the music, but when you are riding on an attraction they look directly at you, wave at you, etc because they know where you are on the ride! It would make the attractions even more incredible. This technology on rides like: Pirates of the Caribbean, It's a Small World, Jungle Cruise would make us love them even more than before. What attractions would you like to see this technology on?
I'm so excited about this technology and I can't wait to hear more. Stay tuned for more updates as they come!
Your Thoughts:
I want to know what you think about this Disney Animatronics Patent. Do you think the Disney Audio-Animatronics need improving? Which attractions would you like to see utilize this technology? Let us know in the comments section below! 🙂
If you enjoyed this article, as always I appreciate it if you'd share it with others via social media. I work hard at making this website into a useful resource for you and your family to plan your visit to Walt Disney World, and I hope it can help you! Thanks 🙂
Photo Credit: Disney Parks Blog