It was an action packed Live Action Films Panel this morning at the D23 Expo where New or First looks were given to tons of new film by Walt Disney Studios, Marvel or Lucasfilm. Here's a rundown of what we heard during the session.
Alan Horn took the stage to lead off showing a great hype trailer for the Disney Live Action Films that have been done in the past few years. And he made sure to mention that Disney had the Top 5 grossing films of 2016 and is in great shape again this year.
We saw a board with the upcoming slate of Disney Films on it: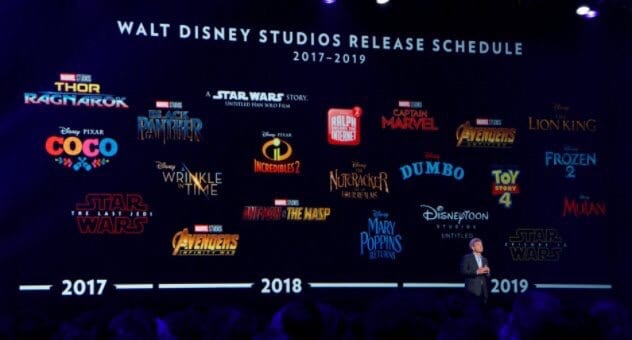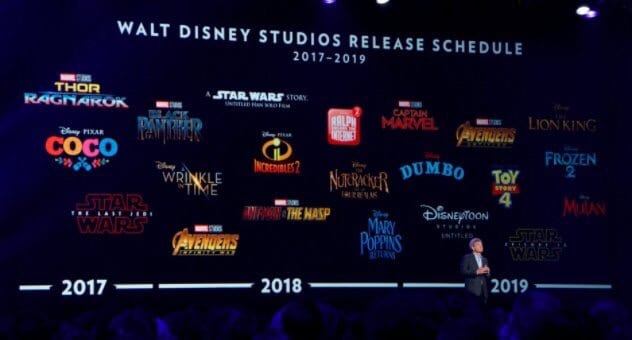 Sean Bailey, Head of Production came out and started out talking about A Wrinkle in Time, which is coming out March 9, 2018. We got a new Poster and also a really cool teaser trailer showing the amazing journey they go on. I wasn't too familiar with the story but I have to say I was very intrigued.
The #WrinkleInTime trailer is what sweet dreams are made of.https://t.co/D5G6H8yPoB

— Twitter Moments (@TwitterMoments) July 15, 2017
He then showed us more footage about The Nutcracker and the Four Realms, coming Nov 2, 2018. The visuals on this were incredible! We then were treated to a special dance but the talented Lil' Buck to the Nutcracker music who was flipping and contorting his body all over to the rhythm…really cool.
The Mary Poppins Returns part was next and one of my absolute favorite parts. It's a sequel to the original Mary Poppins and picks up 20 years after the story with the country in the middle of a depression and the Banks family running on hard times. We saw an incredible composition of teaser trailer from the film with music from the film being played at the same time by the Disney Orchestra…really Special. I have a great feeling about this film as Director Rob Marshall said they are keeping inline with the original, respecting how important of a film it is.
One of the coolest parts during the Mary Poppins Returns part was when they showed a table from the original being used that was on loan from Club 33 in Disneyland! And seeing Dick Van Dyke dancing on a table was incredible!!
Emily Blunt is Mary Poppins in the upcoming sequel, #MaryPoppinsReturns. The brand new film opens in theatres December 2018. #D23Expo pic.twitter.com/egxozrpRbr

— Walt Disney Studios (@DisneyStudios) July 15, 2017
They talked a bit more about a few more Disney Studios films: Mulan is in fact in production and is coming in 2019. They also confirmed The Jungle Cruise film with The Rock and the new Aladdin film being directed by Guy Ritchie. It's going to have Mena Massoud as Aladdin, Naomi Scott as Jasmine and Genie being played by Will Smith as was previously rumored. We also got a little teaser from Director Tim Burton who is now currently working on Dumbo, which has a March 29, 2019 release date planned.
The one that gave me the most chills was The Lion King though. In the teaser trailer we saw the scene from the beginning of the original when Simba is pronounced the heir to the throne. Rafiki takes some red dust and spreads it on Simba's face which was amazingly cute. The whole thing really sent chills down my spine and I can't wait to see more.
We made it to the Lucasfilm and was a little disappointed to know that there still isn't a title for the stand alone Han Solo film, a little worried about this one. We found out that Luke actually speaks in The Last Jedi!! Hahahaha. Director Rian Johnson came out to talk about the film and said they are in post production and the film is in good shape. Dailey Ridley, John Boyega, Gwendoline Christie, Kelly Marie Tran, Laura Dern, Benicio del Toro, and of course Mark Hamill came out to answer questions. The interesting thing was when Mark Hamill said the movie really surprised him and there were so many unexpected elements and it's a real game changer. The Last Jedi comes out Dec 15, 2017.
Go behind the scenes of Star Wars: #TheLastJedi. In theaters December 15. pic.twitter.com/5hFtptIrmJ

— Star Wars (@starwars) July 15, 2017
Lastly the panel was the Marvel Studios one which thad the most energy of them all. They showed how in 10 years Marvel has made 16 movies and earned $12 Billion. At one point they had basically the whole Marvel Universe on stage at the same time and the crowd was going crazy. Really great moment! They told us they are at the half point mark for Avengers Infinity War and we actually got to see the trailer. It's going to blow you away and it looks like there are many surprises in store. Expect it in May 2018.
That's all from the Live Action Panel, now heading into Parks and Resorts where we should have an amazing amount of announcements to look forward to. Stay tuned!
Check out all our D23 Expo coverage our D23 Expo 2017 Announcements Page and also our D23 Expo 2017 Blog
Your Thoughts:
I want to know what you think about the Xxxxxxxxxxxxx Let us know in the comments section below!
If you enjoyed this article, as always I appreciate it if you'd share it with others via social media. I work hard at making this website into a useful resource for you and your family to plan your visit to Walt Disney World, and I hope it can help you! Thanks 🙂