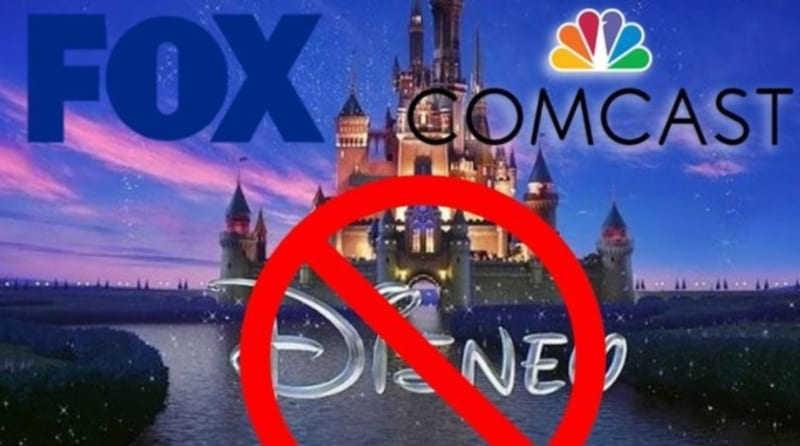 Probably the biggest news over the last 6 months has been the acquisition of Fox by Disney as it will shape the future of The Walt Disney Company for decades to come. But hang on, it's not a done deal yet. According to Reuters, Comcast is tiring to buy Fox before Disney can finish the deal by making an all-cash offer.
UPDATED – 5/23/18: According to fortune.com, Comcast has confirmed it's intentions to make an all-cash offer to outbid Disney for the 21 Century Fox assets. They are supposedly in "advanced stages of preparing an offer." They are currently talking to banks about obtaining the necessary funds to make the deal. "Any offer for Fox would be all-cash and at a premium to the value of the current all-share offer from Disney." Guesses are the right now it would be roughly $60 Billion.
One of the crucial deciding points will be whether or not the $85 Billion acquisition of Time Warner by AT&T goes through. A judge is going to make a ruling on June 12, and if so Comcast is almost assuredly going to go forward with their offer. At that point the gloves are going to come off and it's war!
ORIGINAL STORY: Three different sources told Reuters this yesterday and even though The Walt Disney Company is set to buy Fox for $52 billion, an all-cash offer of up to $60 billion by Comcast could top it. This has been speculated before, but now it seems that Comcast is serious about trying to mess this up for Disney. The only holdup is the potential $85 billion acquisition of Time Warner by AT&T Inc, which has hit a snag in the federal courts due to anti-trust concerns. Nothing is expected on that ruling until June, but if it goes through it will increase likelihood Comcast will make its offer.
Disney's acquisition of Fox was made with an all-stock transfer, and it's likely that Fox president Rupert Murdoch prefers stock to cash because this makes the transaction non-taxable for shareholders. Comcast has already made an offer to buy the remaining 61 percent of Sky TV that Fox doesn't own, and because of this already has a $30 billion bridge loan, indicating it could have what it takes to outbid Disney for Fox.
This would be devastating for Disney at this point seeing how hard they have been working to made the purchase of Fox happen, and how much they are relying on Fox's TV and Movies assets when they roll-out their new Disney Streaming Service next year to give users a vast choice of content. The deal was expected to go through by Summer 2019. Not to mention we are THIS CLOSE to having most of the Marvel characters all under one roof which would be incredible for the MCU films going forward.
It's unclear if Comcast (who owns Universal Studios btw) is genuinely interested or just calling Disney's bluff in order to make them spend even more money for the same assets, making it more difficult for them financially going forward. There is certainly no love lost between these two companies. We'll keep you updated as this story develops…
Your Thoughts:
I want to know what you think about Comcast outbidding Disney for Fox.
What do you want to happen?
Should Disney outbid Comcast even more?
Let us know in the comments section below!
If you enjoyed this article, as always I appreciate it if you'd share it with others via social media. I work hard at making this website into a useful resource for you and your family to plan your visit to the Disney Parks and I hope it can help you! Thanks 🙂
News Source: Reuters