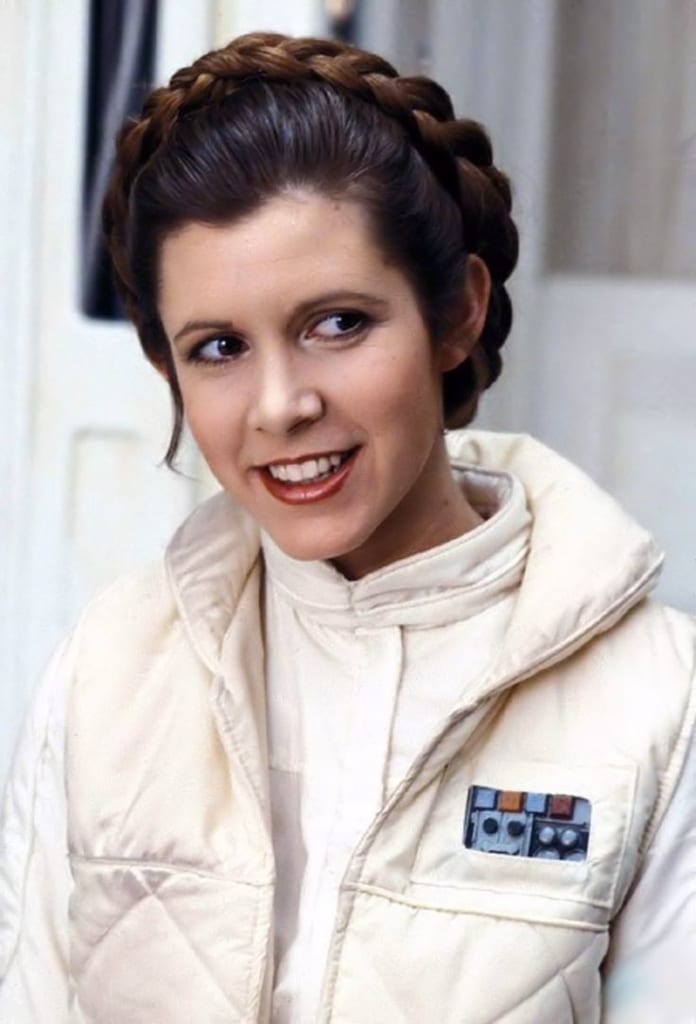 Since the sudden death of Carrie Fisher last December, fans of Star Wars have been wondering what will be the fate of her character Princess Leia in the upcoming films Episode 8 and 9. Episode 8 shouldn't be a problem because Fisher had already completed filming all her scenes before her death, so her role in that film will remain intact. It's more the question of Episode 9, which she supposedly was going to play an even bigger role in the plot, that remains in question.
According to the New York Daily News, it's confirmed that Carrie Fisher will indeed be in Episode 9 after all. The story says that Fisher's family has given Disney the permission to put her into the film to finish off the series. Even though the filming for Episode 9 hasn't yet begun, Disney has footage already of Fisher from Episode 8 that it can use instead. Carrie's brother Todd Fisher and her daughter Billie Lourd thought it would be the best thing to honor her memory:
"Both of us were like, 'Yes, how do you take her out of it?' And the answer is you don't," said Fisher, "She's as much a part of it as anything and I think her presence now is even more powerful than it was, like Obi Wan — when the saber cuts him down he becomes more powerful. I feel like that's what's happened with Carrie. I think the legacy should continue."
Viewers of Rogue One immediately will think: "they used CGI on her in that movie, why can't they do it in future Star Wars films?" At first glance that might seem to make sense, but Disney has already stated that it won't be using CGI in the future to represent Fisher. Also there was a lot of backlash from fans over the CGI recreations of both Leia and Tarken in Rogue One so it's unsure what the public response would be to such a move. So as for now they'll just be using the already taken shots they have.
It's unsure however how big a role she will play in Episode 9 and how Disney will decide to close her story. It's unlikely they will have her killed off on-screen, but off-screen perhaps? Will they just have her ride off into the sunset? Will a major part of the plot now have to be changed because of her absence? These are questions we will have to wait to find out about. At least though we will get to see our favorite galactic princess 2 more times, and she will get a send-off worthy of her great legacy!
Your next chance to see Carrie Fisher will be in Star Wars: The Last Jedi, December 15th, 2017.
Your Thoughts:
I want to know what you think about the fact that Carrie Fisher Will Appear in Star Wars Episode 9. Do you think it's right to include her in the film? How would you like to see her story concluded? Let us know in the comments section below!
If you enjoyed this article, as always I appreciate it if you'd share it with others via social media. I work hard at making this website into a useful resource for you and your family to plan your visit to Walt Disney World, and I hope it can help you! Thanks 🙂