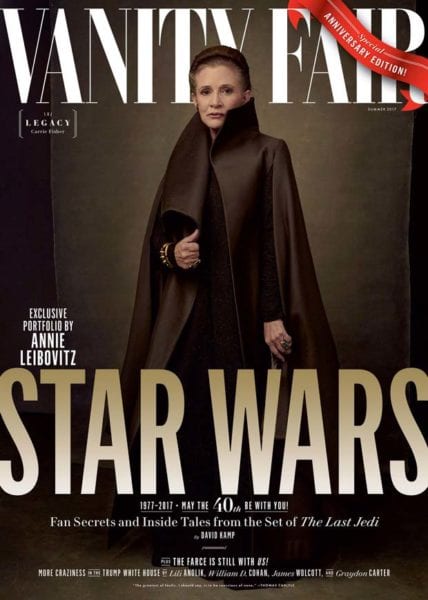 After the death of our beloved Princess Leia in December last year, fans have been clamoring for more of her. A lot has been talked about how big of a role she will have in The Last Jedi, and that she won't be making Episode 9. So it was great to see Carrie Fisher on the Vanity Fair Star Wars issue cover this week.
The General Leia Organa cover is just one of 4 unique covers for the Vanity Fair Star Wars Issue which celebrates the franchise's 40th anniversary as well as gives a sneak peak into The Last Jedi with some great interviews from Director Rian Johnson, as well as other The Last Jedi cast members.
Here's a look at the other 3 covers. This one has Luke and Rey: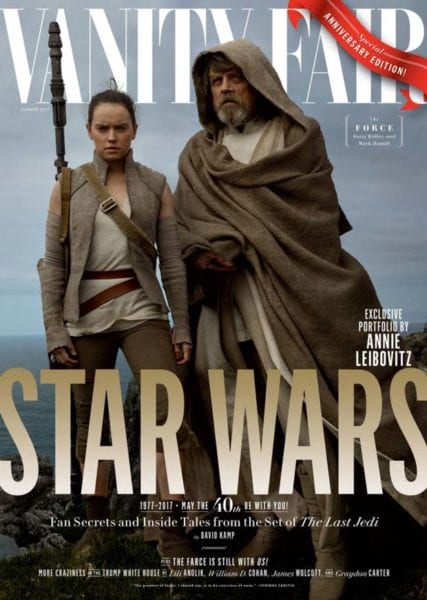 This one shows our favorite Resistance fighters: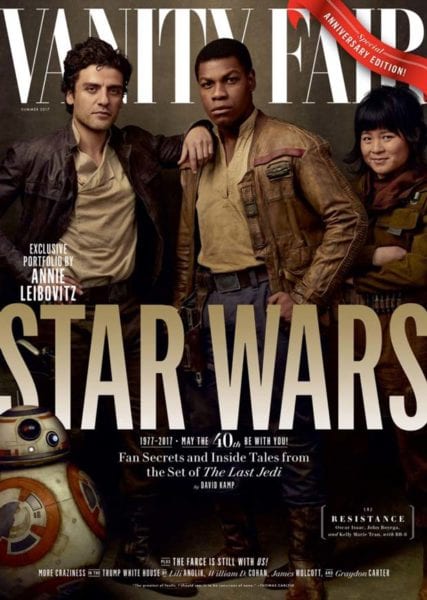 And lastly wannabe Sith Kylo Ren with his First Order crew: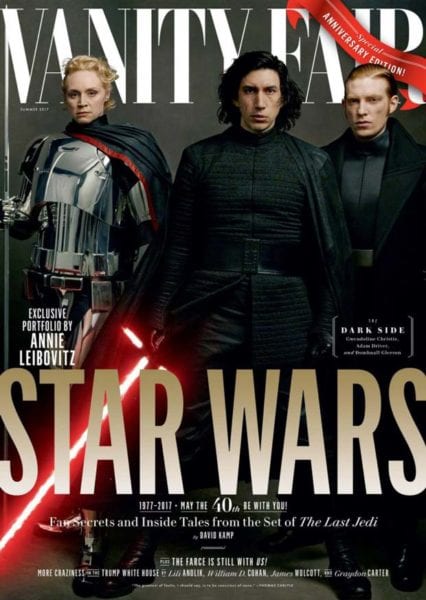 The cover photos as well as some more amazing ones inside the article were shot my legendary Star Wars photographer Annie Leibovitz who has been with the films ever since Empire Strikes Back in 1980, and who has done all the shoot from The Phantom Menace down through The Force Awakens.
Here are a few more of the awesome shots she did: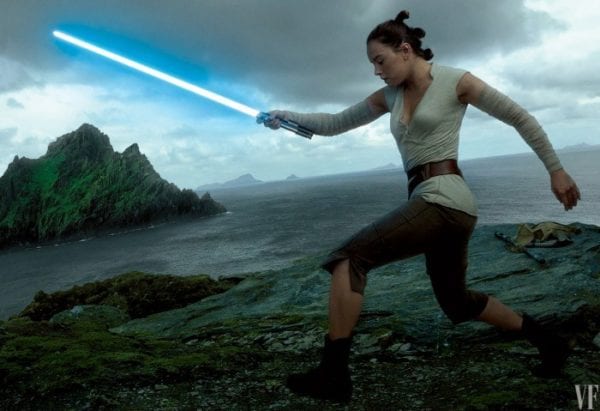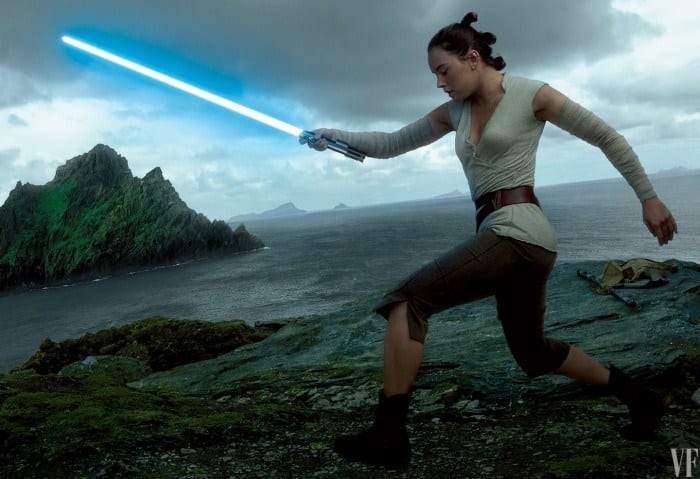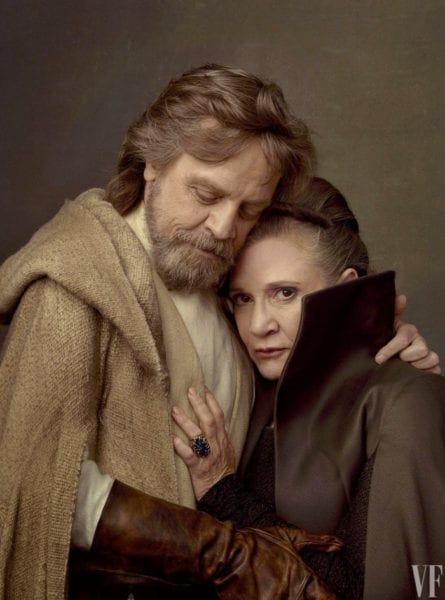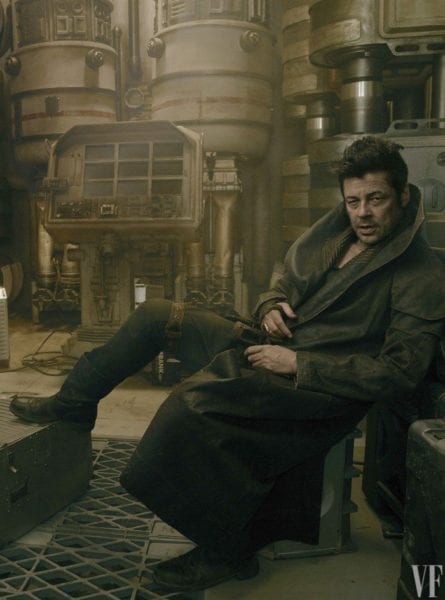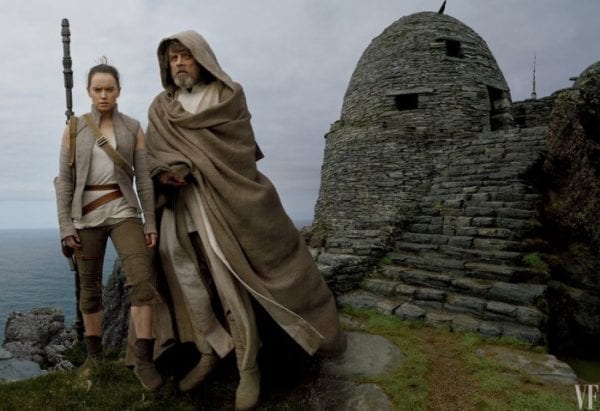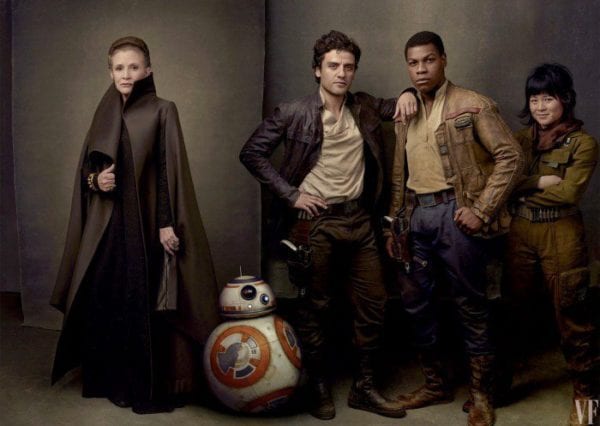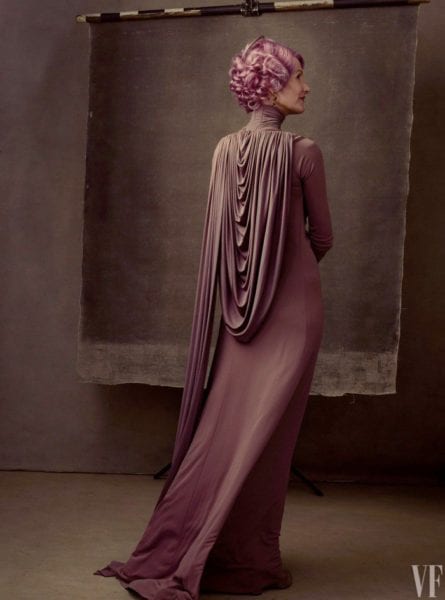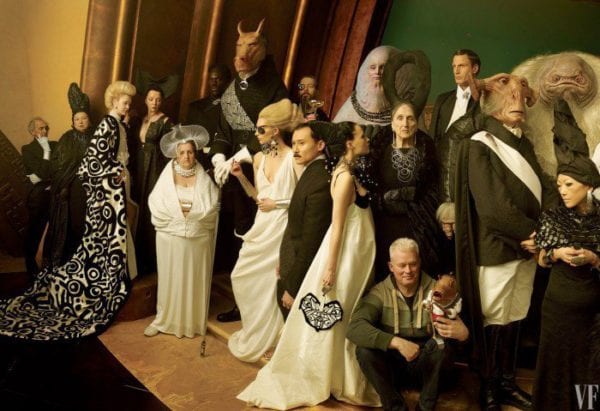 A few things we learned from the Vanity Fair Star Wars Issue:
Our characters are going to face some hard times in The Last Jedi
The Lucasfilm story group gave Rian Johnson tremendous freedom in creating the story for The Last Jedi
Luke Skywalker hasn't been living alone on the island, he's been "among an indigenous race of caretaker creatures." But we were promised no Ewoks though
We got our first look at new characters
(played by Lauren Dern) and Benicio del Toro's currently unnamed character.
Poe does something that gets Leia pretty upset
Finn and Poe have a mission to the Casino: Canto Bight. If you thought Mos Eisley was full of space-scum, then wait till you see Canto Bight!
It was hard for Mark Hamill getting up to Skellig Michael. While the rest of the crew had 45 minutes, it took him 1 1/2 hours!
What did you think?
Your Thoughts:
I want to know what you think about Carrie Fisher on the Vanity Fair Star Wars issue and the other info. Which of the 4 is your favorite cover? What did you think of the article itself? Let us know in the comments section below!
If you enjoyed this article, as always I appreciate it if you'd share it with others via social media. I work hard at making this website into a useful resource for you and your family to plan your visit to Walt Disney World, and I hope it can help you! Thanks 🙂
Photo Credit: Vanity Fair