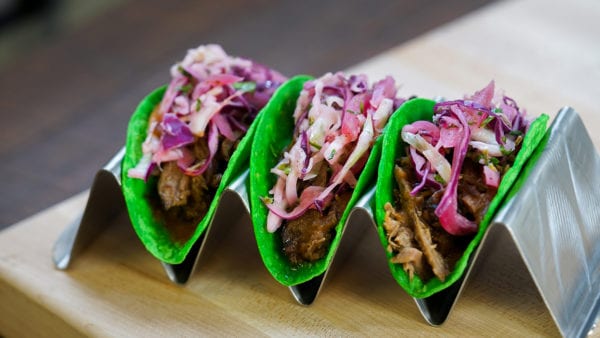 There's a lot to be excited about right now at Disney's California Adventure, including the opening of the new Guardians of the Galaxy Mission: BREAKOUT! attraction yesterday. It's all part of Disney's Summer of Heroes event which kicks off tomorrow, May 27th. Always included in having fun at the parks is Food, and now we have some more info on the Summer of Heroes food that will be available when you make your trip to California Adventure.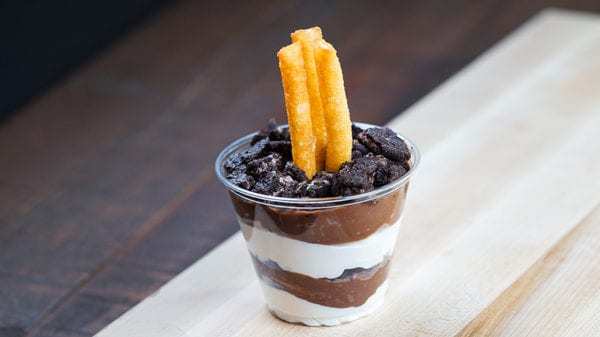 Award Wieners
Quiver of Funnel Cake Fries with mango and raspberry coulis and whipped cream
Angry Little Pudding Cup with chocolate pudding, chocolate sandwich cookies, whipped cream and funnel cake fries
Schmoozies
Doughnuts (a rotating menu offered until 11 a.m.)

Gamma-Sized Doughnut – Filled with blackberry and black currant
The All-American Doughnut – Filled with apple and streusel topping
Spider Bite – A cinnamon-spiced doughnut
Local Favorite – A maple-bacon filled doughnut with maple cream

Smoothies

Terra-Berry
Rocket Fuel (mocha)
Mango Mayhem
Strawberry Banana Breakout
Infinity-Ade (lavender lemonade) with a glow cube
Friendly Neighborhood Macaron – A vanilla ice cream-filled macaron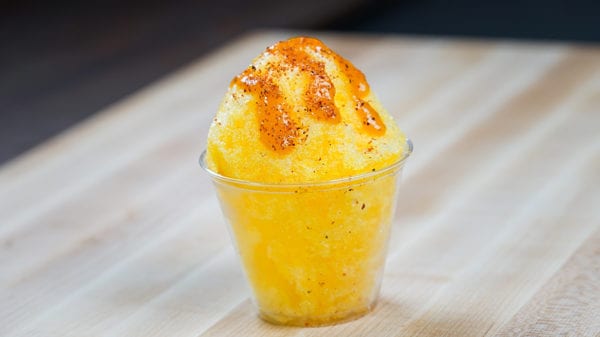 Bifrosties (shave ice)
Spinal Fluid – Banana, mango coulis and chili-lime spice
Spider Venom – Blue raspberry and cherry with condensed milk
Smash Ice – Lime and grape
Whistle Blue – Lime, blue raspberry and blue sugar
I am Shave Ice – Root beer and vanilla
Ice Reactor – Strawberry and banana
Option to add a scoop of vanilla ice cream to any shave ice
Cosmic Canteen
Cosmic Cocktails

Be Brave, Be Blue (UV Blue Raspberry Bombsicle)
Singulari-Tea (Rum Island Ice Tea)
Lemon Lightning (Titan IPA and lemonade)
Blasted Lemonades (Vodka with choice of lemonade)

Breakout Beverages

Krylorian Koolers – Non-alcoholic strawberry or watermelon lemonade
Assorted Coca-Cola® beverages

Battle Brews
Nectars (wine)
Jalapeño-Cheese Groot-Shaped Bread
Studio Catering Co.
Super Hero Sized Sub – Peppered salami, Capocollo, Mortadela, Provolone Cheese, lettuce, tomato, pepperoncini and pickled onion on a hoagie roll, topped with red wine vinaigrette*
Promising Future Falafel Pita – Chickpea fritters with pickled red cabbage, yellow bell peppers and charmoula sauce*
Savory Strength Falafel Pita – Chickpea Fritters with spinach, cucumber mint slaw and spiced yogurt sauce*
The Milano – Fanta® orange freeze with blue cream
Cherry Necroblaster – Cherry Coca-Cola® Freeze
Multiverse Parfait – Chocolate cake layered with white and dark chocolate mousse and cherry jelly, topped with chocolate ganache
Fairfax Market
Sourdough Groot-Shaped Bread
Novelty Items
Groot Sipper – Available at Award Wieners, Studio Catering Co., Smokejumpers Grill and "a bug's land" cart
Spider Man Straw – Available at Award Wieners, Bifrosties and Studio Catering Co.
Guardians of the Galaxy: Mission – BREAKOUT! Popcorn Bucket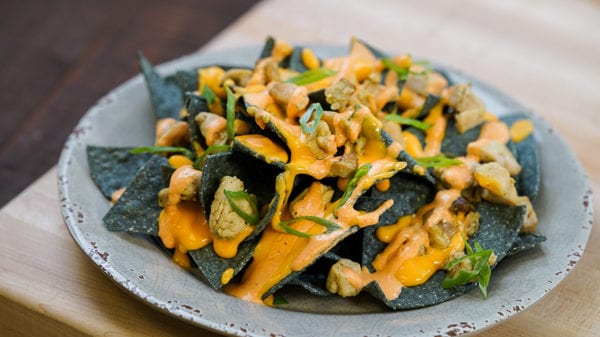 Knowhere Eats**
The Most Dangerous Tacos in the Galaxy – Barbacoa beef tacos with green onion slaw, purple cabbage, pickled onions, habanero salsa and green tortillas (vegetarian version also available)
Obviously Nachos – Fried blue corn tortillas with red pepper cheese sauce, mojo-marinated chicken, chipotle crèma and green onions (vegetarian version also available)
Space Outpost Tacos – Chicken street tacos with chopped cilantro and onions (vegetarian version also available)
Mythic Michaelada
Sol-Horchata
Hot Flare Margarita (jalapeño)
Solar Flare Margarita (watermelon)
* These items will be served at Cosmic Canteen until June 6.
** Knowhere Eats will open on June 6, and these offerings can be found at Studio Catering Co. and Cosmic Canteen until that date.
Everything looks so delicious, I love the idea. You don't have to convince me to go, anytime Disney puts on a food event I'll take one for the team! 😉
Your Thoughts:
I want to know what you think about the Summer of Heroes Food menus. What looks the best to you? Are you planning on going to California Adventure during the Summer of Heroes event? Let us know in the comments section below!
If you enjoyed this article, as always I appreciate it if you'd share it with others via social media. I work hard at making this website into a useful resource for you and your family to plan your visit to Walt Disney World, and I hope it can help you! Thanks 🙂
Photo Credit: Disney Parks Blog