A perennial favorite of mine and I think just about everyone that visits Food and Wine is the Canada Booth! Why you ask? Well besides being in the great outdoors, Canada is home to two legendary Food and Wine dishes: The Canadian Cheddar Soup and the Filet Mignon with Truffle Butter Sauce. It's a right of passage if you will. If you come here without eating them I doubt they'll even let you back in next year…I'm half kidding I think. ?. Do they live up to their mythical status? I'm gonna tell you right now in my Canada Review: 2017 Epcot Food and Wine Festival….
Canada Booth:
Here's a look at the Canada Food and Wine booth which is totally different from last year when it was a stone cabin, now it's a log one:
What makes Canada one of my favorite World Showcase pavilions are the amazing gardens in the back near Le Cellier. Makes a perfect place to stroll and burn a calorie or 2 after going to town on the menu:
You can even take your food and listen to a show:
Or stick your head in this thing:
Canada Menu:
Literally the only thing that's changed on the menu since last year is they replaced the Moosehead Lager with a Moosehead Radler, and of course the standard 0.25 cents price increase. That's really a shame because I feel like that's been the trend throughout Food and Wine. Yes they do introduce new booths every year, but some of the menus remain totally the same like here! I understand keeping the soup and filet, because I'd be the first one leading the angry mob to riot if they got rid of them, but still does it hurt so much to add a third item to the list you can change every year?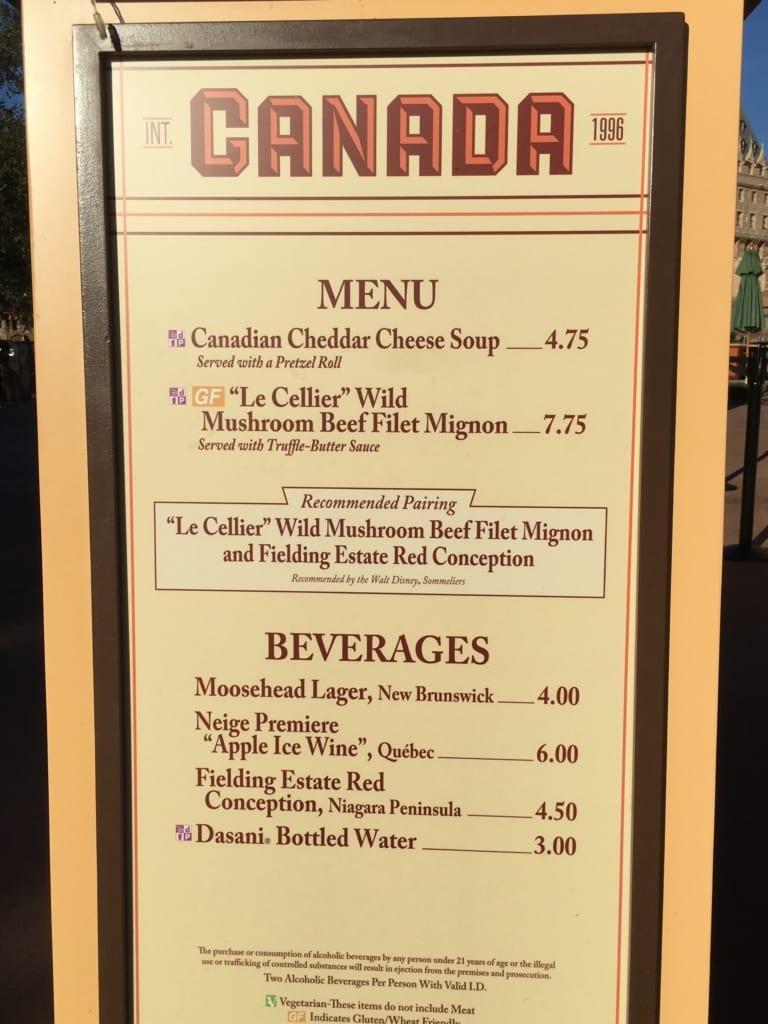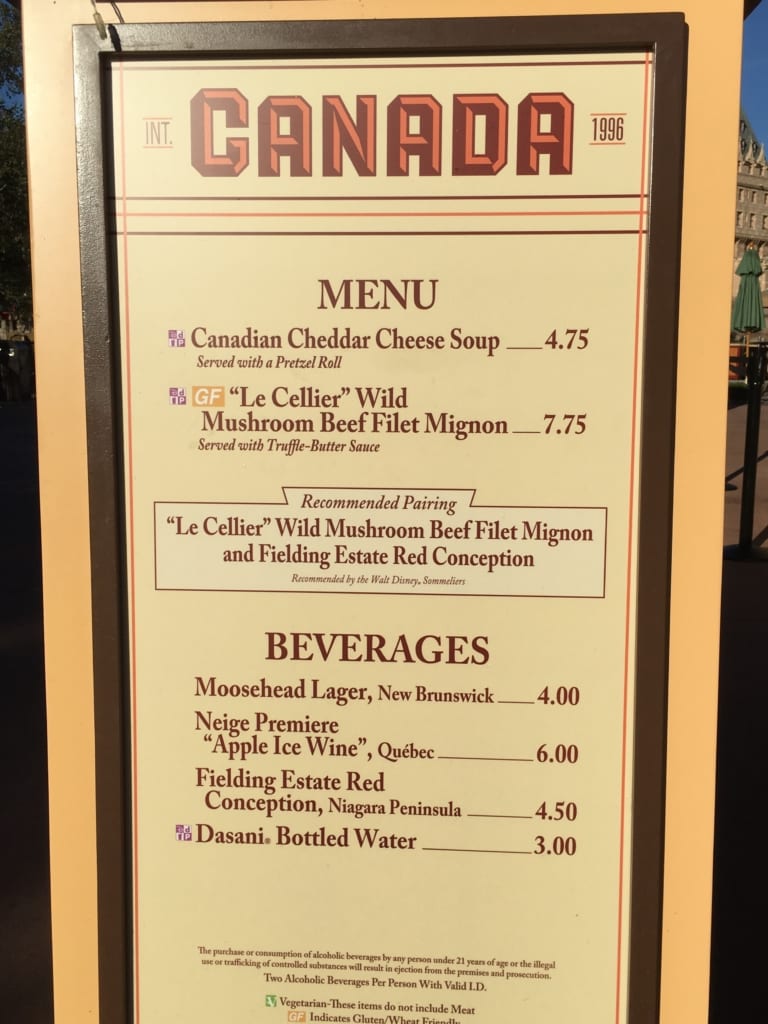 Food:
Canadian cheddar cheese soup served with a pretzel roll – $5.00, DDP Snack Credit *Ziggy Recommended

"Le Cellier" Wild Mushroom Beef Filet Mignon with Truffle-Butter Sauce (Gluten-Free) – $8.00, DDP Snack Credit *Ziggy Recommended

Beverages:
Moosehead Radler: Lager infused with Grapefruit, Grape and Lemon Juices – $4.00
Neige Premiere Apple Ice Wine, Québec – $6.00
Fielding Estate Red Conception, Niagara Peninsula – $7.00
Menu Review:
I'm really sure you are hanging on the edge of your seat wondering what I'm going to order here right? If you've already had the Canadian Cheddar Cheese Soup then there are no introductions needed. But just for the newcomers, this stuff is freakin awesome and is second to no other soup on WDW property, it's King for sure! Of course it was made famous at Le Cellier, but has been here at Food and Wine forever. The cheddar cheese is aged and adds a rich and creamy consistency to it and it's highlighted also by the beer used in the mixture. But it's not even just cheese, it also has a little bite to it as well which we always love.
The festival gives you a great chance to get it if you can't get into the always packed-out Le Cellier, and don't worry, it's just as mouth-watering as the Original. Heck, even if you are going to Le Cellier for dinner, get it here anyways as one bowl per trip is never enough!
I mean just the fact that it's 95 degrees out and I'm eating soup tells you that it's pretty good and you might want to give it a shot, I'm just saying! 😉
An absolute favorite and a Must Try on my list of Best Foods at Food and Wine!
After that we went to another old favorite, the Filet Mignon with Truffle Butter Sauce. Again we never get tired of this, ever. Remember when Le Cellier actually tried changing the filet to another sauce instead of the truffle butter?? hahaha, that was funny. There's no beating this steak. Now it is hit or miss at Food and Wine, because you aren't getting the same attention to detail here as you do Le Cellier because it's coming out in mass-production. But even still it's soooo worth it.
When it's on it's super tender and that sauce is mind-blowing. A good filet is great by itself, but this just adds a whole new level of complexity and richness to it that's incredible. A MUST GET as always!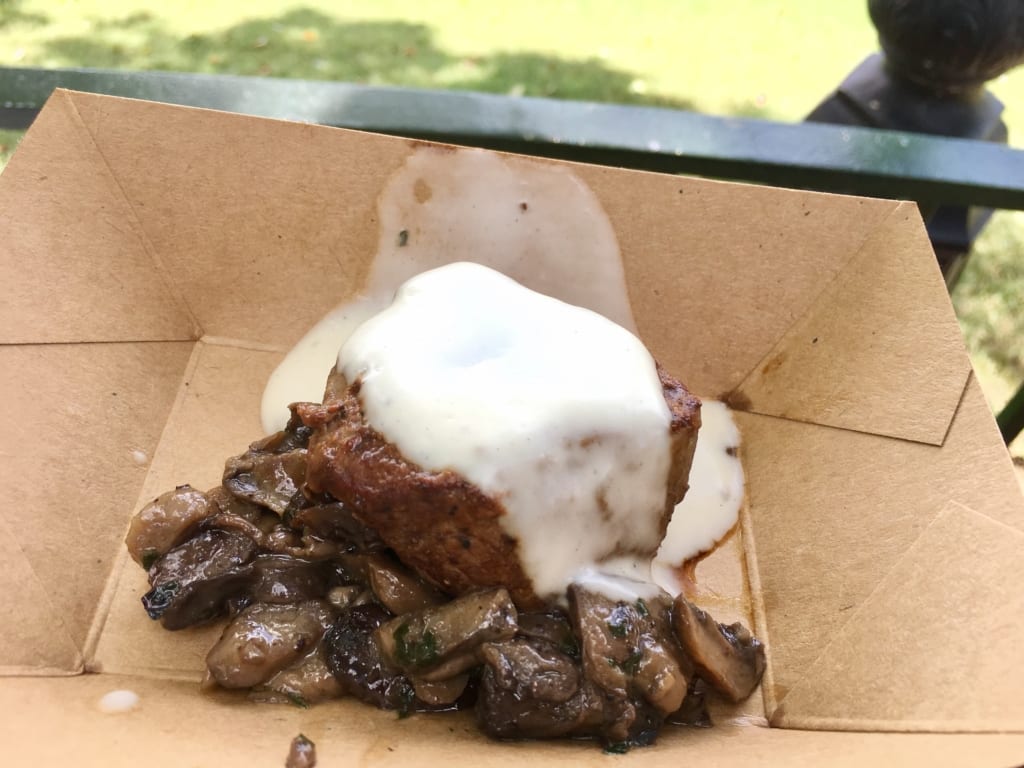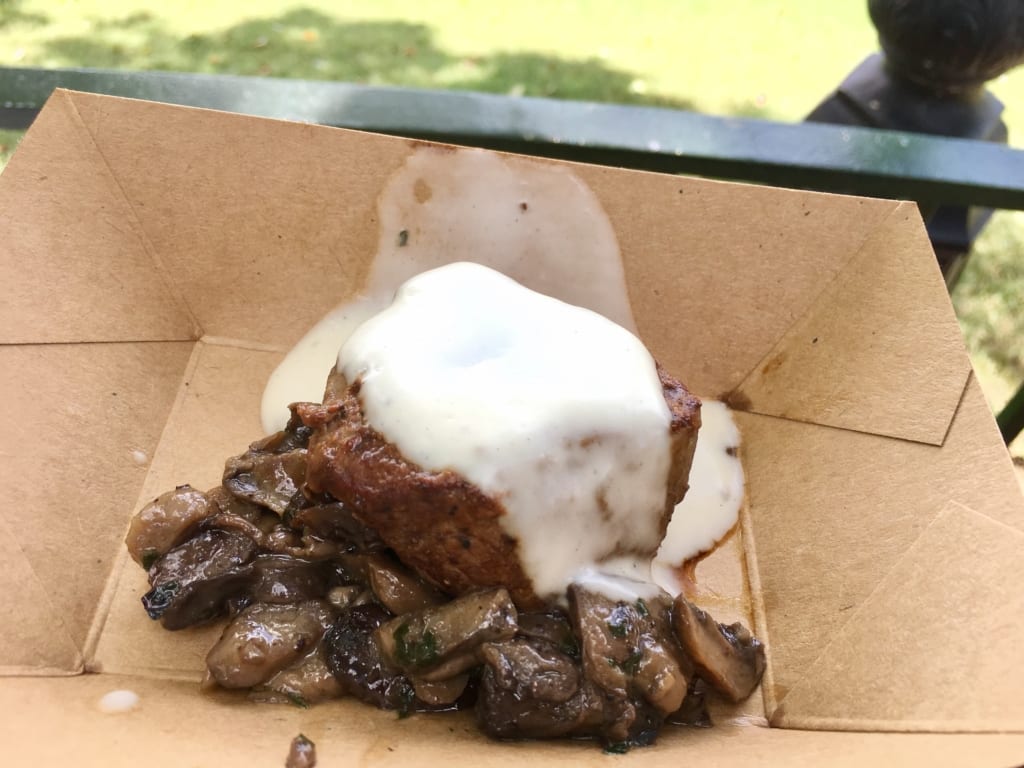 If you're thirsty, you can try the Neige Premiere Apple Ice Wine which is delicious, I got this one last year and loved it. It's served cold so it's really refreshing and it tastes like you just walked into a New England orchard in the Autumn, it's really good. Again though it's still small for the price, but I would almost just try it to see if you like it so you can then go home and look for a bigger and less expensive bottle of it. If you go to Le Cellier then you can also try it on the Wine Flight which is also a better value. It is amazing though!
Booth Summary and Grade:
Canada is as amazing as it always is. If you haven't tried either the Cheddar Cheese Soup or the Filet then Canada should be your very first stop on the list! It's also great for Food and Wine vets, if you aren't in a real adventurous mood, then you know you can come here and get the tried and true favorites you've loved for ages. I am docking them a little though for their lack of creativity and not adding anything from last year. I love what they have, but at least add a dessert or something different. Either way though I'll be spending lots of time here as it's one of my favorites of all time!
If you have to get just one thing:
Why Choose??
Get the Cheddar Cheese Soup AND The Filet Mignon 🙂
Grade:

8.5



Take a look at all of my 2017 Epcot Food and Wine articles. I have a 2017 Epcot Food and Wine Info Guide with a complete Index of the Food and Wine Menus, The Top NEW Items for 2017, Top Food and Wine Booths and more…I want you to be able to have the best info on the Festival so you have a great time and don't waste your time!
Your Thoughts:
I want to know what you think of my Canada Review 2017 Epcot Food and Wine Festival. How much do you love the Cheddar Cheese Soup and Filet Mignon?? If you had to choose which one would you go with? Let us know in the comments section below!
If you enjoyed this article, as always I appreciate it if you'd share it with others via social media. I work hard at making this website into a useful resource for you and your family to plan your visit to Walt Disney World, and I hope it can help you! Thanks 🙂