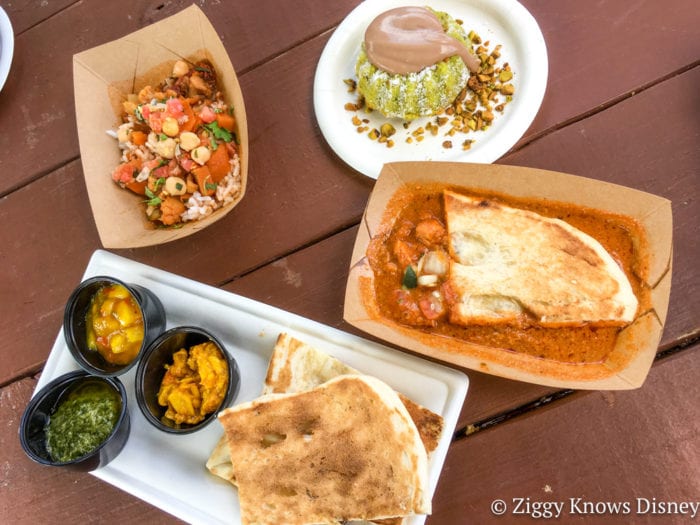 Who doesn't like the Fall? Orange and red leaves falling from the trees, that crisp autumn air, and oh yeah, Epcot Food and Wine Festival! You guys know what I'm talking about! So for many of you you've been numerous times throughout the years (is there really anyone left who hasn't been before??) and some of the items are staples, you know they'll always be there, I'm talking about stuff like the Beijing Roasted Duck in China, Canadian Cheddar Cheese Soup, or Pork Belly in Brazil. Now don't get me wrong those are amazing this year just like always, but What are the Best NEW Items from the 2017 Epcot Food and Wine Festival?
Don't worry, you're in good hands! I recently tried ALL 35 Epcot Food and Wine Kiosks and nearly every item at the festival so I could find the Best NEW items for you so you know exactly what to try and what not to waste your time with. In fact I have a whole Food and Wine Information page with Full Menus, Photos, and all the info you'll need to have a great time! So here is my Top 10 NEW Items from the 2017 Epcot Food and Wine Festival (FYI, don't ready this on an empty stomach!) ?
1. Smoked Corned Beef with Warm Crispy Potatoes – Flavors from Fire:
Why waste any time? Let's just start out with the big hitters right away! This is out of this world! Literally my whole family was raving about this stuff for days after we tried it. The portion was enormous, and it was super flavorful. The cheese sauce was a grana cheese which normally comes from Italy but this one was made in the USA, and super rich and creamy! The beef was real flavorful, and the crisps are just that, crispy! I think I've died and gone to heaven!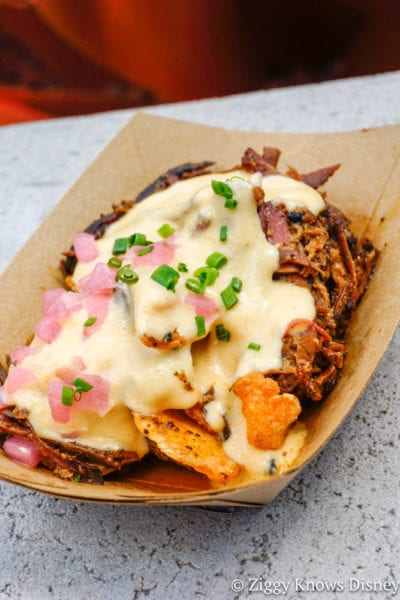 2. Teriyaki-glazed SPAM® Hash – Hawaii:
Ok, I'll admit that just the name "SPAM" didn't exactly get my mouth watering. I also am one to readily admit when I'm wrong, and boy was I wrong here! This stuff was AWESOME! We were fighting over the carton at the end for who got to lick up the remains. It wasn't anything like I'd expected SPAM to taste like. The Teriyaki flavor is everywhere, and the potatoes are cooked just right. That sauce just ties it all together amazingly too. A bit salty so not for the high-cholesterol conscious, but this was really, really special and I'd order it again in a heart-beat!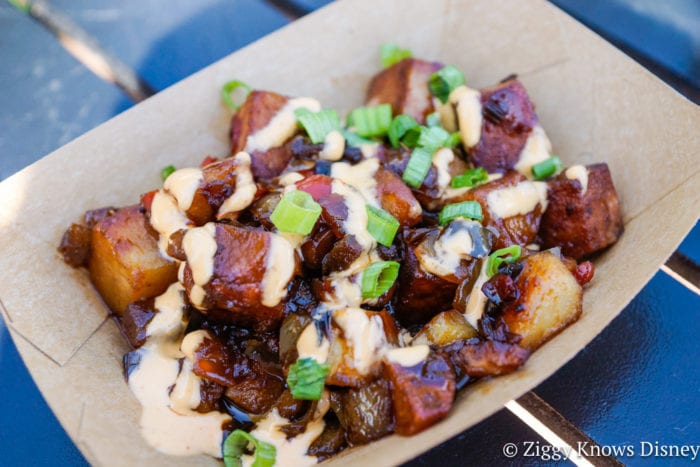 3. Seared Scallops – Coastal Eats:
Opposite of #2, whenever I hear the word: "Scallops" in a dish I go running straight for it, and this was one of the better scallop dishes I've ever had at Food and Wine, and my favorite for 2017! Not dry or spongy like scallops can sometimes be, really moist and tender, cooked perfectly! Also they give you a huge portion and this is absolute highway robbery for $6.00!! 3 decently-sized scallops for $6.00???? The side of Corn and Butterbean Succotash was a refreshing change and the and Chili-Chipotle Butter Sauce gave it a really nice flavor. Must try for sure!!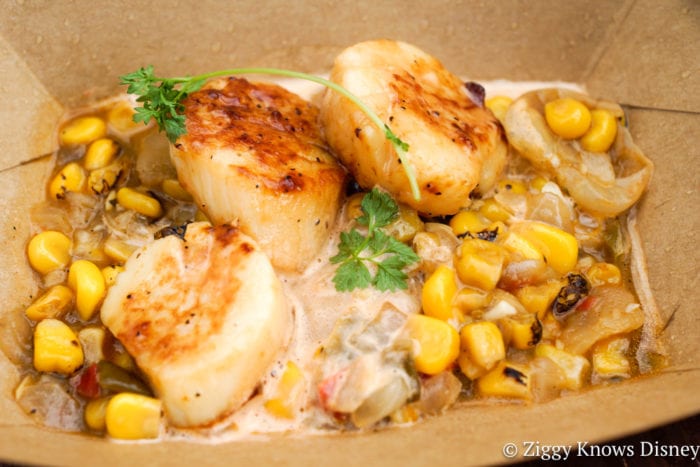 4. Schöfferhofer Hefeweizen Pomegranate Beer – Brewer's Collection:
If you go to a Food and Wine Kiosk and order the same thing practically everyday, then I think that means it belongs on your list of the top new items from the 2017 Epcot Food and Wine Festival! I LOVE this beer! And I don't really even like beer, but this stuff is so addictive that it's crazy! I love just grabbing one and strolling around with it in hand sipping it…It is so light and refreshing, again perfect for a hot day in Epcot. The pomegranate flavor you can actually taste in the beer, which happens to be my favorite fruit of all-time! Very similar to the Schöfferhofer Hefeweizen Grapefruit Beer that's available year-round in Epcot, and equally as addicting! Only $4.00, just wish they made a bigger one like the grapefruit version! Grab one or three and head around World Showcase for me!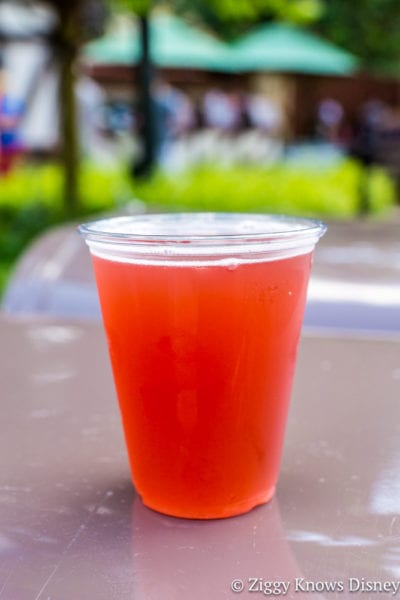 5. Braised Beef "Stroganoff" – Cheese Studio:
Back to the Cheese Studio for the Beef Stroganoff. Now this is a real plate! Where's the cheese you ask? Oh it's there, the Wild Mushrooms, Boursin Garlic and Fine Herbs Cheese Sauce is smothered all on top of that portion of beef and Tiny Egg Noodles. It's a huge portion and very hearty! The beef was super tender, just melted like butter in your mouth. Just sticks-to-the-inside-of-your-ribs good, and a great bargain for $5.00! You gotta try it!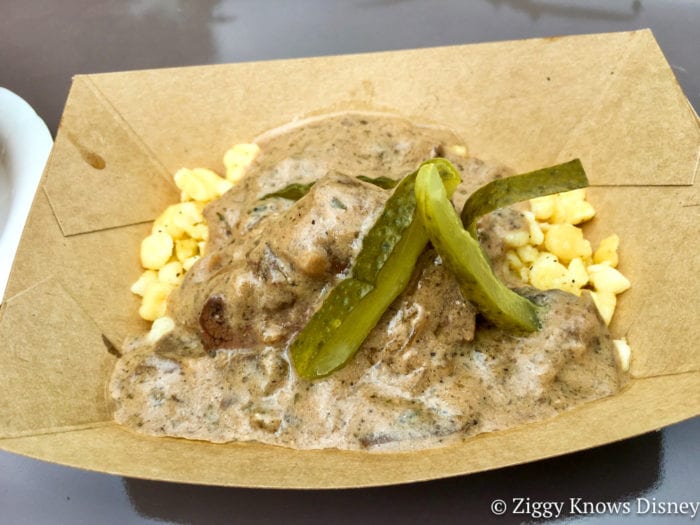 6. Baked Shrimp Scampi Dip with Sourdough Baguette – Coastal Eats:
If you like garlic then this should be your first stop at the 2017 Epcot Food and Wine Festival! If your friends and family don't like garlic then just warn them ahead of time! ??. I personally LOVED it as I'm a huge garlic fan as you can imagine! I loved the shrimp scampi inside and everything about it was a win for me. Even though we quickly ran out of baguettes that didn't stop us, I just grabbed a spoon and kept on going it was that good! Have to try it!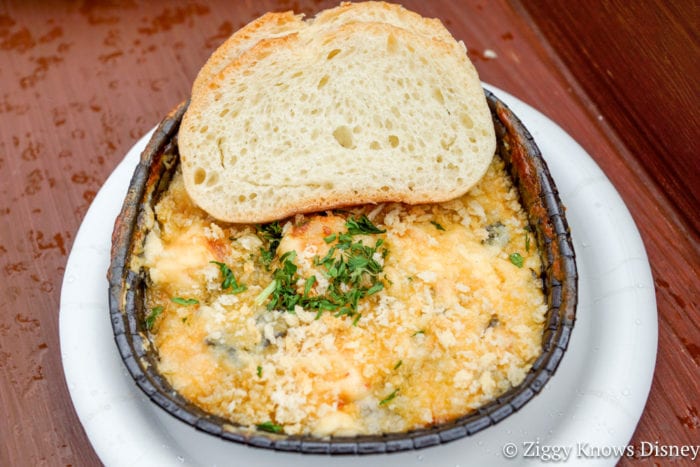 7. Teriyaki Ginger Pork – Japan:
I was a little skeptical about this one as I'm not a huge ginger-guy. I was pleasantly surprised because the ginger taste wasn't that strong or overpowering to me but more subtle. In fact I was licking my fingers after from the sauce I liked it so much! The pork itself was a decent sized piece and it was SUPER tender, just used a fork to take it off the bone and it fell right apart! Win!! Make your way over to Japan ASAP for this and thank me later 🙂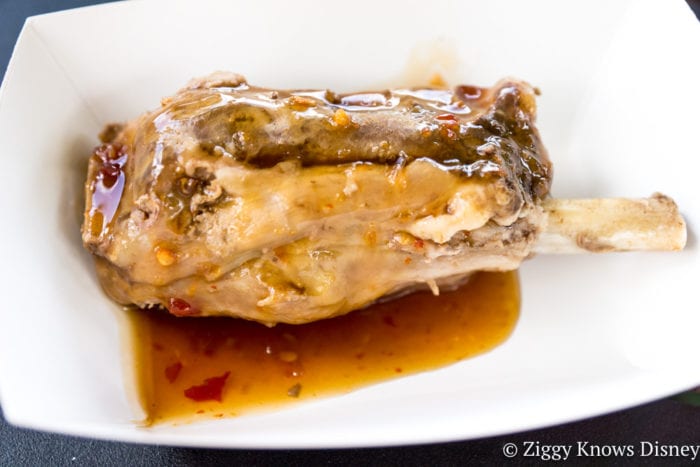 8. Bleu Spectrum: Blanc de Bleu Cuvée Mousseux with Boba Pearls – Light Lab:
The T=CC2: Vanilla Tonic Water and Cotton Candy gets more fanfare because of the unique presentation, but I thought the presentation here was outstanding too, plus it actually tasted better! The Blanc de Bleu is a premium California Chardonnay wine and has just a slight taste of blueberries and is quite delicate. I'm sure you normally would open it only for special occasions, or in my case just walking Future World! Just the colorful way it was layered had people starring in amazement. Then of course if you tell me there are Boba pearls in it you know I'm getting it, and these were great. I wasn't able to tell exactly what flavors were in there, seemed like some strawberry, green apple, passion fruit and more maybe. Idk but I was having a blast popping those babies down!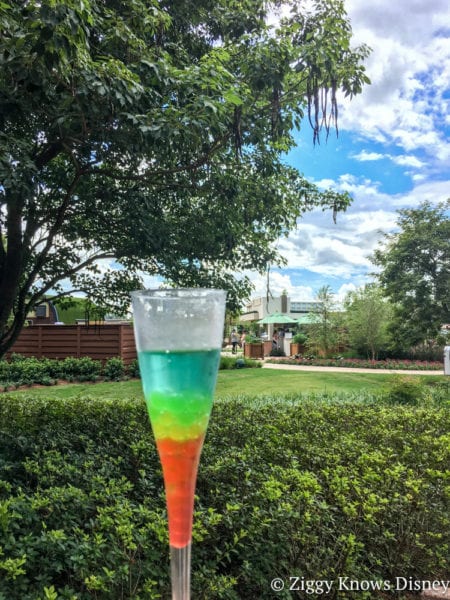 9. Seared Shrimp and Scallop Cake with Cold Noodle Salad – Thailand:
Having Thailand was a real treat this year, and this was my favorite offering from that kiosk. I told you before if I see scallops I'm going to get it and there's a really good probability it's going high on my list. This was no exception….the unique thing about this one was that it was a combo of both scallops and shrimp, minced up and seared on a cake. It was really great, full of fresh seafood flavor, also had a bit of a lemony zest to it which I loved. The noodles are a winner all-in-themselves as they taste really fresh and cooked perfectly. Just do it!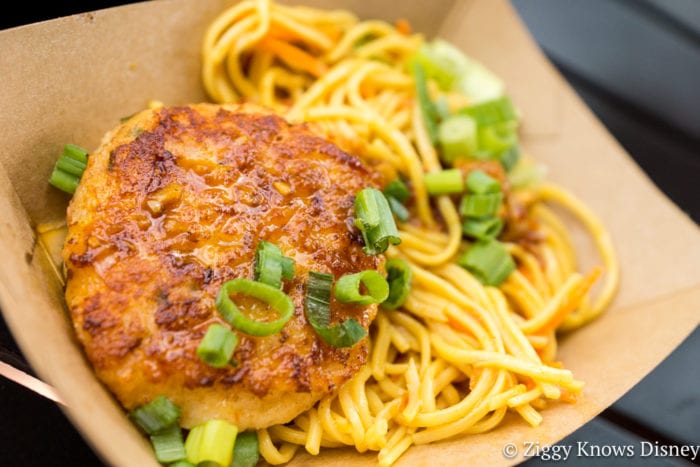 10. Seafood Salad – Spain:
This one I can't personally say was my favorite, but my wife loved it so much I had to include it. It's a light, cool and refreshing seafood salad, again perfect for the heat, and includes Shrimp, Bay Scallops, Octopus and Mussels. I'm not a huge octopus guy and I'm not into fresh olives either, which this is full of, but they are a very good quality and if you like them you are sure to love this. The other veggies inside are really good, the peppers, etc, and they are chopped very finely. This perfect for when you don't want something heavy, you just want a little snack and don't want to feel weighed down.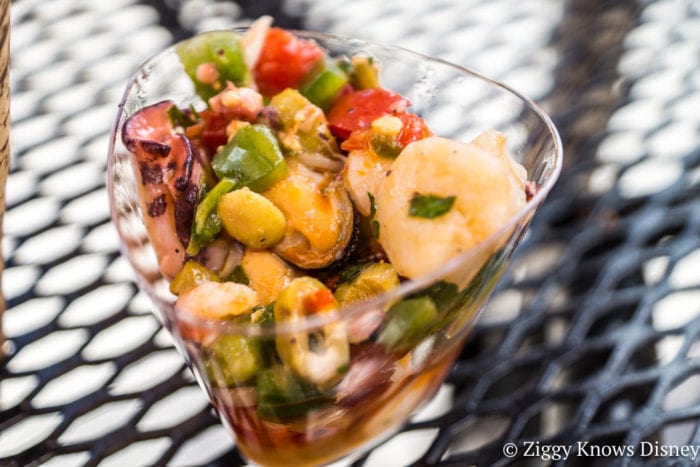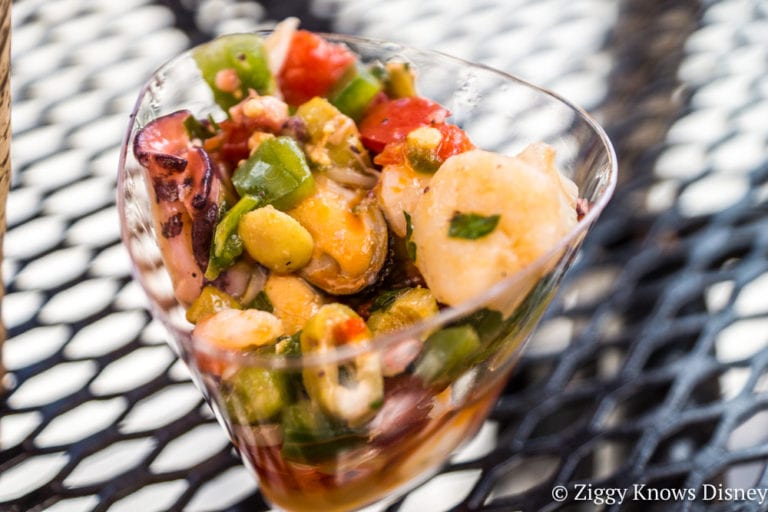 Bonus: Cheese Trio – Cheese Studio:
I know I said 10 items, but I just couldn't help myself, there were so many good things to try! The Cheese Trio makes it because it offers such a different and unique set of flavors from one thing to the next. Also, the nice thing about the Cheese Trio is it's light and not heavy like some dishes which can be a lot when the temps reach 90+. The Profiterole on the top has garlic, fine herbs cheese and an orange apricot jam, which was real smooth and I loved to contrast of the jam with the cheese.
In the middle was my wife's favorite which was a Smoked Salmon Pinwheel with Boursin Shallot and Chive Cheese and Everything Seasoning. This was INCREDIBLE!! The salmon wasn't too smokey but just right, then that creamy chive cheese …yummmm
Who doesn't love Macarons?? I just didn't know I loved them slathered with cheese! ?. This was Strawberry Macaroon with Boursin Pepper Cheese, and again contrasting strawberry and pepper flavors were amazing!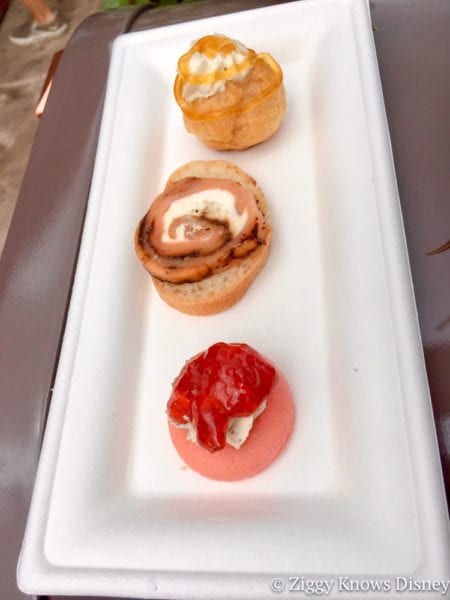 So there they are, the Best NEW Items from the 2017 Epcot Food and Wine Festival. There were a lot of other great ones that were close, so go around and explore for yourself and see what you like too!
This is the place to be for the 2017 Epcot Food and Wine Coverage, take a look at my Food and Wine Info Page with links to Food and Wine Tips and Tricks, Full Menus, Reviews on each Kiosk, Top 10 2017 Epcot Food and Wine Marketplaces, and The Best Items of the entire Food and Wine Festival. I want to make sure you have the best time possible during your visit and that you know exactly what to get! Stay tuned for more and have a great time!
Your Thoughts:
I want to know what you think are the Best NEW Items from the 2017 Epcot Food and Wine Festival. What was your favorite this year? What are you still looking forward to trying? Let us know in the comments section below!
If you enjoyed this article, as always I appreciate it if you'd share it with others via social media. I work hard at making this website into a useful resource for you and your family to plan your visit to Walt Disney World, and I hope it can help you! Thanks 🙂