2017 has already come and gone, and there were many huge and impactful stories that we experienced. But as much as we appreciate the past, it's now time to move on to the future and 2018, and boy are there a lot of great things coming. New attractions, movies, etc are all things we absolutely can't wait for next year.
So we created a list of 7 Disney Things we're most looking forward to in 2018. The list is in no particular order, so let's jump right in:
Toy Story Land Opening in Hollywood Studios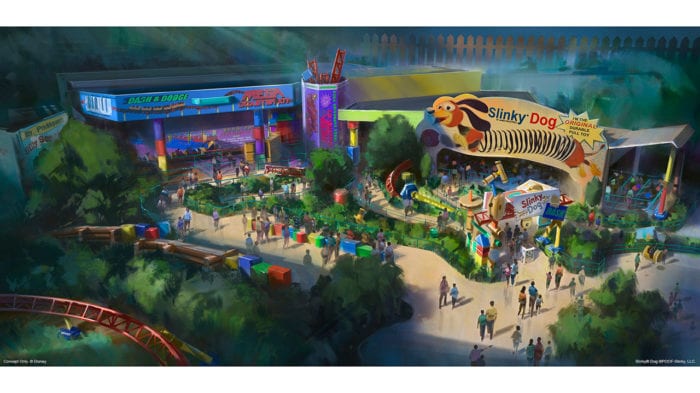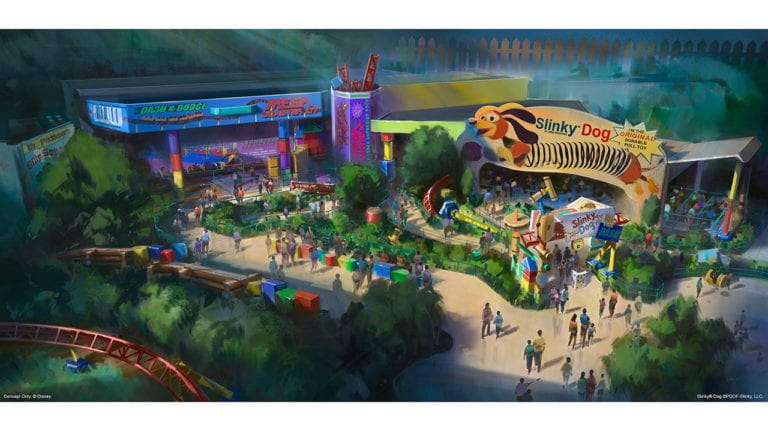 Ok so let's get the most obvious one out of the way, Toy Story Land is coming! We love new attractions, and new lands, and I'm super excited to see one based around one of my favorite animated franchises, Toy Story. This year we got a more detailed look into the 11-acre Toy Story Land with new concept art and a full-size model on display to see at Disney's Hollywood Studios.
In Toy Story Land guests will be shrunk down to the size of toys and will explore Andy's backyard. The details are really cool with even Andy's footprints filling the walking paths throughout the land. It's going to have 2 new attractions to go along with the already existing Toy Story Midway Mania, which is now getting a new queue which you enter from inside the new land.
The Slinky Dog Dash Coaster is a "family" coaster with some great Toy Story theming included. Some are down on the fact it isn't a thrill coaster, but while it isn't like Rockin' Roller Coaster, it doesn't seem as tame as Goofy's Barnstormer either. It looks like a slightly more thrilling version of the Seven Dwarfs Mine Train imo. The other new attraction is Alien Swirling Saucers, which is similar to Mater's Junkyard Jamboree in Cars Land in Disney California Adventure. We also know that it's getting a quick service restaurant: Woody's Lunch Box, which I hope continues the trend over at Satu'li Canteen to offer some interesting takes on classic theme park fare.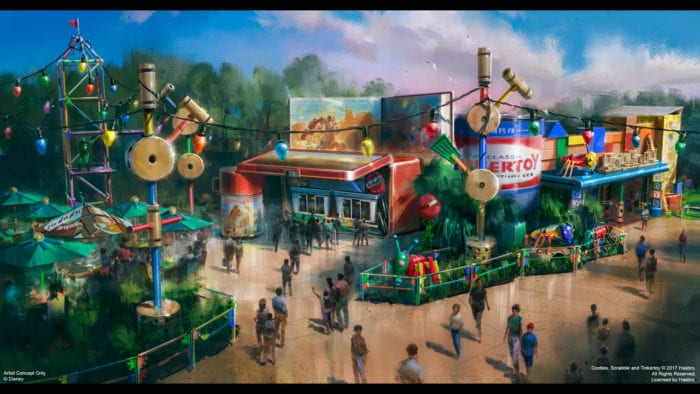 I think Toy Story Land is being slightly underrated because the majority of people are more excited for Star Wars Galaxy's Edge, and are going to be surprised at how fun Toy Story Land is. We still don't have an exact date for the Toy Story Land opening except Summer 2018, but I'd expect at least for Memorial Day Weekend, so I'm guessing Friday May 25th, 2018.
Epic Films all year long: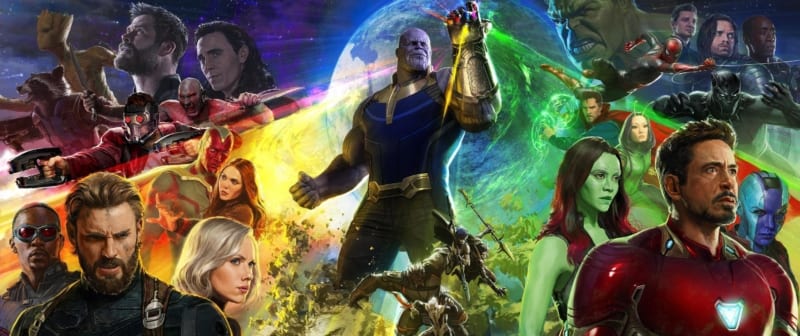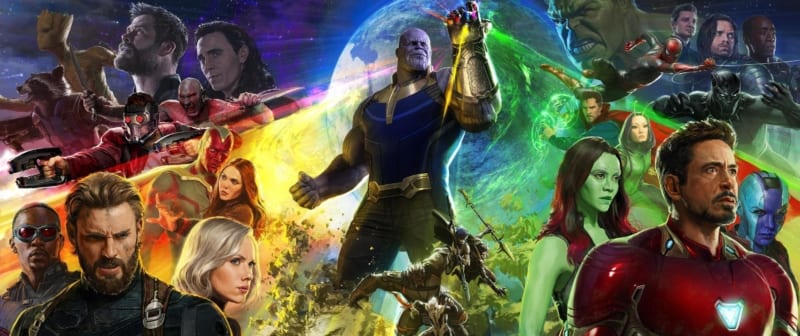 2017 was another strong year for Disney at the Box Office, with world-wide sales already having crossed the $6 Billion dollar mark. This year we had "Thor: Ragnarok", "Beauty and the Beast", "Guardians of the Galaxy Vol 2", and "The Last Jedi" all leading the way, and next year's lineup looks just as promising.
Just take a look at this mega-list:
A Wrinkle in Time
Solo: A Star Wars Story
Ant-Man and the Wasp
Mulan
The Nutcracker and the Four Realms
Mary Poppins Returns
I'll see all of them, but obviously the one I'm looking forward to the most is Avengers: Infinity War! I'm so worried about who will make it through alive, or at least until Infinity War Part 2. I'm also hoping Black Panther and Ant-Man and the Wasp continue the trend of strong MCU stand-alone films. We're hearing that Solo: A Star Wars Story looks a bit disappointing, but hopefully it's not a total bomb.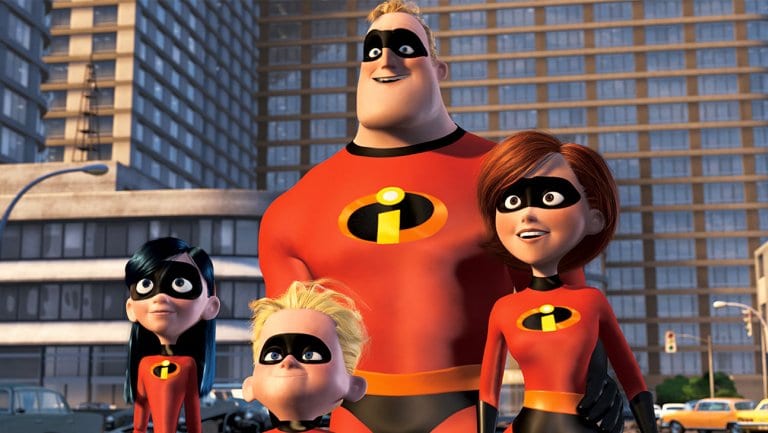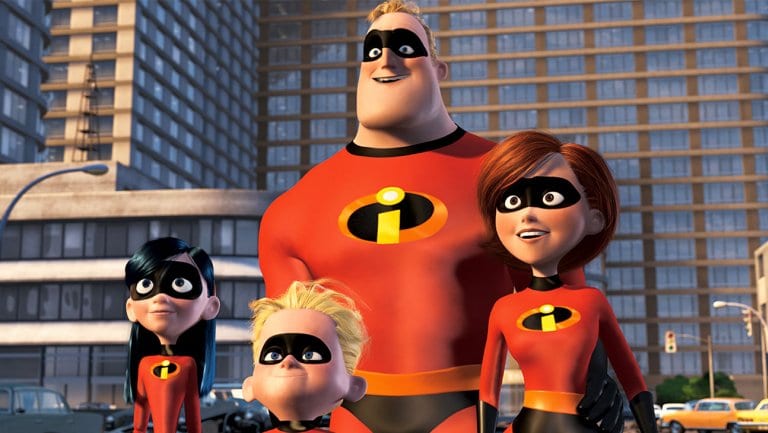 Incredibles 2 and Wreck-it Ralph 2 are both sequels of 2 of my favorite animated films of all-time, so I'm really hoping they don't let me down. And of course seeing Emily Blunt as one of the most iconic characters in cinematic history, Mary Poppins, should be something to see. I don't know how she could possibly fit the shoes of Julie Andrews, but I'm looking forward to seeing how she tries.
That's a whole lot of awesome looking films to see next year, and Disney could make a push for their all-time Box Office sales record which they set in 2016 if things go well. I have a feeling I'll be contributing an incredible amount of $ to that cause…
Flights of Wonder Replacement Coming to the Animal Kingdom: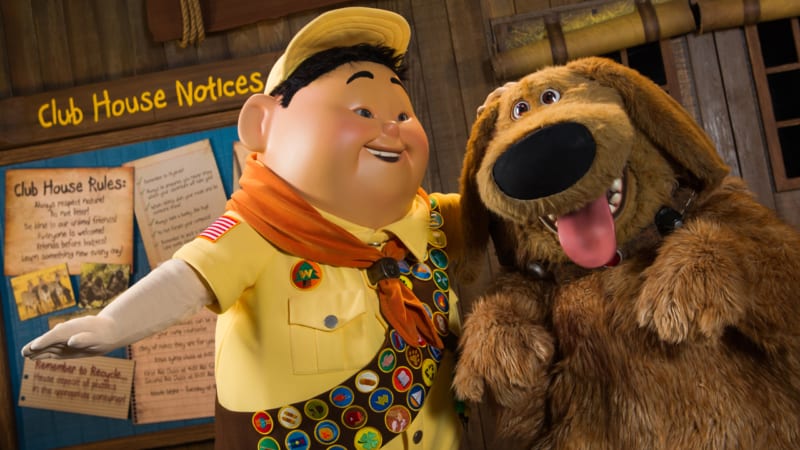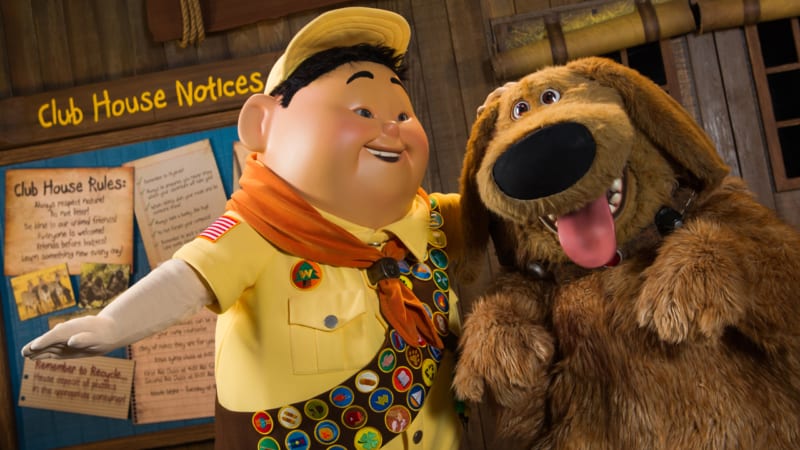 Disney's Animal Kingdom is celebrating its 20th anniversary in 2018, and one thing we know so far is there will be a replacement show for Flights of Wonder, that will be based on the Pixar film UP. While we don't have too much info yet on what the UP show will be like, we do know that it will have Senior Wilderness Explorer Russell and his furry friend Dug as they discover species of birds from around the world in their newest adventure at the Caravan Theater in Anandapur village.
The Animal Kingdom's anniversary date is April 22nd, so I would guess they will try to have the opening of the new show ready for that date. I'm excited for the change, I think it was about time seeing as Flights of Wonder was already 20 years old, and needed an update. Get to the Animal Kingdom by December 31st 2017 if you want to see Flights of Wonder as it's going away forever after that.
If that isn't enough to get you excited, don't forget that Pandora: The World of Avatar just opened up in May 2017, and if you haven't yet visited Walt Disney World since then, 2018 will be a great time to experience it. Flight of Passage is my new favorite attraction in Walt Disney World, and one of the most unique experiences you'll have anywhere.
Pixar Pier Transformation in Disney California Adventure: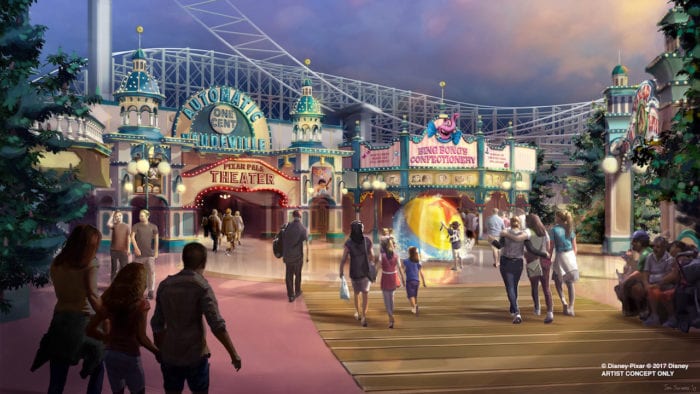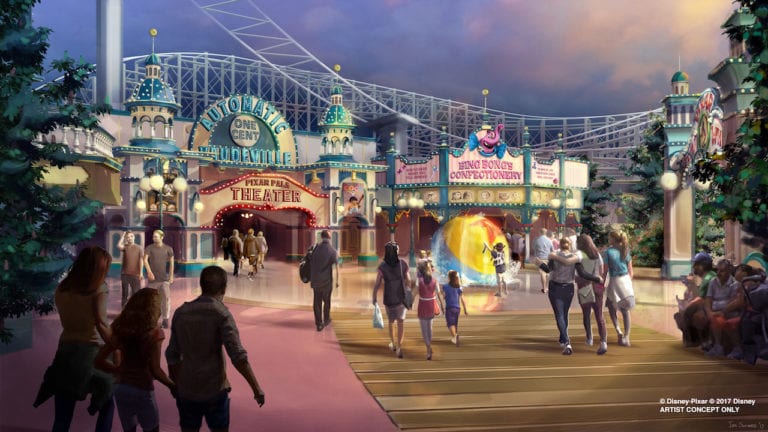 If you like Paradise Pier, then I'd make a quick dash over there now, because in 2018 it's going away forever and making way for the new Pixar Pier in Disney California Adventure. This is going to be a permanent change to Disney California Adventure, and it's going to bring to life some of your favorite Pixar characters on a seaside water front in 3 distinct neighborhoods with new attractions.
So far we know the California Screamin' is getting changed over to the Incredicoaster, based off the Pixar hit the Incredibles. It's closing down on January 8th and reopening in time for Summer. We're also getting an Inside Out-inspired neighborhood which will be found on the western side of the boardwalk, complete with an Inside-Out attraction with no date yet announced. The 3rd is a new "Toy Story" inspired neighborhood, although we don't yet know what will change.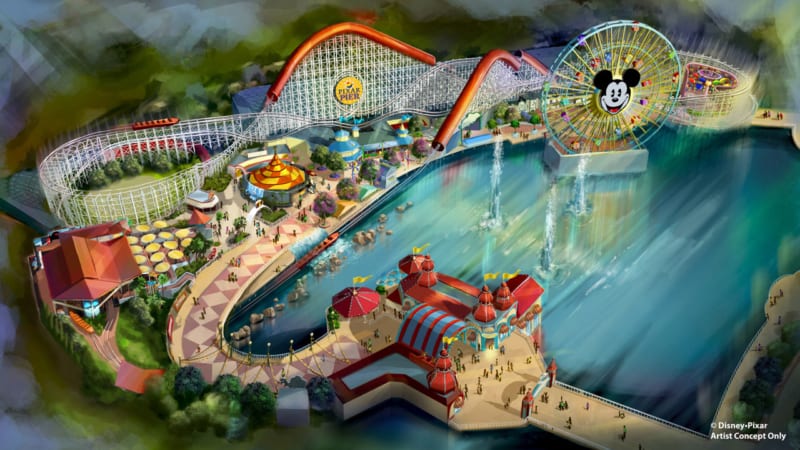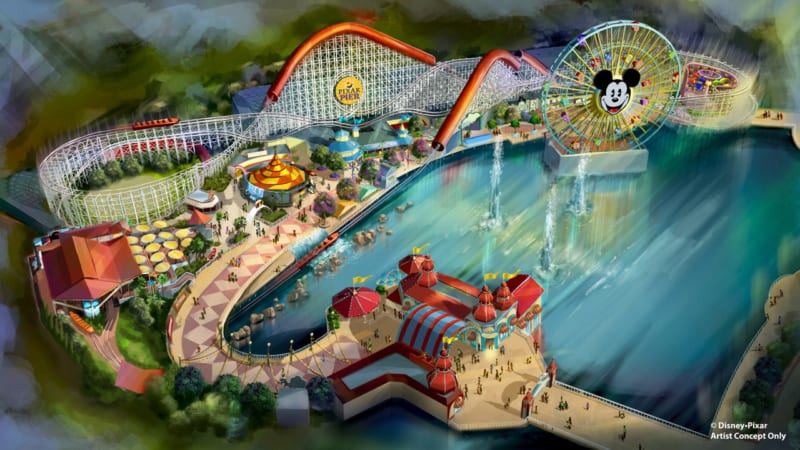 We are also looking forward to Pixar Fest, which is coming to the Disneyland Resort in 2018, and will include 3 new fireworks shows and parades. "Together Forever – A Pixar Nighttime Spectacular." is an all-new fireworks show taking place over Sleeping Beauty Castle, "Paint the Night" is coming back to Disneyland, but this time California Adventure including your favorite Pixar characters, and the "Pixar Play Parade" is coming to Disneyland park for the first time with all-new floats.
I don't know if it was absolutely necessary, but Paradise Pier wasn't exactly theming genius by any means, and Disney did an incredible job with Cars Land just a few hundred yards away. If they just slap up some Pixar signs everywhere then it won't be that good, but if they actually add some meaningful theming changes, then it will be worth it in the end.
An Abundance of New Restaurants Coming to Disney Springs
Let's not beat around the bush at all, my favorite things in Disney parks all revolve around food, and even though we've had tons of new additions in 2016 and 2017, there's plenty more of that coming to Disney Springs in 2018!
Here's what's coming: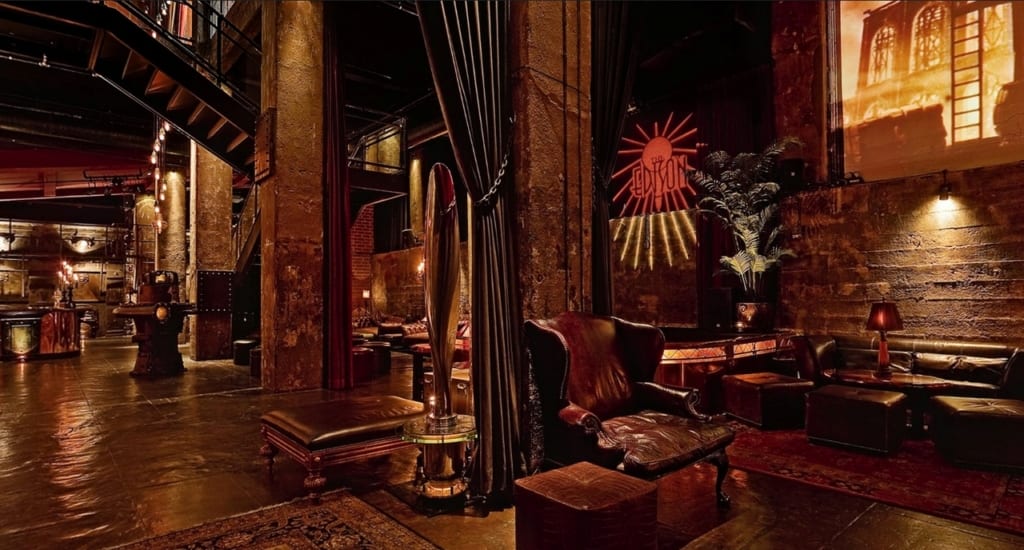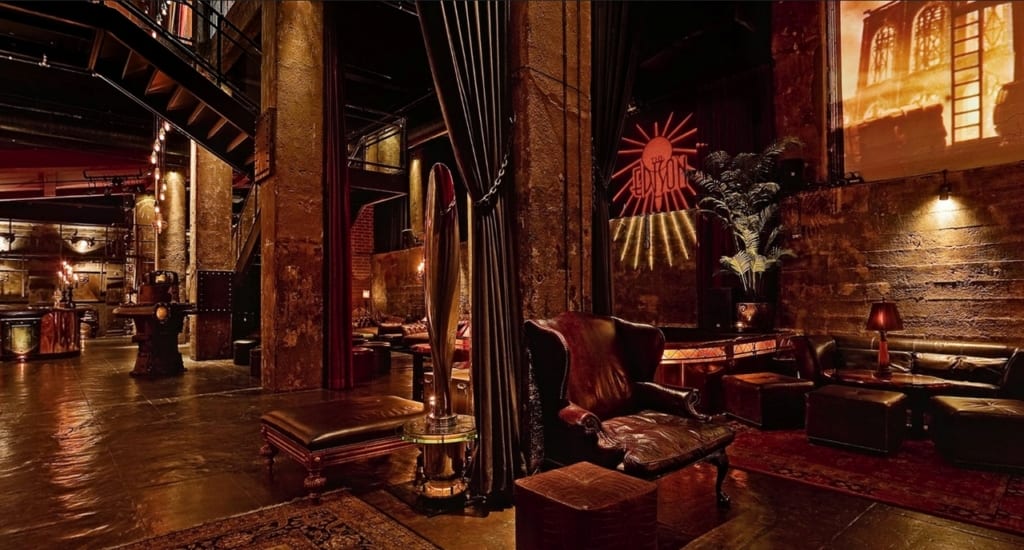 The Edison: How long have we been waiting for The Edison? Let's just say that it also made our list of the things we were most looking forward to in 2017, and wouldn't you know, on New Year's Eve this year, The Edison will be open! Made it literally with hours to spare! It will be a lavish "Industrial Gothic"-style restaurant, bar and nighttime destination set inside of an old power plant. Expect classic American food, artisan craft cocktails and unparalleled live entertainment. Opening Date: New Year's Eve 2017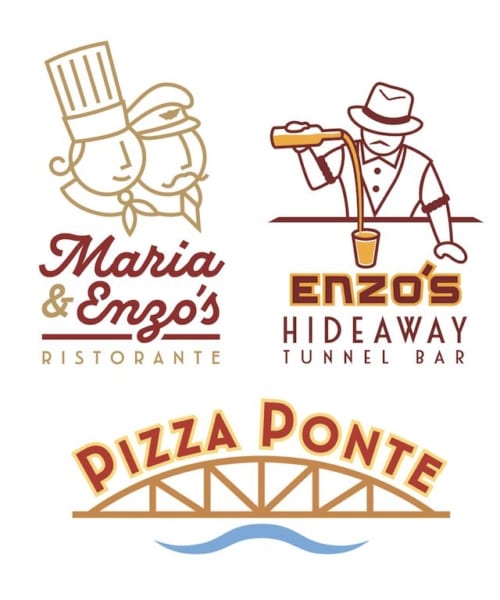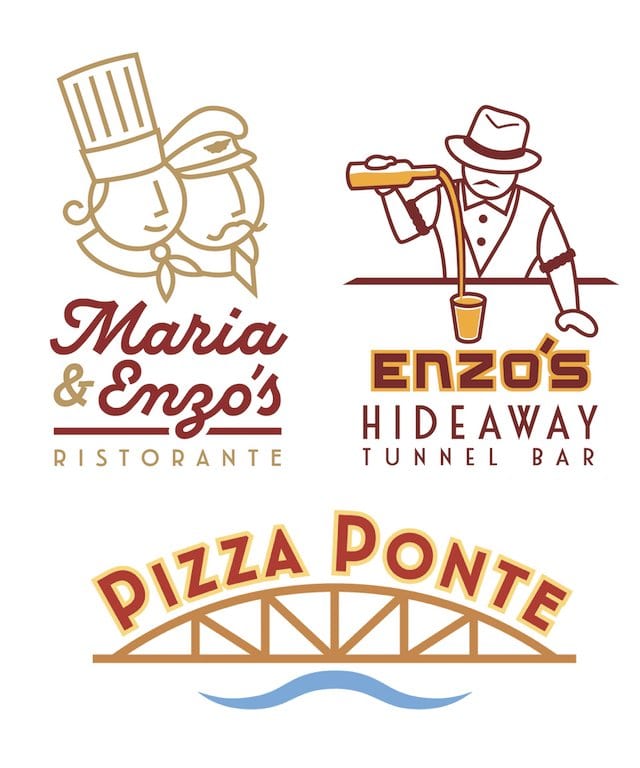 Maria and Enzo's: The main part of an Italian Trio of restaurants near the Edison, Maria and Enzo's is the signature table service Italian restaurant featuring family-style, Sicilian-inspired dishes. Think Steaks, Eggplant Parmigiana, Chops, and of course many different Pastas. Opening Date: Early 2018
Enzo's Hideaway: This will be located inside old rum-runner tunnels that were used during the days of prohibition. It will be styled as a "speak-easy" and have a Roman appertivo cocktail bar and be a great environment for any part of the day. It's the end result of what originally was going to be the Neverland tunnels bar. Opening Date: Early 2018
Pizza Ponte: Ok technically this is already open, but we included it since it's part of the trio of restaurants with Maria and Enzo's and Enzo's Hideaway. This is a quick service takeaway pizza joint, which serves pizza one square at a time like in Italy. Reviews have been positive so far, except the price of $7 per slice is hard to swallow, especially since you can build a larger one for less that $10 over at Blaze Pizza. Besides Pizza, there are sandwiches, and pastries too. Opening Date: Open now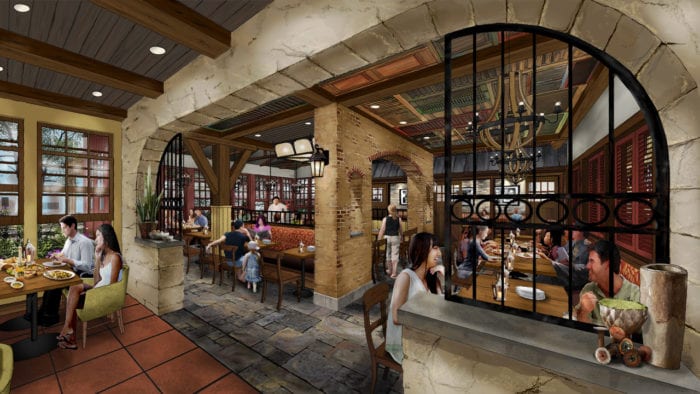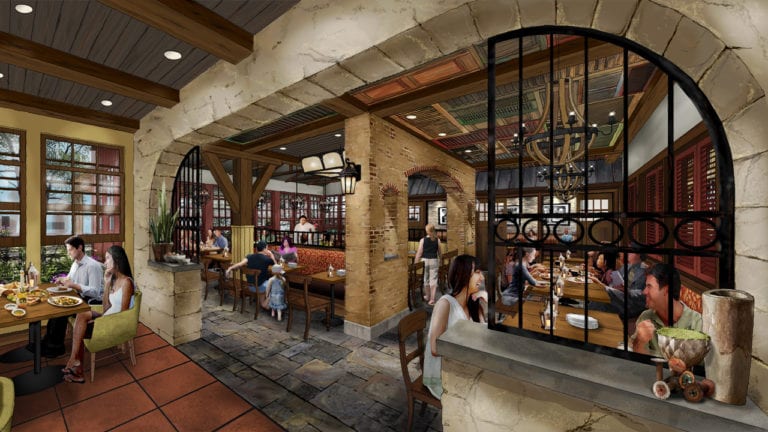 Terralina Crafted Italian: This is the new multi-million dollar remodel and replacement for the old Portabello restaurant, which closed down this year. Another Italian restaurant which will be headed by James Beard Award-winning Chef Tony Mantuano and Executive Chef Justin Plank and owned by Levy Restaurants Inc. It's going to include some old Portabello favorites like Some of the old favorites like Mussels, Grilled Pork Chops, the Antipasti platter and signature Pastas, as well as well as a variety of new sustainable items. Opening Date: Early 2018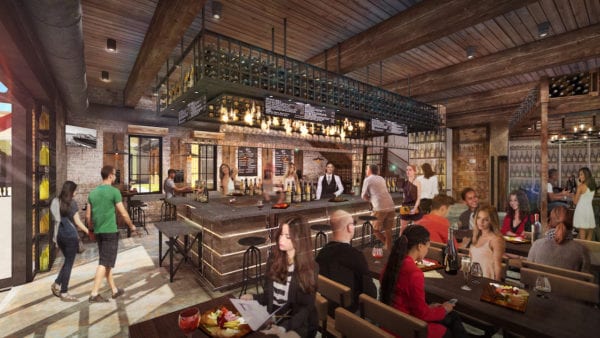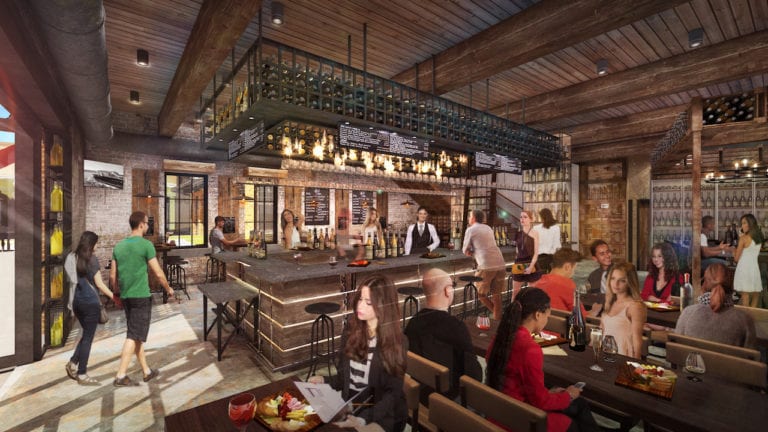 Wine Bar George: Wine? Check. Snacks? Check. Great ambiance? Check. Run by Master Sommelier George Miliotes, this will be a 6,000 square-foot designed like a renovated winery with wood ceilings, concrete floors, warm lighting and a welcoming atmosphere. It will have over 100 wine selections available either by the bottle or the glass as well as snacks like Salami and Cheeses. Opening Date: Spring 2018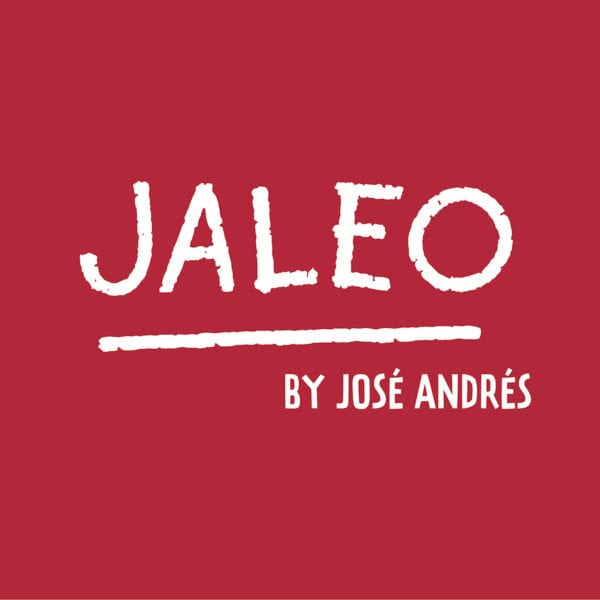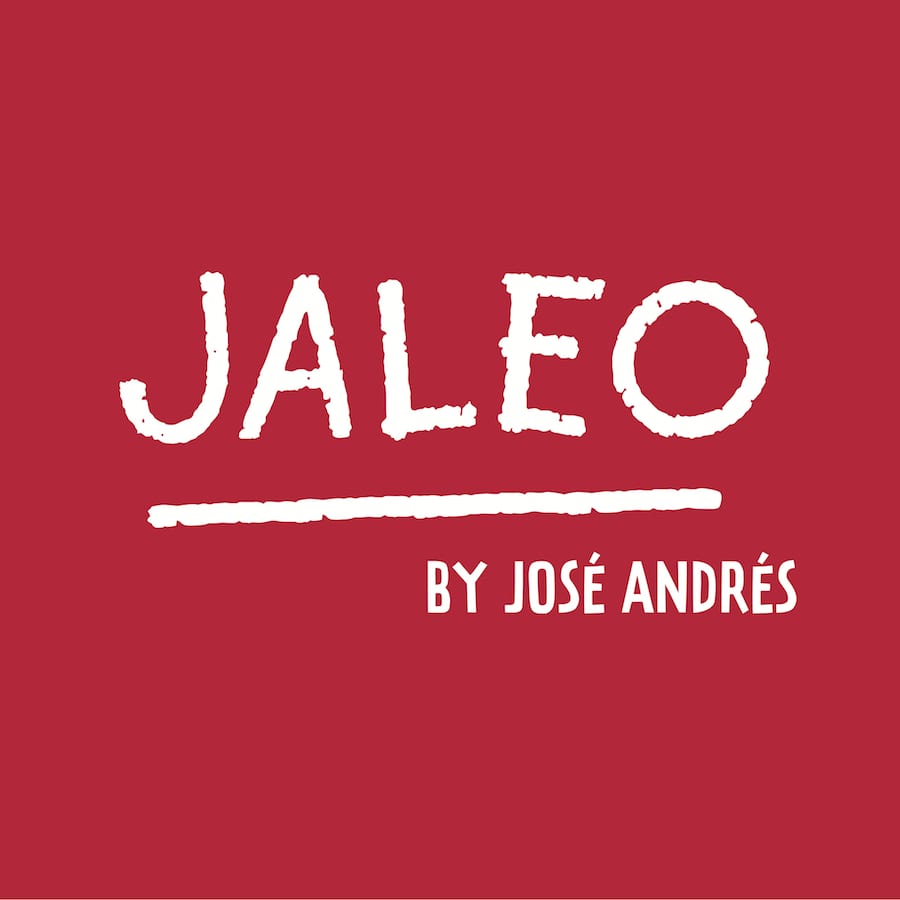 Jaleo: Love the idea of an authentic Spanish restaurant coming to Disney Spring. On the West Side next year in 2018, this will be a unique concept brought together by world renowned Chef José Andrés and his ThinkFoodGroup. It's a Spanish restaurant which highlights the unique flavors of Spain and the rich regional diversity in regional and traditional Spanish Cuisine. Expect a unique menu of Tapas, Paella cooked over a wood fire, hand-carved Jamon Iberico de Bellota which is like the best ham you've ever tasted, along with wood-grilled Iberico pork. The restaurant will be designed by famous Spanish designer Juli Capella, will be divided into levels which will have vibrant, theatrical decor representing the colorful culture that is Spain. Opening Date: Mid-Late 2018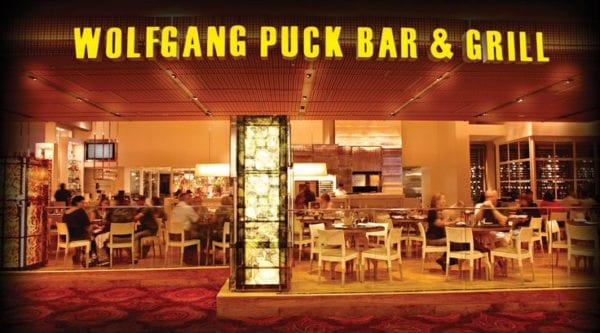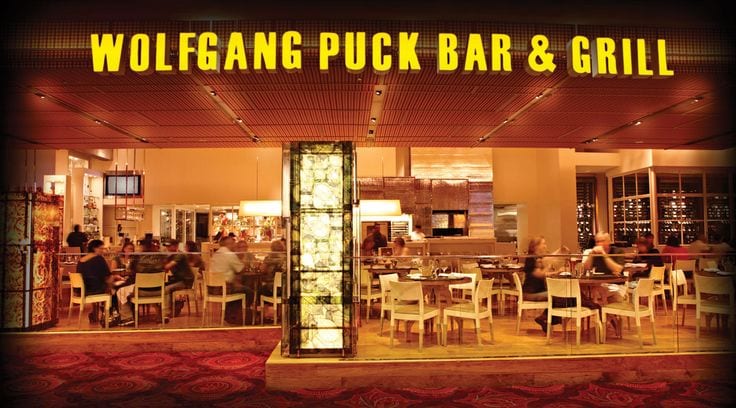 Wolfgang Puck Bar and Grill: The old Wolfgang Puck restaurant closed down in August, and this modern take on the traditional "bar and grill" concept is taking its place. Expect excellence from Wolfgang Puck, which will capture some of that same laid-back California dining style here too. Expect Mediterranean influences, interesting and fresh takes on comfort food classics, and of course some specialty made cocktails, beer and wine. Opening Date: Mid-Late 2018
I think Disney has done an incredible job bringing high-quality restaurants to Disney Springs and there doesn't seem to be any end in sight of that!
Festivals Galore: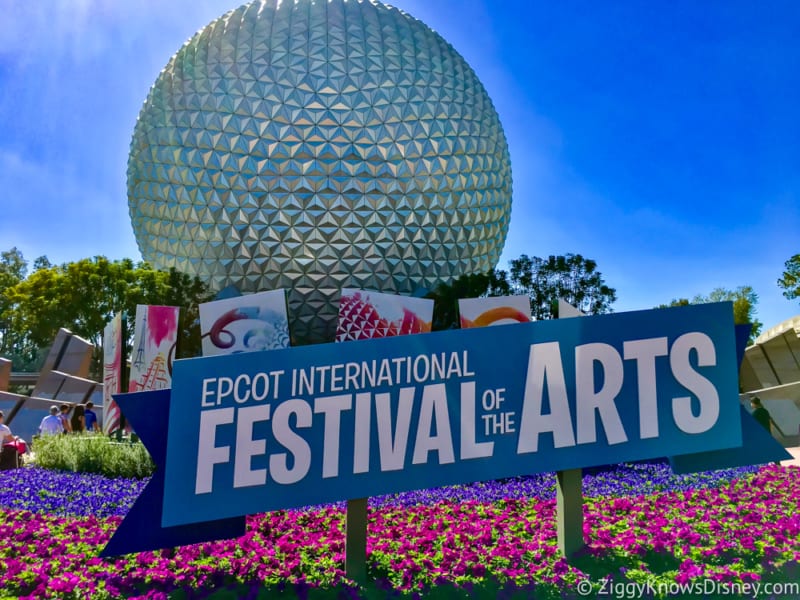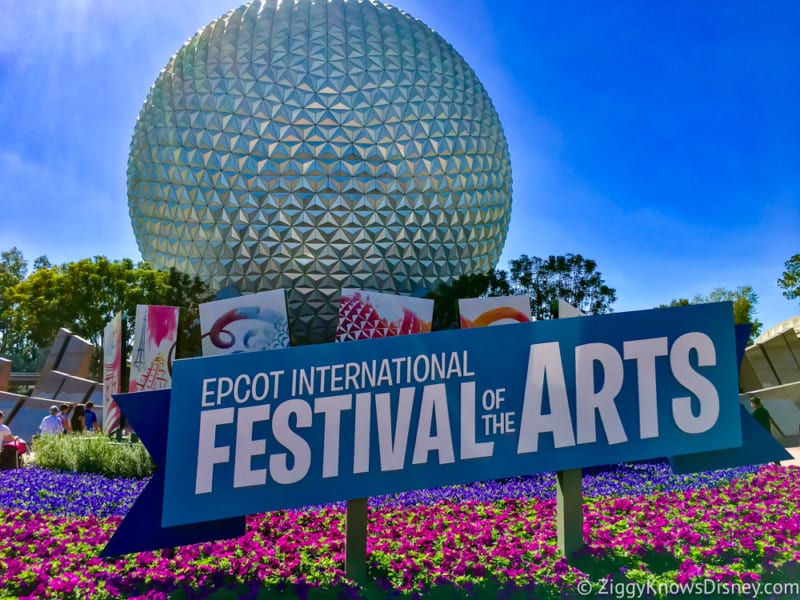 Every year Epcot always is full of awesome festivals to explore, and 2018 is not exception. Here's some of my favorites:
Festival of the Arts:
This was a huge hit in 2017 and it's coming back strong in 2018, this time for 6 fantastic weeks from January 12th to February 19th, 2018, and seven days a week. The menus were already announced and look delicious with specialty food stations creating food that's as good to look at as it is to taste! The entertainment is strong too with the Disney on Broadway Line-Up, which will be taking the stage in the America Gardens Theatre from Fridays through Mondays. There will be Seminars and workshops from Disney, local and nationally-renowned artists with classes on drawing animation, photography and the art of making topiaries, plus a whole bunch of fun activities for the whole family.
Flower and Garden:
Flower and Garden is back in 2018 and some of the highlights include:
Disney Character Topiaries. These are my personal favorites as I love to see which new topiaries they roll out for the year.
15 Outdoor Kitchens serving creative, flavor-rich cuisine that highlights spring garden offerings
Exhibits and Demonstrations
Garden Areas including Tours – This includes Gardens of the World Tour (spring edition); the English Tea Garden Tour; and Royal Tea Garden Tour (extra fee required)
Garden Rocks music series. Much like at Food and Wine Festival, you can listen to some of your favorite classic rock 'n' roll stars from the '60s, '70s '80s and '90s. Also stay tuned for more details about the Garden Rocks Dining packages which will get you a meal and a reserved seat for the show!
Also the kids are going to have New interactive kids play areas
Much, much more…
Food and Wine:
Of course this is my favorite festival of the year, and while we don't know too much about it yet, you can be sure we'll have a bunch of all-new food kiosks with tons of new menus and food items to try. This past year was the best year yet with 75 days of Food and Wine and over 35 Food Kiosks, and I can only imagine what 2018 is going to be like!
Beyond 2018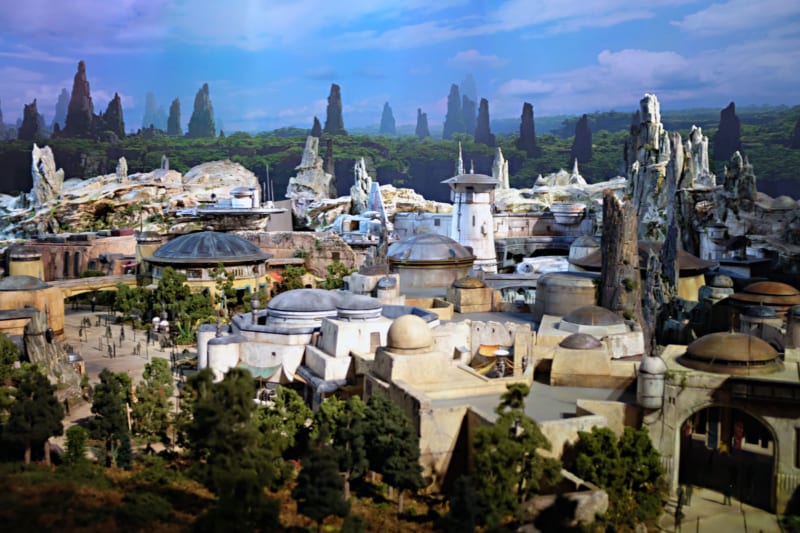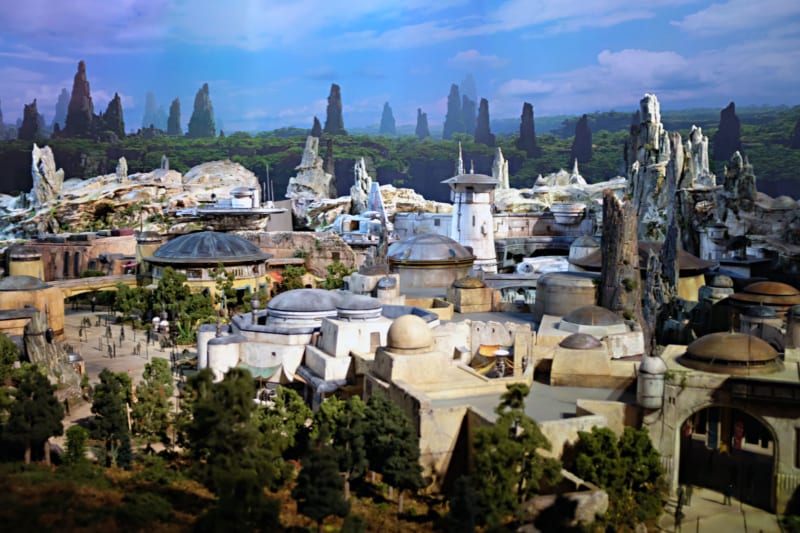 There is so much more to look forward to beyond 2018 too. At D23 last Summer, Disney announced a slew of new attractions, restaurants, resorts, etc that are coming to the Disney Parks. Of course the biggest thing on the horizon past 2018 is Star Wars Galaxy's Edge which will fulfill the desires of millions of people who have always wanted to step foot into the universe of Star Wars. Two attractions headline Galaxy's Edge, a Millennium Flacon attraction letting guests pilot the famous starship, and the First Order Battle Escape putting guests in the middle of a heated battle in the Star Wars universe.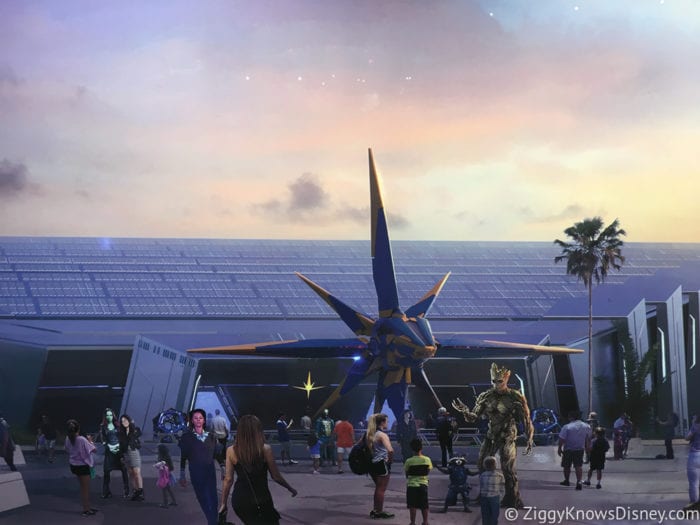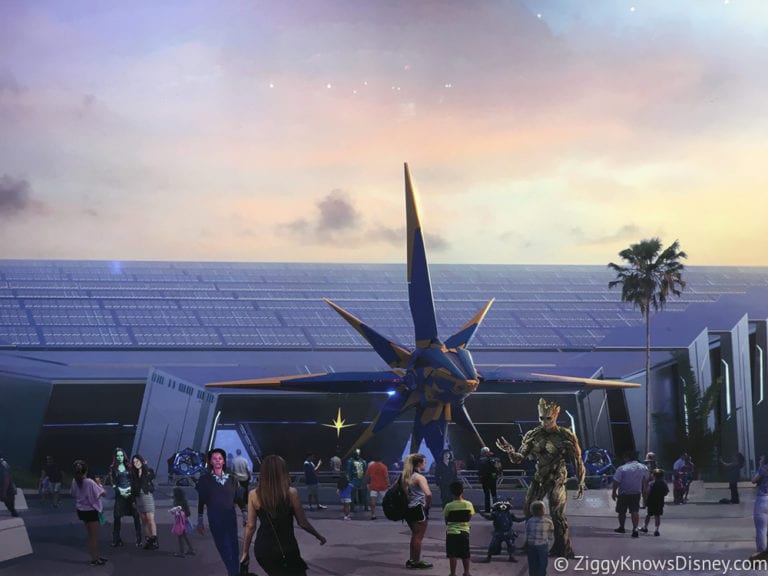 Besides Star Wars Galaxy's Edge we have: Guardians of the Galaxy Coaster coming to Epcot; a Tron Coaster coming to the Magic Kingdom; Ratatouille attraction in the France pavilion in Epcot; a new Main Street Theater in the Magic Kingdom, the Disney Skyliner transportation system in Walt Disney World; a Star Wars-themed Hotel; Marvel-themed Land with Spider-Man and Captain America attractions in Disney California Adventure, and so much more…
What are you most looking forward to?
Your Thoughts:
I want to know what you think about the 7 Disney Things we're looking forward to in 2018. What are you most looking forward to? Let us know in the comments section below!
If you enjoyed this article, as always I appreciate it if you'd share it with others via social media. I work hard at making this website into a useful resource for you and your family to plan your visit to Walt Disney World, and I hope it can help you! Thanks 🙂