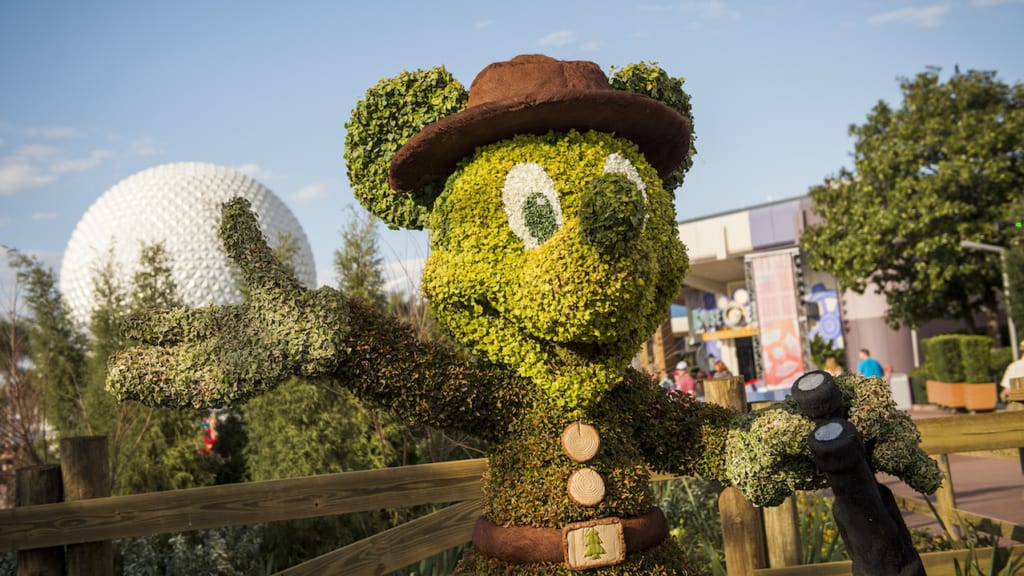 Epcot is full of awesome Festivals all year round, and the 2017 Epcot Flower and Garden Festival is one of the best! It's always one of the things people look forward to the most because of its beautiful Gardens and Flower Beds, World Class Entertainment and some great food and drink offerings that are available around World Showcase.
We have new info about the plans for the 2017 Epcot Flower and Garden Festival, the first being that this year's festival will be the longest running one ever: a full 90 Days!! It will be held from March 1st – May 29th 2016. That will give you plenty of time to plan a trip at one of the most beautiful times of the year, before the weather gets too hot.
Some other news for this year's festival include:
Fresh, farm-market food and beverage flavors will debut at two new Outdoor Kitchens that will join 13 returning Outdoor Kitchens. Guest can sip and savor their way around Epcot, enjoying chef-inspired noshes and refreshing libations with or without a kick.
The new generation of princess topiary (Snow White, Anna and Elsa – the first to be designed and created with topiary facial features) will welcome a brand-new Belle topiary as fans remember her from the Oscar-winning Disney film, "Beauty and the Beast." Located outside the France pavilion with the Beast topiary, Belle will come to life with sculpted facial features and her yellow ball gown created with golden blooming Joseph's Coat plants.
Another festival first will be a 6-foot-tall topiary of Figment, the feisty dragon mascot of the park's Imagination! pavilion, perched atop a 5-foot-diameter ball fashioned from yellow Joseph's Coat.
The brand-new Epcot front-entrance topiary garden inspired by a vintage Walt Disney short film will spring to life with a floral-festooned maypole featuring Mickey Mouse, Minnie Mouse, Daisy and Pluto.
The popular Garden Rocks concert series will expand to four days each week, with three concerts each Friday through Monday presenting pop musicians that span multiple genres over four decades.
New Garden Rocks Dining Packages will be available on select days at a number of Epcot restaurants.
Reimagined interactive play gardens will include a new take on the "Cars"-themed garden introducing a new character topiary from the June 2017 release of the Disney•Pixar sequel, "Cars 3." Music Garden Melodies play area will return with new garden and topiary elements.
For the first time, the event's Festival Center will extend operating hours from Wednesday, March 1 through Sunday, March 5. Throughout the rest of the festival, the center will be open each Friday through Sunday with an entertaining mix of gardening seminars and DIY workshops.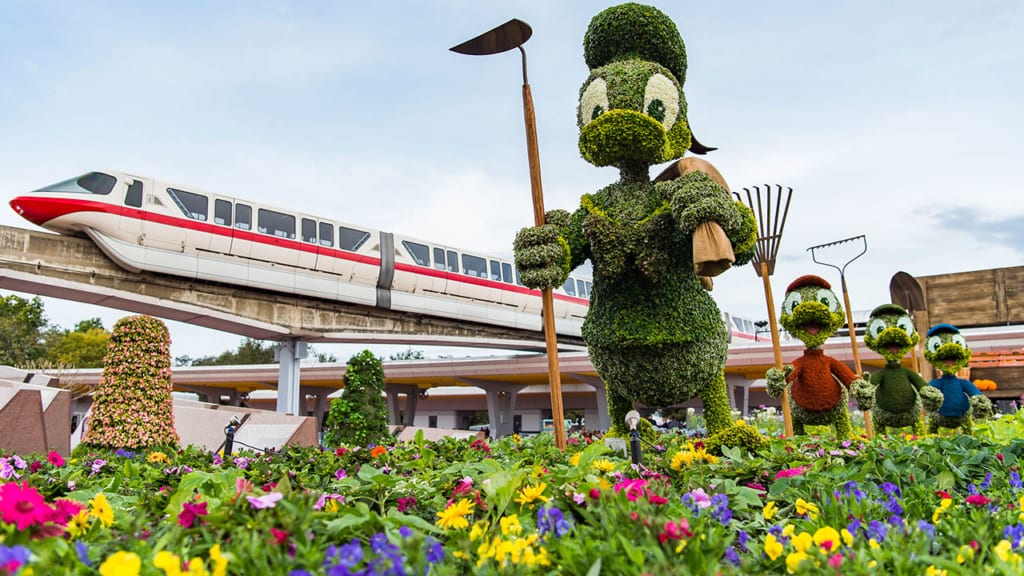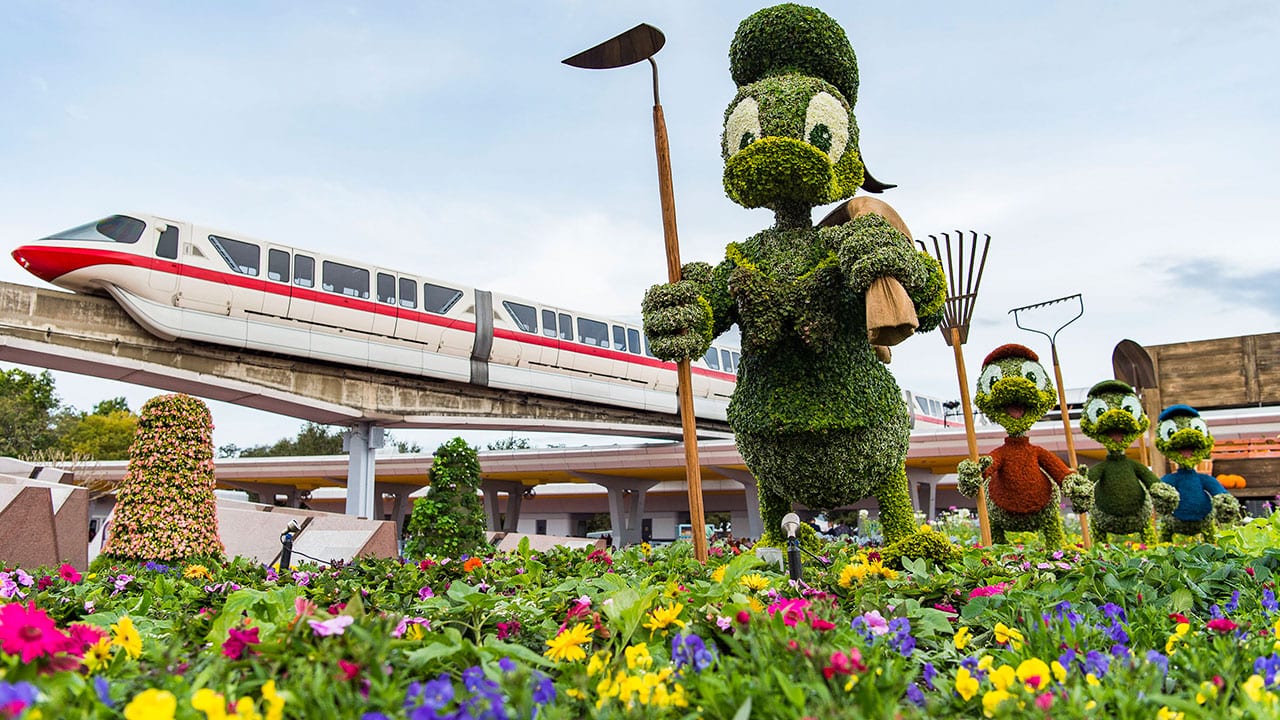 One of the popular Outdoor Kitchen gardens, Urban Farm Eats, will return with savory bites, sweet treats and ideas for planting produce that can inspire growing numbers of guests who want to learn to grow their own edibles.
"A lot of people, including young children, are serious foodies now, and they have lots of questions about gardening," says Eric Darden, festival horticulture manager. "We're getting more and more people in their 20s and 30s asking, 'How can I grow this?' I think we'll be creating more gardeners because people can see what's possible."
The 2017 festival forecast will be sunny with colorful floral bursts by day and a nighttime landscape aglow with twinkling lights:
Topiaries of Donald Duck and nephews Huey, Dewey and Louie will share Future World space in front of Spaceship Earth with Chip and Dale for a "Fresh Epcot" selfie and family photo opportunity.
Anna and Elsa topiaries will return to the Norway pavilion festival landscape in celebration of the park's new Frozen Ever After Nearly 100 festival topiaries in all will include up to 70 character creations such as Snow White and the Seven Dwarfs, Lady and the Tramp, Simba, Timon and Tinker Bell.
Guests will encounter garden surprises and special appearances related to Earth Day and other spring activities.
The Butterflies on the Go garden will return with the story of the Monarch's epic journey across the continent and featuring butterflies emerging from their chrysalises.
On the way to the new Soarin' Around the World film at the Soarin'attraction in The Land pavilion, guests can discover gardens featuring edible flowers and plants that benefit health and healing, and a pollinator paradise.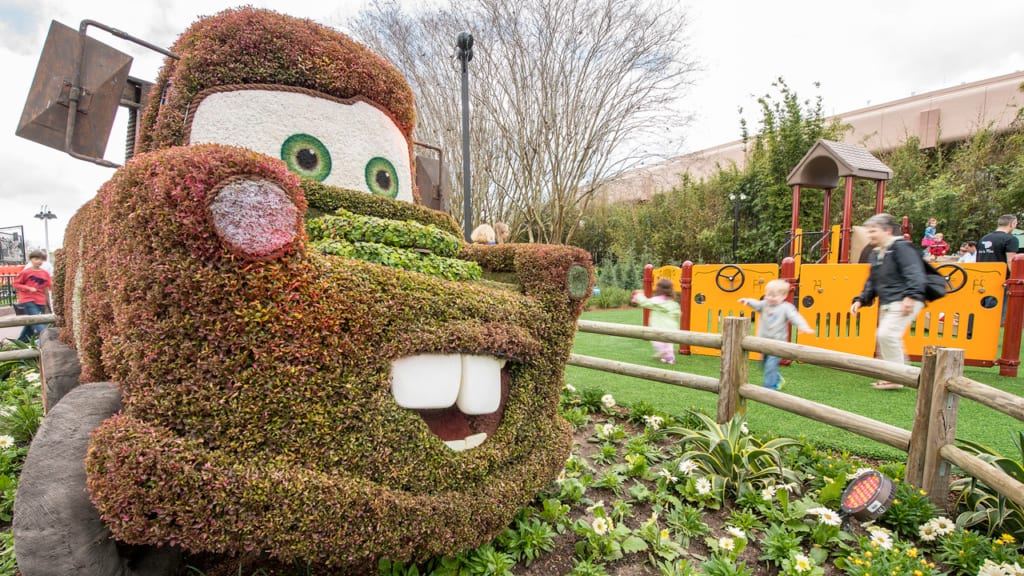 There will be dozens of Disney-crafted "flower towers" and beds of multi-colored blooms which will completely transform the park's landscape from what it is normally. There will be at least 70,000 bedding plants surrounding the Future World east and west lakes alone; 220 mini-gardens will be set afloat on the water of the World Showcase lagoon.

I think the Flower and Garden Festival is something that every Disney fan should get down to see at least once, and this year will be a great one for any new comers. You don't want to miss any of the action so get down to the 2017 Epcot International Flower & Garden Festival which runs March 1st – May 29th 2017.
If you enjoyed this article, as always I appreciate it if you'd share it with others via social media. I work hard at making this website into a useful resource for you and your family to plan your visit to Walt Disney World, and I hope it can help you! Thanks 🙂
Your Thoughts:
I want to know what you think about the plans and info regarding the 2017 Epcot Flower and Garden Festival. What do you think of the 90 day festival period? Are you planning on visiting in 2017? What do you think about the new topiaries? Let us know in the comments section below! 🙂
Photo Credit: Disney Parks Blog